FIDE World Cup 2021 R5 TB: Carlsen wins an epic match against Esipenko
FIDE World Cup 2021 is an endurance event. One has to be good in all three formats of the game, only then you can advance to the next stage. Carlsen prevailed the biggest challenge he has faced in the event so far in the form of Andrey Esipenko. He is the one who provided him the competition he was looking for. He was called 'A most worthy opponent' by the world no.1 for a reason. Bacrot, Duda, Fedoseev, Tabatabei, Karjakin emerged as the other Quarterfinalists from the tie-break. Anna Muzychuk won the sole tie-break of the day in FIDE Women's World Cup to advance to the Semifinals. FIDE World Cup 2021 Quarterfinals start today at 5:30 p.m. IST. It is a rest day of for the FIDE Women's World Cup Photo: Eric Rosen/FIDE
Anna Muzychuk advances to the Semifinals
The fifth round of the FIDE World Cup 2021 saw Carlsen suffering his first defeat of the event against the 18-year-old who defeated him in their first encounter early this year. Andrey Esipenko is name which will be echoed among the upper echelon of chess for a long time as she showed his fantastic ability as well as levelheadedness. Anna Muzychuk beat Nana Dzagnidze in both of her games to advance to the Semifinals and earn her place in the FIDE Women's Candidates 2022.
Carlsen - Esipenko: 5-3
Esipenko passed the test of surviving in two endgames in the first two 25+10 tie-break games against the world champion. He was still undefeated in the first five games he has ever played against Carlsen.
Carlsen - Esipenko, Game 5
The knight at d7 made things quite unpleasant for Black. Esipenko decided to give up the exchange 21...f5 22.Nxf8 Qxf8 22.Bf4 and White went on to win the game. This was Esipenko's first loss against the world champion and now he is in a must-win situation against none other than the mighty world no.1 himself.
If you are wondering how Esipenko handled the situation, the first thing he did right is, put Carlsen in pressure.
Esipenko - Carlsen, Game 6
Esipenko made the position became incredibly difficult for his opponent. In ten moves, something happened which no one thought of.
Carlsen did a simple tactical error as 37.Re8+ immediately ends the game but unfortunately for Esipenko, he also overlooked it and had to battle further to win in another 28 moves.
It was time for 5+3 blitz tie-breaks. Carlsen is known for making fierce comebacks after suffering a loss and this was his first loss in the entire event so far. He won the first one in an exciting encounter without giving any fragment of opportunity to his opponent.
Esipenko was once again put in a must-win situation. He took his chances but unfortunately for him, it did not pay off. Carlsen won the match 5-3 to eliminate Esipenko from the tournament.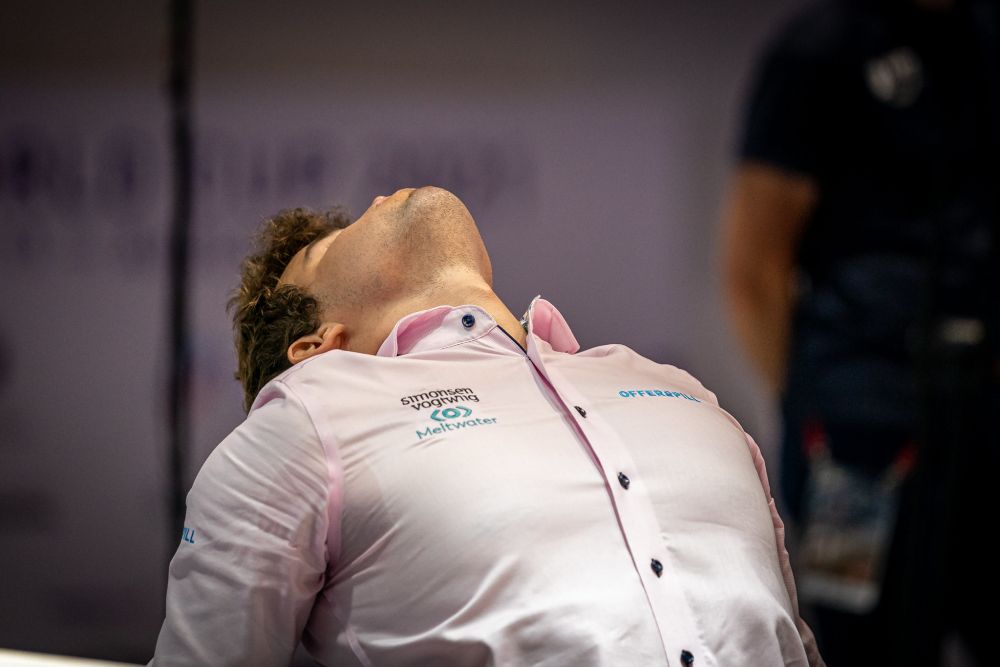 Carlsen praised his opponent in a tweet after the match:
Fedoseev - Ivic: 3-1
Ivic gave up a pawn without enough compensation in the first game. Fedoseev scored a win when his opponent blundered a complete rook before resigning immediately.
Ivic almost made a comeback in the second game as he got himself a promising position.
Ivic - Fedoseev, Game 4
28.Nge2 was also good but 28.Ngf5 was better for practical reasons as it forces Black to make a decision. Fedoseev decided to take it 28...Bxf5 29.exf5 Qxd4 30.fxg6+ fxg6 31.Qf7+ Bg7 32.Qxa2 and White got himself in a very good situation.
White needed to continue his momentum of attack 34.Rxe5 c2 35.Rf1 Bxe5 36.Qd5 and now he can push for a win. Instead, he decelerated with passive moves like 34.Qc2 Rf8 and soon blundered a piece under pressure. Fedoseev won the second consecutive tie-break game and the match 3-1. He secured his place in the Quarterfinals as well as the FIDE Grand Prix 2022.
Duda - Grischuk: 2.5-1.5
Grischuk had plenty of chances in the first rapid tie-break, but he missed them all.
Black needed to invade with his rook here 40...Rb1 threatening Rg1+. If White tries to prevent it, 41.Rf1 Rxf1 42.Nxf1 c5 and Black is still doing great as White's pieces are all over the place.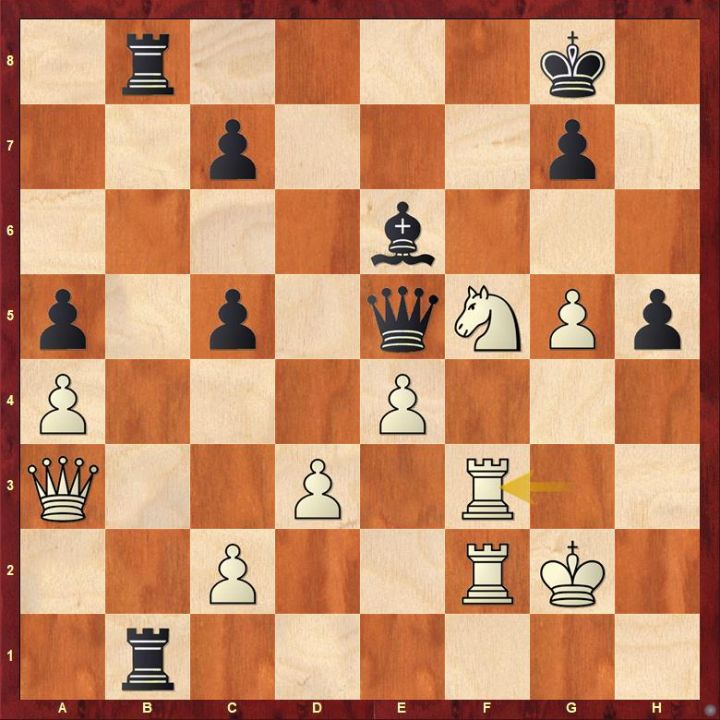 Position after 44.Rgf3
Black finally played 43...Rb1 and after 44.Rgf3, 44...h4 was the correct way to make progress, but he went 44...Ra1 and White forced a queen trade 45.d4. Slowly, Black's advantage dwindled and in the final moments of the endgame, he blundered in a drawn position due to time pressure and lost the game.
Duda drew the next game comfortably to beat Grischuk 2.5-1.5 and set up a clash with Vidit at the Quarterfinals. He also secured his place at the FIDE Grand Prix 2022.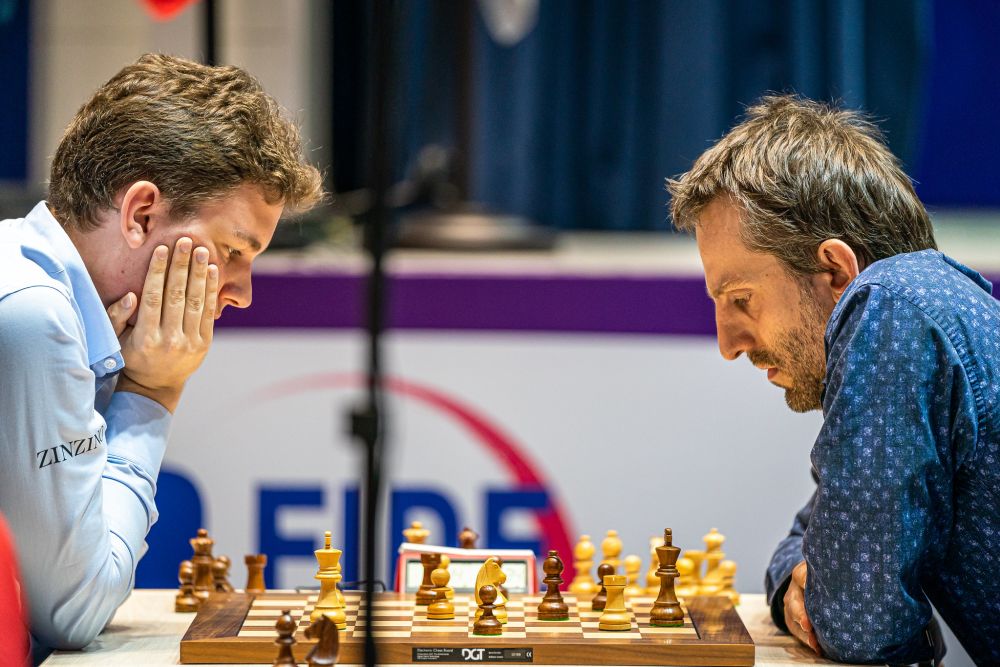 Martirosyan - Tabatabaei: 1.5-2.5
Martirosyan once again got himself in a very good position in the first tie-break game against Tabatabaei.
41.Re7 threatening Rg6 was probably the best chance White had in the entire game. White played 41.Rd5 and eventually lost all his advantage and the game ended in a draw.
Tabatabaei won the second game comfortably to eliminate Martirosyan and secure his place in the Quarterfinals.
Vachier-Lagrave - Karjakin: 2.5-3.5
First three tie-break games ended in draws. Karjakin won the fourth one comfortably to advance to the Quarterfinals.
Bacrot - Piorun: 4-2
Bacrot won three consecutive tie-break games after losing the first one to advance to the Quarterfinals and set up a clash with none other than the world champion himself.
Dzagnidze - Anna Muzychuk: 1-3
Anna Muzychuk was too strong for Nana Dzagnidze as she beat her convincingly in both games. The former world rapid and blitz champion missed an earlier win in the first game.
A Muzychuk - Dzagnidze, Game 3
White is just winning immediately after 28.Rxg6 but time scramble caused her to miss this and execute the same idea after nine more moves.
Anna got a better position out of the opening in the second game and her opponent just couldn't get out of the gate.
FIDE World Cup 2021 Quarterfinal matches:
Carlsen - Bacrot
Duda - Vidit
Fedoseev - Tabatabaei
Karjakin - Shankland
FIDE Women's World Cup 2021 Semifinal matches:
Goryachkina - A Muzychuk
Kosteniuk - Zhongyi Tan
Photo Gallery
Replay Round 5 TB Open games
Replay Round 5 TB Women games
Links:
---