Iniyan wins Silver at the 1st FIDE World University Online Individual Blitz Championship
India's 61st GM Iniyan P of Bharathiyar University started out as the highest rated Indian among 960 university students from 78 counries all across the world in 1st FIDE World University Online Individual Blitz Championship. He finished at the top of his group, Group A with 8.5/10. In the Finals, he started the Round-Robin event with a loss against GM Yinglun Xu but then he scored 5.5/6 in the remaining six games to finish tied first with the eventual Gold medal winner GM Haik Martirosyan of Armenian State Institute of Physical Culture. Iniyan was placed second according to the tie-breaks. Check out Iniyan's thoughts about his first medal at a World event and also two of his games annotated by himself.
Tied first with the champion
About 1000 players participated in the 1st FIDE World University Online Individual Blitz event. The qualifying event witnessed four separate groups of about 240 players in each group. Iniyan topped Group A with 8.5/10 as he had the best tie-breaks. Three other players also finished Group A at same score GM Mikhail Antipov, GM Ruifeng Li and IM Leon Livaic. Only top two from each of the four groups advanced to the Finals. Iniyan scored 5.5/7 and tied with the eventual champion GM Haik Martirosyam. However Iniyan had to settle for second position due to inferior tie-break score.
After the tournament got over, we caught up with Iniyan to learn about his monumental feat.
Shahid Ahmed (SA): Congratulations Iniyan! What are your thoughts on winning the Silver medal?
Iniyan P (IP): I am extremely delighted to get the Silver Medal. A medal in the World Championship had kept eluding me and it's great that I have got that too now. I had joined PSG College of Arts and Science, Coimbatore which is affiliated with Bharathiar University less than a year ago, and getting a medal representing them is the icing on the cake.
SA: What is your university's reaction?
IP: They were elated at the result. The college and university officials watched the games live every day, cheering me on, and immediately after the finals got over they congratulated me.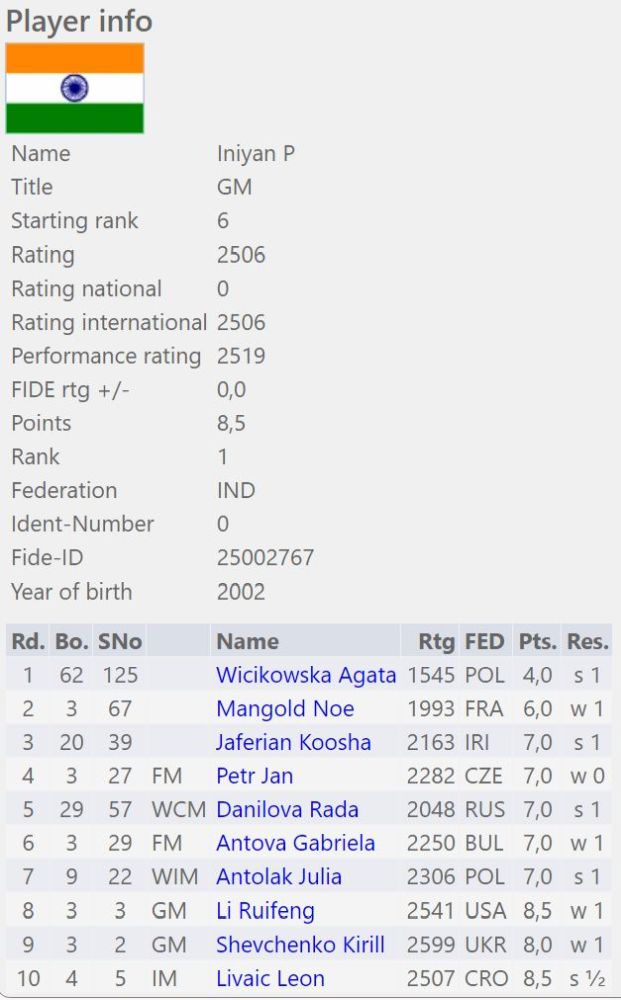 SA: What was going through your mind after losing the first round in the Final?
IP: It was a game where I played well and then messed it up. It is also not nice to lose the first game in a Round-Robin because then everyone starts to play their best against you in the hope to win. But game-wise, I wasn't too disappointed because I had played well.
SA: How did you manage to make a comeback and score 5.5/6 in the last six games?
IP: I wasn't expecting such a result to be honest. Every player there had qualified to the finals by playing well in their league groups and I also had to play against three 2600+ players after that. But I managed to play well, give problems to my opponent and there was a slight bit of luck on my side. These helped me to get that result.
SA: You have played on various online platforms, how was your experience playing in Tornelo?
IP: Tornelo is going for a tournament-style playing portal. You can't simply play a game there like in Playchess or Chess.com. You have to be in a tournament. There are also no pre-moves here because "You can't pre-move in an OTB game". But I would prefer it if there is pre-move, cause you need to understand that online chess and OTB are totally different and the features of online chess should be allowed here too.
SA: Which game of yours do you consider to be the best from the event?
IP: There are two favourite games of mine in the finals. The games against Mikhail Antipov and Gabuzyan Hovhannes. In both of these, I made little to no mistakes and swiftly punished theirs.
SA: Who was the toughest opponent you faced in the entire event?
IP: Although I had lost the first game, that wasn't the toughest because I wasn't outplayed there. Nor was my draw with Haik Martirosyan because I was the one pressing in the game for most of the middlegame. The toughest was with Oparin Grigory where he was slowly outplaying me and I was very much worse but I had the time advantage. In time-trouble he made mistakes and I won.
SA: What's next for you?
IP: Although the OTB tournaments are starting again, I am not sure if I will be playing them or not because Covid seems to spread more and faster nowadays. There are several Online tournaments I have planned to play.
SA: Thank you Iniyan for taking the time to answer these questions. I wish you all the best in your future endeavors.
IP: Thank you!
Replay all games of Iniyan from the Final
Final Standings
| | | | | | | | | | | | |
| --- | --- | --- | --- | --- | --- | --- | --- | --- | --- | --- | --- |
| Rk. | SNo | | | Name | FED | Rtg | Club/City | Pts. | TB1 | TB2 | TB3 |
| 1 | 2 | | GM | Martirosyan Haik M. | ARM | 2622 | Armenian State Institute of Physica | 5,5 | 1 | 16,75 | 4 |
| 2 | 4 | | GM | Iniyan P | IND | 2506 | Bharathiar University | 5,5 | 2 | 15,75 | 5 |
| 3 | 3 | | GM | Antipov Mikhail Al. | RUS | 2609 | University of Missouri | 4,5 | 0 | 10,50 | 4 |
| 4 | 5 | | GM | Xu Yinglun | CHN | 2554 | Shanghai University of Finance and | 4,0 | 0 | 13,50 | 2 |
| 5 | 7 | | GM | Gabuzyan Hovhannes | ARM | 2557 | University of Texas Rio Grande Vall | 3,5 | 0 | 8,00 | 3 |
| 6 | 6 | | IM | Taher Yoseph Theolifus | INA | 2455 | Gunadarma University | 2,0 | 0 | 6,75 | 1 |
| 7 | 1 | | GM | Oparin Grigoriy | RUS | 2652 | University of Missouri | 2,0 | 0 | 4,75 | 1 |
| 8 | 8 | | IM | Beradze Irakli | GEO | 2475 | University of Texas Rio Grande Vall | 1,0 | 0 | 2,00 | 1 |
Links
---