Fier conquers 10th Lorca City Open, Iniyan third
Iniyan P was on the verge of winning 10th Lorca City Open. Despite being in the sole lead 7.0/8, he was in a must-win situation against Karen Grigoryan (ARM) in the final round. A draw would not have been enough as the eventual winner, Alexandr Fier (BRA) 7.5/9, had better tie-breaks. Unfortunately for Iniyan, he could not win the last round and had to settle for third place. Karen finished second 7.5/9. Karthik Venkataraman had the same score as Iniyan, he secured fourth position according to the tie-breaks. IM Srijit Paul is the only other Indian to finish in the top ten at seventh place. WIM Priyanka Nutakki was the best female player 5.5/9. Photo: Club Ajedrez Lorca
Karthik Venkataraman fourth in tie-breaks
GM Iniyan P, GM Karthik Venkataraman and IM Srijit Paul are the only three Indians to finish in top ten. Namitbir Singh Walia is the highest untitled finisher at 20th place, scored 6.0/9 and gained 135.2 Elo rating points.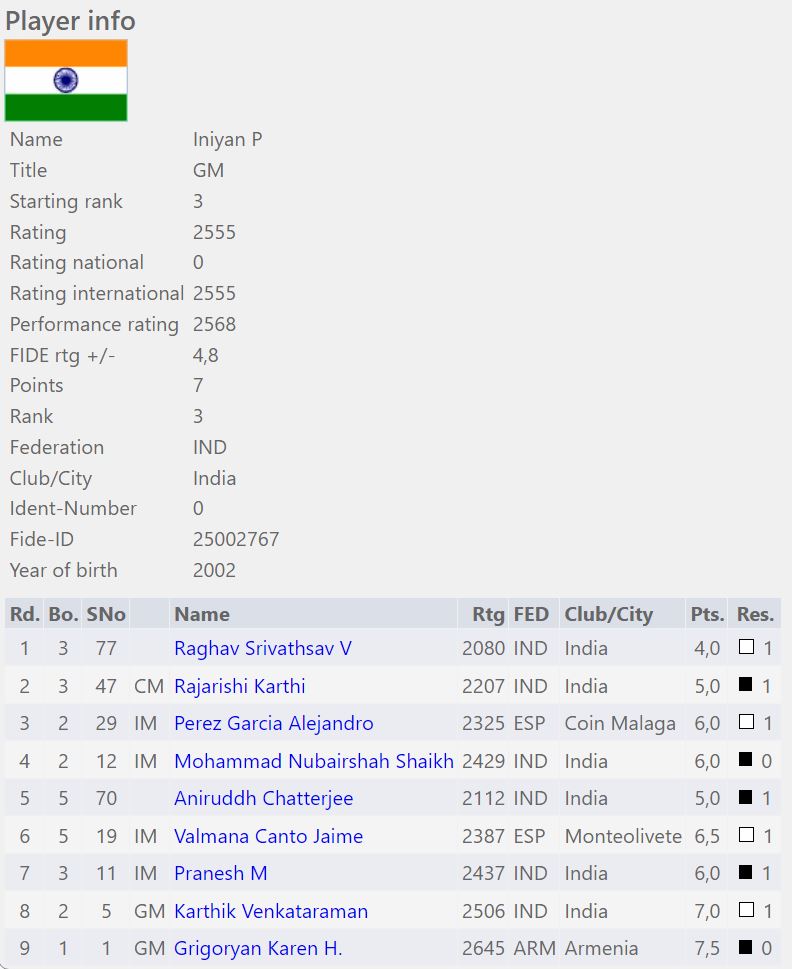 Apart from the two losses, it was IM Pranesh M who gave a tough competition to GM Iniyan P in Round 7.
Pranesh - Iniyan, Round 7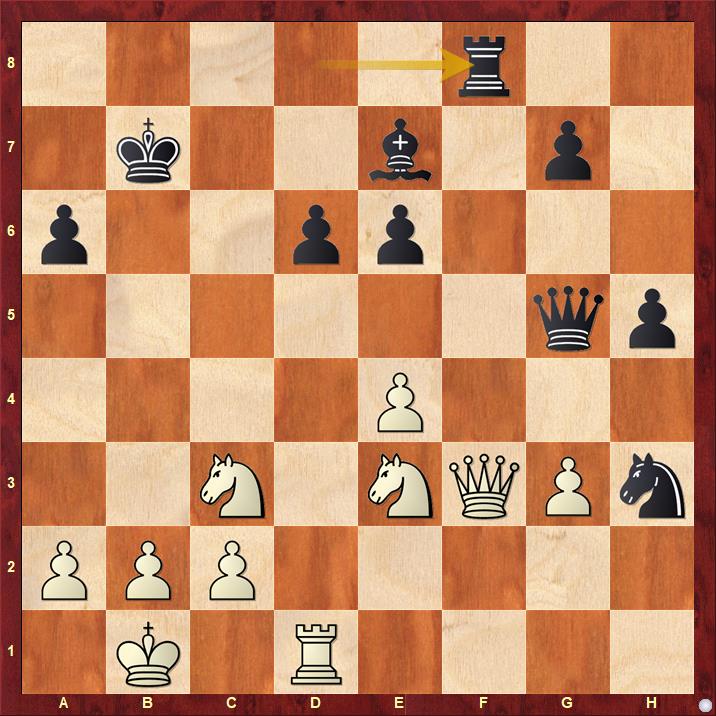 Black's weakened and completely exposed king gives White a substantial advantage. Opening up the long diagonal h1-a8 is a priority for White. 36.Qg2 was played in the game which is certainly not bad, however there is something better, somewhat counterintuitive move. Find out what it is and why it is a better continuation for White. Iniyan eventually managed to turn things around and win the game.
Replay Iniyan's games
Namitbir is also the top untitled finisher in the final standings.
The tournament was organized by Club Ajedrez Lorca at Campus Universitario de Lorca, Murcia in Spain from 26th to 30th December. Time control in Group A was 90 minutes + 30 seconds increment from move no.1. There were double rounds on four days, except the first day, 26th December.
Replay all games
Final standings in Group A
| | | | | | | | | | | | | | | |
| --- | --- | --- | --- | --- | --- | --- | --- | --- | --- | --- | --- | --- | --- | --- |
| Rk. | SNo | | | Name | Typ | sex | Gr | FED | Rtg | Club/City | Pts. | TB1 | TB2 | TB3 |
| 1 | 2 | | GM | Fier Alexandr | | | | BRA | 2572 | Brasil | 7,5 | 51,0 | 55,0 | 40,0 |
| 2 | 1 | | GM | Grigoryan Karen H. | | | | ARM | 2645 | Armenia | 7,5 | 46,5 | 50,0 | 36,0 |
| 3 | 3 | | GM | Iniyan P | | | | IND | 2555 | India | 7,0 | 48,5 | 53,0 | 38,0 |
| 4 | 5 | | GM | Karthik Venkataraman | | | | IND | 2506 | India | 7,0 | 48,5 | 52,5 | 39,0 |
| 5 | 4 | | GM | Dardha Daniel | | | | BEL | 2533 | Belgica | 7,0 | 45,5 | 50,0 | 33,0 |
| 6 | 8 | | IM | Quintiliano Pinto Renato R. | | | | BRA | 2466 | Brasil | 6,5 | 48,5 | 53,5 | 38,5 |
| 7 | 28 | | IM | Srijit Paul | | | | IND | 2340 | India | 6,5 | 48,0 | 52,0 | 32,5 |
| 8 | 19 | | IM | Valmana Canto Jaime | | | | ESP | 2387 | Monteolivete | 6,5 | 47,0 | 51,5 | 34,5 |
| 9 | 16 | | IM | Fernandez Guillen Ernesto J. | | | | CUB | 2411 | Cuba | 6,5 | 45,0 | 49,0 | 34,0 |
| 10 | 10 | | IM | Martinez Ramirez Lennis | | | | CUB | 2456 | Cuba | 6,5 | 43,5 | 48,0 | 34,0 |
| 11 | 7 | | IM | Di Berardino Diego Rafael | | | | BRA | 2480 | Brasil | 6,5 | 42,5 | 46,5 | 33,5 |
| 12 | 13 | | IM | Molina Roberto Junio Brito | | | | BRA | 2420 | Brasil | 6,5 | 40,0 | 43,5 | 32,0 |
| 13 | 18 | | IM | Sabuk Piotr | | | | POL | 2396 | Polonia | 6,0 | 48,5 | 52,5 | 36,0 |
| 14 | 11 | | IM | Pranesh M | | | | IND | 2437 | India | 6,0 | 48,0 | 52,5 | 36,5 |
| 15 | 12 | | IM | Mohammad Nubairshah Shaikh | | | | IND | 2429 | India | 6,0 | 48,0 | 51,5 | 35,5 |
Links
---