Iniyan wins a double at 38th Andorra Open 2022, Rathanvel third
India's 61st GM Iniyan P won two tournaments almost a year ago in Noisiel, France. This time he delivered a similar fantastic performance in Andorra. He won both 38th Andorra International Open and the Blitz Grand Prix. In the Classical event, he scored an unbeaten 7/9 and in Blitz he made 8/9, became a clear champion. GM Josep Manuel Lopez Martinez (ESP) also scored 7/9. He was placed second according to tie-breaks. A total of 12 players scored 6.5/9 each. IM Rathanvel V S secured third place according to tie-breaks. Total prize fund of the tournament was €10500. Top three prizes were €2100, €1500 and €1000. Rathanvel secured third place in the Blitz event too. Check out Iniyan's best game from the event annotated by himself. Photo: Official site
Iniyan and Rathanvel secure first and third place in both Classical and Blitz
The 19-year-old teenager from Erode has had fantastic performance in 2022 so far. However, this is his first victory of the year and his second victory followed within a week. He won the Blitz event on 25th July and the Classical on 31st July. He remained undefeated in all 18 games. IM Rathanvel V S also secured third place in both Classical and Blitz event. IM Aronyak Ghosh who is sponsored by Sadhana app, secured fourth place in tie-breaks. He remained undefeated.
Jonas - Iniyan, Round 2
Did Black blunder a pawn at d5? Find out if there is any remedy for 17.Nxd5
A week shy of five months ago, Anustoop Biswas scored his maiden IM-norm at MPL 58th National Senior Open 2022. In this event, he scored 6.5/9, performing at 2440 to earn his second IM-norm. He also gained 64.4 Elo rating points. He is now one final IM-norm and 2400 in the live ratings away from becoming India's next International Master.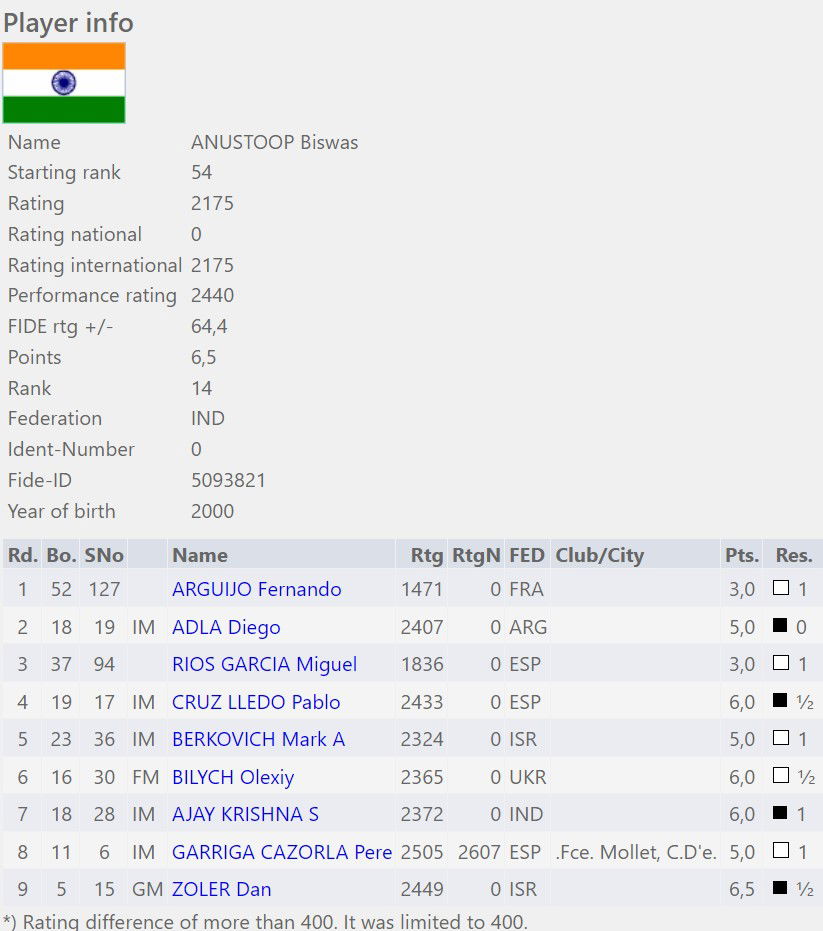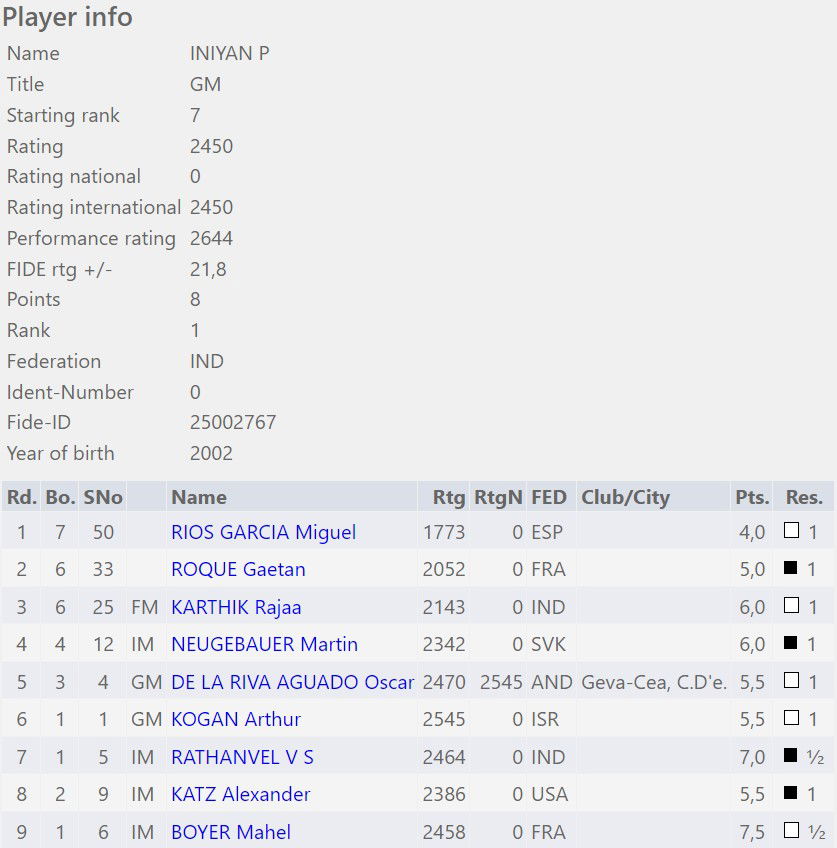 A total of 140 players including 9 GMs and 23 IMs took part from 20 countries across the world. The Blitz event had 85 players including a 7 GMs and 10 IMs from 12 countries in the nine round Swiss league Blitz Rating tournament. The event was organized by Centre d'Escacs d'Andorra la Vella at Hotel Panorama [Ctra. de l'Obac, s/n. Escaldes-Engordany] from 24th to 31st July 2022 and the Blitz event took place at Centre de Congressos d'Andorra la Vella. Plaça del Poble, Andorra on 25th July 2022. The time control for the Classical event was Hotel Panorama [Ctra. de l'Obac, s/n. Escaldes-Engordany] and for Blitz it was 3 minutes + 2 seconds increment.
Final standings in Classical
| | | | | | | | | | | | | | | | |
| --- | --- | --- | --- | --- | --- | --- | --- | --- | --- | --- | --- | --- | --- | --- | --- |
| Rk. | SNo | | | Name | Typ | sex | FED | Rtg | RtgN | Club/City | Pts. | TB1 | TB2 | TB3 | TB4 |
| 1 | 2 | | GM | INIYAN P | | | IND | 2533 | 0 | | 7,0 | 52,5 | 39,50 | 41,5 | 0,00 |
| 2 | 8 | | GM | LOPEZ MARTINEZ Josep Manuel | | | ESP | 2486 | 0 | | 7,0 | 51,5 | 39,50 | 41 | 0,00 |
| 3 | 11 | | IM | RATHANVEL V S | | | IND | 2478 | 0 | | 6,5 | 55,5 | 38,75 | 45 | 0,00 |
| 4 | 9 | | IM | ARONYAK Ghosh | | | IND | 2486 | 0 | | 6,5 | 52,5 | 36,25 | 41,5 | 0,00 |
| 5 | 22 | | IM | ALMAGRO LLAMAS Pablo | | | ESP | 2394 | 0 | | 6,5 | 52,5 | 36,00 | 40,5 | 0,00 |
| 6 | 3 | | IM | NEUGEBAUER Martin | | | SVK | 2528 | 0 | | 6,5 | 52 | 36,25 | 41,5 | 0,00 |
| 7 | 7 | | GM | SOLODOVNICHENKO Yuri | | | UKR | 2497 | 0 | | 6,5 | 51,5 | 36,25 | 40,5 | 0,00 |
| 8 | 1 | | GM | KOBO Ori | | | ISR | 2534 | 0 | | 6,5 | 51 | 36,00 | 39 | 0,00 |
| 9 | 4 | | GM | ASIS GARGATAGLI Hipolito | | | ESP | 2514 | 2568 | .Fce. C.D'e. Ateneu Colón | 6,5 | 50,5 | 35,25 | 39,5 | 0,00 |
| 10 | 15 | | GM | ZOLER Dan | | | ISR | 2449 | 0 | | 6,5 | 50,5 | 34,25 | 40,5 | 0,00 |
| 11 | 13 | | IM | HOLM Kristian Stuvik | | | NOR | 2463 | 0 | | 6,5 | 50 | 35,00 | 38,5 | 0,00 |
| 12 | 25 | | FM | SOKOLOVSKY Yahli | U18 | | ISR | 2386 | 0 | | 6,5 | 50 | 34,75 | 39 | 0,00 |
| 13 | 42 | | FM | DEFROMONT Benjamin | | | FRA | 2268 | 0 | | 6,5 | 47,5 | 33,25 | 38 | 0,00 |
| 14 | 54 | | | ANUSTOOP Biswas | | | IND | 2175 | 0 | | 6,5 | 45,5 | 31,25 | 36 | 0,00 |
| 15 | 23 | | IM | GLAVINA Pablo | | | ESP | 2394 | 0 | | 6,0 | 52,5 | 32,75 | 41,5 | 0,00 |
Final standings in Blitz
| | | | | | | | | | | | | | |
| --- | --- | --- | --- | --- | --- | --- | --- | --- | --- | --- | --- | --- | --- |
| Rk. | SNo | | Name | Typ | sex | FED | Rtg | RtgN | Club/City | Pts. | TB1 | TB2 | TB3 |
| 1 | 7 | GM | INIYAN P | Blz | | IND | 2450 | 0 | | 8,0 | 45,25 | 48,5 | 52,5 |
| 2 | 6 | IM | BOYER Mahel | Blz | | FRA | 2458 | 0 | | 7,5 | 42,00 | 49 | 51,5 |
| 3 | 5 | IM | RATHANVEL V S | Blz | | IND | 2464 | 0 | | 7,0 | 42,50 | 53,5 | 57,5 |
| 4 | 3 | GM | LOPEZ MARTINEZ Josep Manuel | Blz | | ESP | 2483 | 0 | | 7,0 | 40,50 | 47,5 | 51,5 |
| 5 | 30 | IM | ARONYAK Ghosh | Blz | | IND | 2093 | 0 | | 7,0 | 36,75 | 45,5 | 48,5 |
| 6 | 11 | IM | CRUZ LLEDO Pablo | Blz | | ESP | 2360 | 0 | | 7,0 | 35,50 | 47 | 50 |
| 7 | 21 | FM | BILYCH Olexiy | Blz | | UKR | 2189 | 0 | | 7,0 | 33,50 | 44 | 47,5 |
| 8 | 13 | GM | HENDERSON DE LA FUENTE Lance | Blz | | AND | 2330 | 0 | Geva-Cea, C.D'e. | 6,5 | 36,25 | 49 | 53,5 |
| 9 | 14 | FM | PORRAS MATEO Felipe | Blz | | AND | 2322 | 2455 | Geva-Cea, C.D'e. | 6,5 | 31,00 | 43,5 | 46,5 |
| 10 | 19 | | AARON Deepak | Std | | USA | 2221 | 0 | | 6,5 | 28,75 | 41,5 | 43,5 |
Links
---