P. Iniyan's road from Erode to Sochi
P. Iniyan, born in 2002, is just 18 years old. But the youngster from Erode is already taking massive steps in consolidating himself as one of the top grandmasters in the country. At the recently concluded AICF World Cup qualifier, the youngster scored 12.5/16 and won the tournament. Iniyan will now represent the country at the World Cup to be held in Sochi in July 2021. How did Iniyan achieve this strength as a chess player in spite of his home-town having no chess culture, how did he build a strong team around himself and how is he pushing himself all the time even in the Covid-19 pandemic. We bring you a detailed profile on this youngster. Read on to know more.
Iniyan Panneerselvam: The Hardworking Talent with Elite Ambitions
In late 2016, a young Indian chess player had travelled to Europe with the hope of getting his IM norms. He planned to play 3 tournaments into the new year and was determined to achieve his target. After a poor showing at the first one, he was waiting at a bus stop to travel to his next destination. What followed next was a nightmare. On a cold evening in Spain, his laptop is stolen, and he has no idea about what he should do. During this time, this player even contemplates not taking part in the tournaments he had planned. Then, he decides that having gotten this far, he would anyway go ahead with his plan. What followed this bad omen was a period of great success and he earned 2 IM norms in his next two tournaments. He says, "Every day I would play for ten hours, practice for four or five hours more. I was in the zone at the time and managed to get good results."
This story is typical for the protagonist of this article - GM P. Iniyan. Nothing really stops this boy from Tamil Nadu and today he is a Grandmaster. He recently won the AICF World Cup qualifiers and booked himself a spot at the prestigious World Cup 2021. GM Iniyan Panneerselvam is a young star today and fought his way to this position despite coming from a small city like Erode.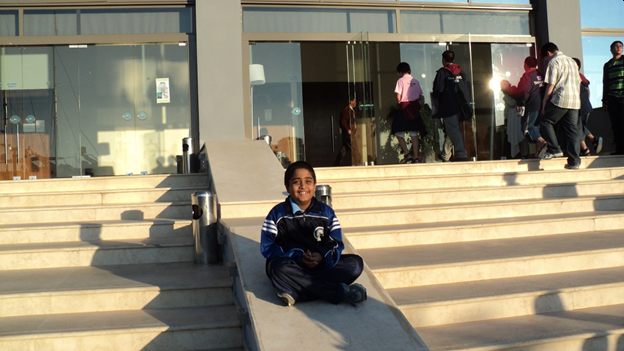 How did chess come into his life? The 2002-born lad says, "My parents are from a sports background. My father is a cricket player, so he encouraged me to play some kind of sport. I used to play a lot of sport in my younger days: I used to play some cricket, badminton, and chess at home. But then, my father wanted me to play an individual sport. He thought that an individual sport is better since your success depends on your own work." Thus, chess was chosen and Iniyan recounts that from a very young age he wouldn't mind sitting in one spot and playing for long hours. This was a sign to the people around him that he would be able to do well in this sport.
The Incredibly Supportive Family
Iniyan describes his father, Panneerselvam as his coach before the first coach. It was his dad who taught the young boy the rules of the game and as Iniyan grew in chess, Mr. Panneerselvam also tried to learn more about the game to help his son. Coming from a small city and not being able to train with coaches face to face on a daily basis meant that his father had to constantly support Iniyan.
The Indian youngster adds, "He (Panneerselvam) would manage all the plans for my tournaments. It's a big deal that there is a person like that. From the moment we step out of our house to the moment we come back, everything will be decided before we start." Speaking about his mother, Saranya, "My mom too (has done a lot for me) she has been traveling with me for many years and the whole family sacrifices a lot for me." Some of these sacrifices of their family include not being able to go out, not being able to meet friends often etc.
Iniyan's parents also speak with sponsors to try and get more support for him. To paraphrase Iniyan's words, they are his parents, managers, coaches, and well-wishers all rolled into one. Mr. Panneerselvam and Mrs. Saranya aren't the only people who have to make sacrifices for his career. His young sister Iniyakeerthi has also constantly been by the side of her brother. "I think she has higher expectations of me than myself or my parents or anybody else. She wants me to do my best and keeps pushing me. She keeps praying for my successes, especially when I am playing tournaments. Another important thing is that she is okay with (my) mom travelling with me. She misses her at home, but my chess comes first! When I go outside, it's my mother who is there to support me. Chess just gets very emotional and at times you need someone by your side who can understand you."
Mrs. Saranya also ensures that Iniyan is able to get homecooked food at these tournaments and this becomes very important since a diet that a person isn't used to can affect one's health and the performance. Even the extended family of Grand Parents, Uncles and Aunts, Cousins etc. have been very supportive of the young talent.
Concern for Society
In 2020 during the Pandemic, Iniyan organised a Fundraiser to raise money for those affected by Covid-19. He recounts, "I saw that many people were donating money towards COVID – 19 relief. I could have donated my own money, but then I thought we should use chess because this is my talent. I also wanted it to be beneficial to other youngsters and wanted to provide a stimulus for people who want to grow in chess. So, I wanted to do an event which was big. There were people around me: my family, my coach and others who formed a support team." This group would take calls, look at funds received, make a schedule etc. and were instrumental in the organisation of the fundraiser.
Iniyan recollects, "Personally I didn't have that much worry about the outside stuff because of them. I just focused on my game." The young grandmaster would start playing at 9 a.m. and would continue till late into the night with a few short 15–20-minute breaks in between. On some days he wouldn't even be able to take a break and would eat as he was playing. "That was an interesting event, and it also tested my stamina because I was playing from 9 in the morning till 11 in the night. One day, I played till 12 midnight and I played about 100 games." During the three days, Iniyan had played about 45 hours of chess. When he finished, the Indian youngster was tired because of all the strain and at the same time, he was satisfied at having completed this charity event.
Coaching and Idols
GM Iniyan first trained under coach Thirumurugan who was from Erode District and for a year or so he learnt the basics of the game from him. After this, he worked with Senthilvel till he reached the Under-9 level and since then, he has been in a successful partnership with K. Visweswaran. Coach Visweswaran has played a pivotal role in Iniyan's career and continues to do so even today constantly helping Iniyan improve in chess as well as life in general.
Like many Indian players, Iniyan sees Viswanathan Anand as his inspiration, he narrates, "Once when I was very young, Anand sir came to a tournament (where Iniyan was playing) to give away the awards. Then, when I became an IM, he attended a felicitation function at Kumaraguru College of Technology where the chess players of this region were awarded. And when I became a Grandmaster once again, he was there to give me an award." Thus, we see how the 1st continues to inspire the 61st and beyond.
Iniyan also takes inspiration from a few other players, "I like Kasparov a lot because of the longevity he had and the dominance he had over his rivals during his peak. (I have had) several favourites during different times. At one point, Aronian was fantastic. He never became World Number 1, but the way he played and creativity he had, it was amazing. Then at one-point Caruana was playing sublime chess. And of course, Magnus Carlsen is always a role model."
The Support System
Iniyan studied at the Indian Public School from the time he was in Kindergarten up to 12th Standard. "So, they know me from the start of my career, and they were always supportive even before I started to get success." He notes that in his last four school years combined, he was in school only for 30 days! Now, he is a 1st year BBA Student in PSG College of Arts and Science, Coimbatore. In his first year itself, his college has shown tremendous support towards his sport and this was highlighted in the recently concluded World University Championship. Iniyan explains, "My college is affiliated to Bharathiar University and I didn't know any of the university officials. So, I had to tell my college staff, and then they had to communicate with the university in the few days before the deadline." Despite the hurdles, the paperwork was processed and he was able to register for the championship.
The support continued even after this. The GM from Erode recounts, "The university officials would stay up till the games finished. The games would finish at 11:30PM or so and on one day we were waiting until 1 a.m for the results and they were awake till then. When I got the medal, they immediately called to wish me. It's nice that they are very supportive." Champions are bred through cultures such as those at PSG College and Bharathiar University.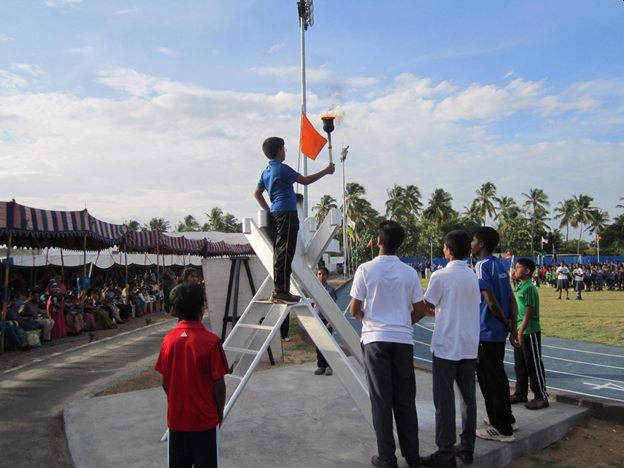 Iniyan believes that one can get the GM and other titles with hard work and consistent results. But to reach the titles at a young age, one has to play in at least some foreign tournaments which can be really costly. Coming from a small town, in which there aren't too many big MNCs it's not been easy for Iniyan to get financial support. Despite this, he has gotten some help. "When I won the national under 15 championship in 2015, Olirum Erodu Foundation came forward to support me till I became a Grandmaster." For three years they took care of his tournament expenses and other financial needs. He has also been sponsored and supported by Microsense Foundation, Sakthi Sugars Group, Sakthi Masala Group, and some other companies.
Iniyan highlights the importance of sponsors for chess, "See, every top player has a corporate sponsor. Anish Giri has Optiver. Carlsen has a slew of brands sponsoring him and you have to have sponsors so that you can afford the expenses that come with the sport."
Career thus Far
The young grandmaster says that the favourite game of his career is the one in which he beat GM Sergey Fedorchuk at the Noisiel Open to cross the ELO rating of 2500. This victory made him eligible to earn the title of GM. He tells me, "This was a game against a 2600 Grandmaster at the time. It was not some kind of game where my opponent made blunders. It was a game where I slowly outplayed my higher rated opponent."
One of his other favourite memories is the World Youth Olympiad in Ahmedabad, 2017. India fielded a really strong team comprising Aryan Chopra, Nihal Sarin, Vaishali R, Praggnanandhaa and Iniyan. The team was seeded first and Iniyan is of the opinion that India never had a youth team with such strong players in the past. "The thing is in other countries; the players are selected based on their rating, not by the national ranks and our Indian team has historically been selected by the ranking in the nationals."
He also says how due to 10th standard board exams, some players would skip the nationals and hence not qualify for the Youth Olympiad. But in 2017 with the event being held in Ahmedabad, India was able to field multiple teams and the India Green team was selected based on their rating. Iniyan had a brilliant showing on board 4 and scored 7.5 out of a possible 8 points. It was also a moment of redemption for the young player. "The previous World Youth Tournament was in Slovakia. There, out of eight games. I scored three and a half. Our team finished fourth. Maybe if I had done a little bit better, we could have gotten a bronze or some medal. So, getting the overall player of tournament after the previous year was great." The Indian team took home the Silver at his Olympiad. In his young career thus far, Iniyan has been the Commonwealth Age Group champion and he also finished joint first at the Dubai Open in 2019.
The Ability to Adjust
During the Pandemic, Iniyan, played in the World Open Chess Tournament (Online) in September and emerged victorious amongst a field that had about 120 players and several Grandmasters. The tournament was an adventure of sorts for him. "I was playing in the night-time from 9:30PM till 6:30 AM and that was really hard to do. I changed my sleep schedule for a week before the tournament started and I think after I won the tournament, a lot of Indians have started playing US tournaments regularly." He notes that it is a very different experience in comparison to jetlag from travel. "This is worse actually, because when you go there (abroad) your internal clock syncs with the sunset and sunrise. Here you are seeing the sun set, but you have to play on and in the morning, you have to sleep. It's really hard."
Looking Ahead
Aside from chess, Iniyan plays a lot of badminton, another sport that he picked up when he was very young. He plays this for at least a couple of hours every day. Away from the sporting arena, Iniyan writes a lot, and this includes poems and stories. This hobby has now taken the place of his reading habit. He also enjoys listening to music and for him, language is no boundary, his playlist include songs in Tamil, English and Hindi. A typical day in his life consists of few hours of badminton in the morning and an hour of a different physical activity such as jogging in the evening. Through the rest of the day, he hones his craft for about eight hours. The ultimate goal for Iniyan is to become World Champion one day and he also aspires to reach an ELO rating of around 2850.
Just a couple of days ago Iniyan won the Indian qualifier to the World Cup 2021. In a field that boasted of strong players like Adhiban, Sethuraman, Ganguly, S.L. Narayanan, Iniyan was in prime form as he chalked up 12.5 points out of 16. He took home the first place and also a spot in the World Cup 2021 to be held in Sochi, Russia in July. This might well be the big breakthrough that will propel the youngster into the big league.
Iniyan has brought laurels to his family and his country over the years and has continued to do this through difficult period. With the right help, support and through his hard work, he has the potential to reach the highest level of the game. For Indian chess fans, we can look forward to another great player and potential World Champion emerging from our country.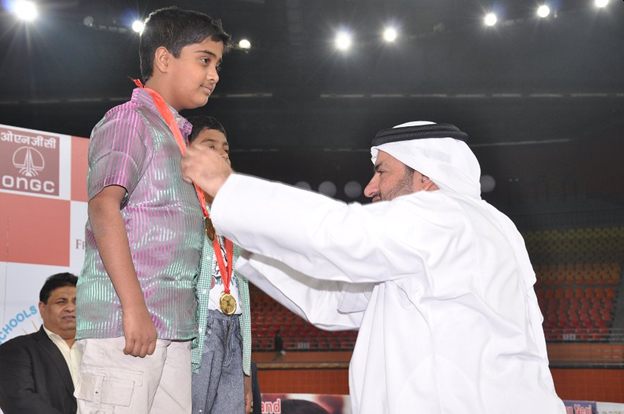 About the author:
Saishyam Srikanth is a journalism student who is currently studying in the final year of his bachelor's programme at St. Joseph's College, Bengaluru. He has been a sports fan from the time he can remember and one day, aspires to translate this love for sport into a career as a media professional.
Previous coverage of Iniyan on ChessBase India
Articles on Iniyan on ChessBase India
Iniyan's fundraiser for Covid-19
Breaking news - India gets its 61st GM P. Iniyan
Iniyan wins Silver at the 1st FIDE Online World University
Iniyan wins AICF World Cup Qualifier
---