Vignesh N R becomes India's 80th and first Grandmaster brothers with Visakh
IM Vignesh N R became India's 80th Grandmaster on 29th January 2023. He defeated IM Ilja Schneider (GER) in the final round to cross 2500 in the live ratings. The win also earned him the first place at 24th NordWest Cup 2023. His brother GM Visakh Narayanan Rajeshwari became India's 59th Grandmaster back in 2019. Thus, Vignesh and Visakh have etched their name in history by becoming India's first brothers to become Grandmasters. After becoming GM, he returned to his home state Tamil Nadu to play for RSPB A at MPL 42nd National Team Open 2023. He scored an unbeaten 7/9 to ensure his team won a Bronze. He also won an individual Silver medal on Board #2. Both brothers were part of the same team. Photo: Aditya Sur Roy
Vignesh and Visakh etch their name in history
"It's really nice to see my brother finally made GM title requirements. Maybe it's just the first step towards a higher level. We will be looking forward to improving more and playing good games and to impact positivity to the world 🙂" - GM Visakh N R on his brother Vignesh N R becoming a Grandmaster and creating history. Vignesh is just a year elder to his own brother Visakh.. The 80th GM is currently playing at 8th Noisiel Open 2023 in France. We will have his thoughts on this historic feat once he concludes his tournament.
Vignesh is Tamil Nadu's 29th GM. He is currently employed by Southern Railway, while his younger brother represents Integral Coach Factory. The brothers from Chennai have created history, something that has not been done by Indian players so far. The world has many brothers, sisters, siblings as Grandmasters, yet this is the first for our country and hopefully many more will be inspired by them.
First GM-norm: Qatar Masters 2015
As reported by us a little over seven years ago, 17-year-old IM Vignesh N R made spectacular start at the Qatar Masters 2015. He earned his maiden GM-norm in just six rounds. Thus, the result of the last three rounds became immaterial. It will be quite difficult to find a lot of players to have achieved this feat. He defeated GM Mateusz Bartel (POL), GM Wei Yi (CHN), drew with GM Ngoc Truong Son Nguyen (VIE), GM Sam Shankland (USA), GM Vladimir Fedoseev, GM Hou Yifan (CHN) and GM Francesco Rambaldi (ITA). That is certainly an impressive list of players to score against en route their maiden GM-norm.
Vignesh - Mateusz, Round 3
To get a glimpse of how strong Vignesh was at the age of 17 years and just months after becoming an IM, take a look at the above position. He scored a clinical victory over then 2620 rated Poland's top GM. White has gained a pawn at c5. 19.dxc5 b5 20.Bxf6 Bxf6 21.Nb2 a5 22.b4 axb4 23.Nd3 White took a lot of effort in defending the c5-pawn. Eventually that helped him earn a full point.
Second GM-norm: 24th Abu Dhabi Masters 2017
A little over 1.5 years later, IM Vignesh N R scored his second GM-norm at 24th Abu Dhabi Chess Festival Masters in August 2017. The teenager won against GM Karthikeyan Murali and GM Bogdan-Daniel Deac (ROU), drew with GM Mircea-Emilian Parligras (ROU), GM Parham Maghsoodloo (IRI), GM Tsegmed Batchuluun (MGL) and GM Constantin Lupulescu (ROU). Vignesh scored 6/9, performed at 2628, gained 22.2 Elo rating points and finished at tenth place overall, en route his second GM-norm.
Bogdan-Daniel - Vignesh, Round 7
On a regular day, when someone is facing a 2573-rated GM like Bogdan-Daniel Deac (ROU), one would think that 19...Nxb3+ is the obvious and sensible move. Well, IM Vignesh N R (2448) had something interesting in his mind. He opted for the exciting 19...Bxe4! Moves like this can throw your opponent off-balance, no matter how strong he is. Only computers can withstand these humane sacrifices. For a human, it is certainly quite difficult to thwart them with precise defense. 20.Qxe4 f5 21.Qg2 Nf3+ 22.Kd1 Nxe1 23..Kxe1 e4 opening up the bishop's diagonal. 24.Ne3 b5 25.Nxf5 b4 26.Kd2 bxc3+ 27.bxc3 d5 has a subtle idea.
The subtle idea of 27...d5 which White missed is - 28...Bxc3+ 29.Kxc3 Qc8+ 30.Kd2 Qxf5 and Black had no trouble converting his decisive advantage into a win. The protected cental passed pawn on d-file played a key role.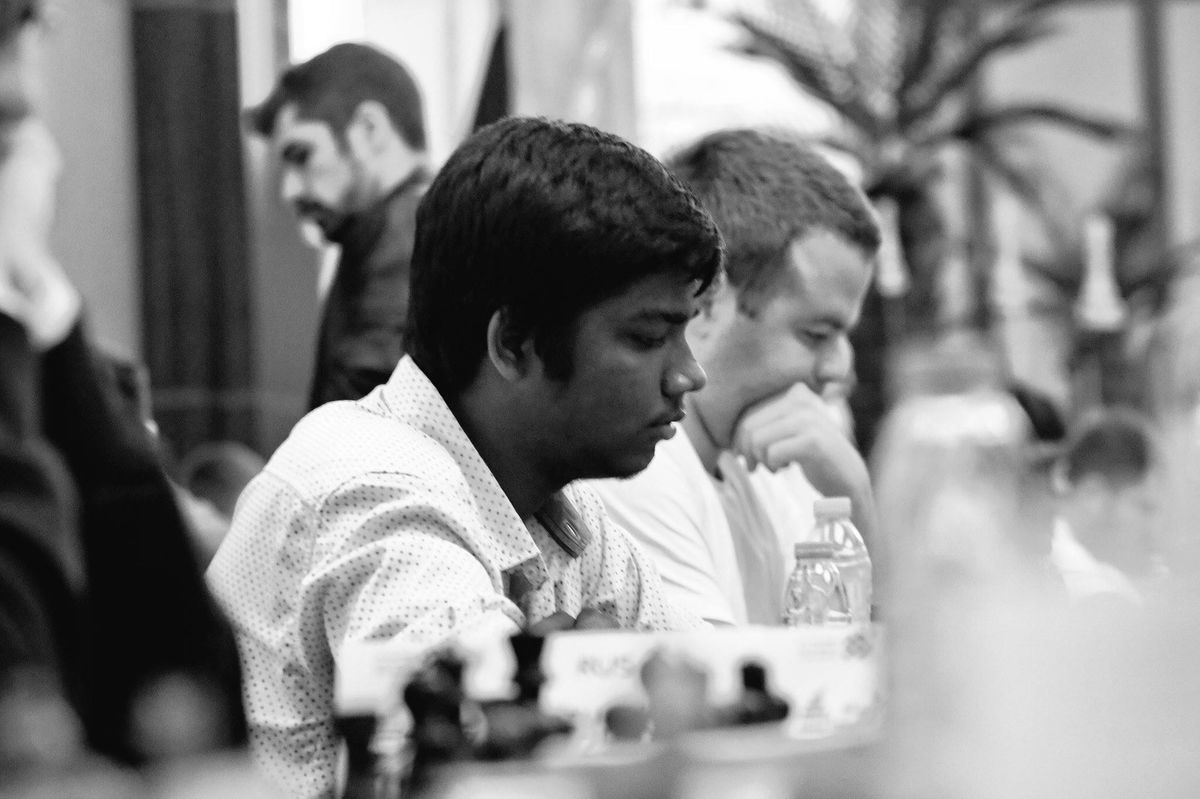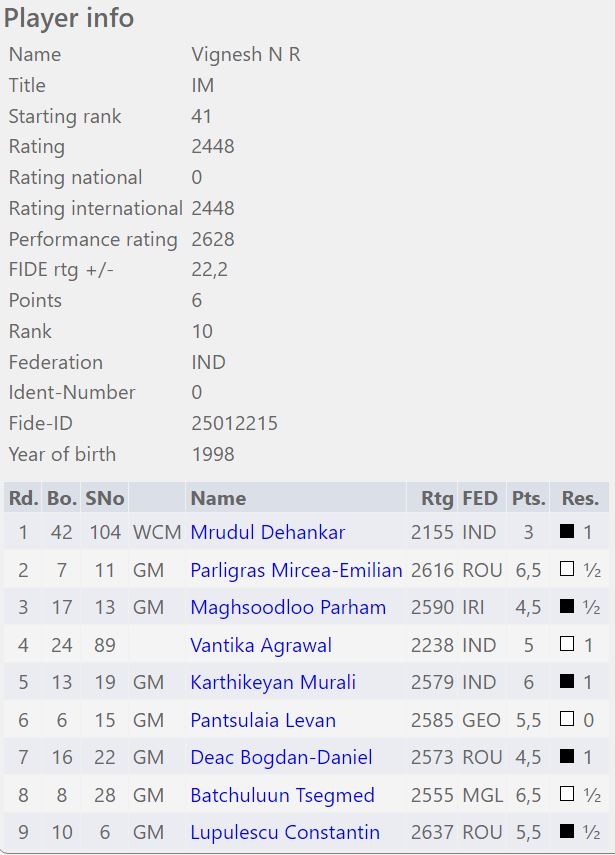 Third GM-norm: 1st Gujarat GM Open 2018
IM Vignesh N R earned his final GM-norm at 1st Gujarat GM Open 2018. He started with a perfect 3/3, finishing the event with a 8/10 score and securing the second place. His wins include against GM Farrukh Amonatov (TJK), GM Vitaly Sivuk (UKR), drew with GM Vadim Malakhatko (BEL) and GM Vitaliy Bernadskiy (UKR).
Vignesh - Amonatov, Round 7
Amonatov sacrificed the d6-pawn early in the opening 10...d5 to clear the bishop's path. However, he never got enough compensation for it. 11.exd5 Bb4 12.Bd2 0-0 13.Qe2 e4 14.0-0-0 Re8 15.g4 Rc8 16.Bg2 Nc5 17.Kb1 Be3 18.Be1 Qd6 19.g5 White is already winning positionally. Eventually, the d5-pawn played a crucial role in earning White a full point.
Fourth GM-norm: Asian Continental 2019
Although it was not required, IM Vignesh N R scored a fourth GM-norm at Asian Continetal 2019 by virtue of another fantastic performance in Xingtai, China. He started the tournament with a draw against GM Adhiban B, also drew with GM Vaibhav Suri and Xu Xiangyu (CHN). Vignesh scored wins over GM Wan Yunguo (CHN) and GM Zeng Chongsheng (CHN).
Vignesh - Yunguo, Round 7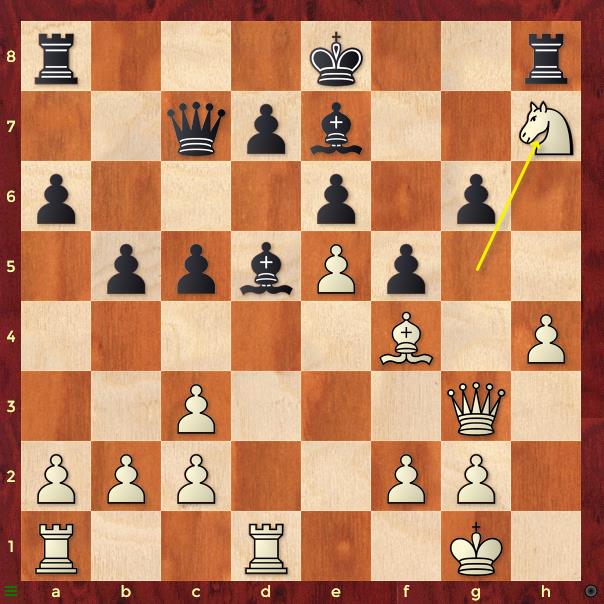 19.Nxh7! works because Rxh7 runs into 20.Qxg6+ Rf7 21.Rxd5!+-. The game continued 19...0-0-0 20.Nf6 Bb7 and White won after a dozen more moves.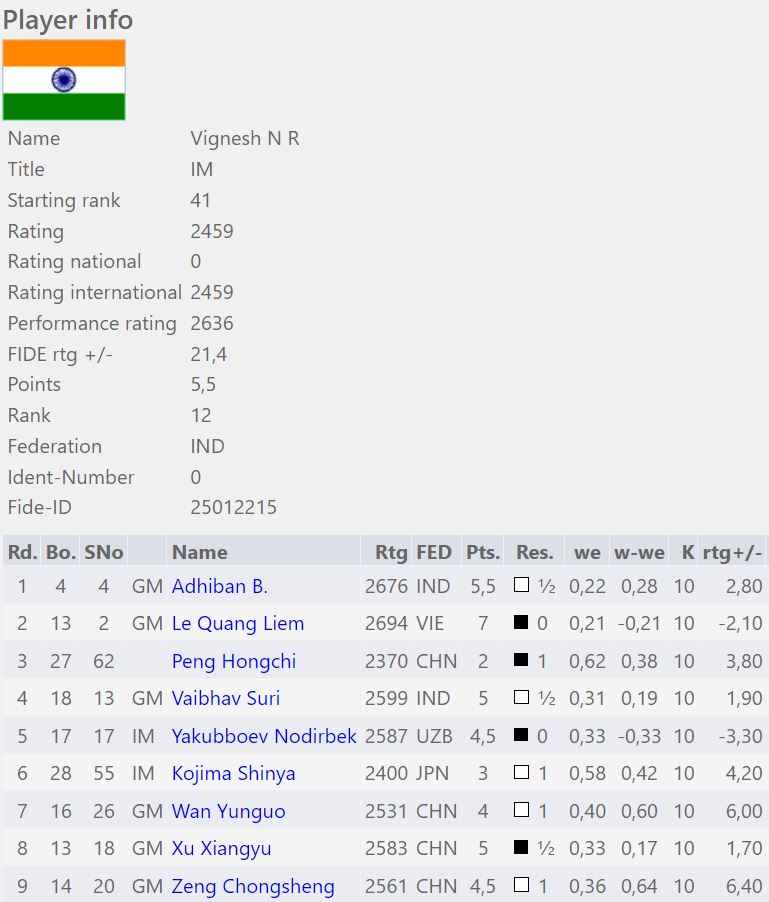 Live rating 2500
On Sunday 29th January 2023. IM Vignesh N R defeated IM Ilja Schneider (GER) to cross 2500 in the live ratings to become India's 80th and the first ever brothers to become Grandmasters. He also won 24th NordWest Cup 2023 at Bad Zwischenahn in Germany.
The one and only Vishy Anand congratulated India's latest GM Vignesh N R
Replay all games of Vignesh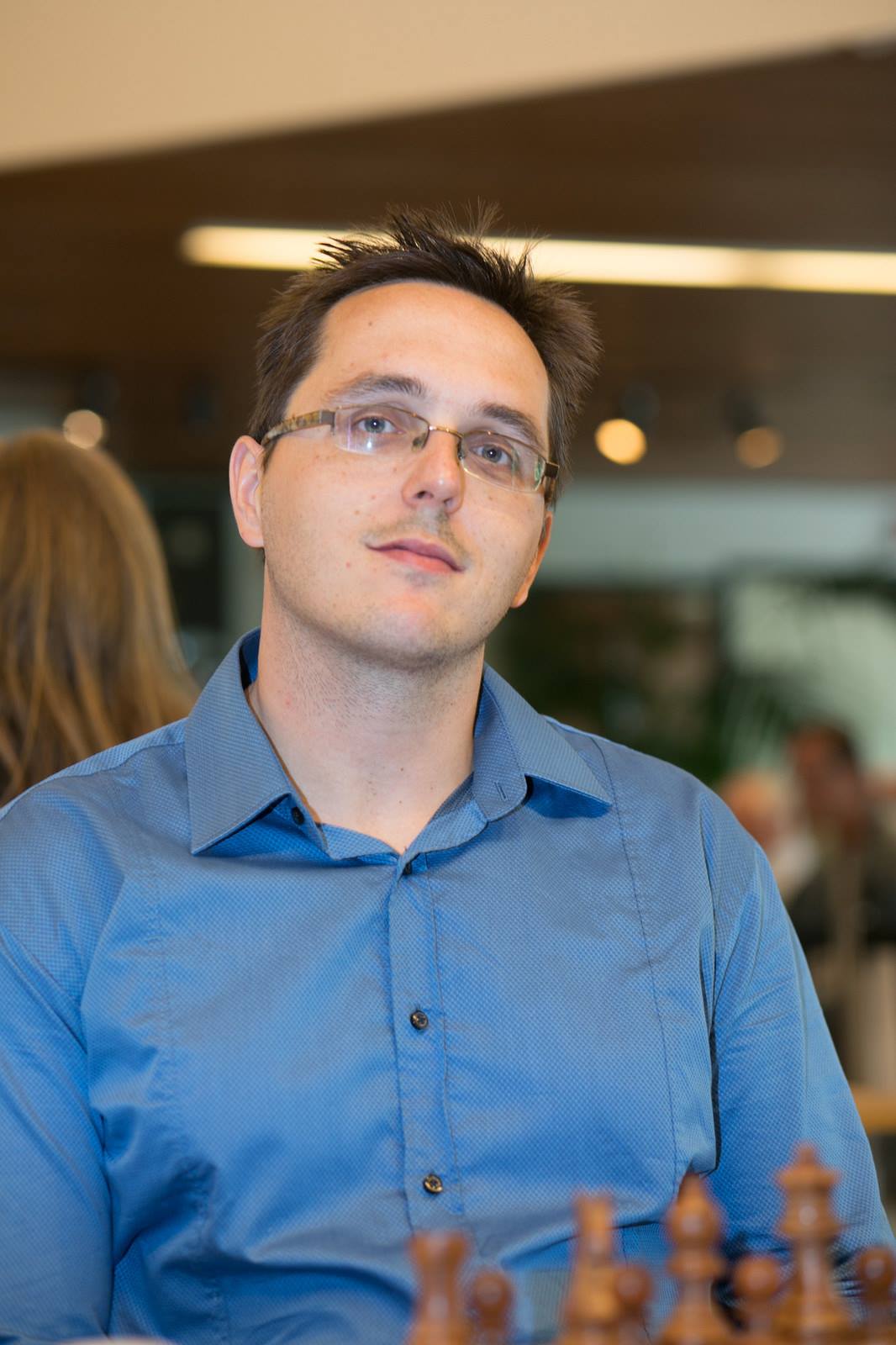 Vignesh N R's Best Achievements
India's 80th GM Vignesh N R has earned a lot of accolades at various National and International events.
Here are few of his best achievements:
• Champion - 24th Nordwest Cup 2023.
• Champion - 47th Ciudad de Sevilla Open 2022.
• Gold for Velammal Schools A team at 2nd National Schools Team Under-17 in 2013.
• Gold for Chennai City A team at 14th National Cities Team 2013.
• Runner-up - 7th Noisiel Open 2022.
• Silver on Board no.1 for RSPB A at MPL 42nd National Team Open 2023.
• Bronze for Railway Sports Promotion A team in MPL 42nd National Team Championship Open 2023.
• Bronze in 2nd National Schools Under-15 Open 2013.
• Bronze in 25th National Under-13 Open 2011.
• Champion for Southern Railway - 34th All India Inter Railways Team Championship 2022.
• Champion - 33rd and 34th All India Railway Championship 2022.
• Champion - 2nd Sadaran Azerbaijan Cup Group D Blitz 2016.
• Champion - 3rd N L Pandiyar Memorial Below 2300 Rating 2011.
• Runner-up - All India Railway Championship 2019.
• Runner-up - 1st Gujarat GM Open 2018.
• Runner-up - 42nd Tamil Nadu State Junior Open 2013.
• Second Runner-up for Ahmednagar Checkers team in 2nd Johnson Tiles Maharashtra Chess League 2014.
• Second Runner-up - 4th Modern Rating Open 2011.
• Second Runner-up - Tamil Nadu State Under-15 Open 2012.
• Second Runner-up in 23rd Tamil Nadu State Under-13 Open 2010.
Videos
---