The Personification of Perseverance - GM Sayantan Das
IM Sayantan Das became India's 81st Grandmaster on Sunday 26th February 2022. He defeated GM Alexander Motylev in the final round of 6th Cannes Open 2023 to cross 2500 and become a Grandmaster. He also became a clear champion. The 25-year-old scored his first GM-norm at 22nd Montcada Open 2014. Then he delivered a fantastic performance to secure his second GM-norm at 14th Delhi GM Open 2016. The final GM-norm was scored at Czech Open 2017 Pardubice. It has been a long wait since then. Anyone who has ever seen his game, was well aware of his GM-like strength. However, he had to wait over 5.5 years to fulfil the rating requirements and he finally achieved it in an excellent manner. Photo: Shahid Ahmed
Self-belief is the key
Sayantan Das is a very strong player. He became World Youth Under-12 Open champion in 2008. He won three National age group titles - Under-15, 17 and 19 within a span of ten months (September 2012 - July 2013), and yet when you meet and interact with him, you will see he is a very humble person. The Metro Railway Kolkata supported him big time. He had to overcome the loss of his father who passed away in 2020 due to cancer. Yet, he says that it is not an excuse for not crossing 2500 earlier. State, National, World - he has claimed medals in all three formats. Everyone knew and believed in him that he will become a Grandmaster one day. So it did not surprise anyone when he became one. Most importantly, he believed in himself and it most certainly paid off. He became a Grandmaster by winning a strong tournament and after that he won another. Before going to France, he told his school principal - "This time I am going to come back with the GM title" and he lived up to his words.
Sayantan is one of the very few players in recent times who became a Grandmaster without playing a single round-robin norm tournaments. When asked, his opined - they are just not worth it to me. He still remembers and follows what the 'Indian Wall', GM K Sasikiran told him - If you want something, achieve something desperately, if it doesn't happen, you will feel very sad about it. Don't be desperate about it, try to improve your game. Try to play better chess than you did yesterday. It's good to have some ambition, try to love chess as well. He listened to Sasikiran's valuable advice and always remembered it. The result is now visible to all.
First GM-norm: 22nd Montcada Open 2014
IM Sayantan Das scored his maiden GM-norm at 22nd Ciutat de Montcada Open in 2014. He defeated GM Vishnu Prasanna, GM Karen Movsziszian (ARM) and drew with GM Fernando Peralta (ARG) and GM Karen Grigoryan (ARM). He scored 6/9, performed at 2613, gained 46 Elo rating points and finished ninth overall according to tie-breaks.
Sayantan - Vishnu, Round 3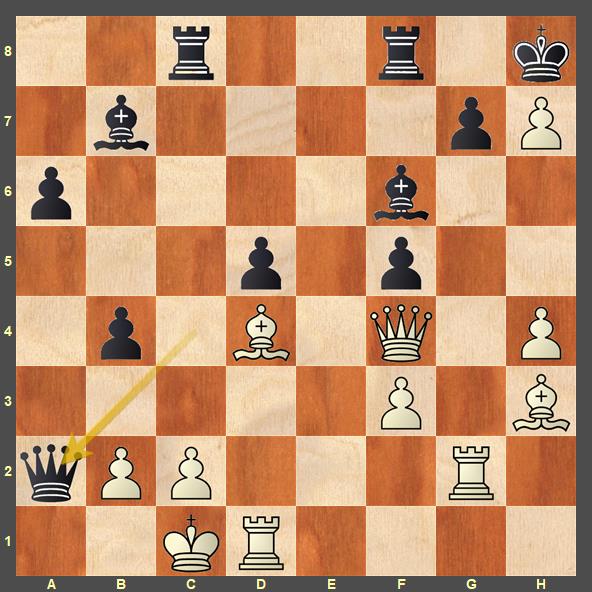 Black's position was already quite difficult to play. 26...Qxa2 invited more trouble. Try to find out how Sayantan deliverd the finishing blow in the above position.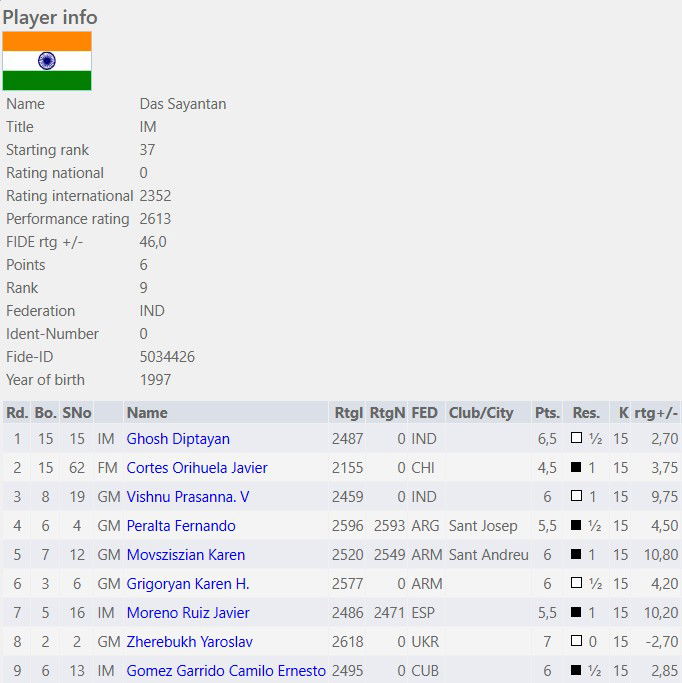 Second GM-norm: 14th Delhi GM Open 2016
Sayantan scored his second GM-norm at 14th Delhi GM Open in January 2016. He did not face any titled players in the first four rounds, scored 3.5/4. In the next six games, he only faced GMs. Out of them, he defeated GM Vaibhav Suri, GM Alberto David (ITA) and GM Vitaliy Bernadskiy (UKR), drew with GM Adam Tukhaev (UKR) and GM Boris Grachev (RUS). He needed a win against Bernadskiy in the final round to score his second GM-norm and he managed to achieve that.
Bernadskiy - Sayantan, Round 10
Sayantan is not only tactically alert but also quite well versed in the endgame. He centralized his king to protect the c4-pawn and take advantage of White's misplaced bishop at d2. The game continued 28.g3 Rb4 29.R3c2 Rxa4 30.Bc3 g6 31.Rd1+ Kc6 and Black went on to win the game in another 35 more moves.
Third GM-norm: Czech Open 2017 Pardubice
Sayantan earned his final GM-norm at Czech Open 2017 Pardubice. He scored an unbeaten 6.5/9 to secure his final GM-norm and gained 25.5 Elo rating points, scored a win against GM Philipp Schlosser (GER), drew with GM Gennadi Gutman (UKR), GM Diptayan Ghosh and GM Jakov Geller (RUS).
Philipp - Sayantan, Round 6
41.b5 was played with the intention of trapping the rook at b6. How can Black get away with it? Since Bc7 does not work immediately, he had to move his king first 41...Kf7 42.a4 Bc7 and Black won the game in the next four moves.
Fourth GM-norm: 1st Athens of the East GM Open 2019
IM Sayantan Das scored a fourth GM-norm at 1st Athens of the East GM Open 2019. Although it was not required, his fantastic performance earned him another. He defeated GM Boris Savchenko and GM Masoud Mosadeghpour (IRI), drew with GM Adam Tukhaev (UKR) and GM Pavel Smirnov (RUS).
Sayantan - Savchenko, Round 4
Sayantan executed the tempting sacrifice 29.Nxg6! hxg6 30.h7+ Kf7 31.h8Q Rxh8 32.Bxh8 and White checkmated in another six moves.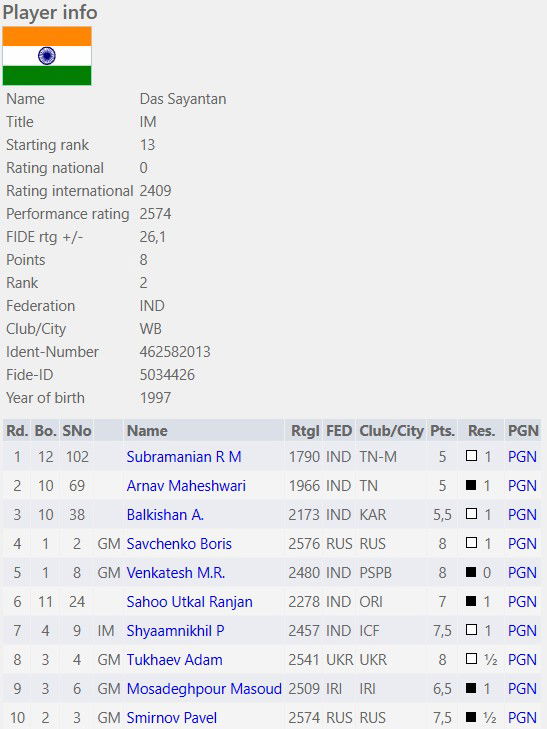 Fifth GM-norm and 2500: 6th Cannes Open 2023
IM Sayantan Das crossed 2500 for the first time in his career when he beat GM Alexander Motylev in the final round of 6th Cannes Open 2023. The performance also earned him a fifth GM-norm which he did not need. He also became a clear champion of the tournament.
Metro Railway Kolkata congratulated Sayantan on becoming India's 81st Grandmaster
Replay all games of Sayantan
Sayantan's coaches
Sayantan Das was the second-ever student of then IM Saptarshi Roy. Check out his thoughts in the interview below:
Long deserved. He should have achieved the GM title at least 6-7 years before. Sayantan and Diptayan are my first students in my coaching career since 2009. I really feel proud to teach them chess. I think both have the qualities to improve further, at least 2600+.
Sayantan had GM strength since last many years, there's nothing surprising now. This was long due. He is a mature player with deep tactical eye and tremendous fighting spirit. One thing specially to mention that even when he was pretty strong (after scorign some GM-norms), he was always a learner, always ready to learn new things and never had the attitude of "I know everything" which at present time, is rare. He is the perfect example of simplicity is the key to success.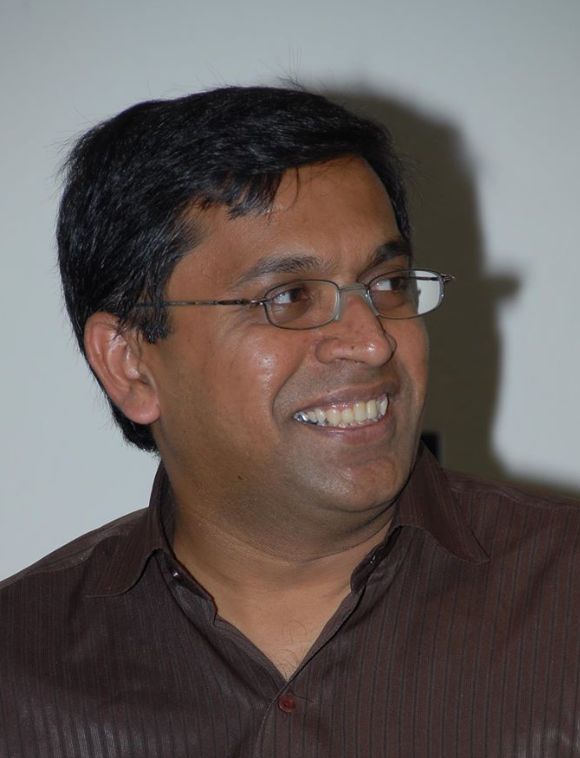 Congratulations Grandmaster and former world youth champ Sayantan Das! Delay is not defeat. Your continued efforts and patience have born fruit.
He is an outstanding player and most importantly an excellent human being. He always had all the qualities, finally he overcame all odds. I am very happy that he has achieved the GM title. He will soon cross 2600. If he focused only on chess instead of doing both studies and chess, he would have crossed 2600 by now. It feels bad that a lot of Bengal players rating have dropped and they are underrated now. Our best wishes are always with Sayantan and we wil keep supporting him.
Sayantan Das' Best Achievements
India's 81st GM Sayantan Das has earned a lot of medals in various National and International events. Here are few of his best achievements:
• Gold - World Youth Under-12 Open 2008
• Gold for team India at World Youth Under-16 Olympiad 2013
• Gold - 38th National Sub-Junior Under-15 Open 2012
• Gold - 24th National Under-17 Open 2013
• Gold - 43rd National Junior Under-19 Open 2013
• Gold for team Calcutta University at Asian University Championship 2017
• Gold - Individual champion at Asian University Championship 2017
• Silver - World Youth Under-16 Open Blitz 2013
• Silver - National Under-11 Boys 2007
• Bronze - World Youth Under-16 Olympiad 2012
• Bronze - Asian Youth Under-8 Boys 2005
• Bronze - Asian Youth Under-12 Open 2009
• Champion - AsianVarsity Championship 2017
• Champion - 21st The Telegraph Schools' Chess 2009
• Champion - 22nd The Telegraph Schools' Chess 2010
• Champion - 23rd The Telegraph Schools' Chess 2011
• Champion - 30th West Bengal State Sub-Junior Boys 2007
• Champion - 39th West Bengal State Junior 2011
• Champion - 50th West Bengal State Senior Open 2012
• Champion - 54th West Bengal State Senior Open 2016
• Champion - 2nd West Bengal State Rapid and Blitz 2016
• Runner-up - Czech Open Pardubice Rapid 2017
• Runner-up - The Telegraph Schools' Chess 2008
• Runner-up - 49th West Bengal State Senior Open 2011
• Runner-up - 51st West Bengal State Senior Open 2013
• Second Runner-up - 9th London Chess Classic Blitz Group M 2017
Videos
---