Leon Luke Mendonca finishes with an immaculate 9/9 after winning 27th Hit Open 2023
Generally after winning a tournament in a dominating fashion, players tend to relax. That's not what GM Leon Luke Mendonca did. After clinching 27th Hit Open 2023 on the previous day, the teenager went on to defeat FM Domen Tisaj to score a perfect 9/9. It will be very difficult to tie Leon's record let alone break it, unless the future editions get an extra round or two. The top three prizes were €1000, €750 and €500 each respectively. Leon performed at 3196 which earned him 26.4 Elo rating points, inching closer towards the 2600 Elo rating mark. This is Leon's second consecutive tournament triumph of the month where he remained undefeated after winning 38th ChessOrg Festival Bad Woerishofen 2023 on 11th March.
Leon performs at 3196
The brand ambassador of Geno and Microsense, GM Leon Luke Mendonca has been hitting all the right notes lately. After winning the 27th Hit Open 2023, he did not slow down. He won the ninth-round game to finish with 9/9 and a rating performance of 3196.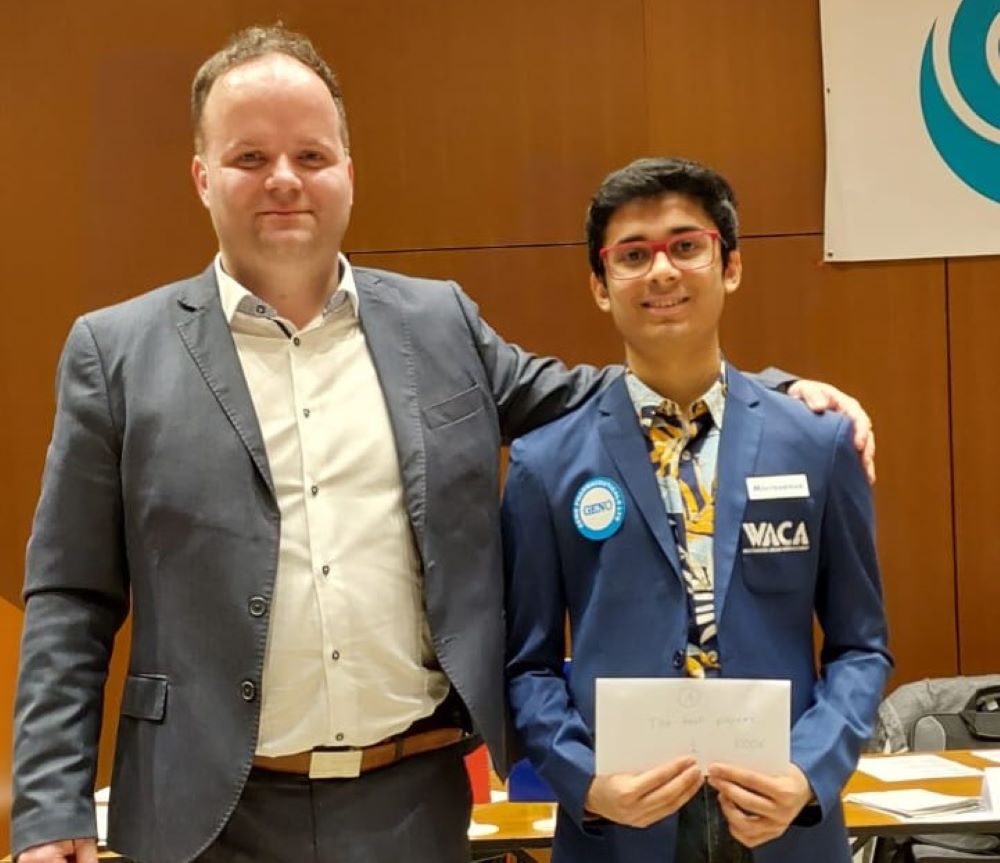 Domen - Leon
A well-timed offer of a queen exchange gave Leon a long-term positional advantage against FM Domen Tisaj (SLO, 2372). Computer recommends declining the exchange 22.Qe2 Ba3 23.Rb1 e4 and White's position stays unpleasant. The game continued 22.Qxc6 Rxc6 23.Nb1 Ne4 24.Be1 all White's pieces are now on the first rank f5 25.f3 Nf6 and Black went on to win the game eventually.
The maestro Vishy Anand congratulated his WACA student
A total of 84 players including 10 GMs and an IM took part in the A group (>1500) from 13 countries across the world. The eight-day nine-round Swiss league Rating tournament was organized by Chess Club Nova Gorica in Nova Gorica, Slovenia from 16th to 23rd March 2023. The time control of the tournament was 90 minutes + 30 seconds increment from move no.1.
Replay Round 9 games
Round 9 results
| | | | | | | | | | | | | | | |
| --- | --- | --- | --- | --- | --- | --- | --- | --- | --- | --- | --- | --- | --- | --- |
| Bo. | No. | | | Name | Rtg | Pts. | Result | Pts. | | Name | Rtg | | No. | PGN |
| 1 | 12 | | FM | Tisaj, Domen | 2372 | 5½ | 0 - 1 | 8 | GM | Mendonca, Leon Luke | 2558 | | 1 | PGN |
| 2 | 9 | | GM | Tratar, Marko | 2397 | 6 | ½ - ½ | 5½ | FM | Favaloro, Andrea | 2407 | | 8 | PGN |
| 3 | 54 | | | Kozlovic, Jernej | 1878 | 5½ | 0 - 1 | 5½ | GM | Brunello, Sabino | 2512 | | 2 | PGN |
| 4 | 15 | | FM | Bifulco, Michel | 2312 | 5½ | ½ - ½ | 5½ | GM | Cvitan, Ognjen | 2446 | | 4 | PGN |
| 5 | 5 | | GM | Strikovic, Aleksa | 2446 | 5½ | 1 - 0 | 5 | IM | Wadsworth, Matthew J | 2439 | | 6 | PGN |
| 6 | 3 | | GM | Beliavsky, Alexander G | 2499 | 5 | 1 - 0 | 5 | CM | Garsky, Vladyslav | 2253 | | 21 | PGN |
| 7 | 17 | | FM | Beletic, Daniel | 2269 | 5 | 0 - 1 | 5 | FM | Dobrovoljc, Vid | 2384 | | 10 | PGN |
| 8 | 11 | | GM | Davies, Nigel R | 2380 | 5 | ½ - ½ | 5 | | Zamar Kodelja, Jurij | 2254 | | 20 | PGN |
| 9 | 13 | | GM | Drazic, Sinisa | 2368 | 5 | 1 - 0 | 5 | FM | Belli, Giorgio | 2192 | | 25 | PGN |
| 10 | 19 | | GM | Djuric, Stefan | 2256 | 5 | 0 - 1 | 5 | FM | Lavrencic, Matic | 2319 | | 14 | PGN |
Final standings
| | | | | | | | | | | |
| --- | --- | --- | --- | --- | --- | --- | --- | --- | --- | --- |
| Rk. | SNo | | | Name | FED | RtgI | Pts. | TB1 | TB2 | TB3 |
| 1 | 1 | | GM | Mendonca, Leon Luke | IND | 2558 | 9 | 0 | 47,5 | 52,5 |
| 2 | 2 | | GM | Brunello, Sabino | ITA | 2512 | 6,5 | 0 | 48 | 52,5 |
| 3 | 9 | | GM | Tratar, Marko | SLO | 2397 | 6,5 | 0 | 47,5 | 52,5 |
| 4 | 5 | | GM | Strikovic, Aleksa | SRB | 2446 | 6,5 | 0 | 46,5 | 51,5 |
| 5 | 4 | | GM | Cvitan, Ognjen | CRO | 2446 | 6 | 0 | 46,5 | 51 |
| 6 | 14 | | FM | Lavrencic, Matic | SLO | 2319 | 6 | 0 | 44,5 | 48,5 |
| 7 | 8 | | FM | Favaloro, Andrea | ITA | 2407 | 6 | 0 | 44,5 | 48,5 |
| 8 | 15 | | FM | Bifulco, Michel | ITA | 2312 | 6 | 0 | 43,5 | 47,5 |
| 9 | 13 | | GM | Drazic, Sinisa | SRB | 2368 | 6 | 0 | 43 | 46,5 |
| 10 | 3 | | GM | Beliavsky, Alexander G | SLO | 2499 | 6 | 0 | 42,5 | 47 |
Links
---