IM Raja Rithvik scores second GM-norm at Skalica Open, Leon finishes third in Masters
IM Raja Rithvik R beat GM Valentina Gunina in a must-win final round to score his second GM-norm at Skalica Chess Festival 2021 in the Open section. Rithvik scored an impressive 7.0/9 to finish sole second with a performance of 2616. He gained 21.7 Elo rating points, a beautifully crafted trophy and €500 as his prize. India's 67th GM and Skalica Open 2020 winner Leon Luke Mendonca scored 5.5/9, finished a half point behind the winner Anton Korobov (UKR) and runner-up Vitaliy Bernadskiy (UKR) to secure third place. He also won a trophy and €800 for his efforts. Check out the article to find Rithvik's epic win over Gunina and also Leon's triumph over Bernadskiy and draw with Korobov. Photo: Skalický Šachový festival
Rithvik beats Gunina in a must-win situation
The 17-year-old IM Raja Rithvik R is a former National under-15 and under-17 champion. He also scored his first GM-norm at Elllobregat Open 2019. The Covid-19 pandemic delayed his opportunity to travel and play over-the-board tournaments. However, he has been working hard with N V S Ramaraju at RACE (Ramaraju Academy of Chess Education) and Ukrainian coach GM Alexander Goloshchapov. After missing out his second GM-norm by a whisker on several occasion, he finally scored it in Skalica, Slovakia.
Skalica Open 2020 winner, GM Leon Luke Mendonca made his mark by finishing third 5.5/9 in the Masters section. He drew with the eventual champion Anton Korobov 6.0/9 and defeated the eventual runner-up Vitaliy Bernadskiy 6.0/9. Leon gained 6.0 Elo rating points in the process
Open
Rithvik scored six wins, two draws and suffered only one loss against the eventual champion GM Jergus Pechac. The most important was against GM Valentina Gunina in the final round as it was a must-win situation for him to score his second GM-norm.
Gunina - Rithvik, Round 9
Gunina has already sacrificed a knight to expose Black's kingside. Draw was the best result White could gain out of this position. 21.Nf7+ Rxf7 22.Qxf7 Bxg2 and now White cannot win the game with either 23.Qxe7 or Kxg2, both are devoid of winning chances for White. The three-time Russian and European individual champion went for 21.e4. Black retreated his queen 21...Qd8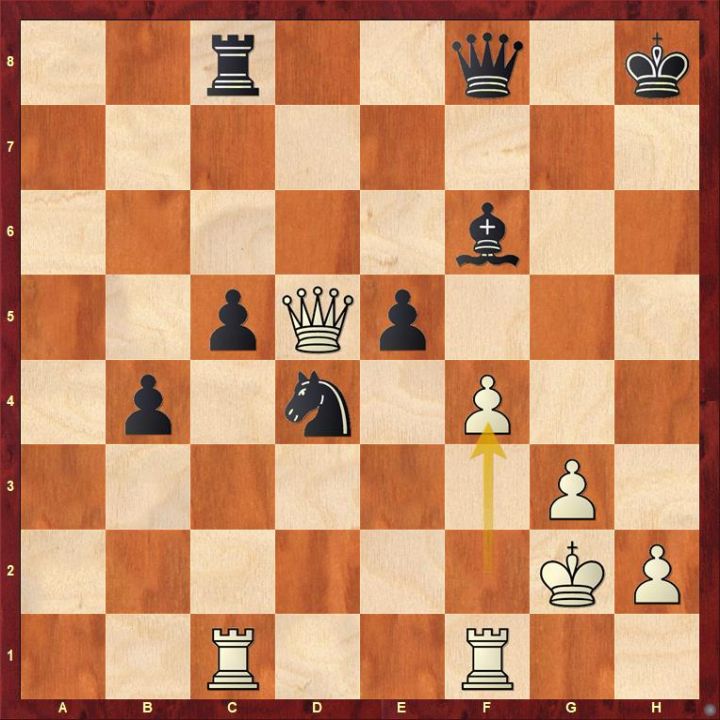 Despite Black's king seeming more vulnerable than White's, Black is out of the woods. 38...e4 was played and Rithvik showed staunch defence and went on to beat Gunina in her own game, a volatile-sharp encounter, something which she prefers and thrives on. This win allowed Rithvik to score his second GM-norm and finish second in the overall standings in the Open section.
In the fifth round, Rithvik defeated the eventual second runner-up GM Friso Nijboer (NED).
Rithvik - Nijboer, Round 5
15...f4 forces White to take on c5. 16.Bxc5 Qxc5, and now what should White do? Rithvik executed a fantastic plan and won the game in another eight moves.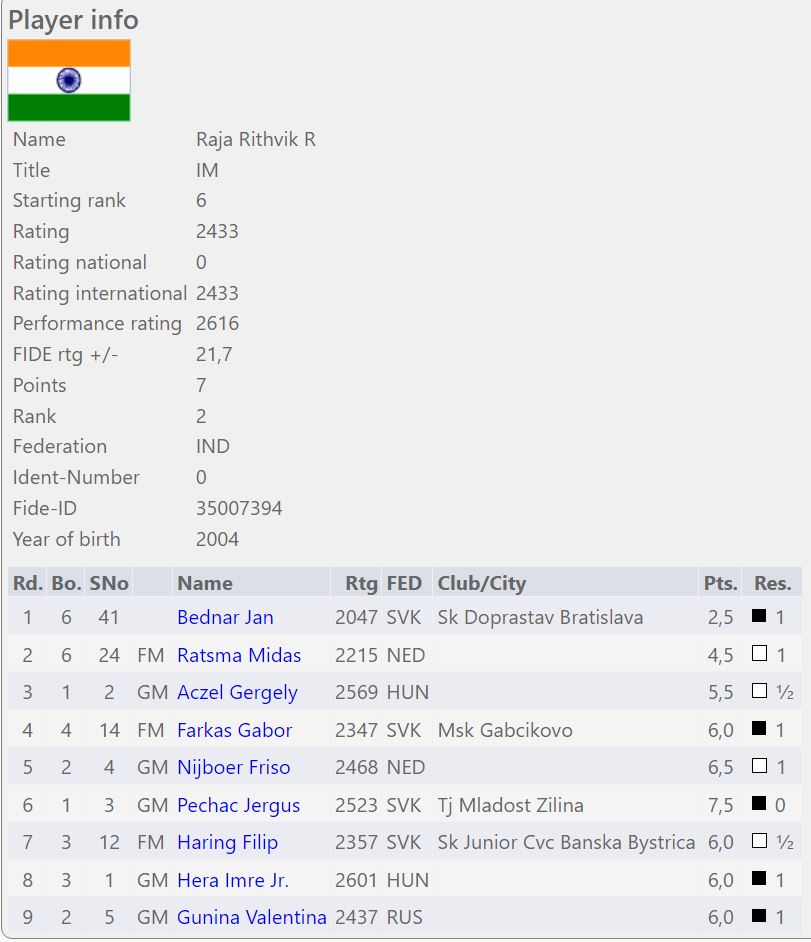 Replay all games of Rithvik
Masters
Leon defeated the eventual runner-up GM Vitaliy Bernadskiy (UKR) in the fifth round.
Leon - Bernadskiy, Round 5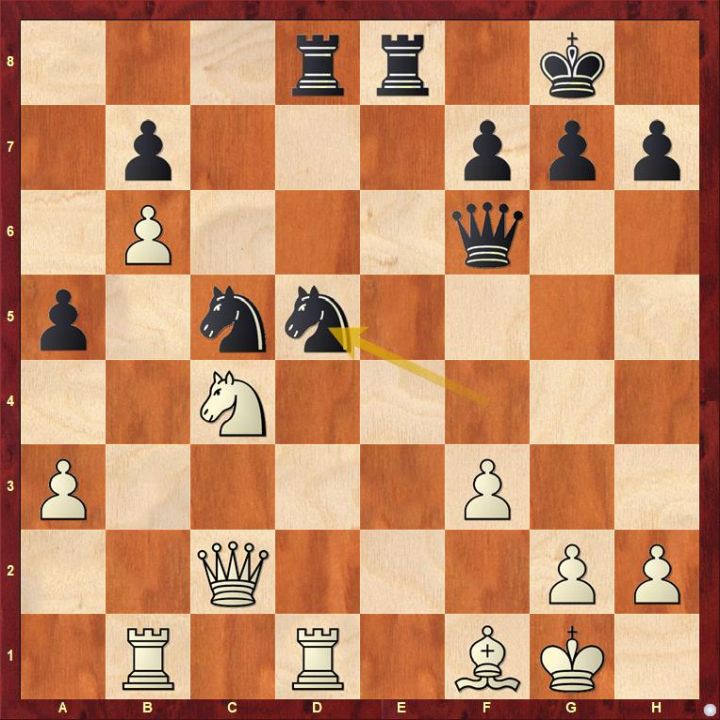 Black had to play 25...Rxd5 as 25...Nxd5 costs material. Find out how.
Leon drew with four-time Ukraine champion GM Anton Korobov in the sixth round. He made a brilliant save in the endgame.
Korobov - Leon, Round 6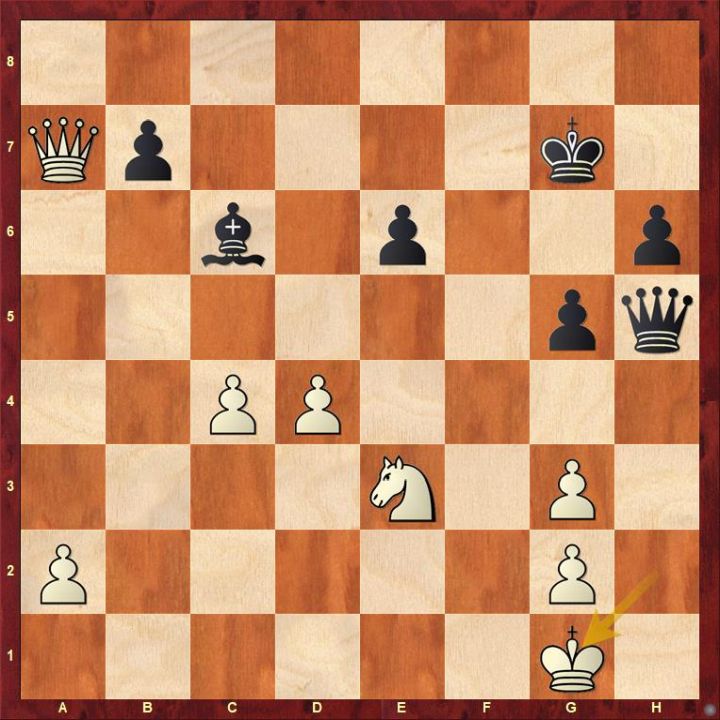 Find out how can Black save the game after 40.Kg1.

Photo Gallery
Replay all games of Leon
Final Standings in Open
| | | | | | | | | | | | | | |
| --- | --- | --- | --- | --- | --- | --- | --- | --- | --- | --- | --- | --- | --- |
| Rk. | SNo | | | Name | Typ | sex | FED | Rtg | Club/City | Pts. | TB1 | TB2 | TB3 |
| 1 | 3 | | GM | Pechac Jergus | | | SVK | 2523 | Tj Mladost Zilina | 7,5 | 48,0 | 2398 | 6 |
| 2 | 6 | | IM | Raja Rithvik R | U18 | | IND | 2433 | | 7,0 | 48,0 | 2396 | 6 |
| 3 | 4 | | GM | Nijboer Friso | | | NED | 2468 | | 6,5 | 48,5 | 2300 | 5 |
| 4 | 13 | | FM | Hollan Martin | | | CZE | 2355 | | 6,5 | 37,5 | 2179 | 5 |
| 5 | 5 | | GM | Gunina Valentina | | w | RUS | 2437 | | 6,0 | 49,0 | 2330 | 5 |
| 6 | 1 | | GM | Hera Imre Jr. | | | HUN | 2601 | | 6,0 | 47,0 | 2305 | 4 |
| 7 | 12 | | FM | Haring Filip | U18 | | SVK | 2357 | Sk Junior Cvc Banska Bystrica | 6,0 | 47,0 | 2293 | 4 |
| 8 | 10 | | FM | Finek Vaclav | U18 | | CZE | 2372 | | 6,0 | 45,0 | 2310 | 6 |
| 9 | 38 | | | Zetocha Adrian | U18 | | SVK | 2082 | Sk Slovan Bratislava | 6,0 | 42,5 | 2255 | 5 |
| 10 | 14 | | FM | Farkas Gabor | | | SVK | 2347 | Msk Gabcikovo | 6,0 | 41,5 | 2283 | 5 |
Final Standings in Masters
| | | | | | | | | | | |
| --- | --- | --- | --- | --- | --- | --- | --- | --- | --- | --- |
| Rk. | SNo | | | Name | FED | Rtg | Pts. | TB1 | TB2 | TB3 |
| 1 | 1 | | GM | Korobov Anton | UKR | 2683 | 6,0 | 23,25 | 0,0 | 4 |
| 2 | 9 | | GM | Bernadskiy Vitaliy | UKR | 2594 | 6,0 | 23,00 | 0,0 | 4 |
| 3 | 6 | | GM | Mendonca Leon Luke | IND | 2537 | 5,5 | 23,25 | 0,0 | 3 |
| 4 | 4 | | IM | Vykouk Jan | CZE | 2445 | 5,5 | 21,50 | 0,0 | 4 |
| 5 | 7 | | GM | Movsesian Sergei | ARM | 2638 | 5,0 | 21,00 | 0,0 | 2 |
| 6 | 5 | | IM | Lomasov Semyon | RUS | 2524 | 5,0 | 17,75 | 0,0 | 4 |
| 7 | 10 | | GM | Michalik Peter | CZE | 2592 | 4,5 | 17,25 | 0,0 | 1 |
| 8 | 2 | | FM | Kostolansky Sebastian Lukas | SVK | 2394 | 4,0 | 15,00 | 0,0 | 2 |
| 9 | 8 | | IM | Sahidi Samir | SVK | 2437 | 3,5 | 12,00 | 0,0 | 2 |
| 10 | 3 | | | Brhel Jan | SVK | 2049 | 0,0 | 0,00 | 0,0 | 0 |
Links
---