Top seeds IM Raja Rithvik and WIM Divya Deshmukh win National under-15 2019
Top seed in the open category, IM Raja Rithvik R of Telangana scored 9.5/11 and won the tournament comfortably finishing half point ahead of his state mate, runner-up CM Kushagra Mohan. Rithvik took a sole lead heading into the 9th round and in the final round he defeated the defending champion Ajay Karthikeyan to become the champion in his final attempt. Among the girls, top seed WIM Divya Deshmukh won the tournament for the third consecutive year and created history. Divya took a half point lead going into the final round, a win the last round allowed her to etch her name in the record books and finish half point ahead of her state mate WCM Mrudul Dehankar. Photo: Organizer
Divya creates history, Rithvik wins his third National
Rithvik suffered an early setback when he had to settle for a draw in round 2 against Narayan Chauhan (1703) of Uttar Pradesh. Despite getting material advantage in the opening, Rithvik was unable to gain any substantial advantage and reached into to a drawn endgame.
In an absolutely fitting last round match, Rithvik faced the defending the champion Ajay Karthikeyan. Ajay managed to get advantage in the middle game, but he was unable to maintain as he exchanged at the wrong time which created opportunity for Rithvik. Eventually Ajay blundered and lost the game. Rithvik became champion, won a beautiful trophy, ₹25000 cash and a certificate.
Ajay - Rithvik, Round 11
Here is the complete game:
This was Divya's third consecutive National Sub-Junior title and she still has one more year left. This was the first time she finished as an undefeated champion as she lost a game each on the last two occasion.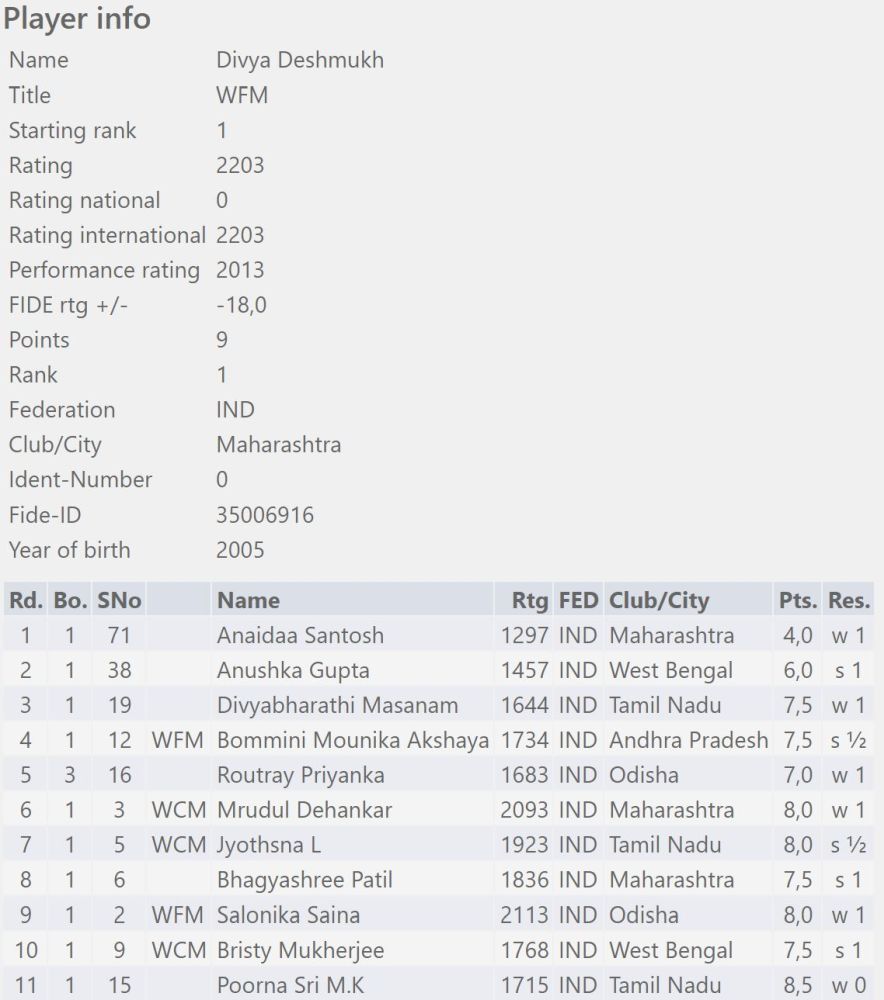 After making two consecutive draws in round 5 and 6, Divya got into sole lead by a half point heading into the final round of the tournament.
The tournament was organized by Namakkal District Chess Foundation & Sivakasi Chess Club at KSR Educational Institutions from 9th to 17th July 2019. Total 26 States including various union territories and units were represented by 339 players comprising of 220 players in open and 119 in the girls section.
Final Standings in open
| | | | | | | | | | | | | | |
| --- | --- | --- | --- | --- | --- | --- | --- | --- | --- | --- | --- | --- | --- |
| Rk. | SNo | | Name | sex | FED | RtgI | Club/City | Pts. | TB1 | TB2 | TB3 | TB4 | TB5 |
| 1 | 1 | IM | Raja Rithvik R | | IND | 2357 | TEL | 9,5 | 0,0 | 74,5 | 80,5 | 68,75 | 8 |
| 2 | 7 | CM | Kushagra Mohan | | IND | 2250 | TEL | 9,0 | 0,0 | 75,0 | 80,0 | 63,50 | 8 |
| 3 | 3 | CM | Rohith Krishna S | | IND | 2312 | TN | 8,5 | 0,0 | 77,5 | 82,0 | 62,25 | 6 |
| 4 | 4 | | Pranav V | | IND | 2312 | TN | 8,5 | 0,0 | 77,0 | 82,0 | 61,25 | 7 |
| 5 | 6 | FM | Aaryan Varshney | | IND | 2284 | DEL | 8,5 | 0,0 | 75,0 | 81,0 | 61,00 | 7 |
| 6 | 24 | | Anadkat Kartavya | | IND | 1941 | GUJ | 8,5 | 0,0 | 72,5 | 77,5 | 57,50 | 6 |
| 7 | 5 | | Samant Aditya S | | IND | 2296 | MAH | 8,0 | 0,0 | 77,5 | 82,5 | 55,75 | 6 |
| 8 | 11 | | Soham Kamotra | | IND | 2136 | J & K | 8,0 | 0,0 | 72,0 | 76,5 | 54,75 | 6 |
| 9 | 19 | | Mahitosh Dey | | IND | 1955 | ORI | 8,0 | 0,0 | 68,5 | 73,5 | 51,25 | 7 |
| 10 | 25 | | Aditya Varun Gampa | | IND | 1918 | TEL | 8,0 | 0,0 | 68,0 | 73,0 | 50,75 | 7 |
| 11 | 12 | | Sanket Chakravarty | | IND | 2107 | WB | 7,5 | 0,0 | 77,5 | 82,5 | 51,25 | 6 |
| 12 | 26 | | Praloy Sahoo | | IND | 1905 | WB | 7,5 | 0,0 | 74,5 | 80,0 | 49,25 | 7 |
| 13 | 9 | FM | Ajay Karthikeyan | | IND | 2216 | TN | 7,5 | 0,0 | 74,0 | 79,5 | 50,25 | 7 |
| 14 | 13 | | Srihari L | | IND | 2077 | PUD | 7,5 | 0,0 | 73,5 | 78,5 | 49,50 | 6 |
| 15 | 2 | FM | Pranesh M | | IND | 2343 | TN | 7,5 | 0,0 | 73,0 | 78,0 | 51,50 | 5 |
| 16 | 10 | CM | Nikhil Magizhnan | | IND | 2164 | TN | 7,5 | 0,0 | 73,0 | 78,0 | 47,00 | 6 |
| 17 | 16 | | Srikrishnan P | | IND | 1990 | TN | 7,5 | 0,0 | 72,0 | 76,5 | 49,25 | 5 |
| 18 | 22 | | Ayushh Ravikumar | | IND | 1946 | TN | 7,5 | 0,0 | 70,5 | 76,0 | 49,75 | 5 |
| 19 | 34 | | Arjun Gupta | | IND | 1851 | DEL | 7,5 | 0,0 | 70,5 | 75,5 | 48,50 | 5 |
| 20 | 23 | | Devesh Anand Naik | | IND | 1943 | GOA | 7,5 | 0,0 | 69,0 | 74,0 | 47,75 | 6 |
Final Standings in girls
| | | | | | | | | | | | | | |
| --- | --- | --- | --- | --- | --- | --- | --- | --- | --- | --- | --- | --- | --- |
| Rk. | SNo | | Name | sex | FED | RtgI | Club/City | Pts. | TB1 | TB2 | TB3 | TB4 | TB5 |
| 1 | 1 | WIM | Divya Deshmukh | w | IND | 2373 | MAH | 9,5 | 0,0 | 76,5 | 82,0 | 69,25 | 8 |
| 2 | 3 | WCM | Mrudul Dehankar | w | IND | 2074 | MAH | 9,0 | 0,0 | 76,5 | 81,0 | 64,75 | 7 |
| 3 | 4 | WCM | Jyothsna L | w | IND | 1939 | TN | 8,5 | 0,0 | 76,5 | 81,5 | 60,25 | 7 |
| 4 | 6 | WCM | Bristy Mukherjee | w | IND | 1862 | WB | 8,0 | 0,0 | 75,0 | 80,5 | 55,25 | 7 |
| 5 | 8 | | Sai Divya M | w | IND | 1784 | AP | 8,0 | 0,0 | 74,0 | 79,0 | 54,75 | 7 |
| 6 | 31 | | Nayanikaa Muralidharan | w | IND | 1475 | TN | 8,0 | 0,0 | 70,0 | 73,5 | 48,25 | 7 |
| 7 | 12 | | Bhagyashree Patil | w | IND | 1703 | MAH | 7,5 | 0,0 | 75,0 | 79,0 | 49,00 | 6 |
| 8 | 2 | WFM | Jain Nityata | w | IND | 2135 | MP | 7,5 | 0,0 | 72,5 | 77,5 | 48,50 | 6 |
| 9 | 9 | WCM | Arushi Kotwal | w | IND | 1744 | J & K | 7,5 | 0,0 | 70,5 | 76,0 | 50,75 | 5 |
| 10 | 13 | | Poorna Sri M.K | w | IND | 1681 | TN | 7,5 | 0,0 | 69,0 | 74,0 | 46,75 | 5 |
| 11 | 21 | | Tarunika P | w | IND | 1561 | TN | 7,5 | 0,0 | 69,0 | 73,5 | 47,25 | 5 |
| 12 | 25 | | Shrija K M | w | IND | 1535 | TN | 7,5 | 0,0 | 68,5 | 73,0 | 45,00 | 7 |
| 13 | 5 | WFM | Dhyana Patel | w | IND | 1900 | GUJ | 7,5 | 0,0 | 66,5 | 71,5 | 44,75 | 7 |
| 14 | 10 | | Divyabharathi Masanam | w | IND | 1730 | TN | 7,0 | 0,0 | 70,0 | 76,0 | 45,75 | 4 |
| 15 | 18 | | Rindhiya V | w | IND | 1573 | TN | 7,0 | 0,0 | 69,5 | 74,5 | 42,75 | 6 |
| 16 | 11 | | Garima Gaurav | w | IND | 1713 | BIH | 7,0 | 0,0 | 68,5 | 74,0 | 44,50 | 5 |
| 17 | 20 | | Meenatchi Rajam V | w | IND | 1564 | TN | 7,0 | 0,0 | 67,0 | 71,5 | 43,00 | 5 |
| 18 | 16 | | Velpula Sarayu | w | IND | 1640 | TEL | 7,0 | 0,0 | 65,5 | 71,0 | 44,50 | 5 |
| 19 | 17 | WCM | Chopdekar Gunjal | w | IND | 1624 | GOA | 7,0 | 0,0 | 65,0 | 69,5 | 43,00 | 5 |
| 20 | 36 | | Mishra Riya | w | IND | 1430 | UP | 7,0 | 0,0 | 65,0 | 68,5 | 40,00 | 6 |
---