Stany G A wins Republic Day Cup Rapid Rating Open 2023
GM Stany G A and IM FT Harikrishnan A Ra scored an unbeaten 8/9 each. Due to better tie-breaks, Stany became champion at Republic Day Cup Rapid Rating Open 2023. FM Ritviz Parab and FM Sharan Rao scored 8/9 in the Blitz Open. They secured first and second place respectively. GM Stany G A scored sole 7.5/9 to finish third. The combined total prize fund of the Rapid Rating and Blitz Open was ₹230000. The top three prizes in the Rapid were ₹30000, ₹20000 and ₹15000 along with a trophy each, for Blitz it was ₹6000, ₹5000 and ₹3000 and a trophy each respectively. Photo: Santhosh L / Nalanda Chess Academy Shivamogga
Ritviz Parab claims the Blitz Open
This is GM Stany G A's first Rating tournament triumph since he won a Blitz Rating Open in December 2019. Then he was also the top seed of the tournament. It was his second tournament of the year 2023 and he won it remaining undefeated, that also in his home city Shivamogga, makes it that much special for him. He claimed a place on the podium in the Blitz Open event too. This is FM Ritviz Parab's second Blitz Open triumph after he won his first one last year in May.
The prizes were distributed by the Chief guests Rev. Father Stany D'Souza, Dr. Shivayogi, Dr. Pruthviraj, Dr. Sheela, Rev. Stanly and Srikrishna Udupa.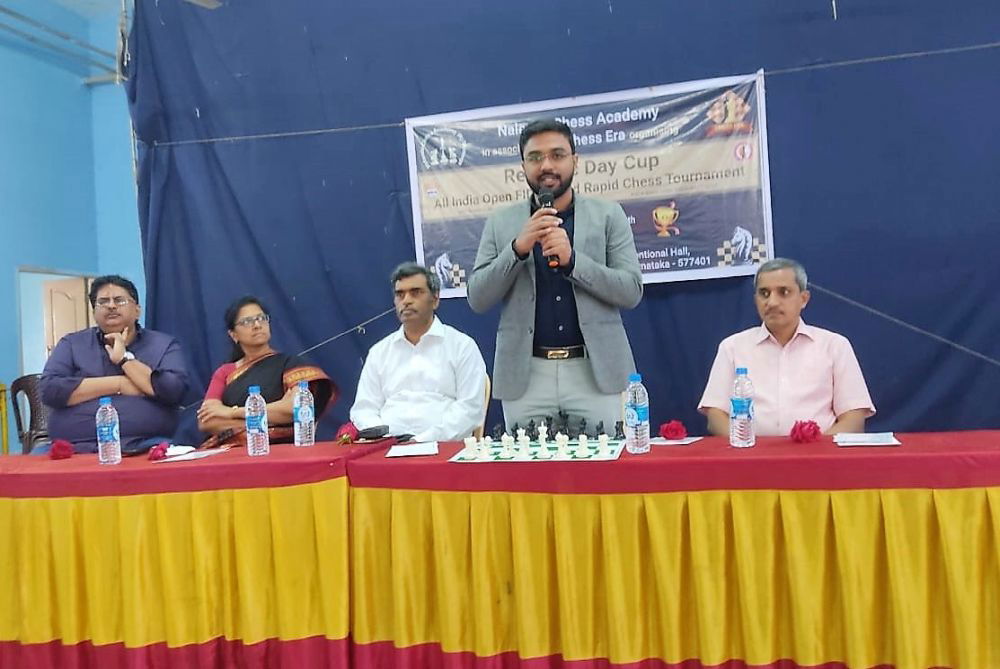 L to R: Srikrishna Udupa, Dr. Kavitha, IM D V Prasad, GM Stany G A and Dr. Shivayogi.
Srikrishna Udupa (the dean of Nalanda Chess Academy) wanted to give a rated tournament opportunity for the people of Shivamogga district. His only aim is to promote Chess all over the world. Since many kids leave Chess if they don't get any prize, he gave trophies to all Under-15 children to motivate them and play more Chess competitions. Overall, he gave 100+ consolation trophies for the children. Also, he made Unibic sponsor biscuits for all the players, and gave Unibic gift boxes for the winners.
Thanks to Santhosh L of Nalanda Chess Academy for sharing the photos and information about the tournament.
A total of 250 players including a GM and five IMs took part in the Rapid Rating and 148 players including a GM and 3 IMs in the Blitz Open participated from various parts of the country. The nine-round Swiss league Rapid Rating tournament took place on 28th and 29th January, the nine-round Blitz Open tournament was held on 29th January 2023. Both events were organized by Nalanda Chess Academy, Shivamogga at Sacred Heart Cathedral Church Conventional Hall, Shivamogga, Karnataka. The time control for the Rapid Rating tournament was 25 minutes + 5 seconds increment and for Blitz 3 minutes + 2 seconds increment.
Final standings in Rapid
| | | | | | | | | | | |
| --- | --- | --- | --- | --- | --- | --- | --- | --- | --- | --- |
| Rk. | SNo | | Name | FED | Rtg | Club/City | Pts. | TB1 | TB2 | TB3 |
| 1 | 1 | GM | Stany G.A. | IND | 2410 | Shimoga - KAR | 8 | 55 | 49,5 | 51,75 |
| 2 | 3 | IM | Harikrishnan.A.Ra | IND | 2312 | Tamil Nadu | 8 | 53 | 47,5 | 49,75 |
| 3 | 2 | IM | Muthaiah AL | IND | 2353 | Tamil Nadu | 7,5 | 55 | 49 | 47,25 |
| 4 | 5 | FM | Sharan Rao | IND | 2206 | Mangalore - KAR | 7,5 | 53,5 | 48,5 | 45,00 |
| 5 | 4 | FM | Ritviz Parab | IND | 2253 | GOA | 7,5 | 53 | 47,5 | 46,50 |
| 6 | 12 | | Arpan Das | IND | 1942 | West Bengal | 7,5 | 50,5 | 45 | 44,50 |
| 7 | 14 | IM | Hegde Ravi Gopal | IND | 1928 | Bangalore - KAR | 7 | 53 | 48 | 42,75 |
| 8 | 8 | FM | Sharma R. Preetham | IND | 2033 | Mysore - KAR | 7 | 51,5 | 46 | 40,75 |
| 9 | 7 | FM | Senthil Maran K | IND | 2136 | Tamil Nadu | 7 | 51 | 46 | 37,50 |
| 10 | 11 | | Augustin A | IND | 1988 | Bangalore - KAR | 7 | 50 | 45 | 39,00 |
| 11 | 17 | | Balkishan A. | IND | 1803 | Mysore - KAR | 7 | 50 | 44,5 | 38,50 |
| 12 | 16 | | Hemanth Raam | IND | 1898 | Tamil Nadu | 7 | 49,5 | 44,5 | 38,00 |
| 13 | 19 | | Selvabharathy T | IND | 1747 | Tamil Nadu | 7 | 47 | 42 | 36,00 |
| 14 | 51 | | Avil D Souza | IND | 1230 | Udupi - KAR | 7 | 46 | 42 | 36,50 |
| 15 | 27 | | Chiranth M D | IND | 1528 | Shimoga - KAR | 7 | 44 | 39,5 | 34,50 |
| 16 | 33 | | Dhrikshu K Vasant | IND | 1483 | Mangalore - KAR | 7 | 43,5 | 40,5 | 32,00 |
| 17 | 29 | | Leelajai Krishna N | IND | 1514 | Chikamagaluru - KAR | 6,5 | 52 | 47 | 37,50 |
| 18 | 15 | IM | Ramnathan Balasubramaniam | IND | 1917 | Tamil Nadu | 6,5 | 50,5 | 45,5 | 35,75 |
| 19 | 10 | AGM | Vignesh B | IND | 2002 | Tamil Nadu | 6,5 | 50 | 45 | 36,25 |
| 20 | 9 | | Gugan G | IND | 2022 | Tamil Nadu | 6,5 | 48,5 | 43,5 | 36,75 |
| 21 | 26 | | Swara Lakshmi S Nair | IND | 1535 | Bangalore - KAR | 6,5 | 47,5 | 42,5 | 35,75 |
| 22 | 23 | AGM | Lakshith B Salian | IND | 1646 | Mangalore - KAR | 6,5 | 47 | 43 | 31,75 |
| 23 | 30 | | Sujay B M | IND | 1511 | Bangalore - KAR | 6,5 | 46,5 | 42,5 | 34,00 |
| 24 | 34 | | Karthik S | IND | 1463 | Bangalore - KAR | 6,5 | 46,5 | 42,5 | 30,75 |
| 25 | 73 | | Shreeshant Sharanappa Ganiger | IND | 1095 | Bagalkote - KAR | 6,5 | 46 | 41,5 | 32,75 |
Final standings in Blitz
| | | | | | | | | | | |
| --- | --- | --- | --- | --- | --- | --- | --- | --- | --- | --- |
| Rk. | SNo | | Name | FED | Rtg | Club/City | Pts. | TB1 | TB2 | TB3 |
| 1 | 3 | FM | Ritviz, Parab | IND | 2296 | GOA | 8 | 51,5 | 46 | 49,50 |
| 2 | 5 | FM | Sharan, Rao | IND | 2231 | Mangalore - KAR | 8 | 49 | 43,5 | 46,00 |
| 3 | 1 | GM | Stany, G.A. | IND | 2503 | Shimoga - KAR | 7,5 | 49,5 | 44 | 42,50 |
| 4 | 8 | FM | Senthil, Maran K | IND | 2100 | Tamil Nadu | 7 | 54 | 49 | 43,00 |
| 5 | 2 | IM | Muthaiah, AL | IND | 2354 | Tamil Nadu | 7 | 54 | 48 | 43,25 |
| 6 | 9 | | Gugan, G | IND | 2074 | | 7 | 51 | 46 | 39,00 |
| 7 | 14 | | Arpan, Das | IND | 1984 | West Bengal | 7 | 50 | 45 | 39,00 |
| 8 | 7 | IM | Ramnathan, Balasubramaniam | IND | 2133 | Tamil Nadu | 7 | 49 | 44 | 39,25 |
| 9 | 4 | IM | Harikrishnan.A.Ra, | IND | 2271 | Tamil Nadu | 7 | 47,5 | 42,5 | 38,00 |
| 10 | 31 | | Lohith, B Y | IND | 1412 | AICF DUE | 7 | 47 | 43 | 36,00 |
| 11 | 10 | | Balkishan, A. | IND | 2065 | Bangalore - KAR | 7 | 46,5 | 42,5 | 36,50 |
| 12 | 12 | | Augustin, A | IND | 2050 | Bangalore - KAR | 7 | 42,5 | 38,5 | 32,50 |
| 13 | 11 | AGM | Vignesh, B | IND | 2058 | Tamil Nadu | 6,5 | 51 | 46,5 | 37,00 |
| 14 | 6 | FM | Sharma, R. Preetham | IND | 2166 | Mysore - KAR | 6,5 | 50,5 | 45,5 | 36,75 |
| 15 | 15 | | Hemanth, Raam | IND | 1853 | Tamil Nadu | 6,5 | 45,5 | 41,5 | 33,25 |
| 16 | 13 | | Sudarshan, Bhat | IND | 2008 | Bangalore - KAR | 6,5 | 42,5 | 38,5 | 30,25 |
| 17 | 17 | | Arjun U, Prabhu | IND | 1744 | Shimoga - KAR | 6,5 | 42 | 38 | 30,25 |
| 18 | 42 | | Rithesh, K | IND | 1237 | Udupi - KAR | 6 | 49 | 44 | 31,00 |
| 19 | 21 | | Leelajai, Krishna N | IND | 1607 | Chikamagaluru - KAR | 6 | 48 | 44 | 30,50 |
| 20 | 32 | | Swara, Lakshmi S Nair | IND | 1397 | Bangalore - KAR | 6 | 48 | 43 | 32,00 |
---