54-year-old P D S Girinath triumphs at 1st BongCloud Rapid Rating Open 2022
by Shahid Ahmed - 16/11/2022
Generally, we almost always see a young player creating/breaking new record quite often. It's time to rejoice for adults and veterans as IM P D S Girinath scored eight straight victories at 1st BongCloud Rapid Rating Open 2022. A last round loss did not affect his first place position. Three more players - FM R Ashwath, IM Kushagra Mohan and top seed GM Thej Kumar M S scored 8/9 each. They were placed second to fourth according to tie-breaks. Thej was the only one to beat the eventual champion. Girinath showed that age is just a number. His knowledge, skills and understanding of the game is timeless. The total cash prize fund of the tournament was ₹200000. The top three prizes were ₹40000, ₹25000 and ₹15000 along with a trophy each. Photo: Amit Shriwas/BongCloud Chess Club
Girinath's first tournament victory in India in over seven years
This was IM P D S Girinath's second tournament victory of the year. Earlier in January, he won a close round-robin tournament, ASK1 in Serbia scoring an unbeaten 6.5/7. Girinath has been playing for a long time. He has performed admirably in various tournaments throughout his career. The last tournament he won in India was a Classical Rating tournament in May 2015. This could very well be his first Rapid Rating tournament victory. 15-year-old FM Shubh Jayesh Laddha (USA) was the youngest top ten. He scored 7.5/9 to secure seventh position.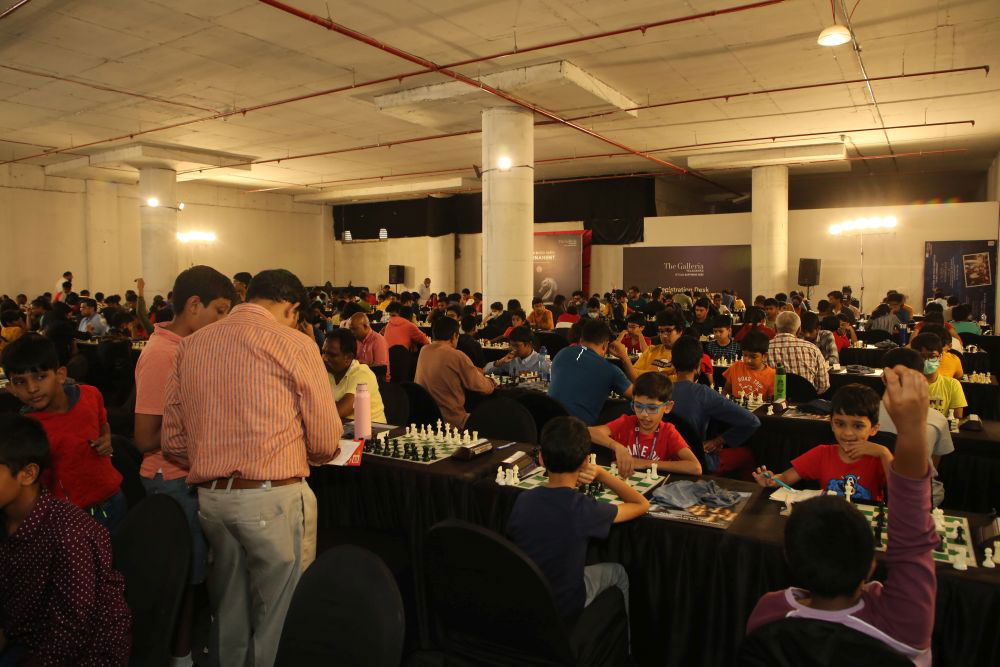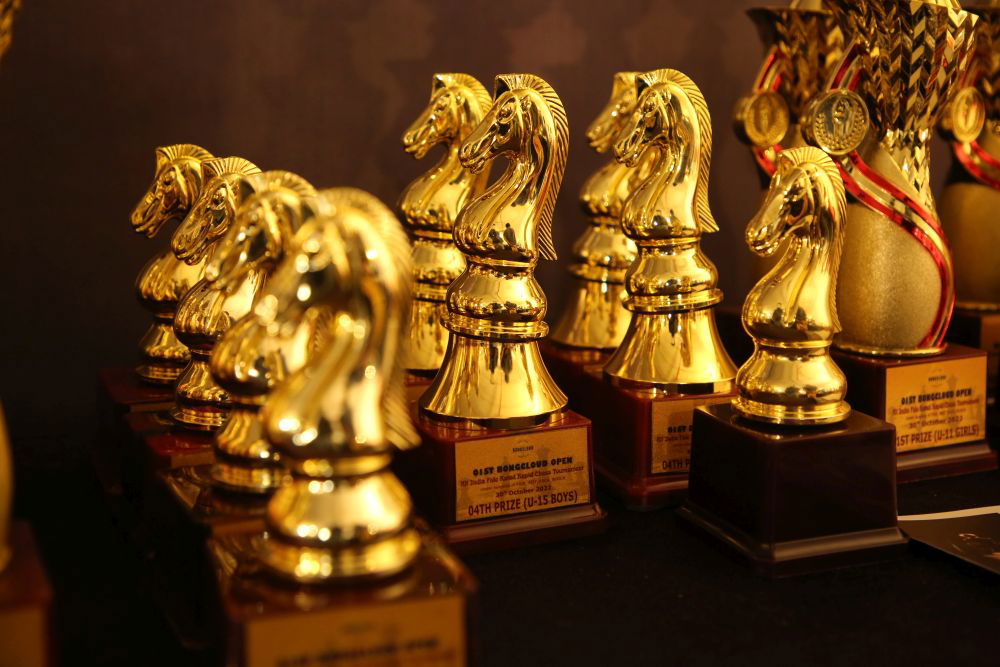 A special thanks to Amit Shriwas, Tournament Director for sharing photos and info about the tournament.
A total of 360 players including a GM and 3 IMs took part from various parts of the country, one from Mongolia and Scotland each, two from USA. The one-day nine-round Swiss league Rapid Rating tournament was organized by BongCloud Chess Club at The Galleria Mall in Bengaluru, Karnataka on 30th October 2022. The time control of the tournament was 15 minutes + 5 seconds increment.
Final standings
| | | | | | | | | | | | | | | | | |
| --- | --- | --- | --- | --- | --- | --- | --- | --- | --- | --- | --- | --- | --- | --- | --- | --- |
| Rk. | SNo | | | Name | Typ | sex | Gr | FED | Rtg | Club/City | Pts. | TB1 | TB2 | TB3 | TB4 | TB5 |
| 1 | 3 | | IM | Girinath P.D.S. | | | | IND | 2261 | TG | 8 | 56 | 59,5 | 51,00 | 0 | 8 |
| 2 | 4 | | FM | Ashwath R. | | | | IND | 2240 | TN | 8 | 53 | 56 | 48,75 | 0 | 7 |
| 3 | 2 | | CM | Kushagra Mohan | | | | IND | 2295 | TG | 8 | 52,5 | 56 | 48,00 | 0 | 8 |
| 4 | 1 | | GM | Thejkumar M. S. | | | | IND | 2312 | KA | 8 | 49 | 53 | 48,00 | 0 | 8 |
| 5 | 7 | | | Prachura P.P. | | | BNG | IND | 2121 | KA | 7,5 | 54,5 | 58,5 | 46,50 | 0 | 7 |
| 6 | 5 | | IM | Prasad Devaki V | S60 | | BNG | IND | 2225 | KA | 7,5 | 52 | 56,5 | 45,75 | 0 | 6 |
| 7 | 10 | | FM | Laddha Shubh Jayesh | U15 | | | USA | 2081 | USA | 7,5 | 51,5 | 54,5 | 42,75 | 0 | 7 |
| 8 | 19 | | | Sham R | | | | IND | 1646 | TN | 7,5 | 51,5 | 53 | 41,25 | 0 | 7 |
| 9 | 6 | | | Abhishek Das | | | | IND | 2158 | JH | 7,5 | 51 | 55,5 | 45,00 | 0 | 7 |
| 10 | 22 | | | Sailesh R | | | | IND | 1576 | TN | 7,5 | 50,5 | 54,5 | 43,25 | 0 | 7 |
| 11 | 9 | | FM | Senthil Maran K | | | | IND | 2109 | TN | 7 | 55 | 60 | 44,00 | 0 | 7 |
| 12 | 32 | | | Kannan.V | | | PC | IND | 1364 | TN | 7 | 49,5 | 53,5 | 38,00 | 0 | 7 |
| 13 | 8 | | | Lokesh N. | | | | IND | 2112 | TN | 7 | 49,5 | 53 | 37,50 | 0 | 7 |
| 14 | 28 | | AGM | Lakshith B Salian | | | MNG | IND | 1406 | KA | 7 | 49,5 | 52 | 37,50 | 0 | 7 |
| 15 | 15 | | | Bellayaru Samarth | U15 | | BNG | USA | 1755 | KA | 7 | 49 | 53,5 | 38,50 | 0 | 7 |
| 16 | 27 | | | Pranav A J | | | BNG | IND | 1413 | KA | 7 | 49 | 53,5 | 37,50 | 0 | 7 |
| 17 | 21 | | | Abhyuday Santhosh | U15 | | BNG | IND | 1588 | KA | 7 | 49 | 52 | 38,50 | 0 | 6 |
| 18 | 34 | | | Medhansh Rathi | U15 | | BNG | IND | 1346 | KA | 7 | 48,5 | 51 | 36,00 | 0 | 7 |
| 19 | 35 | | | Subash Anand | | | | IND | 1345 | TN | 7 | 47 | 50,5 | 36,00 | 0 | 7 |
| 20 | 88 | | | Tejas Pai T | U15 | | BNG | IND | 1151 | KA | 7 | 46 | 50 | 37,00 | 0 | 7 |
Links
BongCloud Chess Club: Official site, facebook, instagram, twitter and youtube
---