Shrihari Venkatesh Deshpande triumphs at 9th ICA Below 1600 Rating Tournament 2023
by Shahid Ahmed - 01/05/2023
Shrihari Venkatesh Deshpande, Srivardhan Reddy Devareddy and Aarav Saish Amonkar scored an unbeaten 8/9 each at 9th ICA Below 1600 Rating Tournament 2023.Shrihari won the tournament due to better tie-breaks, Srivardhan and Aarav were adjudged second and third. The tournament leaders, Shrihari and Srivardhan drew against each other in the final round to finish first and second respectively. The total prize fund of the tournament was ₹699000. The top three prizes were ₹60000 + trophy, ₹50000 and ₹40000 each respectively. This was the 14-year-old teenager Shrihari's first rating tournament victory. The three-day-nine-round Swiss League event was organized by Innovators Chess Academy. Photo: FI NA Sushrutha Reddy
Top three score an unbeaten 8/9
Apart from organizing three consecutive rating tournaments in the month of April 2023, FI NA Sushrutha Reddy also took part in this event. He scored 7/9 and finished 14th. After this, he went on to win Vrindavana Chess Festival DCC Below 1600 Rating Tournament 2023. We will mention it in a separate article.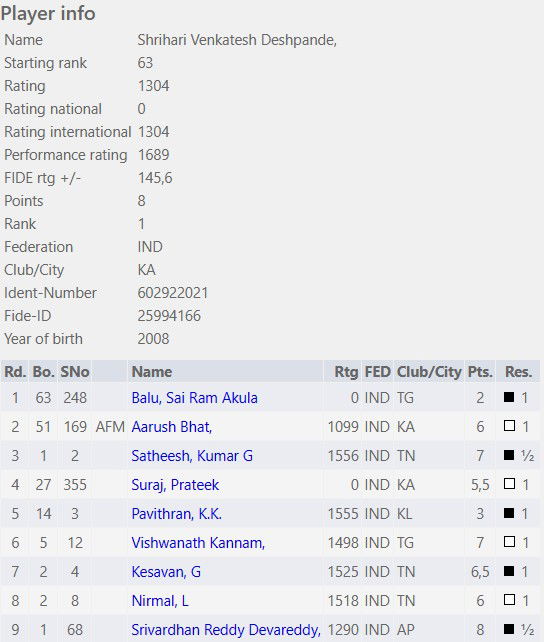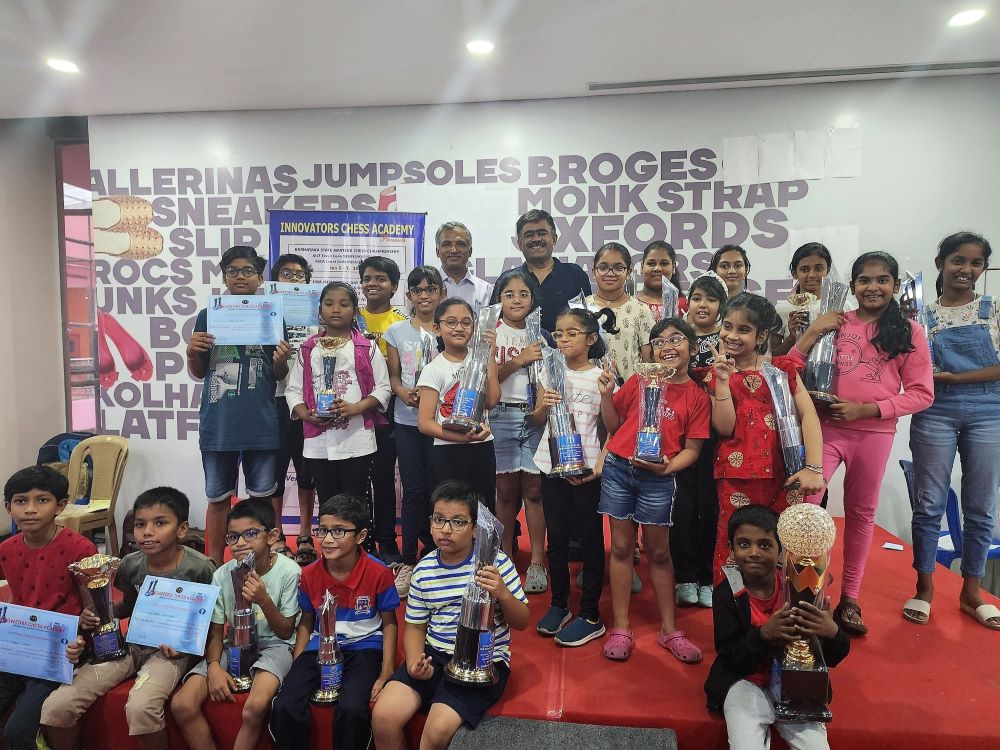 For more photos, please click here.
A total of 361 players participated from various states across the country and one from Australia, Scotland and Singapore each. The three-day nine-round Swiss league Rating tournament was organized by Innovators Chess Academy at Virginia Mall in Bangalore, Karnataka from 13th to 15th April 2023. The time control for the event was 30 minutes + 30 seconds increment from move no.1.
Final standings
| | | | | | | | | | | | | | | |
| --- | --- | --- | --- | --- | --- | --- | --- | --- | --- | --- | --- | --- | --- | --- |
| Rk. | SNo | | Name | Typ | sex | FED | Rtg | Club/City | Pts. | TB1 | TB2 | TB3 | TB4 | TB5 |
| 1 | 63 | | Shrihari Venkatesh Deshpande, | | | IND | 1304 | KA | 8 | 49,5 | 53 | 45,50 | 0 | 7 |
| 2 | 68 | | Srivardhan Reddy Devareddy, | | | IND | 1290 | AP | 8 | 49,5 | 53 | 45,00 | 0 | 7 |
| 3 | 33 | | Aarav Saish Amonkar, | U13 | | IND | 1404 | KA | 8 | 49 | 53 | 45,75 | 0 | 7 |
| 4 | 5 | | Advait Ratnakar Vibhute, | | | IND | 1524 | KA | 7,5 | 53 | 57 | 45,25 | 0 | 7 |
| 5 | 19 | | Sai, Kiran G V | | | IND | 1473 | TN | 7,5 | 50 | 54,5 | 44,25 | 0 | 7 |
| 6 | 14 | | Balakowshi D S, | | | IND | 1492 | TN | 7,5 | 49,5 | 53 | 43,50 | 0 | 7 |
| 7 | 34 | | Shibin K Benny, | | | IND | 1404 | KA | 7,5 | 46 | 49,5 | 41,50 | 0 | 7 |
| 8 | 2 | | Satheesh, Kumar G | | | IND | 1556 | TN | 7 | 53 | 57 | 41,25 | 0 | 6 |
| 9 | 12 | | Vishwanath Kannam, | | | IND | 1498 | TG | 7 | 51 | 55,5 | 40,75 | 0 | 6 |
| 10 | 18 | | Muhammed Reja C, | | | IND | 1475 | KA | 7 | 49,5 | 53,5 | 38,50 | 0 | 7 |
| 11 | 85 | | Harish Karthik M, | | | IND | 1252 | TN | 7 | 48,5 | 52,5 | 38,50 | 0 | 7 |
| 12 | 6 | | Chiranth M D, | | | IND | 1523 | KA | 7 | 47,5 | 52 | 39,75 | 0 | 5 |
| 13 | 22 | | Samuel Mathew, | | | IND | 1459 | KA | 7 | 47,5 | 51 | 38,75 | 0 | 6 |
| 14 | 15 | AIM | Sushrutha, Reddy | | | IND | 1490 | KA | 7 | 47 | 50,5 | 36,75 | 0 | 6 |
| 15 | 44 | AFM | Aruna Dinakara, | | | IND | 1363 | KA | 7 | 44,5 | 46,5 | 33,50 | 0 | 7 |
| 16 | 43 | AGM | Mathiyazhagan M, | | | IND | 1366 | PY | 7 | 43,5 | 46,5 | 33,00 | 0 | 7 |
| 17 | 49 | | Rishi R, | | | IND | 1350 | TN | 7 | 42,5 | 44,5 | 33,25 | 0 | 5 |
| 18 | 61 | | Deepak, Kushwaha | | | IND | 1313 | UP | 7 | 42,5 | 44 | 32,25 | 0 | 6 |
| 19 | 112 | | Pranav, Ganesh Prabhu | U13 | | IND | 1191 | TN | 7 | 39,5 | 42 | 30,00 | 0 | 7 |
| 20 | 4 | | Kesavan, G | | | IND | 1525 | TN | 6,5 | 52,5 | 57,5 | 38,75 | 0 | 6 |
| 21 | 32 | | Siddharthan Anandan, | | | IND | 1405 | TN | 6,5 | 52 | 56 | 37,25 | 0 | 6 |
| 22 | 80 | | Sripathi, Surendar | | | IND | 1264 | TN | 6,5 | 51 | 52,5 | 34,00 | 0 | 6 |
| 23 | 60 | | Prasanth, Bhuvan Krishna | U13 | | IND | 1317 | KA | 6,5 | 50,5 | 54,5 | 35,50 | 0 | 6 |
| 24 | 55 | | Ram, Natraj M | | | IND | 1325 | TN | 6,5 | 49,5 | 54 | 36,00 | 0 | 6 |
| 25 | 46 | | Karthik S, | | | IND | 1360 | KA | 6,5 | 48 | 51,5 | 35,25 | 0 | 5 |
Links
---