Arghyadip Das wins 16th BRDCA All India Rapid Rating Open 2022
by Shahid Ahmed - 31/03/2022
IM Arghyadip Das scored an unbeaten 8.5/9 and finished a half point ahead of the competition to win 16th BRDCA All India Rapid Rating Open 2022. His only draw was against Sanjeev Mishra in the seventh round. Three players scored 8.0/9 - Balkishan A, Prasanna S and FM Sharan Rao. They were placed second to fourth according to the tie-breaks. Arghyadip won ₹25000 cash and a trophy, Runner-up Balkishan earned ₹18000 and a trophy, and Prasanna received ₹15000 cash as their respective prize. Total prize fund of the tournament was ₹200000. 18-year-old Dhanush Raghav N S won 11th BRDCA Blitz Open. Total prize fund for Blitz event was ₹40000.
Dhanush Ragav triumphs 11th BRDCA Blitz Open
In Round 8, IM Arghyadip Das beat the sole leader of the tournament IM Sammed Jaykumar Shete was at 7.0/7. Heading into the final round, IM Ravi T S, FM Sharan Rao and Arghyadip were in a three-way tie 7.5/8. Arghyadip beat Ravi in the final round and Sharan drew with Sammed. Thus, Arghyadip emerged clear winner 8.5/9, a half point ahead of the competition. 15-year-old Swara Lakshmi S Nair scored 7.0/9 in Rapid and 6.5/9 to finish at 11th and 20th place respectively. She was the highest finisher among women participants in both events.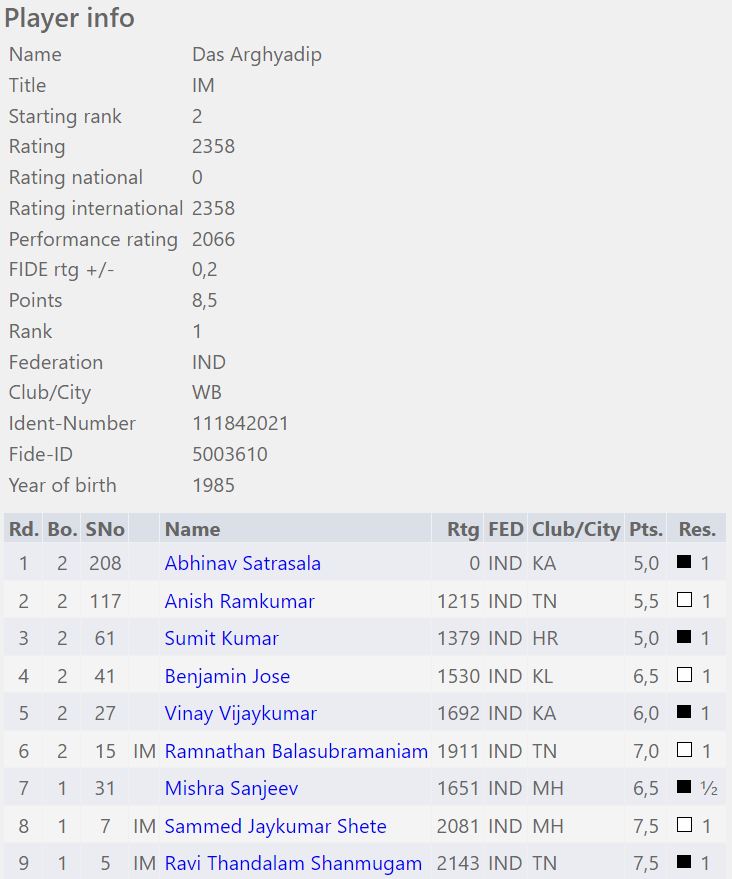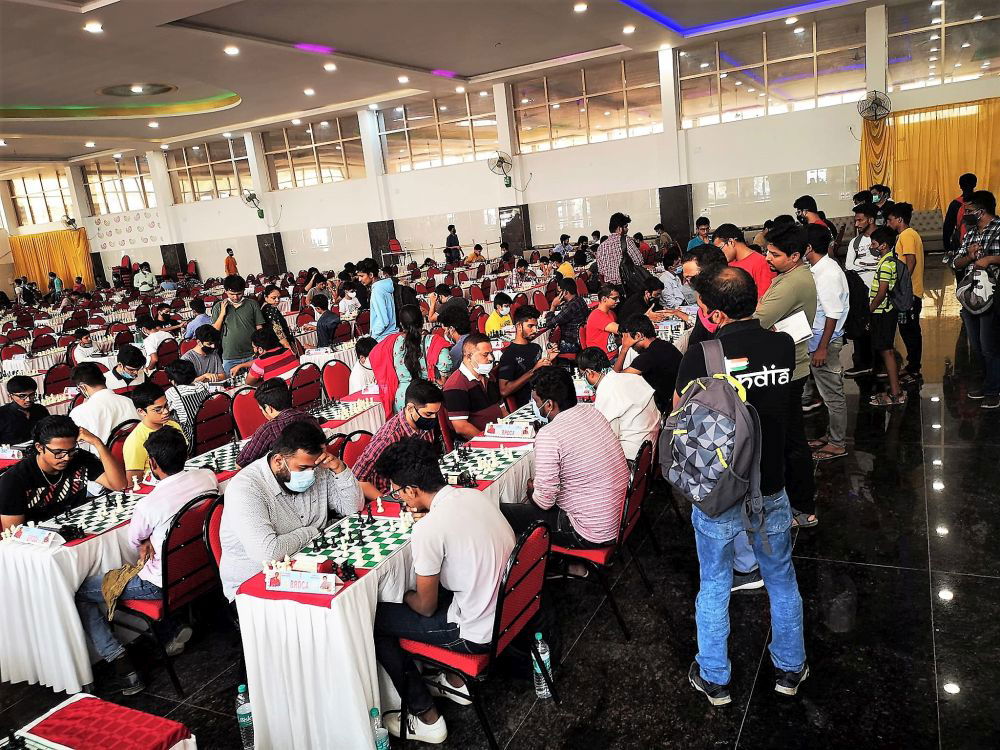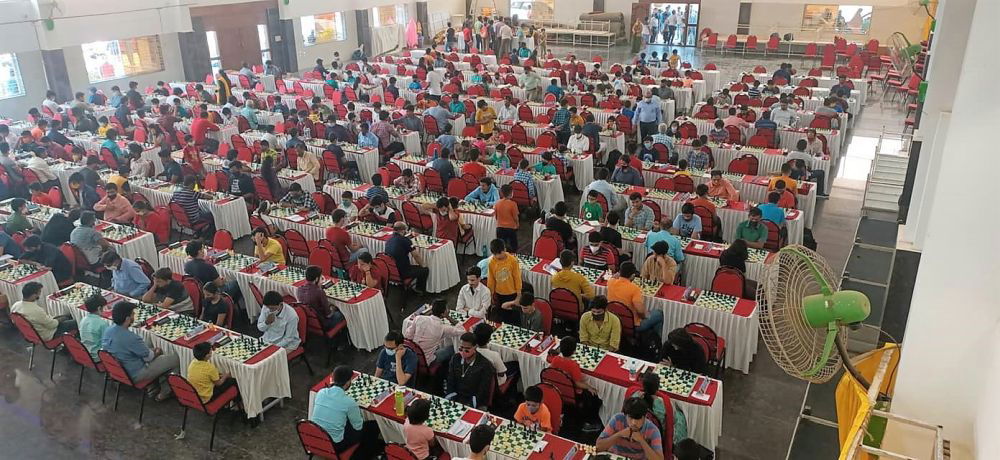 A total of 397 players in the Rapid Rating and 233 in the Blitz event including two GMs and 5 IMs from various states across the country. The tournaments were organized by BRDCA (Bangalore Rural District Chess Association) on 19th and 20th March 2022 at Bangalore, Karnataka. The nine-round Swiss league Rapid Rating event had a time control of 20 minutes + 5 seconds increment and the Blitz Open had a time control of 3 minutes + 2 seconds increment.
Final Standings in Rapid Rating
| | | | | | | | | | | | | | | |
| --- | --- | --- | --- | --- | --- | --- | --- | --- | --- | --- | --- | --- | --- | --- |
| Rk. | SNo | | Name | Typ | sex | FED | Rtg | Club/City | Pts. | TB1 | TB2 | TB3 | TB4 | TB5 |
| 1 | 2 | IM | Das Arghyadip | | | IND | 2358 | WB | 8,5 | 51,5 | 56,5 | 53,25 | 0,0 | 8 |
| 2 | 12 | | Balkishan A. | | | IND | 1928 | KA | 8,0 | 52,5 | 56,5 | 49,00 | 0,0 | 8 |
| 3 | 6 | | Prasannaa.S | | | IND | 2108 | TN | 8,0 | 52,5 | 56,0 | 49,00 | 0,0 | 8 |
| 4 | 11 | FM | Sharan Rao | | | IND | 1932 | KA | 8,0 | 51,0 | 55,5 | 48,00 | 0,0 | 7 |
| 5 | 7 | IM | Sammed Jaykumar Shete | | | IND | 2081 | MH | 7,5 | 55,5 | 59,5 | 47,00 | 0,0 | 7 |
| 6 | 5 | IM | Ravi Thandalam Shanmugam | S45 | | IND | 2143 | TN | 7,5 | 55,0 | 59,5 | 47,00 | 0,0 | 7 |
| 7 | 4 | | Lokesh N. | | | IND | 2165 | TN | 7,5 | 49,5 | 54,0 | 44,50 | 0,0 | 7 |
| 8 | 3 | IM | Chakravarthi Reddy M | | | IND | 2241 | TG | 7,5 | 49,0 | 52,5 | 43,00 | 0,0 | 7 |
| 9 | 16 | | Barath Kalyan M | | | IND | 1901 | TN | 7,5 | 46,5 | 48,0 | 37,25 | 0,0 | 7 |
| 10 | 18 | GM | Raja Rithvik R | | | IND | 1870 | TG | 7,0 | 52,5 | 56,5 | 42,00 | 0,0 | 7 |
| 11 | 93 | | Swara Lakshmi S Nair | | w | IND | 1259 | KA | 7,0 | 52,0 | 55,5 | 40,50 | 0,0 | 7 |
| 12 | 15 | IM | Ramnathan Balasubramaniam | S45 | | IND | 1911 | TN | 7,0 | 51,5 | 55,0 | 38,50 | 0,0 | 7 |
| 13 | 17 | AGM | Sa Kannan | | | IND | 1877 | TN | 7,0 | 51,0 | 55,5 | 42,50 | 0,0 | 6 |
| 14 | 66 | | Abhinav Banerjee | | | IND | 1353 | KA | 7,0 | 50,5 | 53,5 | 38,00 | 0,0 | 7 |
| 15 | 47 | | Nidheshpa S | | | IND | 1472 | TN | 7,0 | 50,0 | 54,0 | 39,00 | 0,0 | 7 |
| 16 | 1 | GM | Thejkumar M. S. | | | IND | 2382 | KA | 7,0 | 49,5 | 53,5 | 39,00 | 0,0 | 7 |
| 17 | 26 | | Ram Vishwanathan | | | IND | 1726 | KA | 7,0 | 49,0 | 52,5 | 38,00 | 0,0 | 7 |
| 18 | 8 | | Mushini Ajay | | | IND | 2018 | AP | 7,0 | 48,5 | 52,5 | 39,00 | 0,0 | 7 |
| 19 | 19 | | Parthasarathy R | | | IND | 1854 | KA | 7,0 | 48,5 | 52,0 | 38,00 | 0,0 | 6 |
| 20 | 24 | AGM | Prashanth J Naik | | | IND | 1756 | KA | 7,0 | 48,0 | 52,0 | 37,75 | 0,0 | 6 |
Final Standings in Blitz Open
| | | | | | | | | | | | | | | |
| --- | --- | --- | --- | --- | --- | --- | --- | --- | --- | --- | --- | --- | --- | --- |
| Rk. | SNo | | Name | Typ | sex | FED | Rtg | Club/City | Pts. | TB1 | TB2 | TB3 | TB4 | TB5 |
| 1 | 17 | | Dhanush Ragav N S | | | IND | 1921 | TN | 8,0 | 53,0 | 55,0 | 48,00 | 0,0 | 7 |
| 2 | 4 | IM | Sammed Jaykumar Shete | | | IND | 2253 | MH | 8,0 | 51,0 | 55,5 | 49,50 | 0,0 | 8 |
| 3 | 15 | | Mushini Ajay | | | IND | 1992 | AP | 7,5 | 53,5 | 56,5 | 44,50 | 0,0 | 7 |
| 4 | 1 | IM | Das Arghyadip | | | IND | 2382 | WB | 7,5 | 50,5 | 55,0 | 43,75 | 0,0 | 7 |
| 5 | 13 | FM | Sharan Rao | | | IND | 2063 | KA | 7,5 | 49,5 | 54,5 | 43,50 | 0,0 | 7 |
| 6 | 9 | IM | Chakravarthi Reddy M | | | IND | 2190 | AP | 7,5 | 49,5 | 54,0 | 44,25 | 0,0 | 7 |
| 7 | 2 | GM | Thejkumar M. S. | | | IND | 2294 | KA | 7,0 | 50,0 | 55,0 | 40,00 | 0,0 | 7 |
| 8 | 20 | | Barath Kalyan M | | | IND | 1845 | | 7,0 | 50,0 | 54,0 | 39,50 | 0,0 | 7 |
| 9 | 7 | IM | Ramnathan Balasubramaniam | S45 | | IND | 2213 | TN | 7,0 | 50,0 | 53,0 | 38,50 | 0,0 | 6 |
| 10 | 10 | | Laddha Shubh Jayesh | | | USA | 2177 | KA | 7,0 | 49,0 | 53,0 | 37,50 | 0,0 | 7 |
| 11 | 3 | GM | Raja Rithvik R | | | IND | 2255 | TG | 7,0 | 49,0 | 52,0 | 38,00 | 0,0 | 7 |
| 12 | 16 | | Parthasarathy R | | | IND | 1992 | KA | 7,0 | 48,0 | 52,0 | 37,75 | 0,0 | 6 |
| 13 | 14 | AGM | Sa Kannan | | | IND | 2040 | | 7,0 | 48,0 | 52,0 | 37,50 | 0,0 | 7 |
| 14 | 12 | | Balkishan A. | | | IND | 2065 | | 7,0 | 47,0 | 51,0 | 38,00 | 0,0 | 7 |
| 15 | 25 | | Varun Anant | | | IND | 1746 | KA | 7,0 | 45,0 | 48,5 | 35,50 | 0,0 | 7 |
| 16 | 44 | | Advait Ratnakar Vibhute | | | IND | 1532 | KA | 7,0 | 45,0 | 48,5 | 35,00 | 0,0 | 6 |
| 17 | 72 | | Sathvik Adiga | U11 | | IND | 1366 | KA | 6,5 | 54,5 | 58,5 | 40,75 | 0,0 | 6 |
| 18 | 5 | IM | Ravi Thandalam Shanmugam | S45 | | IND | 2215 | TN | 6,5 | 51,0 | 55,5 | 36,50 | 0,0 | 6 |
| 19 | 32 | | Apoorv Kamble | U14 | | IND | 1679 | | 6,5 | 50,5 | 54,5 | 36,75 | 0,0 | 6 |
| 20 | 123 | | Swara Lakshmi S Nair | FW | w | IND | 1122 | | 6,5 | 48,0 | 50,5 | 32,50 | 0,0 | 6 |
---