Pranav Venkatesh aces Promethean Rapid Rating Open 2023
by Shahid Ahmed - 03/03/2023
GM Pranav Venkatesh scored an unbeaten 8.5/9 to clinch Promethean Rapid Rating Open 2023. He started with eight straight wins and gained a full point lead heading into the final round. Since a draw in the final round was enough for him to become champion, he drew with the eventual runner-up IM Rathanvel V S. Three more players IM Mehar Chinna Reddy C H, IM Ratnakaran K and IM Nitin S scored 7.5/9 each. They were placed third to fifth respectively according to tie-breaks. The total prize fund of the tournament was ₹500000. The top three prizes were ₹51000 + trophy, ₹41000 and ₹31000 each respectively. This is Pranav's first rating tournament victory of 2023. Photo: NA Sushruta Reddy
Only GMs and IMs in top 11
It is rare to see only GMs and IMs make a top ten finish in an open rating tournament. In this event, the first eleven places were claimed by either a GM or an IM. 12th and 13th are the only two places which were secured by a neither a GM nor an IM. FM Ritviz Parab and Sai Vishwesh C were placed 12th and 13th respectively scoring 7/9 each. 14th - 17th were once again claimed by three IMs and a GM. That definitely tells a lot about how strong this event was.
Runner-up - IM Rathanvel V S 7.5/9 | Photo: NA Sushruta Reddy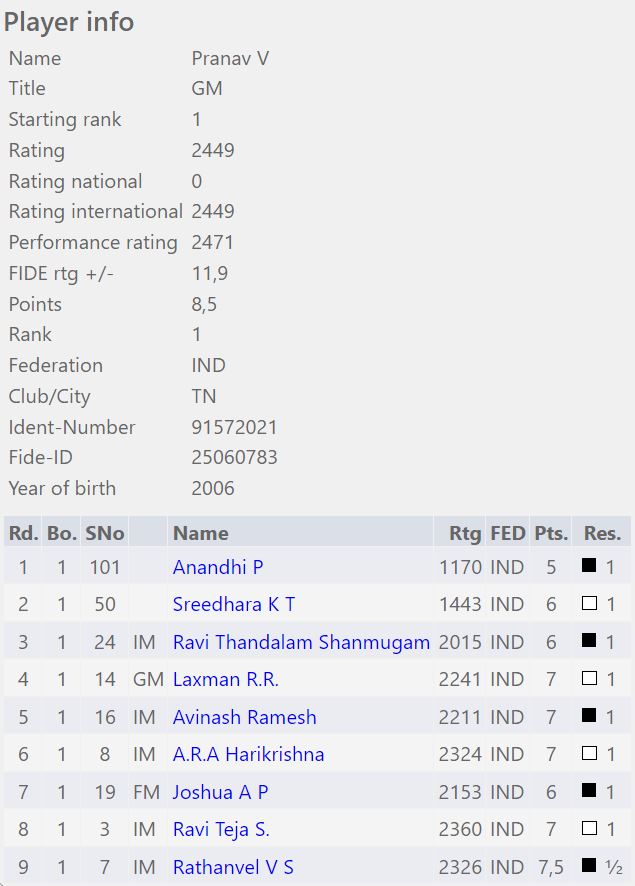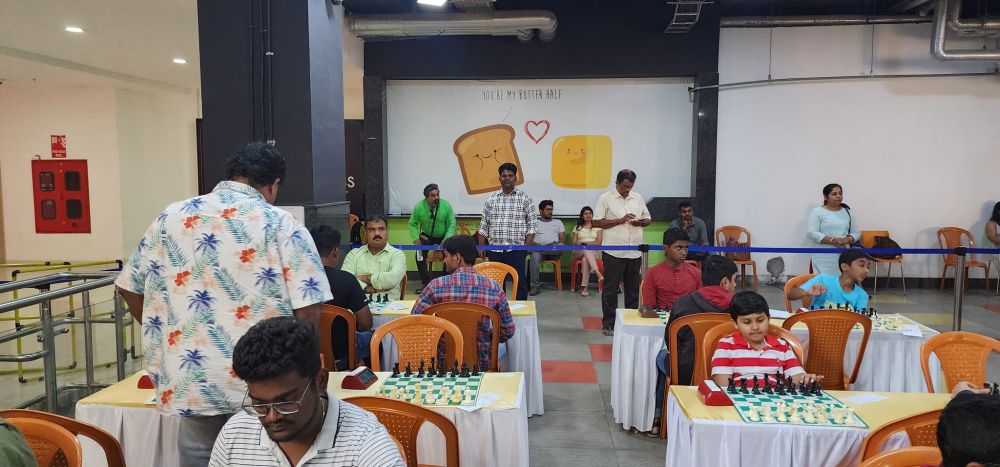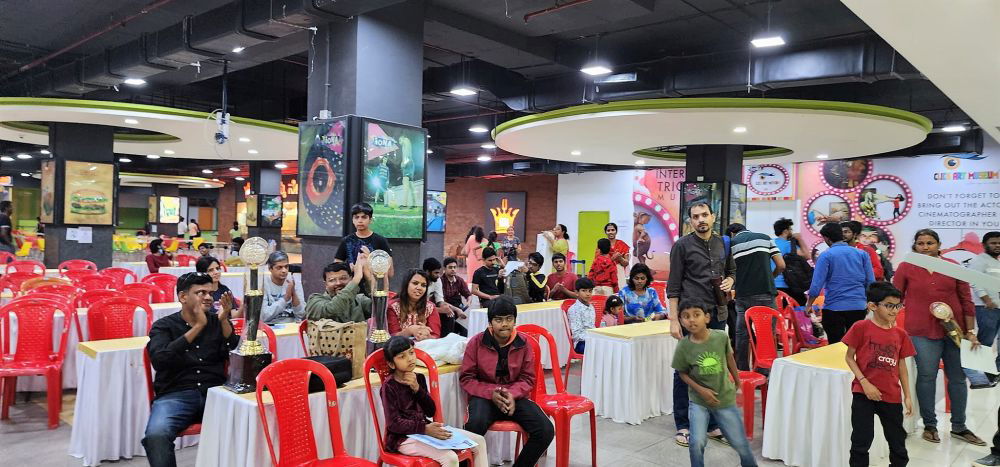 For more photos, please click here.
A total of 197 players including 3 GMs and 15 IMs participated from various parts of the country in this two-day nine-round Swiss league Rapid Rating tournament. The tournament was organized by Innovators Chess Academy on 12th February 2023 at Virginia Mall in Bangalore, Karnataka. The time control for the event was 15 minutes + 5 seconds increment.
Final standings
| | | | | | | | | | | | | |
| --- | --- | --- | --- | --- | --- | --- | --- | --- | --- | --- | --- | --- |
| Rk. | SNo | | Name | Typ | sex | FED | Rtg | Pts. | TB1 | TB2 | TB3 | TB5 |
| 1 | 1 | GM | Pranav V | | | IND | 2449 | 8,5 | 53,5 | 58,5 | 54,75 | 8 |
| 2 | 7 | IM | Rathanvel V S | | | IND | 2326 | 7,5 | 51,5 | 56 | 45,50 | 6 |
| 3 | 9 | IM | Mehar Chinna Reddy C.H. | | | IND | 2318 | 7,5 | 50 | 55 | 44,75 | 7 |
| 4 | 15 | IM | Ratnakaran K. | | | IND | 2224 | 7,5 | 48 | 52 | 41,75 | 7 |
| 5 | 11 | IM | Nitin S. | | | IND | 2292 | 7,5 | 47 | 51,5 | 41,75 | 7 |
| 6 | 8 | IM | A.R.A Harikrishna | | | IND | 2324 | 7 | 52 | 56 | 40,50 | 6 |
| 7 | 3 | IM | Ravi Teja S. | | | IND | 2360 | 7 | 50,5 | 54 | 39,25 | 6 |
| 8 | 10 | IM | Audi Ameya | | | IND | 2309 | 7 | 50 | 53 | 39,50 | 7 |
| 9 | 14 | GM | Laxman R.R. | | | IND | 2241 | 7 | 49,5 | 54,5 | 39,75 | 6 |
| 10 | 6 | IM | Ajay Karthikeyan | | | IND | 2338 | 7 | 49 | 53 | 41,00 | 7 |
| 11 | 16 | IM | Avinash Ramesh | | | IND | 2211 | 7 | 48,5 | 51,5 | 37,50 | 6 |
| 12 | 13 | FM | Ritviz Parab | | | IND | 2248 | 7 | 47,5 | 51 | 37,00 | 7 |
| 13 | 20 | | Sai Vishwesh.C | | | IND | 2123 | 7 | 46,5 | 50,5 | 35,50 | 7 |
| 14 | 5 | IM | Anwesh Upadhyaya | | | IND | 2345 | 7 | 46 | 50 | 35,50 | 7 |
| 15 | 2 | IM | Dhulipalla Bala Chandra Prasad | | | IND | 2388 | 6,5 | 51 | 55,5 | 39,25 | 6 |
---