Bharat Kumar Reddy Poluri victorious at 5th Bangalore Open 2023
Bharat Kumar Reddy Poluri and IM Chakravarthi Reddy M scored an unbeaten 8.5/10 each at 5th Bangalore Rating Open 2023. Bharat became the champion due to better tie-break score, the top seed Chakravarthi was placed second. FM Joydeep Dutta edged past five other players to finish third. The top five finishers remained undefeated. The total prize fund of the tournament was ₹700000. The top three prizes were ₹60000 + trophy, ₹50000 and ₹40000 each respectively. Bharat won quite a few tournaments in this year. However, this is his first Rating tournament triumph since October 2022. Earlier this month, Bharat secured a runner-up finish at CCS Chess Festival Rapid Rating Open. Photo: FI NA Sushrutha Reddy
Top two score an unbeaten 8.5/10
IM Chakravarthi Reddy M had a half point lead 8/9 heading into the final round. He drew with Kunal M. Bharat Kumar Reddy Poluri became the sole player out of seven to defeat Om Batra and tie his score with Chakravarthi 8.5/10 each. Bharat became champion as he had better tie-breaks. 11-year-old Jake Shanty is the youngest player to make a top ten finish at this event. He scored 7.5/10 to secure tenth place.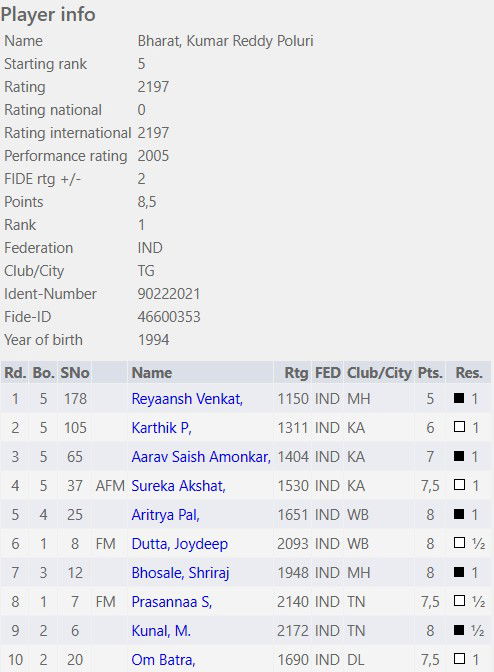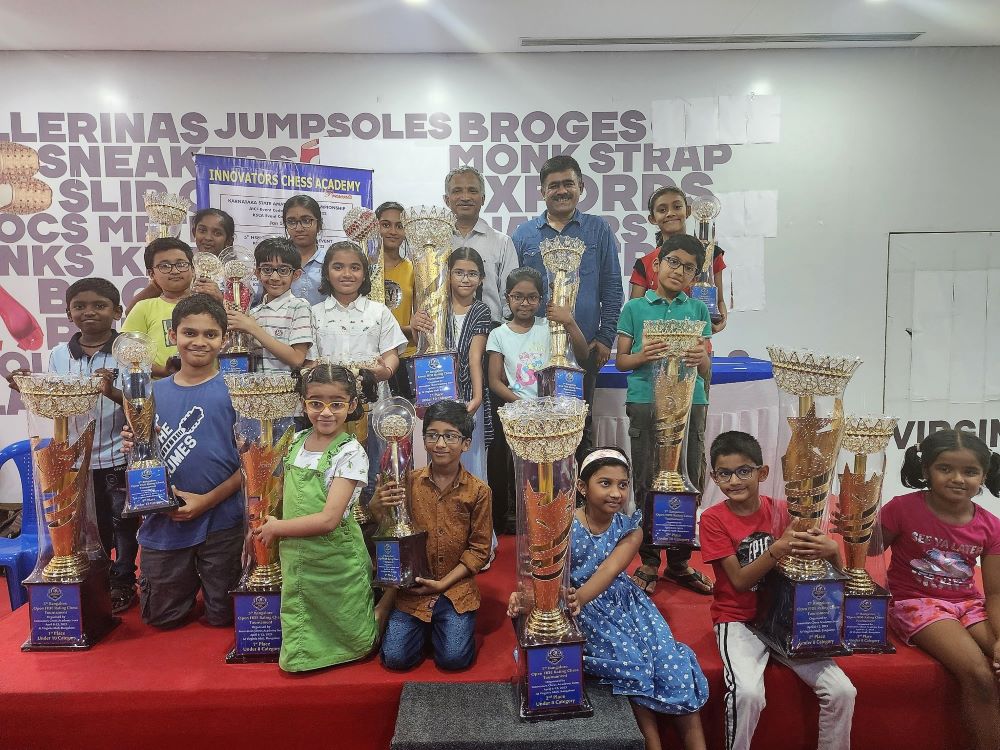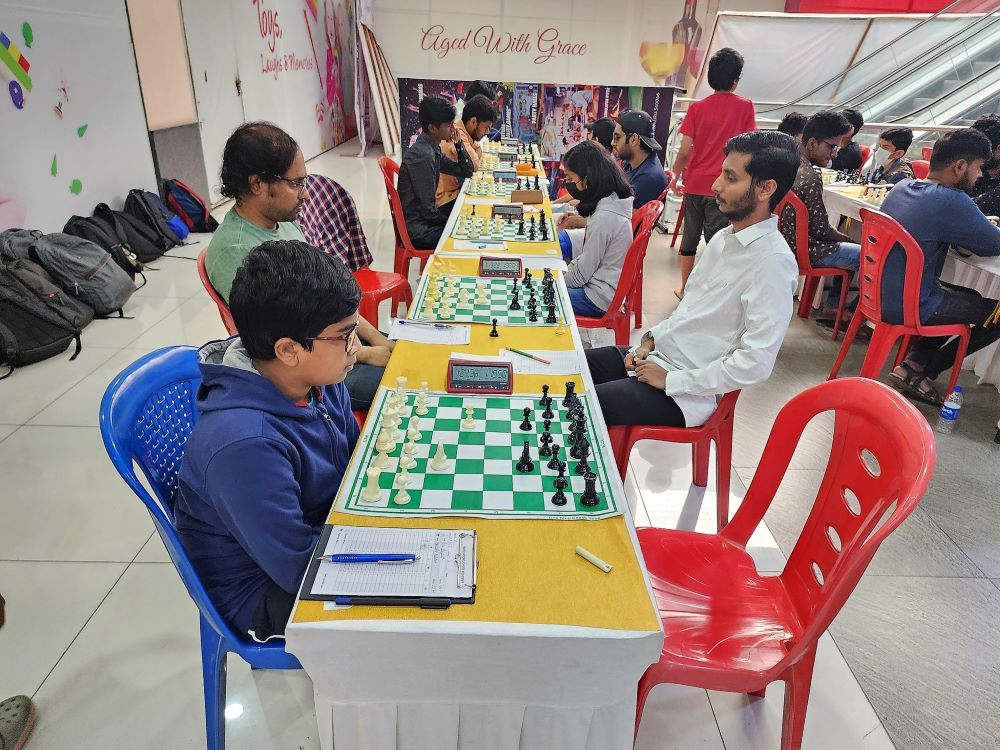 For more photos, please click here.
A total of 337 players including 3 IMs participated from various states across the country and one from Australia, Singapore and USA each. The five-day ten-round Swiss league Rating tournament was organized by Innovators Chess Academy at Virginia Mall in Bangalore, Karnataka from 8th to 12th April 2023. The time control for the event was 90 minutes + 30 seconds increment from move no.1.
Final standings
| | | | | | | | | | | | | |
| --- | --- | --- | --- | --- | --- | --- | --- | --- | --- | --- | --- | --- |
| Rk. | SNo | | Name | Typ | sex | FED | Rtg | Club/City | Pts. | TB1 | TB2 | TB3 |
| 1 | 5 | | Bharat, Kumar Reddy Poluri | | | IND | 2197 | TG | 8,5 | 67,5 | 72,5 | 60,75 |
| 2 | 1 | IM | Chakravarthi Reddy M, | | | IND | 2278 | TG | 8,5 | 65 | 70 | 58,00 |
| 3 | 8 | FM | Dutta, Joydeep | | | IND | 2093 | WB | 8 | 65,5 | 70,5 | 54,00 |
| 4 | 11 | FM | Vinoth Kumar, M. | | | IND | 1973 | TN | 8 | 65 | 70,5 | 54,75 |
| 5 | 6 | | Kunal, M. | | | IND | 2172 | TN | 8 | 63 | 67 | 51,75 |
| 6 | 25 | | Aritrya Pal, | | | IND | 1651 | WB | 8 | 61 | 66 | 49,75 |
| 7 | 2 | IM | Palit, Somak | | | IND | 2267 | PB | 8 | 61 | 65,5 | 50,25 |
| 8 | 12 | | Bhosale, Shriraj | | | IND | 1948 | MH | 8 | 60 | 64 | 47,25 |
| 9 | 7 | FM | Prasannaa S, | | | IND | 2140 | TN | 7,5 | 65,5 | 71,5 | 51,25 |
| 10 | 17 | | Jake Shanty, | U13 | | IND | 1733 | KL | 7,5 | 62 | 66,5 | 47,75 |
| 11 | 4 | FM | Senthil, Maran K | | | IND | 2213 | TN | 7,5 | 61 | 67 | 48,50 |
| 12 | 3 | IM | Abhishek Kelkar, | | | IND | 2257 | MH | 7,5 | 61 | 66 | 47,50 |
| 13 | 14 | | Peter Anand A, | | | IND | 1869 | PY | 7,5 | 60,5 | 65 | 45,75 |
| 14 | 23 | | Arjun Sidharth S, | | | IND | 1662 | PY | 7,5 | 59,5 | 64,5 | 46,25 |
| 15 | 37 | AFM | Sureka Akshat, | | | IND | 1530 | KA | 7,5 | 59 | 63,5 | 44,75 |
| 16 | 27 | | Mitul, K H | U13 | | IND | 1629 | KA | 7,5 | 58,5 | 62,5 | 43,25 |
| 17 | 29 | AIM | Yash Abhijit Patil, | | | IND | 1621 | KA | 7,5 | 58 | 63,5 | 46,50 |
| 18 | 71 | AFM | Vivaan Sachdev, | U13 | | IND | 1388 | KA | 7,5 | 57 | 57,5 | 37,75 |
| 19 | 20 | | Om Batra, | | | IND | 1690 | DL | 7,5 | 56,5 | 61,5 | 44,00 |
| 20 | 16 | AGM | Kiran Panditrao, | | | IND | 1739 | MH | 7,5 | 56,5 | 60,5 | 45,50 |
| 21 | 9 | | Augustin A, | | | IND | 1978 | KA | 7,5 | 56 | 61 | 46,75 |
| 22 | 13 | | Balkishan, A. | | | IND | 1915 | KA | 7,5 | 53,5 | 55,5 | 39,75 |
| 23 | 26 | | Sushanth Kamabathula, | | | IND | 1638 | TG | 7 | 59 | 64 | 41,50 |
| 24 | 38 | | Hermon Dain Saldanha, | | | IND | 1529 | KA | 7 | 59 | 63,5 | 40,75 |
| 25 | 39 | | Sumeetkumar, M S | | | IND | 1525 | KA | 7 | 57,5 | 62 | 39,50 |
Links
---