Rathanvel VS clinches R Hanumantha Memorial Cup All India Open Rapid and Blitz Rating 2021
MPL scholar IM Rathanvel VS won both Rapid and Blitz Rating event at R Hanumantha memorial Cup All India Open. He scored 8.0/9 in the Rapid event, edged past IM P Saravana Krishnan and FM Aradhya Garg on tie-breaks, both finished with the same score. They were placed second and third respectively. Rathanvel's only loss in the Rapid event was against Saravana. In the Blitz event, Rathanvel made a dominating start 8.0/8. A last round draw was enough for him to win the tournament as he had a full point lead heading into the last round and that's what he did. IM Pranav V, Abhishek Das and IM Ratnakaran K scored 8.0/9. They were placed second to fourth according to tie-breaks. Photo: Madhuri N/Mandya Chess Academy
Rathanvel dominates both Rapid and Blitz
A total of ₹300000 prize fund, ₹200000 in Rapid and ₹100000 in Blitz was distributed among the prize winners. Rathanvel won ₹37500 in total (₹25000 in Rapid and ₹12500 in Blitz), Saravana earned ₹18000, Aradhya ₹15000, Pranav ₹9000 and Abhishek ₹7500. All podium finishers won a trophy each.
"It was wonderful to win both Blitz and Rapid. The tournament was well organised, and a huge thanks to the organising team for organising such a fantastic event." - Rathanvel on winning both tournaments.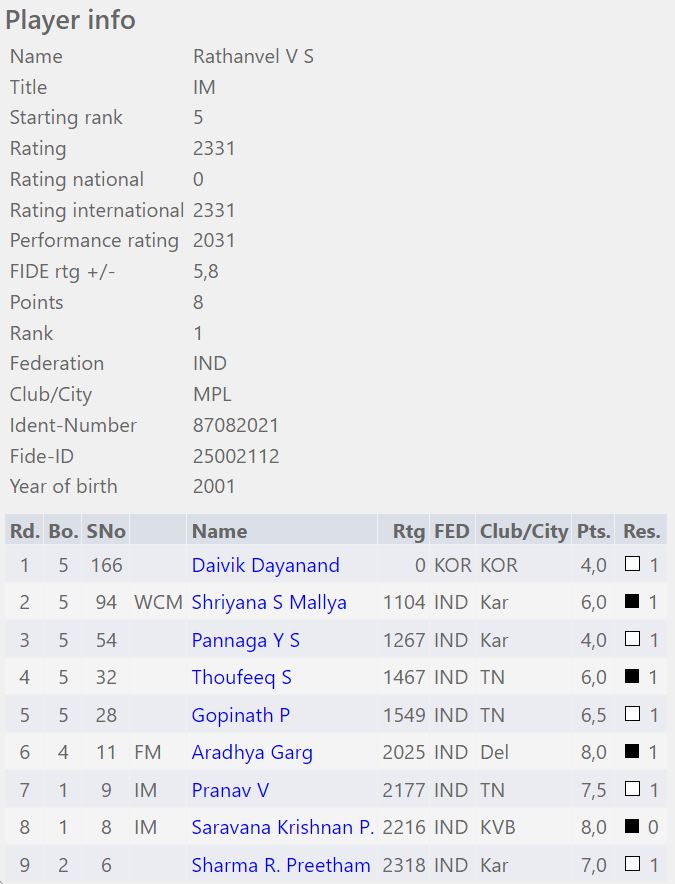 IM P Saravana Krishna was in the sole lead 7.5/8 and seven players including Rathanvel was at 7.0/8 each. Thus, it was a must-win situation for Rathanvel to win the tournament. Check out the last round game, annotated by Rathanvel himself
Photo Gallery
Mr. Rajashekara N, IPS Deputy Inspector General of Police, Nagaland, Mr. C Chandrashekhar, Chairman and MD of Hotel Amaravathi, Mr. C Ashwath, Director of Hotel Amaravathi were the Chief Guests at the inauguration ceremony. Mr. Nageswar, Mr. Ramesh Madi Shetty and Mr. Venumadhav - Co-founder of Safestorage Technologies and Services Pvt. Ltd., Mr. Aravind Shasty, KSCA Secretary, Mr. Sreenivas Reddy, Film Director, TTD SVBC board member, Mr. K Gururaj, Railway department Football coach, Mr. K Gopinath, Multimedia Research Centre, University of Mysore, Mrs. Jayanthi, Chess Shoots Bangalore, were also present at the ceremony.
Mr. T N Madhukar, KSCA Vice President, Mr. M Nagendra, KSCA Vice President, Mr. Bharath Gowda, Director of operations, Hotel Amaravathi, Mr. T Varaprasad, MDCA Vice President and Mrs. Jayanthi, Chess Shoots Bangalore were present at the Closing Ceremony.
A total of 316 players in Rapid and 278 in Blitz including a GM and six IMs took part in this two-day Rapid and Blitz rating tournament was organized by Mandya Chess Academy and Smart Queen's Chess Academy on 25th and 26th December at Hotel Amaravathi in Mandya, Karnataka.
Final standings in Rapid
| | | | | | | | | | | | | | | |
| --- | --- | --- | --- | --- | --- | --- | --- | --- | --- | --- | --- | --- | --- | --- |
| Rk. | SNo | | Name | Typ | sex | FED | Rtg | Club/City | Pts. | TB1 | TB2 | TB3 | TB4 | TB5 |
| 1 | 5 | IM | Rathanvel V S | | | IND | 2331 | MPL | 8,0 | 54,0 | 58,0 | 49,00 | 0,0 | 8 |
| 2 | 8 | IM | Saravana Krishnan P. | | | IND | 2216 | KVB | 8,0 | 52,5 | 56,5 | 49,25 | 0,0 | 7 |
| 3 | 11 | FM | Aradhya Garg | | | IND | 2025 | Del | 8,0 | 51,5 | 54,5 | 46,50 | 0,0 | 8 |
| 4 | 3 | IM | Shyaamnikhil P | | | IND | 2389 | ICF | 7,5 | 51,5 | 56,0 | 45,25 | 0,0 | 6 |
| 5 | 1 | GM | Thejkumar M. S. | | | IND | 2404 | SW Rly | 7,5 | 51,5 | 55,5 | 44,25 | 0,0 | 7 |
| 6 | 9 | IM | Pranav V | U15 | | IND | 2177 | TN | 7,5 | 51,5 | 55,0 | 43,25 | 0,0 | 7 |
| 7 | 7 | | Abhishek Das | | | IND | 2222 | Jhar | 7,5 | 50,0 | 55,0 | 44,75 | 0,0 | 6 |
| 8 | 12 | | Shet Prajwal P | | | IND | 1968 | Kar | 7,5 | 49,0 | 53,0 | 42,00 | 0,0 | 7 |
| 9 | 13 | ACM | Saxena Aditya | | | IND | 1956 | Kar | 7,5 | 46,5 | 50,5 | 42,75 | 0,0 | 7 |
| 10 | 4 | IM | Ratnakaran K. | | | IND | 2346 | S Rly | 7,0 | 52,5 | 57,0 | 42,00 | 0,0 | 7 |
| 11 | 2 | IM | Nitin S. | | | IND | 2404 | S Rly | 7,0 | 52,5 | 55,0 | 39,75 | 0,0 | 6 |
| 12 | 6 | | Sharma R. Preetham | | | IND | 2318 | Kar | 7,0 | 51,0 | 55,0 | 41,50 | 0,0 | 7 |
| 13 | 23 | | Hiridik Rajendran | | | IND | 1651 | TN | 7,0 | 50,0 | 53,0 | 38,50 | 0,0 | 7 |
| 14 | 15 | | Balkishan A. | | | IND | 1927 | Kar | 7,0 | 48,5 | 52,5 | 38,50 | 0,0 | 7 |
| 15 | 17 | | Chandar Raju | | | IND | 1823 | Ker | 7,0 | 48,0 | 52,0 | 38,00 | 0,0 | 7 |
| 16 | 75 | | Thejasvi N | | | IND | 1194 | Kar | 7,0 | 47,5 | 52,0 | 39,00 | 0,0 | 7 |
| 17 | 26 | | Prasanna B M | | | IND | 1590 | Kar | 7,0 | 47,0 | 49,5 | 35,50 | 0,0 | 7 |
| 18 | 18 | | Gowtam J K | | | IND | 1755 | Kar | 7,0 | 46,0 | 50,5 | 37,00 | 0,0 | 7 |
| 19 | 83 | | Raveesh Kote | U15 | | IND | 1137 | Kar | 7,0 | 44,5 | 46,5 | 34,00 | 0,0 | 7 |
| 20 | 25 | AGM | Sagar Praveen | | | IND | 1607 | Kar | 7,0 | 41,5 | 45,5 | 37,00 | 0,0 | 7 |
Final standings in Blitz
| | | | | | | | | | | | | | | |
| --- | --- | --- | --- | --- | --- | --- | --- | --- | --- | --- | --- | --- | --- | --- |
| Rk. | SNo | | Name | Typ | sex | FED | Rtg | Club/City | Pts. | TB1 | TB2 | TB3 | TB4 | TB5 |
| 1 | 1 | IM | Rathanvel V S | | | IND | 2449 | MPL | 8,5 | 54,5 | 58,0 | 54,75 | 0,0 | 8 |
| 2 | 4 | IM | Pranav V | U15 | | IND | 2351 | TN | 8,0 | 49,5 | 53,5 | 42,50 | 0,0 | 8 |
| 3 | 9 | | Abhishek Das | | | IND | 2227 | Jhar | 8,0 | 49,0 | 53,0 | 45,50 | 0,0 | 8 |
| 4 | 3 | IM | Ratnakaran K. | | | IND | 2400 | S Rly | 8,0 | 46,0 | 49,5 | 44,50 | 0,0 | 8 |
| 5 | 15 | | Shet Prajwal P | | | IND | 1966 | Kar | 7,5 | 51,5 | 56,0 | 46,25 | 0,0 | 7 |
| 6 | 2 | IM | Nitin S. | | | IND | 2431 | S Rly | 7,5 | 50,5 | 54,5 | 43,25 | 0,0 | 7 |
| 7 | 7 | IM | Shyaamnikhil P | | | IND | 2300 | TN | 7,0 | 55,5 | 60,0 | 44,00 | 0,0 | 7 |
| 8 | 12 | | Balkishan A. | | | IND | 2052 | Kar | 7,0 | 54,5 | 59,5 | 43,50 | 0,0 | 7 |
| 9 | 6 | GM | Thejkumar M. S. | | | IND | 2312 | SW Rly | 7,0 | 52,5 | 57,0 | 42,00 | 0,0 | 7 |
| 10 | 10 | FM | Aradhya Garg | | | IND | 2176 | Del | 7,0 | 52,0 | 54,5 | 40,50 | 0,0 | 7 |
| 11 | 13 | | Chandar Raju | | | IND | 2031 | Ker | 7,0 | 51,0 | 56,0 | 41,50 | 0,0 | 7 |
| 12 | 86 | WCM | Shriyana S Mallya | F12 | w | IND | 1152 | Kar | 7,0 | 49,5 | 52,0 | 38,00 | 0,0 | 7 |
| 13 | 11 | | Karthik Rajaa | | | IND | 2151 | TN | 7,0 | 49,0 | 53,5 | 39,50 | 0,0 | 7 |
| 14 | 36 | | Rajath Gururaj | | | IND | 1464 | Kar | 7,0 | 48,5 | 53,5 | 39,50 | 0,0 | 7 |
| 15 | 8 | IM | Saravana Krishnan P. | | | IND | 2245 | KVB | 7,0 | 48,0 | 52,5 | 40,50 | 0,0 | 7 |
| 16 | 5 | | Sharma R. Preetham | | | IND | 2318 | Kar | 7,0 | 47,0 | 51,0 | 36,00 | 0,0 | 7 |
| 17 | 20 | | Gowtam J K | | | IND | 1717 | Kar | 7,0 | 46,5 | 51,0 | 40,50 | 0,0 | 7 |
| 18 | 29 | | Arunkumar Muthukumar | | | IND | 1554 | TN | 7,0 | 45,0 | 49,5 | 38,00 | 0,0 | 7 |
| 19 | 62 | | Raveesh Kote | U15 | | IND | 1262 | Kar | 7,0 | 44,0 | 46,5 | 29,00 | 0,0 | 7 |
| 20 | 18 | | Aarthi G | | w | IND | 1766 | TN | 7,0 | 42,5 | 46,5 | 32,00 | 0,0 | 7 |
---