Karnataka's third and India's 63rd GM Girish Koushik gets felicitated by Infosys
Karnataka's third and India's 63rd GM Girish Koushik was invited by The Chess Club of Infosys Ltd., Bangalore on 3rd February 2020 to felicitate him. Girish Koushik also played a simultaneous exhibition match against top seven players of Infosys and he won them all. He also shared how chess shaped his life and few snippets from his journey so far. After the conclusion of simul, Girish spent some time with the players and explained their mistakes and advised them on their game. The core members of Chaturang, an active chess group of totaling 200 employees had a fantastic time interacting with the grandmaster. A pictorial report by Ganesh Gopalan. Photo: Ganesh Gopalan
Girish Koushik plays simul at Infosys, Bangalore
The Chess Club of Infosys Ltd, Bangalore had invited the 63rd GM of India and the third GM from Karnataka, India to felicitate him on reaching the pinnacle of glory in Chess – becoming a Grandmaster. The event took place in the evening hours of February 3rd 2020 in the spacious air-conditioned auditorium amidst the sprawling green campus of Infosys Ltd, Bangalore. Infosys Ltd had always been setting an example in the overall well-being of its employees and to have a holistic approach to life, not confining them only to writing codes! Thus, they have an active Chess group called Chaturang totaling 200 employees. Every evening, sees some of the active members of this club play chess for an hour or so, to refresh their mind and leave home peacefully. On one of its daily meeting, the idea of inviting a GM was born and hence we approached GM Girish Koushik, the latest GM from Karnataka and he had kindly agreed to grace the occasion.
The event started with a melodious song on Lord Ganesha, sung by two singers of SCMG (Shruthi Classical Music Group), another active group that Infosys Ltd. promotes to highlight Carnatic and Hindustani music.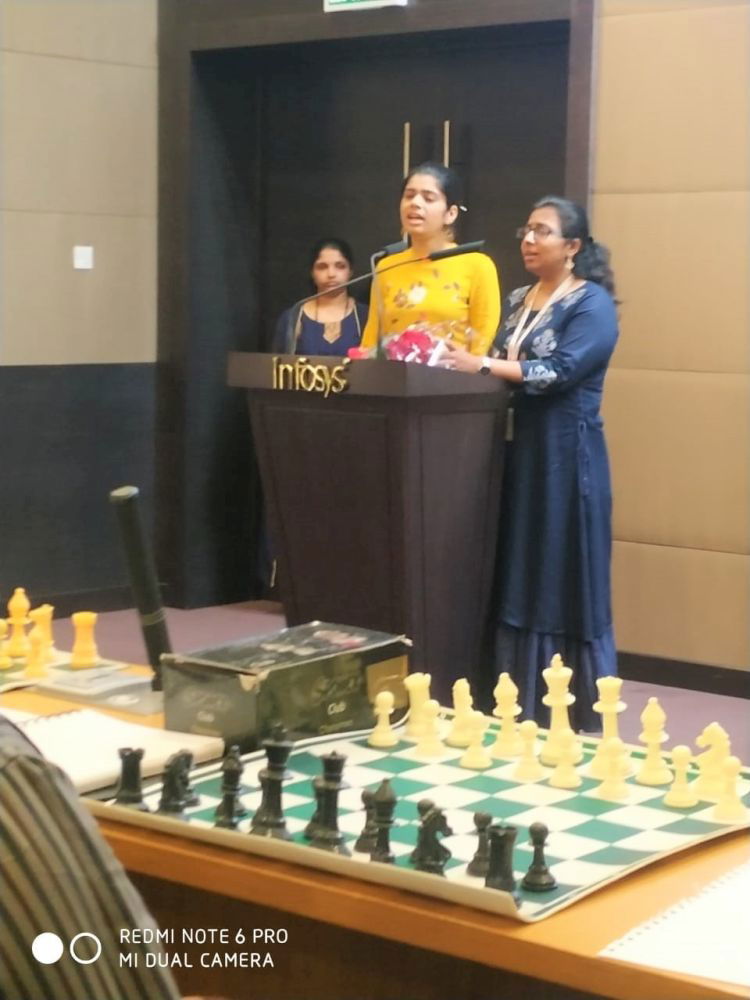 This was followed by a short speech by Mr. Shishank Gupta Sr. Vice President & Service Offering Head of Infosys Validation Solutions (IVS) unit. Captain of Infosys Ltd. Chess team Mr. Ganesh Gopalan, presented the roadmap for 2020 and how he plans to shape Chaturang with various initiatives on Chess in Infosys. GM Girish Koushik was asked to talk on the topic, "Life of a GM apart from the Chess board". GM Girish gave few anecdotes on how Chess has shaped his life and career in his early years and how he learnt the basic moves from his only trainer-cum-father Mr. Arun Kumar H V. He also shared few funny happenings during tournaments, which had the audience under splits.
The speech was followed by GM Girish playing a simul with the top seven players of Infosys Ltd. Needless to say, the result was 7-0, with Girish winning all the games, though the players fought valiantly for an hour. This was followed by a one-minute feedback session by Girish to each player on their games and scope to improve further, followed by High Tea. The core members of Chaturang had a very good time interacting with Girish followed by Vote of Thanks, by the Emcee of the event, Ms. Prerana, the female Chess Champion from Infosys Ltd.
Chaturang members will remember this day for years to come by, as they had a chance to interact very closely with GM Girish, who was patient enough to answer most of the clarifications posed by them during the event. Girish was shown across the huge campus in a battery operated vehicle and to quote him straight, "This is an amazing campus with its beautiful greenery and fountains". Not to forget that he took several pictures from landmark places of Infosys Ltd such as CDG (Pyramid) Building, Amphitheatre and amidst the gardens and swimming pool.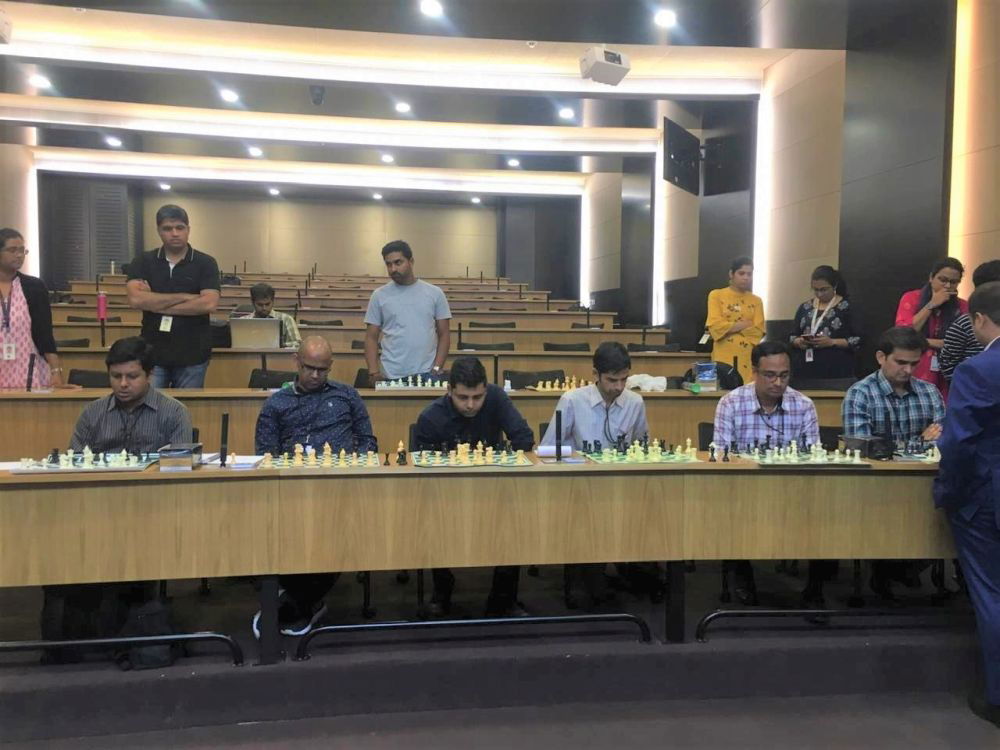 The article was edited by Shahid Ahmed
About the Author
Ganesh Gopalan is working as a Senior Consultant in Infosys Ltd, Bangalore. He is also the captain of chess team, Chaturang. Apart from his profession, he is also a theater director and a short film maker. His films have won several international awards.
---