Stany GA: "My only regret is that I could not become a Grandmaster when my father was alive"
The 2018 National Chess Championship came to a close in Jammu earlier this week on Tuesday with Chennai lad, Aravindh Chithambaram clinching his first National title along with a ₹500,000 cash prize. But besides the crowning of a new national champion, the event also witnessed India get its 58th Grandmaster in GA Stany. In the ninth round of the event, Stany signed peace against Chithambaram in a 53 move long battle on the second board to score his final grandmaster norm. Since Stany had already breached the 2500 rating threshold in January 2017, he had completed all requirements for the GM title with this final norm. After the event, ChessBase India caught up with Stany to talk about his achievement.
Let's start with the typical sports question: How do you feel having finally become a grandmaster?
I think 'happy and relieved' would be the right words to answer that. The pressure of getting GM norms was affecting me to some extent as I had already crossed the required 2500 Elo rating long back. I am glad that it's finally done.
It was clear after the ninth round that you had scored your final GM norm. When that happens, players usually end up losing the following games. But you continued strongly, beating GM Deep Sengupta in the tenth round. What kept you going?
To be honest, that victory against Deep Sengupta actually gave me more satisfaction than getting the norm. He was the guy with whom I had the worst score against in life. I had lost to him four times before. So winning against him for the first time in such a dominating fashion was a liberating experience. Completing the GM tile increased my confidence very much and I felt that I was as good as any of them. I believe that helped me to keep that momentum going.
What happened in the last two rounds? You seemed to have decent positions against both CRG Krishna and MR Venkatesh but ended up losing. What went wrong?
It was just a bad day at the office. I played a good game had a better position against both of them but failed to convert the advantage, maybe tiredness could be the reason. Those two losses were painful but that's part of the game. I took it sportily.
Which was your favourite game from the tournament and why?
It has to be against Deep Sengupta as I have mentioned the reason above.
Who do you credit your success to?
Obviously, I have to begin with my parents. My father, late Anthony Gnana Prakash, and my mother Lizy. Their support has been incredible. I also have to thank my first coach Srikrishna Udupa for developing chess interest in me and my current trainer Mr Saravanan with whom I have been working for last three years he guidance in recent times has helped me a lot.
And also, Airports Authority of India and Karnataka State youth and sports dept for providing me financial assistance at various times without their help it would have been very difficult for me to pursue chess.
Your last two norms came in quick succession while your first norm was scored two years ago at the Luc Open in France. Why did it take so long for you to score your second norm?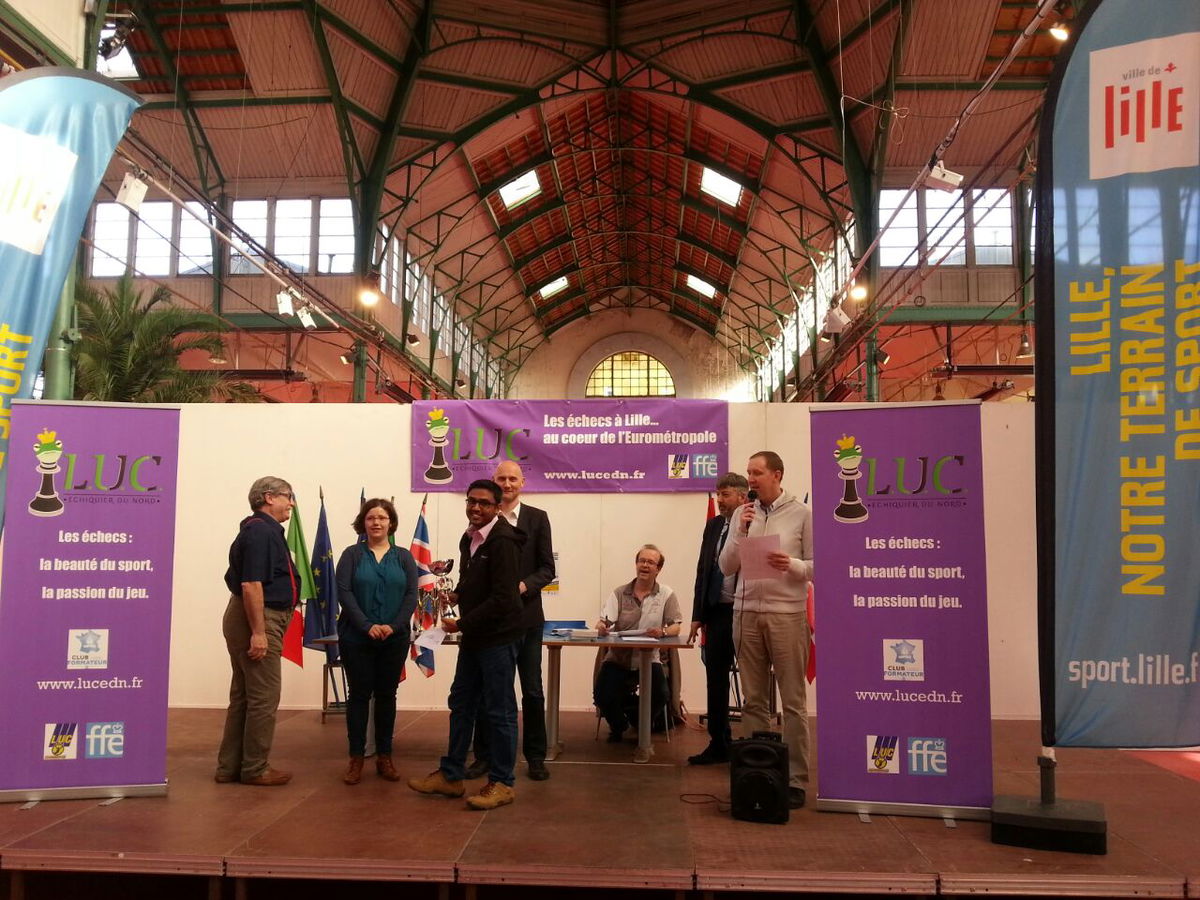 After getting my first norm in France I performed consistently in many tournaments. However, I missed norms nearly ten times due to technicalities. To make a GM norm you have to play against at least two Grandmasters and two titled players while finishing with a rating performance of 2600. In many tournaments, it so happened that I played against three titled players and two Grandmasters. So, despite finishing with a 2600 rating performance, I could not score the norm. Things like these happened many times and it kept getting delayed.
[Ed: Readers can find out step by step how a GM norm is scored in this article by IM Sagar Shah]
When did you accomplish 2500 Elo?
I crossed 2500 Elo rating in January 2017 at the Seville Open in Spain.
Now that you've become a GM, what's your next goal?
My immediate goal would be to work on my consistency and try to cross 2600 Elo rating soon.
When and how did you start playing chess?
My uncle one day got a chessboard and started teaching the basics to my elder brother Tony just for fun. I kept observing that and picked up the rules. Seeing my interest in chess my mother decided to take me to a chess trainer Mr Shrikrishna Udupa (my first coach). Then he started teaching me regularly and I started playing in tournaments.
Who were your first coaches?
My first coach was Mr Shrikrishna Udupa with whom I worked from 2002-2008. After that, I had short coaching sessions with players like IM Shivananda, GM Ramesh and GM Tejas Bakre. In the last 3 years, I have been working regularly with IM Saravanan V of Chennai.
Could you tell about your family background? Has chess been in your family or were you the first to pursue it?
I come from a middle-class family. My father was a Pharmacist (he passed away last year) and my mother is a teacher. I have an elder brother Tony who works in the health dept. Chess was never there in our family. I and my brother started to pursue it but he left to focus on studies whereas I continued.
What were the problems you faced while developing yourself into a strong player (be it coaching, sponsorship, books or anything)?
Financial problems were always there but by God's grace, help kept coming in one way or the other. Since I come from a relatively small city (Shimoga), I always face problems with regard to lack of chess circle. Most of my childhood chess friends went into different careers. So, if I wanted to work with serious players I had to travel to other states, this is still a major problem that I have.
What is your academic background? And did chess ever come in the way of your academics?
I have done my B.com from the PES College in Shimoga and then did my MBA in SRM College, Chennai. Playing Chess has always helped me with my studies especially when it came to concentration and memory skills. So it was an added benefit for that matter, not something that came in the way. Also, all my school teachers encouraged me from the beginning to play chess; that also helped.
Are you a full-time chess professional?
As of now yes.
Today, India is turning out to be one of the superpowers in the field of Chess, but how easy or difficult is pursuing chess as a profession in India? Does the GM title make a significant difference?
Pursuing chess as a profession is not everyone's cup of tea. It is difficult and uncertain but definitely possible. Coaching is always an option to make a good living. It may be difficult to earn consistently only by playing tournaments. But it also depends on other factors like a person's age, ambition and willingness to work hard, etc. I might be able to answer the second part of your question after a year or two.
Were there any setbacks on your way to becoming a GM? How did you overcome them?
Setbacks were minor, like delay in norms. I managed to overcome them by focusing on improving my chess rather than think about results. My only regret is that I could not become a Grandmaster when my father was alive, but I have to live with it.
Share something about yourself that you are working on improving. And how do you think it will help you improve as a player?
Recently I have been focusing a lot on my fitness and also food consumption. Being fit helped me to maintain energy for long games whereas focusing on my diet helped me to stay healthy throughout the tournament.
Do you have a chess idol?
I like different qualities of different players, Carlsen's grind, Anand's longevity, Aronian's imagination, Giri's humour... I can go on and on.
Do you have any hobbies besides chess? If yes, what are those?
I like playing Badminton and Table tennis. Music and movies will always be there on the list, of course.
Just one last question: what has been the contribution of ChessBase India in your chess career and to Indian chess in your opinion?
Call this a coincidence but from the time ChessBase India took off, my chess performance also started getting better. It's just hard to imagine that within a span of 3 years, ChessBase India has become one of the world's most followed chess websites. I also like to thank them for bringing Quality Chess books and ChessBase products at a lesser price for Indian chess fans. I personally have made use of this and bought many books and products from them.
Previous articles on Stany on ChessBase India
Interview with Stany after he won Manipal Open
Stany wins Forni Di Sopra 2017
Video interviews:
---