India gets its 58th GM and Karnataka its 2nd - Stany GA
He reached a rating of 2500 in July 2017. Since last one and a half year people have considered him as a GM title contender but his GM norms were just not coming. But when you have the strength, the results are bound to arrive. Stany scored his first GM norm at the Lucopen in Lille in 2016, the second GM norm at Gujarat GM Open 2018 and now the final one at National Championship 2018. The fact that he could achieve his final two norms in India speaks volumes about his strength as a chess player. Today, Stany becomes the 58th GM of India. In this report we tell you what Stany feels after becoming a GM, the people responsible for his success and last but not the least we show you one of his favourite games from his chess career till date.
Stany is the 58th Grandmaster of India!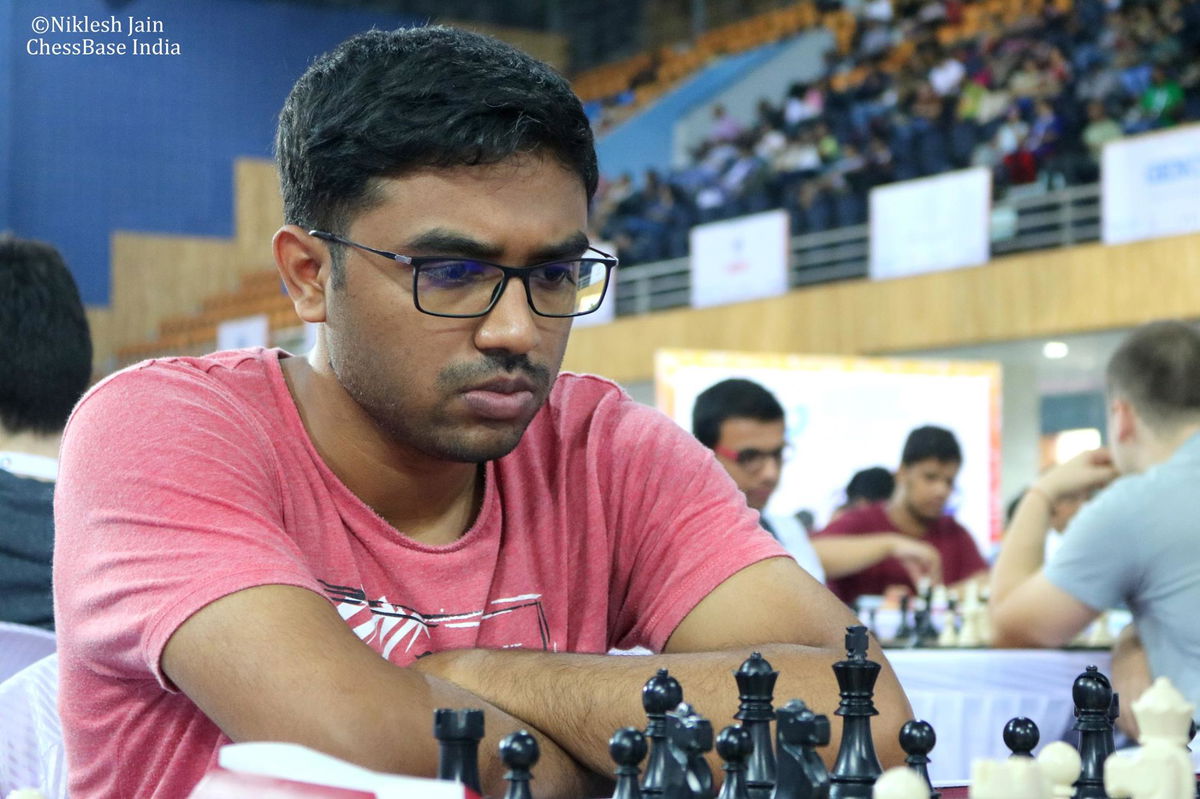 India started the year 2018 with 50 grandmasters. In the last 12 months we have had eight grandmasters - Saptarshi Roy, Praggnanandhaa, Nihal Sarin, Arjun Erigaisi, Karthik Venkatraman, Harsha Bharathakoti, P. Karthikeyan and now Stany G.A. Stany hails from Shimoga, Karnataka and is well known in the chess circles for his aggressive and attacking play. He likes to push his pawns, take space on the board and keeps an eye out for the most difficult hidden tactics. Born in 1993, 25-year-old Stany made his first GM norm at the Lucopen in Lille, France in 2016. He managed to cross his Elo of 2500 in July 2017. For a year he struggled to get his next GM norm. There was always a tussle between him and Thejkumar for becoming Karnataka's first GM. Thej managed to reach 2500 in September 2017 and achieved the distinction of being Karnataka's first GM. Meanwhile, for Stany things were not easy. He lost his father in November 2017. While he kept winning tournaments, the GM norm just wasn't coming.
For the last few years Stany had been playing exclusively in Europe and outside India. In October 2018 he made a bold decision of playing in India. He knew that Indians are generally under-rated and there are chances that he would lose his rating, but Stany backed himself and made his second GM norm at the Gujarat GM Open 2018. You could literally sense the growing confidence in Stany's play and it was quite apparent that very soon he would achieve his third and final GM norm. This he did in style at the National Championship 2018 in Jammu by scoring 7.0/9.
ChessBase India contacted Stany right after he achieved his GM title. How was he feeling? "I'm feeling relieved. This title pressure was there from long time. So happy that finally it's done." So who are the people who have contributed to Stany's success of becoming a GM? Says the Shimoga lad, "First my family, of course. My mom Lizy, my father late Anthony and my brother Tony. They were my backbone from the beginning. My mother who is a school teacher, especially took care of my psychological aspects. Whether I win or lose she was the one who was always there for me to talk it out.
No success is complete without the mention of the coaches. About his trainers Stany mentions, "Regarding coaches I have to thank my first coach Srikrishna Udupa, who developed that chess interest in me from the beginning. During my transition period from 2200 to 2400 I have worked with IM Shivananda, GM Ramesh and GM Tejas Bakre. To all these guys I owe my success.
"And last but not the least Saravanan with whom I am working from 2015. When I went to him first my rating was 2375 and right now it's 2522. So you can imagine how much support and guidance he has given me. I have add Mr Jacob Aaagard's name as well here. I attended his camp in July about which I have written in an article [Ed-this will be soon published on ChessBase India]. It's just 6 months now and I already got 2 norms. So that also helped. I have to thank Karnataka state association also here, especially Mr. Arvind Shastry and Hanumantha for their constant support. Lastly my sponsors Airports Authority of India. They have supported me financially from 2011 and I am still their contract player."
We spoke to Stany's current trainer Saravanan. This is what he said to ChessBase India, "Stany has matured a lot as a chess player ever since we started working together, and the added complexity and richness in his play in tactical positions in the last two - three years is the main reason of his getting stronger as a chess player. He works hard on his own (though sometimes needs prompting!) with self-motivation, and that is the single most important reason for getting strong enough to achieve the GM title. For example, his openings have become quite decent because of such hard work. He still has lots to improve in many areas of the game, which means that he can get stronger as a player, if he maintains focus and discipline."
Stany's best game:
I wanted to publish Stany's best game as his win over Vladimir Sveshnikov from the Malakoff Open 2016. But Stany told me that he has a better one which we publish below. This was his game against Saptarshi Roy Chowdhury. It's a typical Stany game where he first sacrifices a pawn for the initiative, then he develops his rooks along the ranks, and then sacrifices his queen to finish his opponent off through domination.
Did you enjoy the above game! Well, we leave you with the Sveshnikov victory as well! This time annotations are by Stany himself.
Stany on ChessBase India:
Stany and the French connection
Stany dedicates his Sautron victory to his father
---