Prasannaa wins 1st ISC Rating Open 2022
S Prasannaa scored an unbeaten 8.5/9 to win 1st ISC International Open Rating Tournament 2022. Prasannaa scored eight consecutive wins to gain a full point lead heading into the final round. He drew his final game against Jai Sankar Subramanian to finish a half point ahead of the field. The reigning Kerala State Senior champion, Marthandan K U scored sole 8/9 to finish second. Five players scored 7.5/9. Jai was placed third according to the tie-breaks. The total prize fund of the tournament was ₹500000. The top three prizes were ₹40000, ₹30000 and ₹20000 along with a trophy each. Photo: Sunikumar/International School of Chess Pvt. Ltd.
Prasannaa's second triumph of the year
S Prasannaa won his second tournament of the year after he won 28th Abu Dhabi Chess Festival Open 2022 in August. He went on to win 2nd SCMA Blitz Open which will be mentioned in detail in a separate report. 11-year-olds Sriram Adarsh Uppala and Vignesh Kannan P scored 7.5/9 each to secure fourth and seventh place according to tie-breaks. Joy Lazar M A was the highest finisher among veteran participants. He made 7/9 and was placed eighth.
The newly crowned Kerala State champion, Marthandan K U was given a special appreciation and medal by the ISC.
Prizes were distributed by Mrs. K C Lekha, Dhyan Chand awardee, represented Indian Women's Amateur Boxing at 75 kg category and won Gold medal in 2006 Women's World Amateur Boxing Championship, and Mr. Ratheesh C Nair, Director, Honorary Consul of the Russian Federation.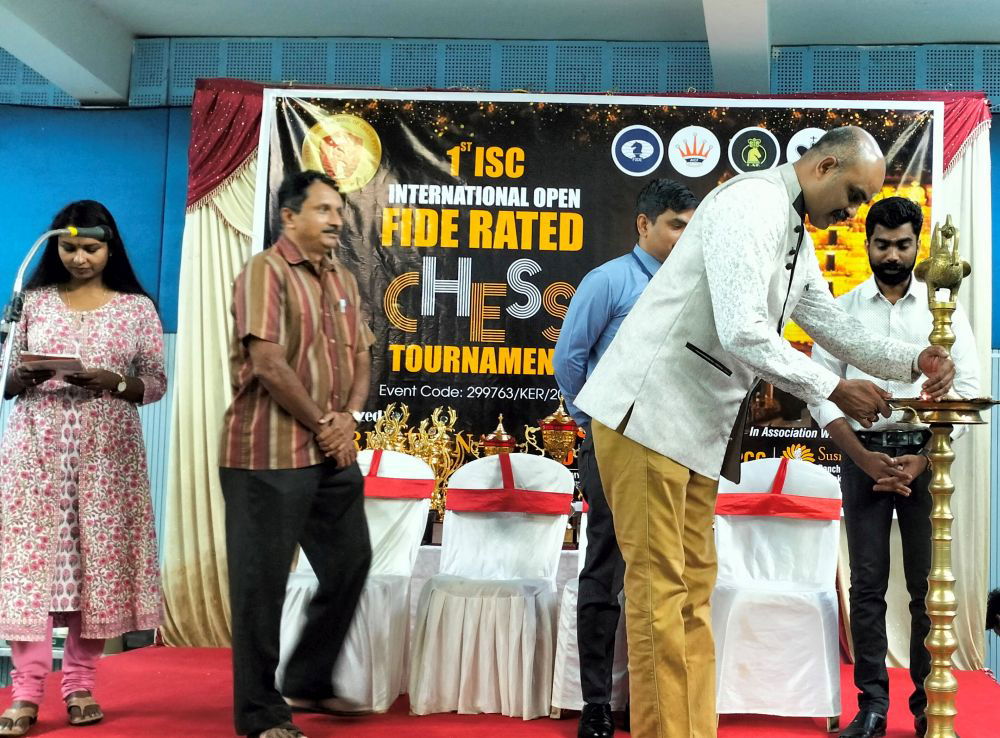 Dr. Krishnakumar K, Managing Partner of Susrutha Ayurvedha & Panchakarama Hospital inaugurated the tournament in presence of the tournament director National Instructor Mr. Unnikrishnan M A, Chief Advisor Mr. Fide Instructor Suresh Kumar T J , Indian Youth chess team coach, Chief Arbiter IA Gopakumar M S and Deputy Chief Arbiter IA Govindankutty M S.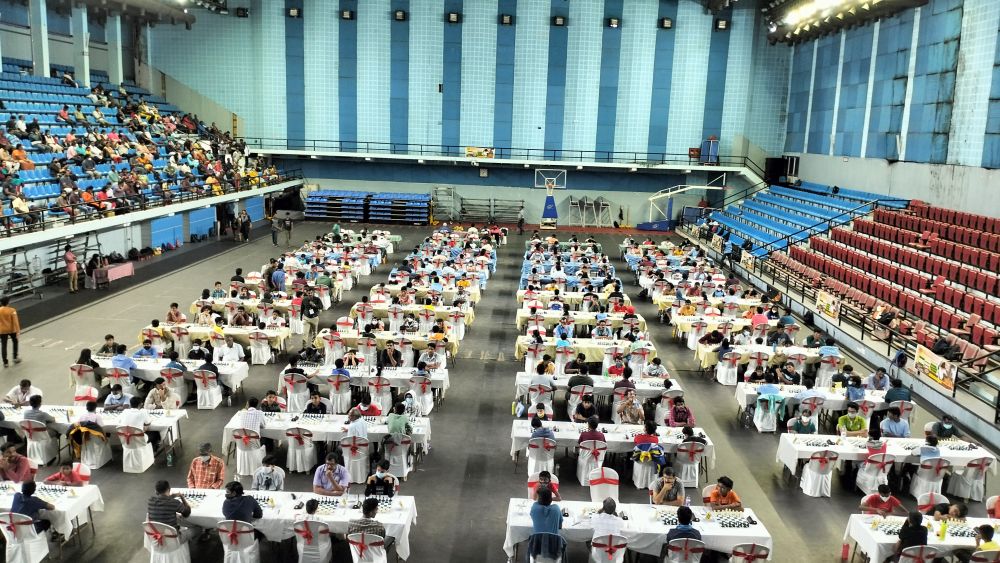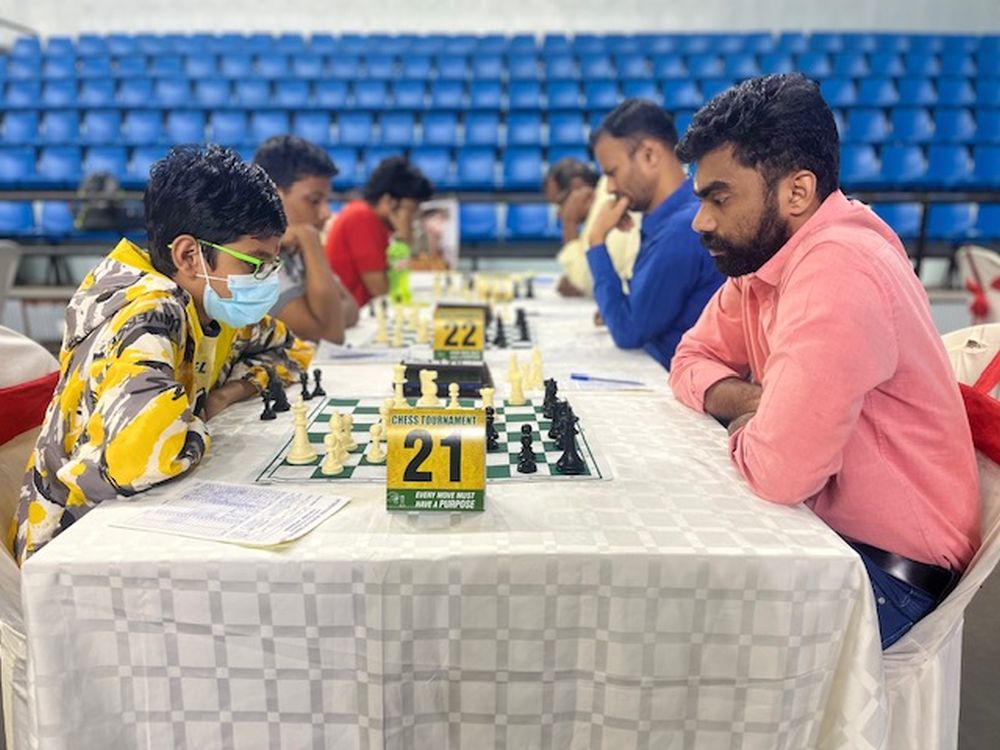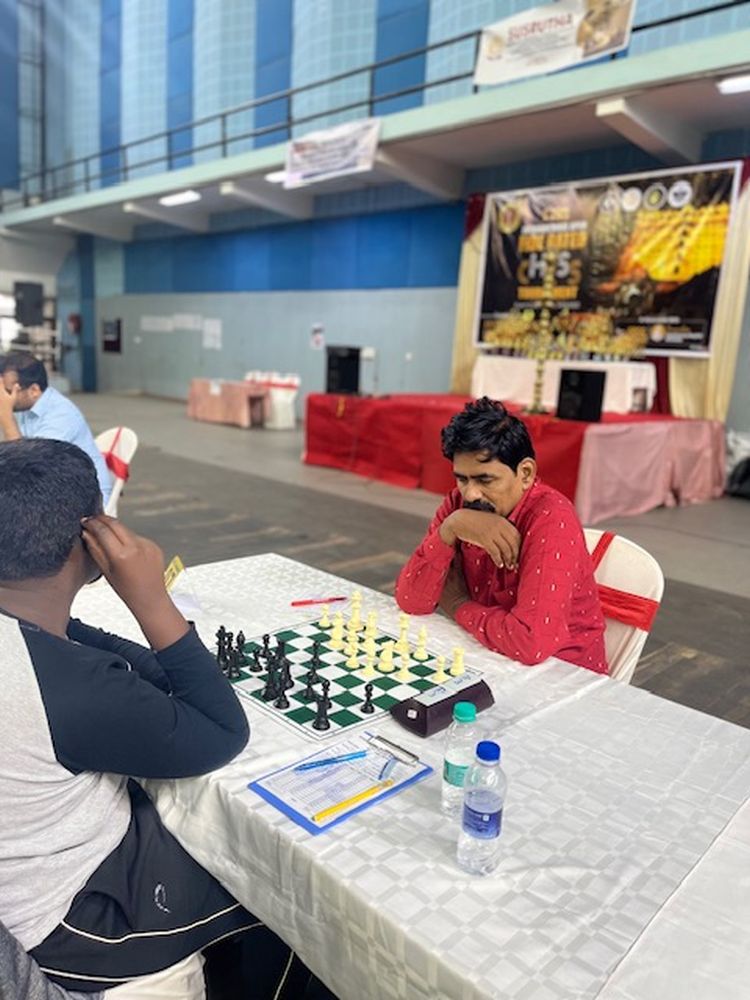 A special thanks to the manager of International School of Chess Pvt. Ltd. for sharing photos and info about the tournament.
A total of 328 players including an IM took part from various parts of the country. The five-day nine-round Swiss league Classical Rating tournament was organized by International School of Chess Pvt. Ltd. at Jimmy George Indoor Stadium in Thiruvananthapuram, Kerala from 5th to 9th October 2022. The time control of the tournament was 90 minutes + 30 seconds increment from move no.1.
Final Standings
| | | | | | | | | | | | | | | | | |
| --- | --- | --- | --- | --- | --- | --- | --- | --- | --- | --- | --- | --- | --- | --- | --- | --- |
| Rk. | SNo | | | Name | Typ | sex | Gr | FED | Rtg | Club/City | Pts. | TB1 | TB2 | TB3 | TB4 | TB5 |
| 1 | 1 | | | Prasannaa.S | | | | IND | 2191 | TN | 8,5 | 54,5 | 59,5 | 55,25 | 0 | 8 |
| 2 | 3 | | | Marthandan K U | | | | IND | 1967 | KER | 8 | 49 | 54 | 48,50 | 0 | 8 |
| 3 | 8 | | | Jai Sankar Subramanian | U15 | | | IND | 1847 | TN | 7,5 | 52,5 | 57,5 | 45,75 | 0 | 7 |
| 4 | 35 | | | Sriram Adarsh Uppala | U12 | | MCAT | IND | 1524 | TEL | 7,5 | 52 | 56 | 44,25 | 0 | 7 |
| 5 | 21 | | | Gokulakrishna S | U15 | | | IND | 1618 | TN | 7,5 | 51,5 | 55,5 | 44,25 | 0 | 7 |
| 6 | 20 | | AIM | Arul Prakash N | U15 | | | IND | 1630 | TN | 7,5 | 50 | 54,5 | 41,75 | 0 | 7 |
| 7 | 27 | | | Vignesh Kannan P | U12 | | | IND | 1583 | TN | 7,5 | 49 | 54 | 42,75 | 0 | 7 |
| 8 | 10 | | | Joy Lazar M.A. | S55 | | | IND | 1778 | KER | 7 | 50 | 54 | 39,00 | 0 | 7 |
| 9 | 33 | | | Aakash K P | | | | IND | 1547 | TN | 7 | 48 | 52 | 38,00 | 0 | 6 |
| 10 | 14 | | | Aadithya Pradeep | | | | IND | 1678 | KER | 7 | 47,5 | 51,5 | 39,75 | 0 | 5 |
| 11 | 16 | | | Abdallah M Nisthar | | | | IND | 1664 | KER | 7 | 46 | 50 | 35,00 | 0 | 7 |
| | 42 | | | Sandeep Santhosh | | | MCAT | IND | 1495 | KER | 7 | 46 | 50 | 35,00 | 0 | 7 |
| 13 | 44 | | | Padmaesh M K | | | | IND | 1481 | KERT | 7 | 45,5 | 49,5 | 36,50 | 0 | 7 |
| 14 | 48 | | | Binu Devdutt | U12 | | MCAT | IND | 1464 | KERT | 7 | 45,5 | 49,5 | 34,50 | 0 | 7 |
| 15 | 31 | | | Alluri Bhaskara Ratna Shanmukha Reddy | U15 | | | IND | 1550 | AP | 7 | 44 | 48,5 | 37,25 | 0 | 6 |
| 16 | 6 | | | Anilkumar O.T. | S55 | | | IND | 1898 | KER | 7 | 42 | 46 | 33,75 | 0 | 6 |
| 17 | 5 | | | Chandar Raju | | | | IND | 1934 | KER | 6,5 | 51 | 55 | 37,25 | 0 | 6 |
| 18 | 46 | | | Joseph Tom | U12 | | | IND | 1471 | KER | 6,5 | 50,5 | 53,5 | 34,50 | 0 | 6 |
| 19 | 17 | | | Mohammed Tharig S | | | | IND | 1653 | TN | 6,5 | 49,5 | 54 | 33,75 | 0 | 6 |
| 20 | 12 | | | Shadhursshaan R | U15 | | | IND | 1736 | TN | 6,5 | 49,5 | 53,5 | 36,75 | 0 | 5 |
| 21 | 2 | | IM | Ramnathan Balasubramaniam | | | | IND | 2048 | TN | 6,5 | 47 | 51 | 35,00 | 0 | 6 |
| 22 | 19 | | | Narayan Iyengar | | | | IND | 1644 | TN | 6,5 | 46,5 | 51 | 34,25 | 0 | 5 |
| 23 | 4 | | | Akhilan E M | | | | IND | 1964 | KERT | 6,5 | 45,5 | 50,5 | 35,50 | 0 | 6 |
| 24 | 41 | | | Subramanian V | S55 | | | IND | 1502 | TN | 6,5 | 45,5 | 50,5 | 34,00 | 0 | 6 |
| 25 | 34 | | | Darshan Sasthaa M | U15 | | | IND | 1537 | TN | 6,5 | 45,5 | 49,5 | 34,25 | 0 | 5 |
| 26 | 49 | | | Satheesh M | | | | IND | 1460 | KER | 6,5 | 45,5 | 48,5 | 32,75 | 0 | 5 |
| 27 | 13 | | | Suresh P K | | | | IND | 1719 | KER | 6,5 | 44,5 | 48,5 | 33,00 | 0 | 5 |
| 28 | 47 | | | Giridhar A | U15 | | MCAT | IND | 1470 | KER | 6,5 | 44 | 47,5 | 31,75 | 0 | 6 |
| 29 | 24 | | | Sathyanarayanan S. | | | | IND | 1587 | TN | 6,5 | 43 | 46,5 | 31,25 | 0 | 6 |
| 30 | 43 | | | Gopal Aravamuthan Iyengar | | | | IND | 1494 | TN | 6,5 | 42,5 | 45,5 | 29,25 | 0 | 6 |
---