Chandar Raju clinches 58th Kerala State Senior Open 2021
Chandar Raju wins 58th Kerala State Senior Open championship on his 22nd birthday, ten days after becoming Ernakulam District champion. He remained undefeated in both of his triumphs. He scored 5.5/6 in the district event and 7.0/8 in state. This is his second state title since 2013 and also second district title since 2016. Sooraj M R secured second position with 6.5/7, while third seeded Sharsha Backer was placed third 6.0/8 as his tie-breaks was better than four other players who finished with the same score. We also get to know Chandar's thoughts on his triumphs and see his favorite game from the event. Photo: Kunju Moideen
Chandar becomes unbeaten district and state champion in ten days
Second seeded Chandar Raju scored 7.0/8, remained undefeated to win 58th Kerala State Senior Open championship 2021. He started out the tournament with a draw but he managed to score 6.5 points in the next seven games to clinch the championship. Sooraj M R scored 6.5/8 to finish second. Five players finished with 6.0/8. Third seeded Sharsha Backer was placed third as he had a better tie-break score.
Ten days before winning the State championship, he won Ernakulam District championship where he scored 5.5/6 and remained undefeated.
We caught up with Chandar after he won the state championship to get to know his thoughts.
Shahid Ahmed (SA): How does it feel to play a tournament after more than a year and win it?
Chandar Raju (CR): Ah yes it feels so good to be in front of a board again. I'm pretty sure those who have played recently in over-the-board tournament's can relate to this. Yes there was the initial starting trouble but once you settle down you start getting the flow again. This is the longest I have been away from the chess board since I started playing chess. Although frankly speaking, I was not completely out of touch with the game. I did play the occasional online tournament's but again that has it limits. We also started an online chess academy called Eight Times Eight Chess Academy. So I was constantly in touch with the game is some form or other.
As to the winning part it feels awesome, truth be told. Its been a dream to have my name up there with the greats of Kerala chess. It was indeed a tough tournament with a mix of some really young talented players as well as familiar faces and veterans we have been seeing for a long while. As it happened to be the day I won the title coincided with my 22nd birthday! It was twice the joy along with this. The organizers surprised me with a cake and I thank them whole heartedly for making everything so special. I know it was not an easy time to conduct a state championship, but they did their best and conducted it smoothly.
SA: If I am not mistaken, this is your second district as well as your second state triumph. What do these championships mean to you?
CR: Yes it is my second district championship. As for the State part this is my first State Open one. I have become State champion in Under-25 category twice before. Ernakulam district association also took the pain of conducting the tournament. It means a lot as I could compete after a while and then again playing chess bring me joy regardless. It's always fun and I thoroughly enjoy and admire the game wholeheartedly.
SA: Which is your favorite game from the event?
CR: I would say it was one I played with Sooraj who came second. The game was filled with complications in the middlegame until he missed a tactics and the position was plus for me. He played a fabulous tournament and played some amazing chess.
SA: Who was the strongest opponent you have faced?
CR: All the games were tough I would say the one with Sharsha Backer was pretty tight.
SA: What's next for you?
CR: Pursuing my passion for chess and seeing where it takes me. I'm also pursuing Law from Government Law College Ernakulam, Kerala. On this occasion I would also like to thank all my friends from college who have wholeheartedly supported me. Huge shoutout to them.
SA: Thank you for taking the time to answer these questions. I wish you all the best in your future endeavors.
CR: Thank you.
Photo Gallery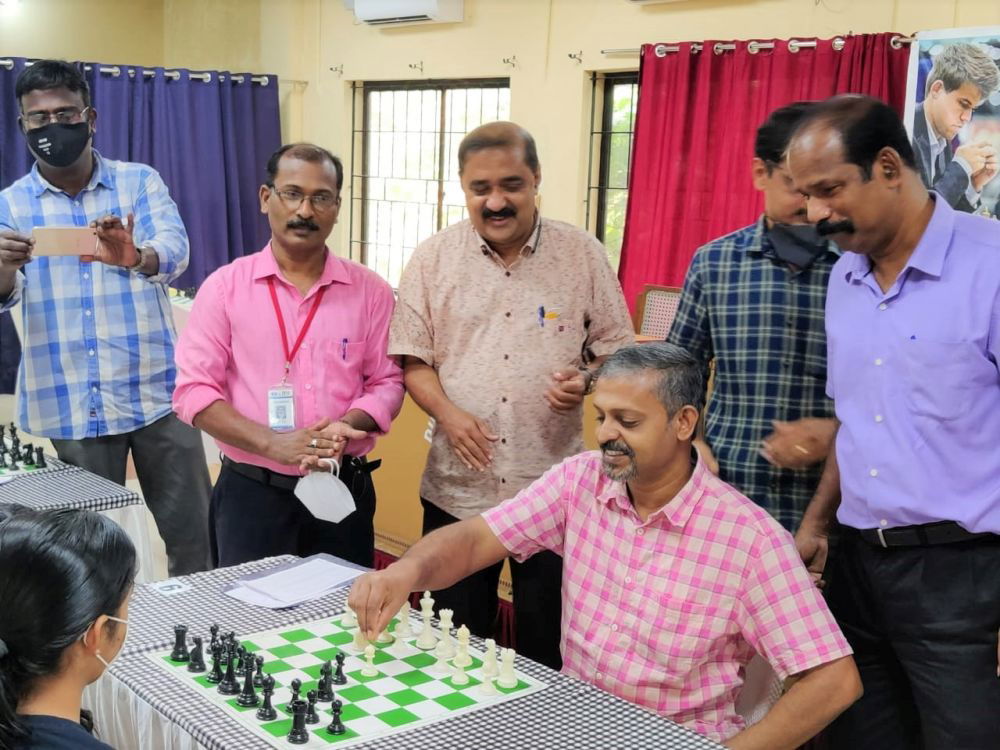 A total of 62 players participated from various districts across Kerala in this three-day eight-round Swiss league event. The tournament was organized by All Kozhikode Chess Association on behalf of Chess Association Kerala from 28th to 30th March 2021.
We thank CAK President Kunju Moideen for providing us all the photographs from the 58th Kerala State Senior Open 2021.
Final Standings of 58th Kerala State Senior Open
| | | | | | | | | | | |
| --- | --- | --- | --- | --- | --- | --- | --- | --- | --- | --- |
| Rk. | SNo | | Name | FED | Rtg | Club/City | Pts. | TB1 | TB2 | TB3 |
| 1 | 2 | | Chandar Raju | IND | 2031 | EKM | 7,0 | 36,5 | 39,5 | 33,25 |
| 2 | 11 | | Sooraj M R | IND | 1877 | TCR | 6,5 | 35,0 | 38,0 | 29,00 |
| 3 | 3 | | Sharsha Backer | IND | 1991 | KKD | 6,0 | 38,5 | 42,0 | 29,50 |
| 4 | 4 | | Marthandan K U | IND | 1986 | EKM | 6,0 | 36,0 | 40,0 | 29,00 |
| 5 | 10 | | Viswanathan V N | IND | 1888 | KNR | 6,0 | 34,0 | 38,0 | 28,25 |
| 6 | 8 | | Anilkumar O.T. | IND | 1924 | KKD | 6,0 | 34,0 | 38,0 | 27,50 |
| 7 | 6 | | Akhilan E M | IND | 1964 | TVM | 6,0 | 32,5 | 35,5 | 27,50 |
| 8 | 9 | | Abhishek T M | IND | 1888 | KKD | 5,5 | 36,0 | 38,5 | 22,00 |
| 9 | 29 | | Abhijith U | IND | 1595 | KKD | 5,5 | 33,0 | 35,5 | 21,25 |
| 10 | 17 | | Jagadeesh A.K. | IND | 1780 | KKD | 5,0 | 41,0 | 43,5 | 23,00 |
| 11 | 1 | | Jinan Jomon | IND | 2069 | WYD | 5,0 | 37,0 | 40,5 | 23,50 |
| 12 | 7 | | Abhijith M | IND | 1948 | EKM | 5,0 | 36,0 | 39,5 | 21,50 |
| 13 | 20 | | Karan J P | IND | 1717 | KKD | 5,0 | 34,0 | 37,0 | 20,25 |
| 14 | 21 | | Madhusoodanan K.R. | IND | 1716 | KKD | 5,0 | 33,5 | 36,5 | 20,00 |
| 15 | 46 | | Padmaesh M K | IND | 1293 | TVM | 5,0 | 33,0 | 36,0 | 17,00 |
Final Standings of Ernakulam District championship 2021
| | | | | | | | | | |
| --- | --- | --- | --- | --- | --- | --- | --- | --- | --- |
| Rk. | SNo | | Name | FED | Rtg | Pts. | TB1 | TB2 | TB3 |
| 1 | 1 | | Chandar Raju | IND | 2031 | 5,5 | 19,5 | 22,5 | 20,25 |
| 2 | 13 | | Mohammed Fasal V U | IND | 1434 | 5,0 | 20,5 | 20,5 | 15,00 |
| 3 | 7 | | Martin Samuel | IND | 1599 | 5,0 | 17,5 | 20,5 | 17,50 |
| 4 | 11 | | Avin T Sabu | IND | 1473 | 4,5 | 20,5 | 22,5 | 14,75 |
| 5 | 6 | | Bright Lee M Sunilkumar | IND | 1610 | 4,0 | 19,5 | 21,5 | 11,50 |
| 6 | 12 | | Abhilash G | IND | 1436 | 4,0 | 17,5 | 18,5 | 9,50 |
| 7 | 3 | | Arijith M | IND | 1792 | 4,0 | 17,0 | 19,5 | 11,00 |
| 8 | 2 | | Satheeshan U.S. | IND | 1868 | 4,0 | 16,5 | 18,5 | 10,50 |
| 9 | 4 | | Gopakumar K S | IND | 1744 | 3,5 | 20,0 | 22,5 | 11,25 |
| 10 | 14 | | Satheesan O N | IND | 1432 | 3,5 | 16,0 | 18,0 | 8,25 |
---