Che International Chess Festival 2023: Kerala wins against Cuba 42.5 - 37.5
Kerala won the friendly match against Cuba 42.5-37.5 at Che International Chess Festival 2023. Kerala won it with one Blitz match to spare. GM S L Narayanan is the top scorer of the match 14.5 points, closely followed by IM Jubin Jimmy 14 points. GM Elier Miranda Mesa (CUB) and GM Dylan Isidro Berdayes Ason (CUB) scored 12 and 11.5 points each. It was a closely fought battle and Cubans were the favorites as they had two Grandmasters and overall much stronger players in terms of experience and strength. However, the younger team Kerala prevailed. The match was not about wins, losses or scores. It was more about the friendship and harmony between Kerala and Cuba. Photos: Shahid Ahmed
Inauguration Ceremony
Che International Chess Festival was inaugurated by the Chief Minister of Kerala, Mr. Pinarayi Vijayan. He made the inaugural first move with IM Lisandra Teresa Ordaz Valdes, in presence of V Abdurahiman, Kerala Sports Minister, IM (Correspondence) FT Anilkumar N R, Olympian, Alejandro Simancas Marin, Cuban Ambassador to India, Arya Rajendran, Mayor of Thiruvananthapuram and she is also India's youngest Mayor, and other guests were present at the ceremony.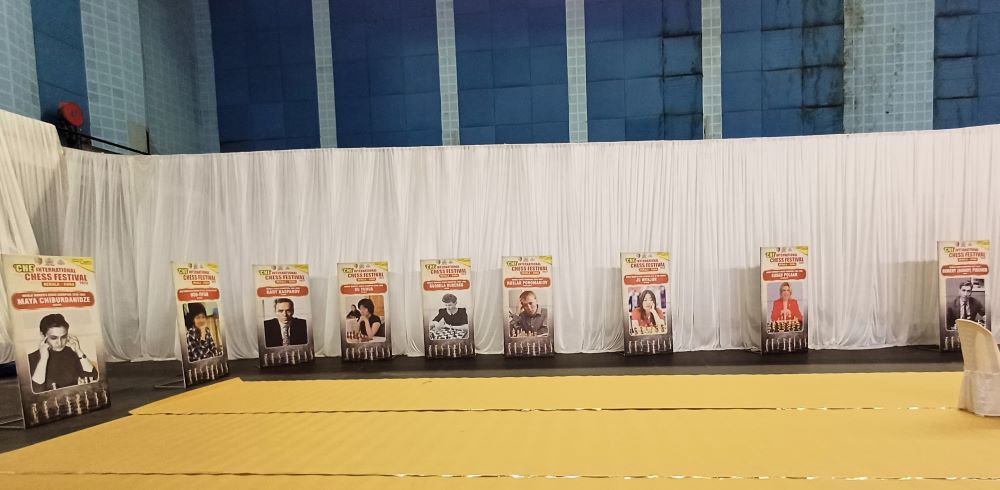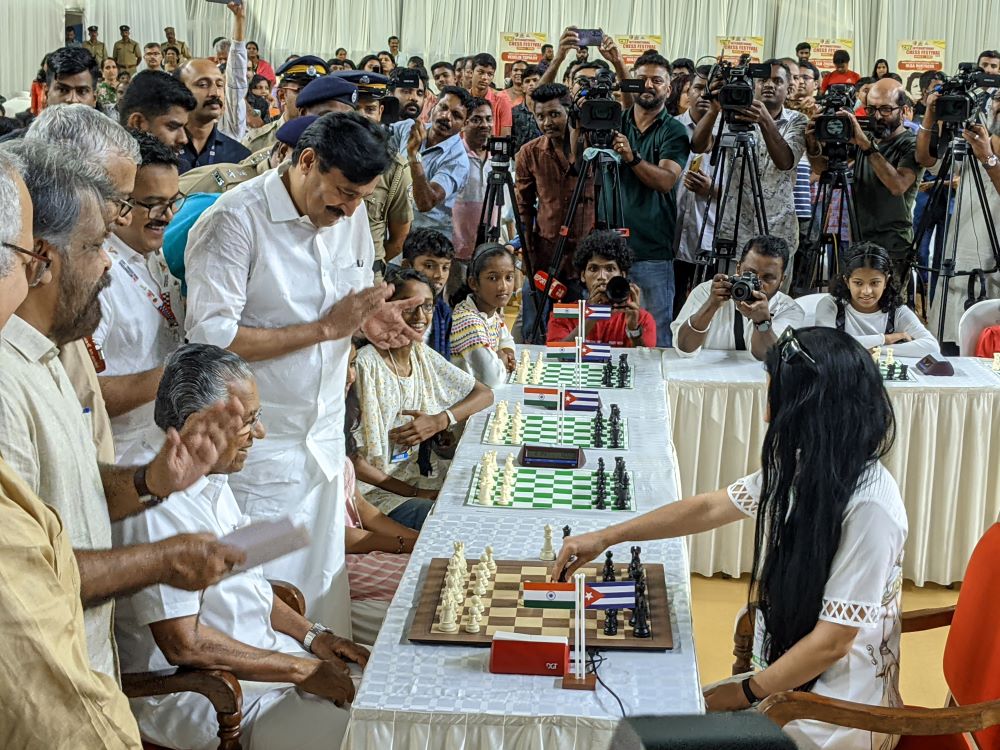 Day 1: 6-year-old Devanarayanan draws against IM Rodney
GM S L Narayanan, GM Dylan Isidro Berdayes Ason (CUB), GM Elier Miranda Mesa (CUB) and IM Rodney Oscar Perez Garcia) played Simultaneous Exhibition games against some selected Kerala kids who qualified through various district level tournaments. Among them, Pranav Unnikrishnan (Alappuzha), Advaith V Nair (Alappuzha) and Aaron Vazhakkottil (Palakkad) won against a Cuban titled player. Devanarayanan Kalliyath (Palakkad), Abhinav Raj (Wayanad) and Neera Ann Rajan (Kottayam) drew their games against a Cuban IM or GM. Only GM S L Narayanan won all of his games and made a 12-0 whitewash. Dylan conceded only one draw and scored 15.5-0.5. Six-year-old Devanarayanan Kalliyath making a draw against IM Rodney was certainly the biggest surprise of the day, considering the fact that he started learning chess only a year ago at the age of five.
Click at the respective links for more photos: Inauguration Ceremony, Simultaneous Exhibition, Simultaneous Exhibition Prize Distribution Ceremony and Draw of Lots.
Day 2: Cubans take the lead against Kerala 21-19
Kerala won the sole Classical game. Then Kerala continued their winning streak by winning the first Rapid match. However, they got whitewashed by Cubans in the second Rapid match. The third Rapid match which was the last one for the day ended in a draw. It resulted in Cubans taking the lead 21-19, heading into the final day.
Day 3: Kerala wins the match
Kerala made the most out of the Blitz matches and won it with a round to spare.
More videos will be published on our channel and page, stay tuned!
---