Chakravarthi Reddy dominates CCS Chess Festival Rating Open 2023
IM Chakravarthi Reddy M scored an unbeaten 8.5/9 to win CCS Chess Festival Classic Rating Open 2023. He finished a half point ahead of the competition. Former World Amateur Below 2000 champion, Peter Anand scored 8/9 to secure sole second position. He won eight games and lost one to IM Ramnathan Balasubramaniam. 58-year-old veteran, Kiran Panditrao scored an impressive 7.5/9 to finish third. The total prize fund of the tournament was ₹1000000. The top three prizes were ₹100000, ₹60000 and ₹40000 along with a trophy each respectively. This was Chakravarthi's first rating tournament triumph since he won his last Classical event in Bangalore back in October 2022. Photo: Aditya Sur Roy
No tie-breaks needed for top three
IM Chakravarthi Reddy M was in the sole lead 7.5/8 heading into the final round. Three players were in pursuit at 7/8 each - Peter Anand A, FM Prasannaa S and Raghav Srivathsav Varayogi. Prasannaa and Raghav lost to Chakravarthi and Peter respectively. Thus, Chakravarthi remained undefeated and became champion 8.5/9, Peter second 8/9. Kiran Panditrao got the better of the reigning Telangana State Senior champion, Bharat Kumar Reddy Poluri in the final round, to finish third 7.5/9. 9-year-old Vaidyanathan Kannan (USA) is the youngest player of the event to make a top ten finish. He scored 7/9 and was placed seventh according to tie-breaks. There will be separate reports for the Rapid and Blitz rating events of the festival.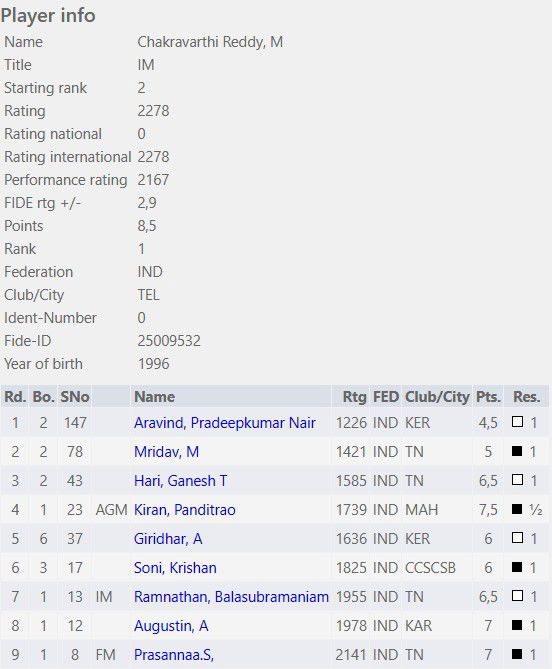 For more prize distribution ceremony photos, please click here.
Photo Gallery
Check out the CCS Chess Festival photo album here.
Video Gallery
A total of 278 players including five IMs participated from various states across the country and two from USA in this five-day nine-round Swiss league Rating tournament which was organized by Capablanca Chess School at Jimmy George Indoor Stadium in Thiruvananthapuram, Kerala from 30th March to 3rd April 2023. The time control for the event was 90 minutes + 30 seconds increment from move no.1.
Final standings
| | | | | | | | | | | |
| --- | --- | --- | --- | --- | --- | --- | --- | --- | --- | --- |
| Rk. | SNo | | Name | FED | Rtg | Club/City | Pts. | TB1 | TB2 | TB3 |
| 1 | 2 | IM | Chakravarthi Reddy, M | IND | 2278 | TEL | 8,5 | 51 | 55,5 | 52,25 |
| 2 | 16 | | Peter Anand, A | IND | 1871 | TN | 8 | 49,5 | 54 | 48,00 |
| 3 | 23 | AGM | Kiran, Panditrao | IND | 1739 | MAH | 7,5 | 48,5 | 52 | 43,75 |
| 4 | 12 | | Augustin, A | IND | 1978 | KAR | 7 | 52 | 56 | 41,50 |
| 5 | 8 | FM | Prasannaa.S, | IND | 2141 | TN | 7 | 51,5 | 55,5 | 36,75 |
| 6 | 9 | | Manigandan, S S | IND | 2087 | TN | 7 | 48 | 53 | 39,00 |
| 7 | 28 | | Vaidyanathan, Kannan | USA | 1691 | USA | 7 | 45,5 | 50 | 38,75 |
| 8 | 33 | | Abhijith, U | IND | 1669 | KER | 7 | 45 | 49,5 | 37,50 |
| 9 | 3 | IM | Abhishek, Kelkar | IND | 2257 | MAH | 7 | 44 | 48 | 36,25 |
| 10 | 10 | | Raghav, Srivathsav V | IND | 2066 | TEL | 7 | 44 | 48 | 36,00 |
| 11 | 51 | | Shyam, Ganesh R | IND | 1531 | TN | 7 | 44 | 48 | 33,50 |
| 12 | 30 | | Santhosh, Purushothaman | IND | 1688 | KER | 7 | 43,5 | 47,5 | 36,00 |
| 13 | 13 | IM | Ramnathan, Balasubramaniam | IND | 1955 | TN | 6,5 | 53,5 | 58,5 | 40,25 |
| 14 | 5 | | Bharat, Kumar Reddy Poluri | IND | 2197 | TEL | 6,5 | 48 | 52 | 35,25 |
| 15 | 11 | | Santu, Mondal | IND | 2040 | CCSCSB | 6,5 | 47,5 | 52,5 | 38,25 |
| 16 | 43 | | Hari, Ganesh T | IND | 1585 | TN | 6,5 | 47,5 | 51,5 | 34,25 |
| 17 | 19 | | Vijay, Shreeram P | IND | 1796 | TN | 6,5 | 47 | 51,5 | 35,75 |
| 18 | 35 | | Alluri, Bhaskara Ratna Shanmukha Reddy | IND | 1653 | AP | 6,5 | 46,5 | 50 | 32,25 |
| 19 | 71 | | Surendiraa, A Sathish | IND | 1444 | TN | 6,5 | 45,5 | 49,5 | 33,25 |
| 20 | 41 | | Raghav, V | IND | 1594 | TN | 6,5 | 45,5 | 49,5 | 32,75 |
| 21 | 20 | | Vignesh, Kannan P | IND | 1792 | TN | 6,5 | 45 | 49,5 | 33,75 |
| 22 | 45 | | Binu, Devdutt | IND | 1566 | KER | 6,5 | 43,5 | 47 | 31,50 |
| 23 | 36 | | Vigneshwaran, S | IND | 1653 | TN | 6,5 | 43 | 46,5 | 31,75 |
| 24 | 27 | | Poorna, Sri M.K | IND | 1693 | TN | 6,5 | 42,5 | 46,5 | 31,50 |
| 25 | 26 | | Merryston, David Scanny | IND | 1716 | TN | 6,5 | 40,5 | 45 | 32,75 |
| 26 | 1 | IM | Konguvel, Ponnuswamy | IND | 2285 | TN | 6 | 51,5 | 56,5 | 35,50 |
| 27 | 17 | | Soni, Krishan | IND | 1825 | CCSCSB | 6 | 51 | 55,5 | 34,75 |
| 28 | 4 | FM | Senthil, Maran K | IND | 2219 | TN | 6 | 50,5 | 54,5 | 30,50 |
| 29 | 7 | | Kunal, M. | IND | 2164 | TN | 6 | 49,5 | 54,5 | 34,75 |
| 30 | 6 | IM | Praveen, Kumar C | IND | 2196 | TN | 6 | 47,5 | 52,5 | 33,00 |
---