Hrithickkesh P R clinches 5th Adith Paulson Memorial Don Bosco Rating Open 2021
Top seed of the tournament, Hrithickkesh P R, scored 8.0/9 and finished a half point ahead of the competition to win 5th Adith Paulson Memorial Don Bosco Rating Open 2021. Three players - Marthandan K U, Chandar Raju and 40th seed Aadithya Pradeep scored 7.5/9 each. They were placed second to fourth according to tie-breaks. The tournament had a total prize fund of ₹300000 with the first prize being ₹30000 cash, ₹20000 for second and ₹15000 for third. This is Hrithickkesh's first All India Open triumph since 2017. It was the first FIDE rating tournament to take place in Kerala since the Covid-19 pandemic began. Photo: FA Peter Joseph
Top three seeds secure podium finish
Marthandan K U and Aadithya Pradeep are the only two players to remain undefeated among the top ten finishers. 11-year-old Goutham Krishna H scored an impressive 7.0/9 to secure sixth place. His only blemish was in the final round against the eventual champion, Hrithickkesh P R.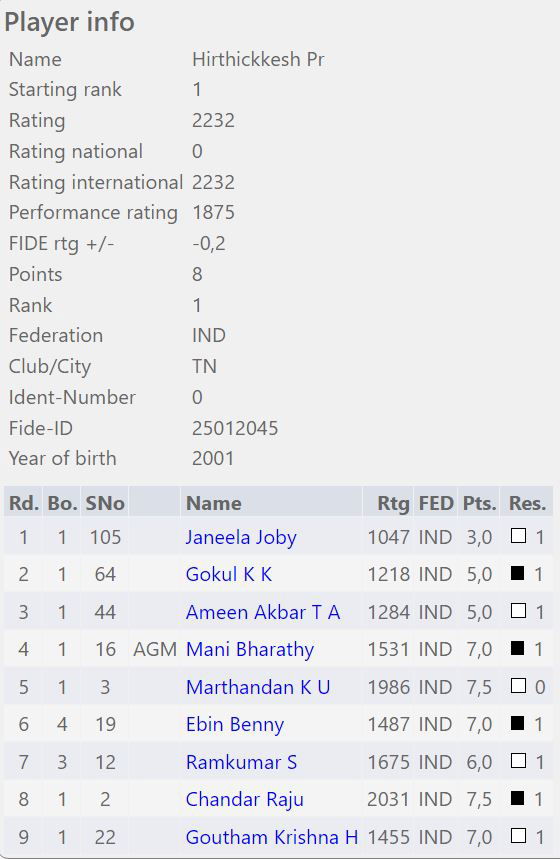 Ms. Sonia Giri (Irinjalakuda Municipal Chairperson) inaugurated the tournament, presided by Fr. Emmanuel Mevada (Rector, Don Bosco School, Irinjalakuda). The function was delighted with the presence of FA FT Mr. T J Suresh Kumar (Former Indian junior chess team coach), Mr. Govindankutty M S (International Arbiter) and Mr. Francis N P (Inspector of Police). Mr. Peter Joseph. M (Secretary, Chess Association Thrissur) welcomed the gathering, followed by Mr. K T Babu (Chairman, Adith Foundation), expressed the vote of thanks.
The tournament was organized by Don Bosco Youth Centre in coordination with Thrissur Chess Academy from 27th and 31st December 2021 at Don Bosco School Irinjalakuda, Kerala. A total of 203 players took part in this nine-round Swiss league Rating tournament which had a time control of 90 minutes + 30 seconds increment from move no.1.
Final Standings
| | | | | | | | | | |
| --- | --- | --- | --- | --- | --- | --- | --- | --- | --- |
| Rk. | SNo | | Name | FED | Rtg | Pts. | TB1 | TB2 | TB3 |
| 1 | 1 | | Hirthickkesh Pr | IND | 2232 | 8,0 | 52,0 | 55,5 | 47,50 |
| 2 | 3 | | Marthandan K U | IND | 1986 | 7,5 | 55,0 | 58,5 | 47,50 |
| 3 | 2 | | Chandar Raju | IND | 2031 | 7,5 | 53,0 | 58,0 | 45,75 |
| 4 | 40 | | Aadithya Pradeep | IND | 1325 | 7,5 | 49,5 | 53,5 | 43,00 |
| 5 | 4 | | Anilkumar O.T. | IND | 1924 | 7,0 | 50,0 | 54,0 | 40,00 |
| 6 | 22 | | Goutham Krishna H | IND | 1455 | 7,0 | 50,0 | 53,5 | 39,00 |
| 7 | 16 | AGM | Mani Bharathy | IND | 1531 | 7,0 | 49,0 | 53,5 | 38,50 |
| 8 | 19 | | Ebin Benny | IND | 1487 | 7,0 | 49,0 | 51,0 | 36,00 |
| 9 | 11 | | Abdallah M Nisthar | IND | 1676 | 7,0 | 48,5 | 53,0 | 39,00 |
| 10 | 6 | | Sooraj M R | IND | 1863 | 7,0 | 45,5 | 48,5 | 36,25 |
| 11 | 15 | | Adithya A Chullikkad | IND | 1594 | 7,0 | 44,0 | 48,5 | 37,75 |
| 12 | 26 | | Jyothika U R | IND | 1438 | 7,0 | 41,0 | 44,5 | 34,00 |
| 13 | 47 | | Pournami S | IND | 1276 | 6,5 | 50,0 | 51,5 | 34,75 |
| 14 | 7 | | Joy Lazar M.A. | IND | 1818 | 6,5 | 48,0 | 51,5 | 34,50 |
| 15 | 8 | | Anupam M Sreekumar | IND | 1798 | 6,5 | 43,5 | 47,5 | 32,00 |
| 16 | 25 | | Jojo P John | IND | 1444 | 6,5 | 42,0 | 44,5 | 30,50 |
| 17 | 10 | | Raveendran C.R. | IND | 1679 | 6,5 | 41,5 | 45,5 | 33,50 |
| 18 | 69 | | Sreevas S | IND | 1200 | 6,0 | 48,5 | 53,5 | 32,50 |
| 19 | 66 | | Atul Krishna M | IND | 1214 | 6,0 | 48,0 | 51,5 | 30,75 |
| 20 | 107 | | Shawn Pravin | IND | 1036 | 6,0 | 47,5 | 51,0 | 28,50 |
| 21 | 37 | | Giridhar A | IND | 1347 | 6,0 | 46,5 | 50,5 | 29,00 |
| 22 | 33 | | Sidharth Sreekumar | IND | 1395 | 6,0 | 46,0 | 47,5 | 28,75 |
| 23 | 12 | | Ramkumar S | IND | 1675 | 6,0 | 45,5 | 49,5 | 29,00 |
| 24 | 13 | | Unnikrishnan M A | IND | 1636 | 6,0 | 45,5 | 48,5 | 28,50 |
| 25 | 17 | | Umesh P | IND | 1521 | 6,0 | 44,5 | 47,5 | 27,50 |
---