Cademic Chess Carnival 2023 offers a prize fund of ₹1299999, starts this Saturday 22nd April
Cademic Chess Center invites you to Cademic Chess Carnival comprising four consecutive rating tournaments - Rapid, Blitz, Classical and Below 1600. It starts this Saturday 22nd April. The total prize fund combining all four events is ₹1299999. The total prize fund for each of the four events are: Rapid - ₹300000, Blitz - ₹99999, Classical - ₹500000 and Below 1600 - ₹400000. Last date of registration is 20th April. Three GMs and seven IMs have already confirmed their participation for the Rapid and Blitz events. About 350 players in Rapid, 320+ in Blitz, over 350 in Classical and about 450 players have registered for Below 1600 event. So hurry up and register yourself if you still have not done it yet. All info photos are from tournament circular unless mentioned otherwise.
Four consecutive rating tournaments in Kerala
We take immense pride and joy in informing you that we are organizing the first ever Chess Carnival in India "Cademic Chess Carnival" from 22nd April to 1st May 2023. In this event, four international FIDE rated chess tournaments are organized back to back in four different time formats covering Classical open, Below, Rapid and Blitz events.
As a chess parent, I have been to many tournaments across the country, and even outside India. While many tournaments lacked quality, many good events were at the higher end when it comes to affordability.
We took upon a mission to conduct quality tournaments at an affordable cost. The first tournament was conducted in Aug 2022, that gave opportunity for 470 players from eleven Indian states and five federations to see first-hand, what we have to offer. Here is a link to our earlier event on ChessBase India.
While there were several learnings for us, as an organizing team, the event was a success in terms of its real intention – a good quality event at an affordable cost. Many positive feedbacks from players and parents made us believe, yes, we are on the right path to follow. One of the catchy comments from a parent was – 'Players were treated with patience and parents were treated with respect'.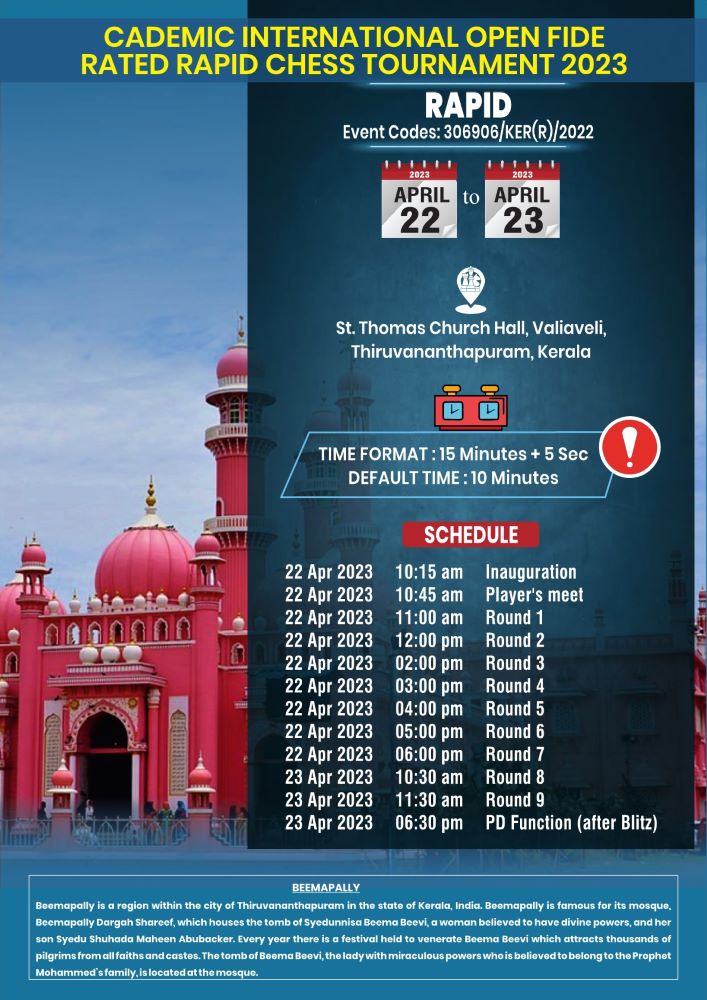 As the next step in this series, we are aiming higher than last time - the first ever Chess Carnival in India "Cademic Chess Carnival" from 22nd April to 1st May 2023. It is a ten day mega event with a total prize fund of ₹12,99,999/-
In order to make this ten day carnival really memorable for you, we have chosen the best venue possible - a beautiful beach front location. A venue very close to the Veli Tourist village in Trivandrum, the capital city of Kerala.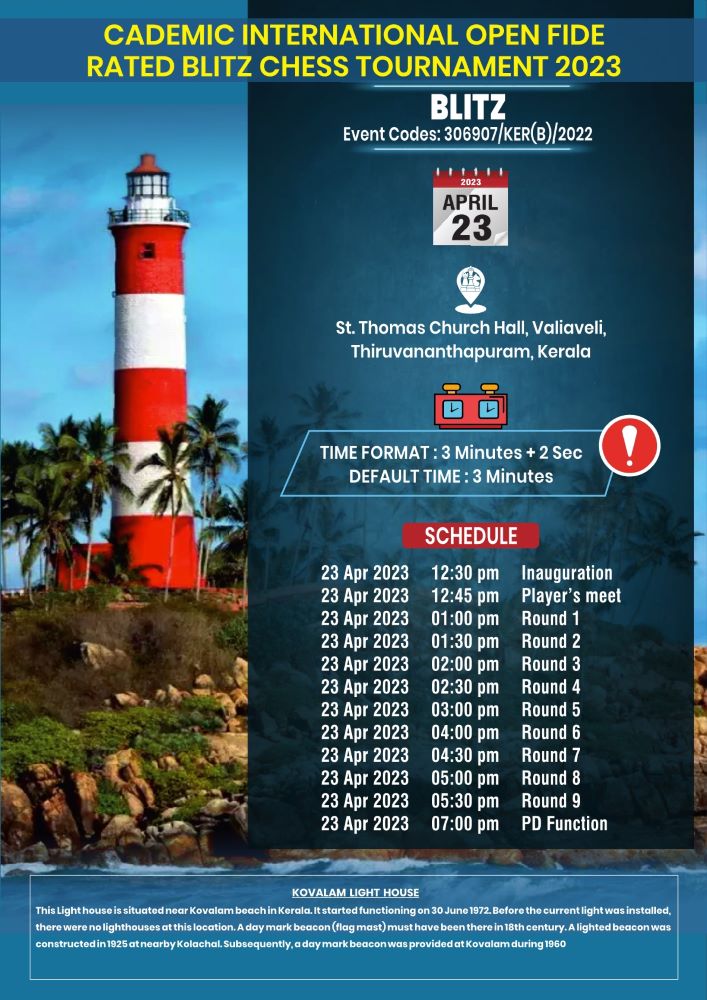 In this Carnival, we are bringing to you a lot more events through the days to celebrate Chess. These are meant to engage you all – players, parents and other chess enthusiasts together.
So, once again, we cordially invite you to spend a good 10 days during this summer holidays in the capital city of Kerala, Trivandrum along the beautiful and serine beach front. We really hope, this will be a trip that you will cherish for a long time.
Several titled players have already registered for the event. What are you waiting for?
Confirmed title players for Rapid and Blitz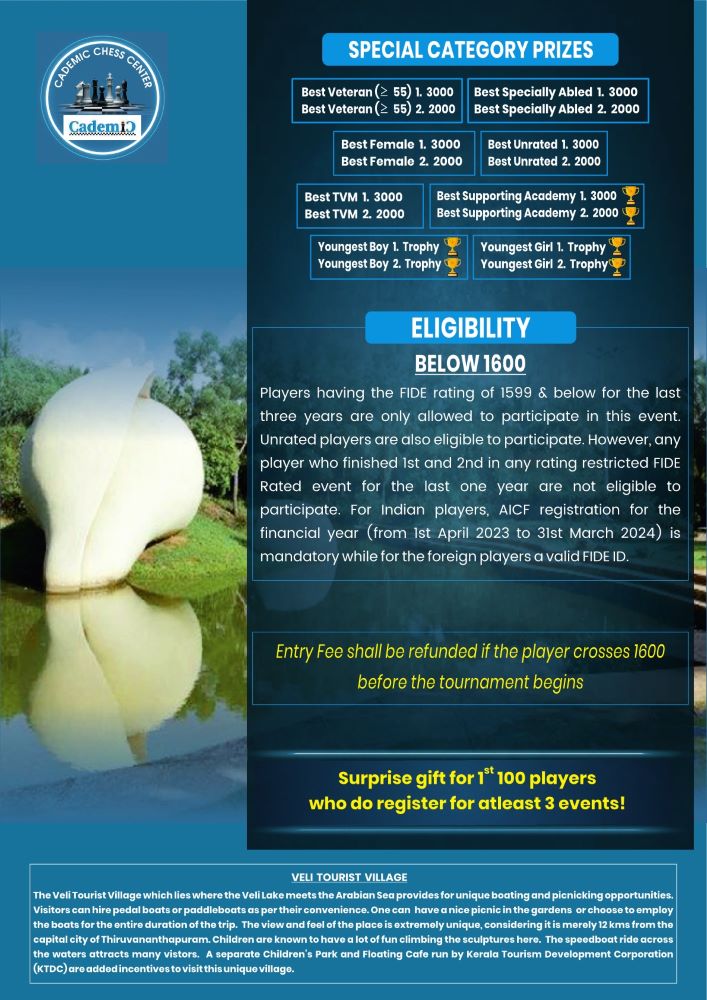 List of registered Players for the 1st Cademic Chess Carnival:
Rapid
Blitz
Open
Below 1600
Summary
There will be a total of four tournaments. Rapid - 22nd and 23rd April, Blitz - 23rd April, Classical Rating Open - 24th to 28th April and Below 1600 - 29th April to 1st May 2023.
For registration: Click here.
For Enquiries:
97474 86494
99003 02302
99477 54122
89435 04084
99940 29796
90749 07893
Feedback from 1st Cademic Rating Open 2022
In addition to the several feedback we received from the players and parents through the course of the event, we received 100+ written feedbacks. Its our pleasure, to share a few below:
"Congratulations Cademic team, for your efficient, professional approach in planning, executing the very 1st event. We witnessed great commitment and passion from the team. Kudos to all organizers, arbiters. Thank you and we wish many such events from Cademic."
"Thanks for efficiently conducting this event- tournament fee, food - both were economical. Tournament started on time for all rounds, kids were treated with patience. Parents are treated with respect. Enough seating as well. All our questions were answered, without changing the group to admin only. Thanks again and looking forward for more tournaments from the organisers."
"Very well organised. Thanks for giving such an opportunity. Looking forward for more successful endeavour from the same team... 👍👍👍"
"Very well organised tournament.. Very good venue and arrangements.. Congratulations to the whole team. Best tournament played so far. Looking forward to such tournaments in the future ."
"Well organised tournament. Venue, timing, food everything super. Congrats to team worked behind. You set a mark. Thank you"
"I got a lot of energy and inspiration through this tournament. Again I say a wonderful organising and a great atmosphere. Lucky to be part of this great event"
"Well organized tournament ✅
Always punctual ✅
Nice venue for a chess tournament ✅
Rectified the mistakes quickly that pointed out in the reviews✅
Soft handling with kids and parents ✅
Good team performance ✅
Kudos guys... Keep it up😇"
"Yes, team did a great job!! Highly appreciate your proactive communication on arrangements and action on inputs!!!"
"It is very wonderful tournament with excellent coordination and well organized. We expect same types of tournaments in future in Trivandrum city"
"Overall coordination, pleasant environment for playing the chess, sufficient place for accommodating the players and the companions."
"Conducted with comparatively low/reasonable charges, professional approach, compassionate attitude."
"Congratulations to all the winners of the tournament. Kudos to the organisers for a fantastic tournament, neatly organised and the care you took of these small children.👍"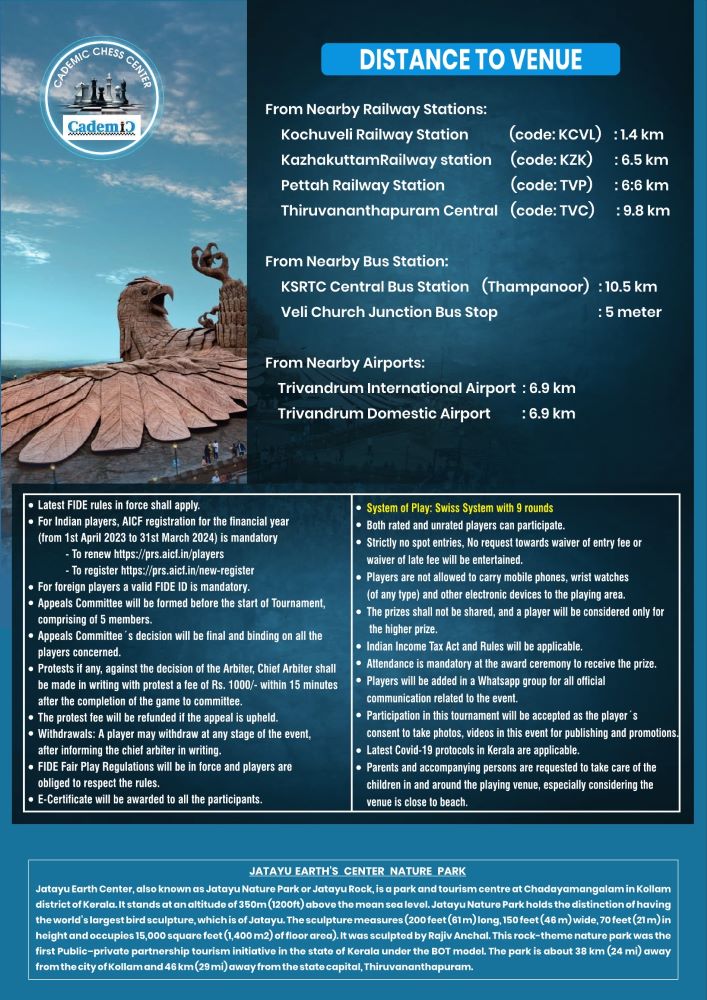 Links
Cademic Chess Center: Official site and facebook
About the Author
Smitha Selvi is an International Arbiter. She is the Tounament Director of 1st Cademic Chess Carnival and also the mother of a budding chess player who plays tournaments all over the world.
---