Yash Kulhari wins 1st Dhoni's Trophy Below 1600 Rating Tournament 2023
18-year-old Yash Kulhari and Aswin P G scored an unbeaten 8/9 each at 1st Dhoni's Trophy Below 1600 Rating Tournament 2023. Yash won the tournament due to better tie-breaks, Aswin was placed second. Six players - Gudimetla Navaneeth Reddy, Kesavan G, Ebin Benny, Mohit S, Srinivasan Subramaniam and Prasath K R scored 7.5/9 each. They were placed third to eighth respectively according to tie-breaks. The total prize fund of the tournament was ₹680000. Total 198 prizes including 98 cash prize and 100 trophies were up for grabs. The top three prizes were ₹51000, ₹35000 and ₹25000 along with a trophy each respectively. This is Yash's first-ever tournament triumph. The teenager from Rajasthan started playing tournaments since April, and he became champion in his eighth event. Photos: Dr. S A Suryakumar/Chess Bishop
Yash's first tournament triumph
Yash Kulhari had a sole lead 7.5/8, heading into the final round. Six players were in pursuit at 7/8 each. He drew his game final round game against the top Ebin Benny to become the champion. Aswin P G defeated Sandeep Santhosh to secure second place. 12-year-old Mohit S is the youngest top ten finisher. He scored 7.5/9 to be placed fifth. Mohana Praba R B is the sole female player among the top ten. She scored 7/9 to secure tenth position.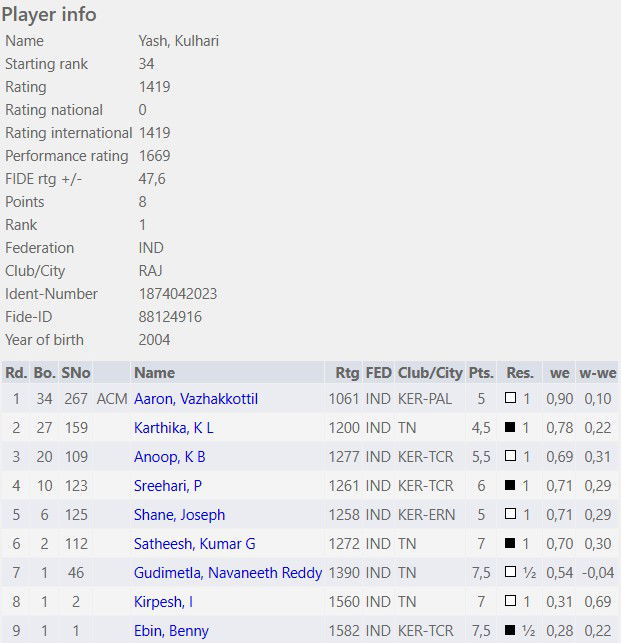 The tournament was inaugurated by Dr. K Thomas George, Chairman and Founder, LEAD College of Management, along with Dr. R Balamurugane, Associate Dean (Academics), LEAD College of Management, Dr. P Sangeetha, Associate Dean (Student Affairs), LEAD College of Management and Dr. S A Suryakumar, Founder and Director, Chess Bishop.
The closing ceremony was graced by Mr. Jayakrishnan, ADRM, Southern Railway, Palakkad Division, Dr. Joseph George, Director, LEAD College of Management, Dr. Rajan, Dean, IT Entrepreneurs' Wing, IA V Vijayaraghavan, Chief Arbiter, Mr. Govindan Kutty, Secretary, Palakkad Chess Association.
Thanks to Dr. S A Suryakumar, Founder and Managing Director of Chess Bishop for sharing photos and info about the tournament.
A total of 462 players took part from various states across the country, one from Mongolia and two from South Korea in this three-day nine-round Swiss League Rating tournament. The tournament was organized by Chess Bishop at LEAD College of Management, Dhoni in Palakkad, Kerala from 30th September to 2nd Octber 2023. The time control of the event was 30 minutes + 30 seconds increment from move no.1.
Final standings
| | | | | | | | | | | | | | | | | |
| --- | --- | --- | --- | --- | --- | --- | --- | --- | --- | --- | --- | --- | --- | --- | --- | --- |
| Rk. | SNo | | Name | Typ | sex | FED | Rtg | Club/City | Pts. | TB1 | TB2 | TB3 | n | w | we | w-we |
| 1 | 34 | | Yash, Kulhari | | | IND | 1419 | RAJ | 8 | 50,5 | 55 | 47,50 | 9 | 8 | 5,62 | 2,38 |
| 2 | 16 | | Aswin.P.G, | | | IND | 1472 | KER-TCR | 8 | 49,5 | 54,5 | 47,50 | 9 | 8 | 6,32 | 1,68 |
| 3 | 46 | | Gudimetla, Navaneeth Reddy | U15 | | IND | 1390 | TN | 7,5 | 53 | 57 | 45,50 | 9 | 7,5 | 4,91 | 2,59 |
| 4 | 4 | | Kesavan, G | | | IND | 1550 | TN | 7,5 | 51 | 55,5 | 43,75 | 9 | 7,5 | 6,87 | 0,63 |
| 5 | 1 | | Ebin, Benny | | | IND | 1582 | KER-TCR | 7,5 | 50,5 | 55,5 | 45,25 | 9 | 7,5 | 7,20 | 0,30 |
| 6 | 7 | AIM | Mohit, S | U13 | | IND | 1528 | TN | 7,5 | 48,5 | 52 | 43,25 | 9 | 7,5 | 7,30 | 0,20 |
| 7 | 39 | ACM | Srinivasan, Subramaniam | | | IND | 1399 | TN | 7,5 | 46,5 | 50,5 | 38,25 | 9 | 7,5 | 5,88 | 1,62 |
| 8 | 19 | | Prasath, K R | | | IND | 1468 | TN | 7,5 | 45,5 | 49,5 | 40,00 | 9 | 7,5 | 6,95 | 0,55 |
| 9 | 112 | | Satheesh, Kumar G | | | IND | 1272 | TN | 7 | 51,5 | 53,5 | 38,75 | 7 | 5 | 2,09 | 2,91 |
| 10 | 18 | | Mohana, Praba R B | | w | IND | 1468 | TN | 7 | 50 | 54,5 | 39,50 | 9 | 7 | 6,32 | 0,68 |
| 11 | 2 | | Kirpesh, I | U15 | | IND | 1560 | TN | 7 | 50 | 53 | 36,75 | 9 | 7 | 6,91 | 0,09 |
| 12 | 29 | | Madhavan, V | U15 | | IND | 1436 | TN | 7 | 49 | 53 | 39,75 | 9 | 7 | 5,91 | 1,09 |
| 13 | 15 | | Sandeep, Santhosh | | | IND | 1473 | KER-PAL | 7 | 48,5 | 52,5 | 38,75 | 9 | 7 | 6,47 | 0,53 |
| 14 | 36 | | Karthikeyan, G | | | IND | 1413 | TN | 7 | 47,5 | 51,5 | 39,25 | 8 | 6 | 5,45 | 0,55 |
| 15 | 41 | | Akshay, A R | U15 | | IND | 1398 | KER-TVM | 7 | 47,5 | 51,5 | 38,25 | 8 | 6 | 4,92 | 1,08 |
| 16 | 24 | | Vishwanath, Kannam | | | IND | 1451 | TEL | 7 | 47 | 51 | 38,50 | 9 | 7 | 6,76 | 0,24 |
| 17 | 3 | | Prawin, K | | | IND | 1555 | TN | 7 | 45 | 49 | 35,00 | 9 | 7 | 7,60 | -0,60 |
| 18 | 43 | | Shibin, K Benny | | | IND | 1397 | KAR | 7 | 44,5 | 48,5 | 36,50 | 9 | 7 | 6,18 | 0,82 |
| 19 | 115 | | Chidanand, S Pillai | U13 | | IND | 1269 | KER-PAT | 7 | 43,5 | 47 | 33,00 | 5 | 3,5 | 1,85 | 1,65 |
| 20 | 48 | AFM | Ssathyan, S R | | | IND | 1383 | TN | 7 | 42 | 45,5 | 33,25 | 9 | 7 | 6,70 | 0,30 |
| 21 | 12 | AIM | Muthukumar, Mukesh | U13 | | IND | 1495 | TN | 7 | 41,5 | 44 | 33,50 | 8 | 6 | 6,63 | -0,63 |
| 22 | 25 | | Rishi, R | | | IND | 1445 | TN | 7 | 40,5 | 44 | 33,50 | 9 | 7 | 7,09 | -0,09 |
| 23 | 59 | | Bhuvanesh, G | | | IND | 1358 | TN | 6,5 | 48,5 | 52 | 34,75 | 9 | 6,5 | 5,86 | 0,64 |
| 24 | 57 | | Gokul, G | U13 | | IND | 1366 | TN | 6,5 | 48 | 53 | 36,00 | 9 | 6,5 | 5,31 | 1,19 |
| 25 | 88 | | Kamalesh, I | U13 | | IND | 1313 | PUD | 6,5 | 48 | 52 | 35,75 | 8 | 5,5 | 3,68 | 1,82 |
| 26 | 135 | | Kavinkumar, G | | | IND | 1236 | TN | 6,5 | 48 | 50,5 | 32,00 | 8 | 5,5 | 1,85 | 3,65 |
| 27 | 9 | | Yogesh, Loganathan | | | IND | 1509 | TN | 6,5 | 47,5 | 52 | 36,00 | 9 | 6,5 | 7,00 | -0,50 |
| 28 | 64 | | Biju, Kumar | | | IND | 1348 | KER-KAN | 6,5 | 47,5 | 51,5 | 32,75 | 9 | 6,5 | 5,37 | 1,13 |
| 29 | 23 | | Atamjeet, Singh | | | IND | 1452 | HAR | 6,5 | 47,5 | 51 | 34,50 | 9 | 6,5 | 6,36 | 0,14 |
| 30 | 89 | | Sripathi, Surendar | U15 | | IND | 1313 | TN | 6,5 | 47,5 | 50,5 | 28,25 | 8 | 5,5 | 3,26 | 2,24 |
| 31 | 58 | | Balaram, U | | | IND | 1359 | TN | 6,5 | 47 | 51 | 33,50 | 9 | 6,5 | 4,95 | 1,55 |
| 32 | 32 | | Manoj, Guru R | | | IND | 1424 | TN | 6,5 | 46,5 | 51,5 | 34,75 | 9 | 6,5 | 6,46 | 0,04 |
| 33 | 20 | | Balakowshi, D S | | | IND | 1462 | TN | 6,5 | 46 | 50,5 | 35,75 | 9 | 6,5 | 6,78 | -0,28 |
| 34 | 31 | | Kishore, Dev S | | | IND | 1424 | KER-PAL | 6,5 | 46 | 50 | 35,00 | 9 | 6,5 | 6,56 | -0,06 |
| 35 | 5 | | Sanjay, Saravanan | | | IND | 1542 | TN | 6,5 | 46 | 49,5 | 35,75 | 8 | 5,5 | 6,37 | -0,87 |
| 36 | 66 | | Mithun, K | U13 | | IND | 1347 | TN | 6,5 | 45,5 | 50 | 35,50 | 9 | 6,5 | 6,04 | 0,46 |
| 37 | 202 | | Rithish, Senthilkumar | U13 | | IND | 1148 | TN | 6,5 | 45,5 | 49 | 33,50 | 8 | 5,5 | 2,07 | 3,43 |
| 38 | 395 | | Mohammed Haneefa V, | | | IND | 0 | KER-MAL | 6,5 | 45 | 49,5 | 32,75 | 9 | 6,5 | | |
| 39 | 92 | | Arjun, Adithiya K | U13 | | IND | 1308 | TN | 6,5 | 45 | 49 | 32,50 | 8 | 5,5 | 4,11 | 1,39 |
| 40 | 98 | | Rajiv, A | | | IND | 1301 | TN | 6,5 | 45 | 49 | 29,75 | 8 | 5,5 | 3,83 | 1,67 |
Links
Chess Bishop: Official site, fb page, twitter
---