Ravi Teja wins CCS Chess Festival Blitz Rating Open 2023
IM Ravi Teja S, FM Prasannaa S and GM Bharath Subramaniyam H - all three scored 8/9 each. Ravi won the CCS Chess Festival Blitz Rating Open 2023 due to better tie-breaks. Prasannaa and Bharath were placed second and third. Bharath was the only one to remain undefeated among the top ten. The total prize fund of the tournament was ₹200000. The top three prizes were ₹20000, ₹12000 and ₹8000 along with a trophy each respectively. This was Ravi's first tournament victory since February 2022 and third podium finish of the year so far. The one-day Blitz Rating tournament was organized by Capablanca Chess School on 6th April. It witnessed the participation of 174 players including a GM and eight IMs. Photo: Aditya Sur Roy
Top three score 8/9
Five players were on 7/8 heading into the final round. IM Ravi Teja S, FM Prasannaa S and GM Bharath Subramaniyam H defeated Bharat Kumar Reddy Poluri, IM Jubin Jimmy and Chandar Raju respectively to finish with a 8/9 score. All three victors had the white pieces.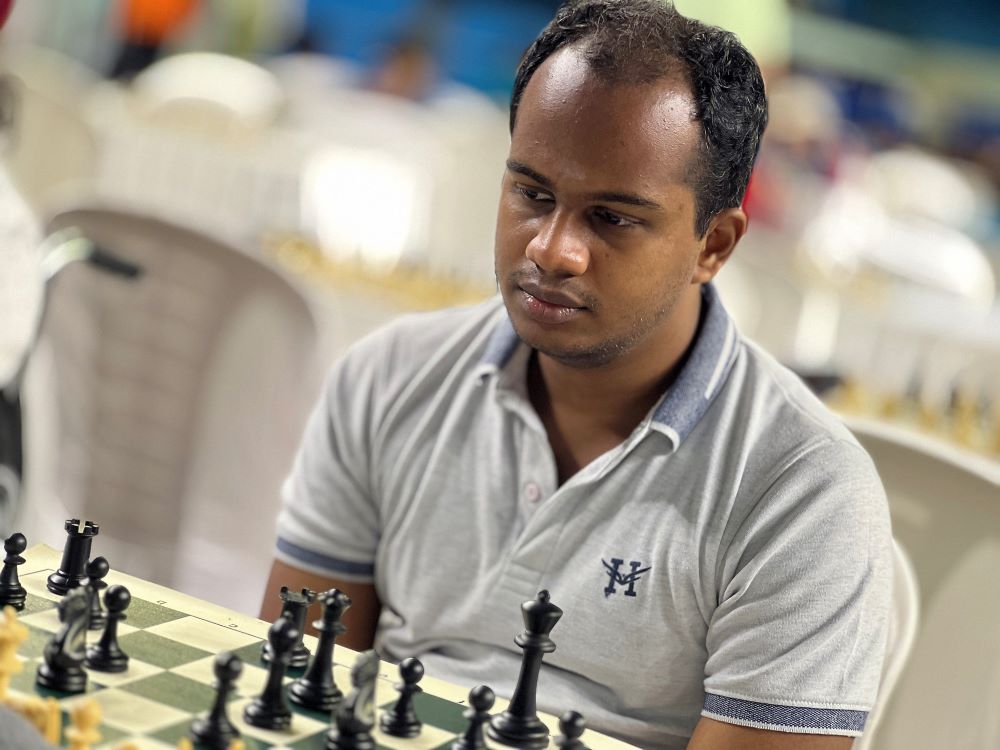 For more photos of CCS Chess Festival Blitz Rating Open, please click here.
Video Gallery
A total 174 players including a GM and eight IMs participated from various states across the country in this one-day nine-round Swiss league Blitz Rating tournament which was organized by Capablanca Chess School at Jimmy George Indoor Stadium in Thiruvananthapuram, Kerala on 6th April 2023. The time control for the event was 3 minutes + 2 seconds increment from move no.1.
Final standings
| | | | | | | | | | | |
| --- | --- | --- | --- | --- | --- | --- | --- | --- | --- | --- |
| Rk. | SNo | | Name | FED | Rtg | Club/City | Pts. | TB1 | TB2 | TB3 |
| 1 | 1 | IM | Ravi, Teja S. | IND | 2433 | AP | 8 | 52 | 55 | 48,50 |
| 2 | 12 | FM | Prasannaa.S, | IND | 2152 | TN | 8 | 51 | 55,5 | 48,00 |
| 3 | 2 | GM | Bharath, Subramaniyam H | IND | 2395 | TN | 8 | 49,5 | 53,5 | 46,00 |
| 4 | 6 | | Kunal, M. | IND | 2261 | TN | 7,5 | 48 | 53 | 44,25 |
| 5 | 3 | FM | Jubin, Jimmy | IND | 2306 | KER | 7 | 53 | 58 | 42,50 |
| 6 | 48 | | Vignesh, Kannan P | IND | 1541 | TN | 7 | 52,5 | 57 | 42,50 |
| 7 | 10 | | Bharat, Kumar Reddy Poluri | IND | 2163 | TEL | 7 | 51 | 55 | 40,00 |
| 8 | 17 | FM | Sreyas, Payyappat | IND | 2083 | KER | 7 | 46,5 | 50 | 33,00 |
| 9 | 30 | | Karan, J P | IND | 1759 | KER | 7 | 46 | 50 | 34,50 |
| 10 | 21 | | Aswath, S | IND | 2015 | TN | 7 | 42 | 45 | 33,00 |
| 11 | 16 | IM | Ravi, Thandalam Shanmugam | IND | 2089 | TN | 7 | 38 | 41 | 35,00 |
| 12 | 20 | | Chandar, Raju | IND | 2050 | | 6,5 | 51,5 | 55,5 | 38,50 |
| 13 | 4 | IM | Konguvel, Ponnuswamy | IND | 2291 | TN | 6,5 | 46 | 50 | 35,25 |
| 14 | 37 | | Alluri, Bhaskara Ratna Shanmukha Reddy | IND | 1653 | AP | 6,5 | 44,5 | 48 | 31,25 |
| 15 | 15 | FM | Senthil, Maran K | IND | 2100 | TN | 6,5 | 41,5 | 45,5 | 31,25 |
| 16 | 28 | AGM | Karthikeyan, J. | IND | 1811 | TN | 6,5 | 41,5 | 45 | 30,25 |
| 17 | 9 | IM | Praveen, Kumar C | IND | 2188 | TN | 6,5 | 40 | 43 | 31,50 |
| 18 | 102 | AFM | Ashwinth, Michael | IND | 1262 | TN | 6,5 | 39,5 | 43,5 | 25,25 |
| 19 | 5 | IM | Prasad, Devaki V | IND | 2265 | KAR | 6,5 | 38,5 | 42 | 31,00 |
| 20 | 41 | | Leelajai, Krishna N | IND | 1607 | | 6 | 48 | 51,5 | 30,50 |
| 21 | 40 | | Abhijith, U | IND | 1610 | KER | 6 | 47 | 49,5 | 28,00 |
| 22 | 18 | | Balkishan, A. | IND | 2065 | KAR | 6 | 46,5 | 51 | 31,00 |
| 23 | 14 | AGM | Vinay, Thomas Abraham | IND | 2108 | KER | 6 | 46,5 | 50,5 | 25,50 |
| 24 | 7 | IM | Abhishek, Kelkar | IND | 2203 | MAH | 6 | 46 | 49,5 | 29,50 |
| 25 | 43 | | Ebin, Benny | IND | 1558 | | 6 | 45 | 48 | 29,00 |
| 26 | 29 | | Abhishek, T M | IND | 1788 | KER | 6 | 44 | 48 | 25,00 |
| 27 | 38 | | Abdallah, M Nisthar | IND | 1625 | KER | 6 | 44 | 47 | 25,50 |
| 28 | 13 | IM | Ramnathan, Balasubramaniam | IND | 2133 | TN | 6 | 43,5 | 47,5 | 25,75 |
| 29 | 64 | | Satheesh, Kumar G | IND | 1402 | TN | 6 | 43 | 46 | 26,25 |
| 30 | 57 | | Sidharth, Mohan | IND | 1457 | KER | 6 | 42,5 | 44,5 | 24,50 |
Links
---