Ameya Audi clinches Late Venkatesh and Sumathi Shanbag Memorial 2nd Rapid Rating Open 2023
IM Ameya Audi scored a sensational 9/9 to win Late Venkatesh and Sumathi Shanbag Memorial 2nd Rapid Rating Open 2023. He finished a full point ahead of the competition. Lad Mandar Pradip and IM Nitish Belurkar scored 8/9 each. They were placed second and third respectively according to tie-breaks. The total prize fund of the tournament was ₹100000. The top three prizes were ₹25000, ₹15000 and ₹10000 along with a trophy each. The winner also received a rolling trophy. A total of 312 players including a GM and 3 IMs took part from various part of the country. Photo: FA Swapnil Hoble
Ameya makes a perfect 9/9
IM Ameya Audi has won many tournaments before. However, winning the first tournament he started in 2023 and that also in Goa, is certainly quite special. Not only Ameya but the next three places were also claimed by players from Goa - Lad Mandar Pradip, IM Nitish Belukar and Reuben Colaco secured second to fourth place respectively.
To add some flavor to the tournament, an optional formal dress code was followed on the final day. The players wearing the same qualified for the lucky draw. The dignitaries drew the lucky winners and three players were awarded prizes in the form of FIFA World Cup top three teams' jerseys.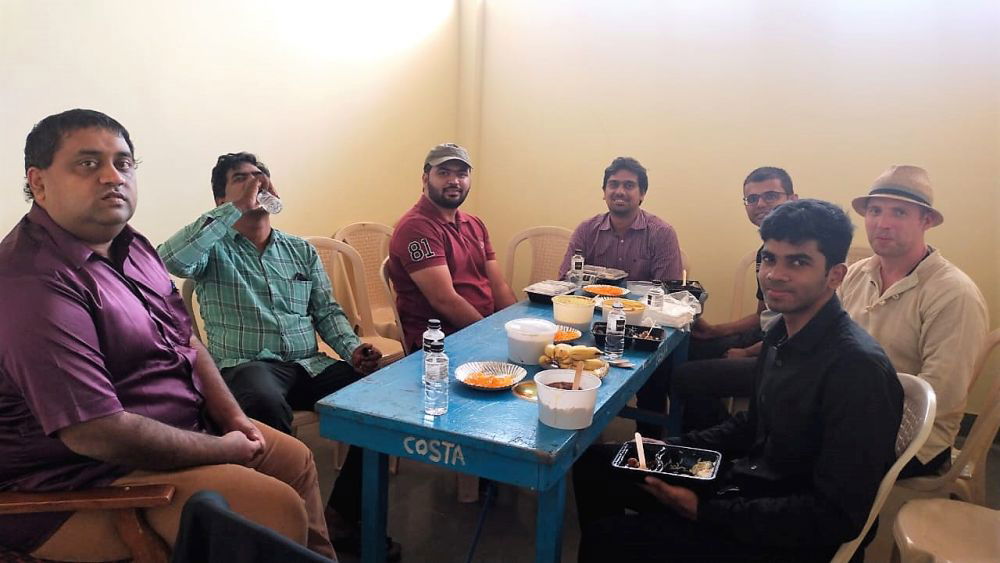 The prizes were given away by Vinay Tendulkar, Rajya Sabha Member, Chief Guest, Krishna (Daji) Salkar, MLA from Vasco, Sukant Shanbhag, Sponsors, Kishor Bandekar, President, MTCA, Mukund Kambli, Organising Secretary, Pundalik Naik, MTCA Treasurer. The function was compered by VP MTCA, Mukesh Adhia and tournament was conducted by Chief Arbiter IA Sanjay Kavlekar and Deputy Arbiters FA Swapnil Hoble, FA Gautam Tari and Snehil Shetty.
Thanks to FA Swapnil Hoble for sharing the photos and information about the tournament.
A total of 312 players including a GM and 3 IMs took part from all over India and one from Hungary. The two-day nine-round Swiss league Rapid Rating tournament was organized by Mormugao Taluka Chess Association at St. Therese's High School, Vasco, Goa on 7th and 8th January 2023. The time control of the tournament was 25 minutes + 10 seconds increment from move no.1.
Final standings
| | | | | | | | | | | | | | | | | |
| --- | --- | --- | --- | --- | --- | --- | --- | --- | --- | --- | --- | --- | --- | --- | --- | --- |
| Rk. | SNo | | | Name | Typ | sex | Gr | FED | RtgI | Club/City | Pts. | TB1 | TB2 | TB3 | TB4 | TB5 |
| 1 | 2 | | IM | Audi Ameya | | | NA | IND | 2301 | GOA | 9 | 53,5 | 45,5 | 57,50 | 9 | 0 |
| 2 | 15 | | | Lad Mandar Pradip | | | c | IND | 1860 | GOA | 8 | 54 | 45 | 49,00 | 8 | 0 |
| 3 | 1 | | IM | Nitish Belurkar | | | NA | IND | 2335 | GOA | 8 | 51 | 43,5 | 47,00 | 8 | 0 |
| 4 | 20 | | | Colaco Reuben | | | c | IND | 1699 | GOA | 7,5 | 57 | 48 | 48,25 | 7 | 0 |
| 5 | 3 | | GM | Laxman R.R. | S40 | | NA | IND | 2257 | ICF | 7,5 | 50,5 | 43 | 44,00 | 6 | 0 |
| 6 | 7 | | FM | Deshpande Aniruddha | | | NA | IND | 2121 | MAHARASHTRA | 7,5 | 49,5 | 42 | 41,75 | 7 | 0 |
| 7 | 10 | | IM | Ramnathan Balasubramaniam | S40 | | c | IND | 1917 | TN | 7 | 54 | 45 | 41,00 | 7 | 0 |
| 8 | 9 | | FM | Sauravh Khherdekar | S40 | | NA | IND | 2029 | MAHARASHTRA | 7 | 52,5 | 44,5 | 41,00 | 7 | 0 |
| 9 | 24 | | AFM | Vasant Vishnu Naik | S40 | | c | IND | 1547 | GOA | 7 | 52 | 44,5 | 42,25 | 6 | 0 |
| 10 | 5 | | FM | Matta Vinay Kumar | | | c | IND | 2154 | Union Bank of India | 7 | 52 | 44 | 41,00 | 7 | 0 |
| 11 | 13 | | | Harisurya Bharadwaj Gundepudi | | | C | IND | 1881 | Andhra Pradesh | 7 | 52 | 43 | 40,50 | 7 | 0 |
| 12 | 6 | | CM | Soham Datar | | | NA | IND | 2122 | MAHARASHTRA | 7 | 51,5 | 44 | 41,00 | 7 | 0 |
| 13 | 4 | | CM | Gopal K.N. | S40 | | c | IND | 2161 | Union Bank of India | 7 | 51,5 | 43,5 | 38,50 | 7 | 0 |
| 14 | 21 | | | Konatham Snehil | | | c | IND | 1675 | Andhra Pradesh | 7 | 50,5 | 41,5 | 37,25 | 6 | 0 |
| 15 | 25 | | | Parsekar Anirudh | | | c | IND | 1539 | GOS | 7 | 50 | 43 | 39,00 | 6 | 0 |
| 16 | 26 | | | Paarth P Salvi | | | c | IND | 1523 | GOA | 7 | 47,5 | 40,5 | 36,00 | 7 | 0 |
| 17 | 19 | | | Devesh Anand Naik | | | c | IND | 1725 | GOA | 7 | 47,5 | 39,5 | 36,50 | 7 | 0 |
| 18 | 23 | | | Kambli Datta | | | C | IND | 1580 | GOA | 7 | 47 | 40 | 36,00 | 7 | 0 |
| 19 | 18 | | | Kochrekar Vishwesh | | | c | IND | 1731 | MAHARASHTRA | 6,5 | 51 | 43,5 | 36,50 | 6 | 0 |
| 20 | 16 | | | Bezstrakhov Dmitry | | | c | RUS | 1836 | RUSSIA | 6,5 | 50 | 42 | 32,25 | 6 | 0 |
---