Karthik Gopal wins Goa B 2019, Petrosyan sole leader in A
In A-category the fifth round was played. We now have a sole leader in the form of Manuel Petrosyan who has 5.0/5. Samvel Ter Sahakyan and Petr Kostenko follow with 4.5/5. While the fifth round in A group had a lot of draws, there was a lot of action in the B-group as the final round was being played. Karthik Gopal. G and J. Karthikeyan faced off against each other on the top board. It was Karthik Gopal who came out on top with and won the tournament as well as Rs 2,00,000. Second place went to Saranya Yuvraj while Karthikeyan J. had to be content with the third place. We have a detailed report on group B, as well as some interesting annotated encounters from group A like Neverov-Petrosyan, Gukesh-Sankalp, Idani-Srivatshav and more.
Karthik Gopal G. wins Goa 2019 B category, Saranya second and Karthikeyan J. third
The total number of players who took part in the Goa 2019 'B' Category tournament were 458, out of which the winner was Karthik Gopal G. of Andhra Pradesh. Karthik scored 9.0/10 and was the champion by margin of half point. In the last round he was up against J. Karthikeyan of Tamil Nadu. The match-up was interesting as the coach from AP took on a Software Engineer from Karnataka.
Karthik Gopal is a coach at the South Mumbai Chess Academy in Mumbai since last 5 years. Most of his time is spent training youngsters to get better at the game. On the other hand Karthikeyan left chess in order to pursure his academic ambitions. His job as a engineer left him with hardly any time to work on chess. However with sheer will power and passion he tried to practice for couple of hours each day. Karthik Gopal's friends helped him prior to the final round and gave him the confidence that his opponent was not a regular chess player and hence was prone to making errors. This gave Karthik the much needed boost before the game. His opponent Karthikeyan had maintained a very balanced approach throughout the tournament to give his best. In the final round, however, he changed his approach suddenly and started looking at tournament victory. This affected his play in an adverse way and he blundered deep into the middlegame giving his opponent a full point and the title of Goa GM 2019 B category champion. The heartening thing to note is that Karthik Gopal is going to use the sum of Rs 2 lakh that he has won for working on his chess and improving his game.
Y Saranya was the only female player in top 10. She along with Rutuja Bakshi were the only girls who finished in top 50. It was a refreshing change to see a girl finish at the top in an open event which otherwise are completely dominated by male.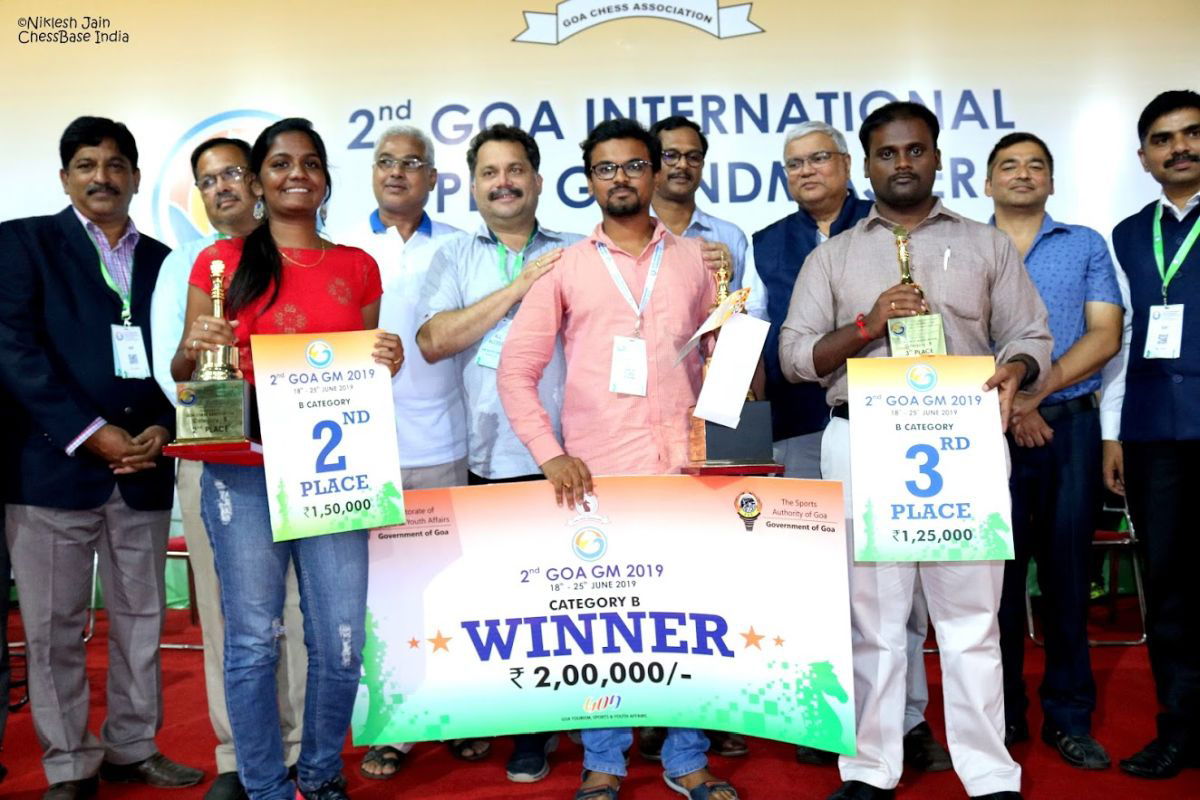 Category Tournaments: A boon or a bane?
A detailed discussion on this subject is beyond the scope of this article. However, I would like to touch on some aspects of it. The winner of the Goa GM 2019 'B' Category, Karthik Gopal won Rs 2 lakh. In the 'A' Group you have to finish 3rd so that you can match the prize money that Karthik has won. With 35 GM's playing in 'A' section, finishing 3rd is tremendously difficult when compared to the 'B' Category. This is where I see the need of some change coming in. The change must not be that the players of B category get lesser prize or that the B and C category events come to a close. Quite the contrary. I think these category events are able to bring chess to the masses and this should be continued. Instead the prizes in the A Category should be greatly enhanced. This would motivate many of the top players in the B and C category tournaments to make that next leap and start playing in A Category (Above 2000). For now, it just doesn't seem worthwhile for a player with a rating of 1800 to dream of reaching 2200 as then he lands up in a no man's land where he cannot compete in the B and C category events and is not strong enough to win top prizes in the A Category. While the category tournaments are surely bringing chess to the masses we must ensure that the prize difference between what professionals earn and what amateurs earn should be tangible in order to uplift the chess level of the nation.
Category A - Manuel Petrosyan is the sole leader
They say, in chess, superior player always wins. But what makes a player superior? Is it just the chess knowledge or are practical playing skills equally, if not more, important? When I was young and growing up I felt that chess was like science where the player who made most number of best moves would win the game. Since the last couple of years I have been analyzing innumerable games each day and I have realized that chess is more of a sport than science. The player who makes the most number of best moves is not the one who wins. But it is the player who does not make the last error, who wins!
After five rounds of the Goa GM International 2019, we have a sole leader, Armenian GM Manuel Petrosyan. The youngster didn't play the opening so well, was outplayed in the middlegame, but he just made sure that he was not the last one to err. That was good enough to beat his experienced Ukranian opponent Valery Neverov.
Neverov vs Petrosyan, Round 5
Round 5 of the Goa GM International 2019 witnessed the most number of draws on top boards. Out of the first 10 boards 7 of them ended in draws with three decisive results all ending in Black's favour. Manual Petrosyan's win over Valery Neverov gives him the sole lead. The biggest upset of the day was defending champion Idani Pouya losing to Rahul Srivatshav.
Another minor upset of the day was India's latest IM Sankalp Gupta beating world's youngest GM D.Gukesh. This game is definitely worthy of detailed analysis as it contains mind boggling complications. Gukesh is an excellent calculater and with his fine blitz playing skills he can outwit just about any opposition in time pressure. The fact that Sankalp could trick him in mutual time scramble shows the depth and talent pool of Indian Chess.
Results of round 4
Rank after round 5
| | | | | | | | | | | | | | | | | | | | | | |
| --- | --- | --- | --- | --- | --- | --- | --- | --- | --- | --- | --- | --- | --- | --- | --- | --- | --- | --- | --- | --- | --- |
| Rk. | SNo | | | Name | Typ | sex | FED | Rtg | Club/City | Pts. | TB1 | TB2 | TB3 | TB4 | TB5 | n | w | we | w-we | K | rtg+/- |
| 1 | 11 | | GM | Petrosyan Manuel | | | ARM | 2573 | ARM | 5,0 | 0,0 | 14,5 | 16,5 | 16,50 | 5 | 5 | 5 | 3,84 | 1,16 | 10 | 11,6 |
| 2 | 3 | | GM | Ter-Sahakyan Samvel | | | ARM | 2611 | ARM | 4,5 | 0,5 | 14,0 | 16,5 | 14,25 | 4 | 5 | 4,5 | 3,94 | 0,56 | 10 | 5,6 |
| 3 | 28 | | GM | Kostenko Petr | | | KAZ | 2473 | KAZ | 4,5 | 0,5 | 14,0 | 16,0 | 13,75 | 4 | 5 | 4,5 | 3,44 | 1,06 | 10 | 10,6 |
| 4 | 69 | | FM | Mitrabha Guha | | | IND | 2341 | WB | 4,0 | 0,0 | 15,0 | 16,5 | 12,75 | 3 | 5 | 4 | 2,48 | 1,52 | 20 | 30,4 |
| 5 | 9 | | GM | Jojua Davit | | | GEO | 2580 | GEO | 4,0 | 0,0 | 14,5 | 16,5 | 12,50 | 3 | 5 | 4 | 3,96 | 0,04 | 10 | 0,4 |
| 6 | 29 | | GM | Neverov Valeriy | | | UKR | 2470 | UKR | 4,0 | 0,0 | 14,5 | 16,5 | 11,50 | 4 | 5 | 4 | 3,16 | 0,84 | 10 | 8,4 |
| 7 | 19 | | IM | Iniyan P | | | IND | 2525 | TN | 4,0 | 0,0 | 14,0 | 16,0 | 12,00 | 3 | 5 | 4 | 3,66 | 0,34 | 10 | 3,4 |
| 8 | 62 | | | Sankalp Gupta | | | IND | 2359 | MAH | 4,0 | 0,0 | 14,0 | 16,0 | 11,50 | 4 | 4 | 3 | 1,70 | 1,30 | 20 | 26,0 |
| 9 | 80 | | FM | Rathanvel V S | | | IND | 2314 | TN | 4,0 | 0,0 | 14,0 | 15,5 | 11,75 | 3 | 5 | 4 | 1,90 | 2,10 | 20 | 42,0 |
| 10 | 40 | | | Sammed Jaykumar Shete | | | IND | 2431 | MAH | 4,0 | 0,0 | 13,5 | 15,5 | 10,50 | 4 | 5 | 4 | 3,84 | 0,16 | 10 | 1,6 |
| 11 | 5 | | GM | Gupta Abhijeet | | | IND | 2606 | DEL | 4,0 | 0,0 | 13,0 | 15,0 | 11,50 | 3 | 5 | 4 | 4,07 | -0,07 | 10 | -0,7 |
| 12 | 12 | | GM | Deepan Chakkravarthy J. | | | IND | 2557 | TN | 4,0 | 0,0 | 13,0 | 15,0 | 11,00 | 3 | 5 | 4 | 3,78 | 0,22 | 10 | 2,2 |
| 13 | 60 | | IM | Viani Antonio Dcunha | | | IND | 2362 | KAR | 4,0 | 0,0 | 13,0 | 14,0 | 10,00 | 3 | 5 | 4 | 2,61 | 1,39 | 10 | 13,9 |
| 14 | 15 | | GM | Fier Alexandr | | | BRA | 2543 | BRA | 4,0 | 0,0 | 12,5 | 15,0 | 11,50 | 4 | 5 | 4 | 4,07 | -0,07 | 10 | -0,7 |
| 15 | 22 | | GM | Anurag Mhamal | | | IND | 2497 | GOA | 4,0 | 0,0 | 12,5 | 14,5 | 11,25 | 3 | 5 | 4 | 3,84 | 0,16 | 10 | 1,6 |
| 16 | 20 | | GM | Malakhatko Vadim | | | BEL | 2505 | BEL | 4,0 | 0,0 | 12,0 | 14,5 | 11,25 | 3 | 5 | 4 | 3,83 | 0,17 | 10 | 1,7 |
| 17 | 8 | | GM | Stupak Kirill | | | BLR | 2584 | BLR | 4,0 | 0,0 | 12,0 | 14,0 | 11,00 | 3 | 5 | 4 | 4,23 | -0,23 | 10 | -2,3 |
| | 32 | | IM | Nguyen Van Huy | | | VIE | 2456 | VIE | 4,0 | 0,0 | 12,0 | 14,0 | 11,00 | 3 | 5 | 4 | 3,54 | 0,46 | 10 | 4,6 |
| 19 | 25 | | GM | Rahman Ziaur | | | BAN | 2481 | BAN | 4,0 | 0,0 | 12,0 | 13,5 | 9,50 | 4 | 5 | 4 | 3,92 | 0,08 | 10 | 0,8 |
| 20 | 35 | | IM | Khusenkhojaev Muhammad | | | TJK | 2446 | TJK | 4,0 | 0,0 | 11,5 | 13,5 | 10,75 | 3 | 5 | 4 | 4,13 | -0,13 | 10 | -1,3 |
Photo Gallery by Niklesh Jain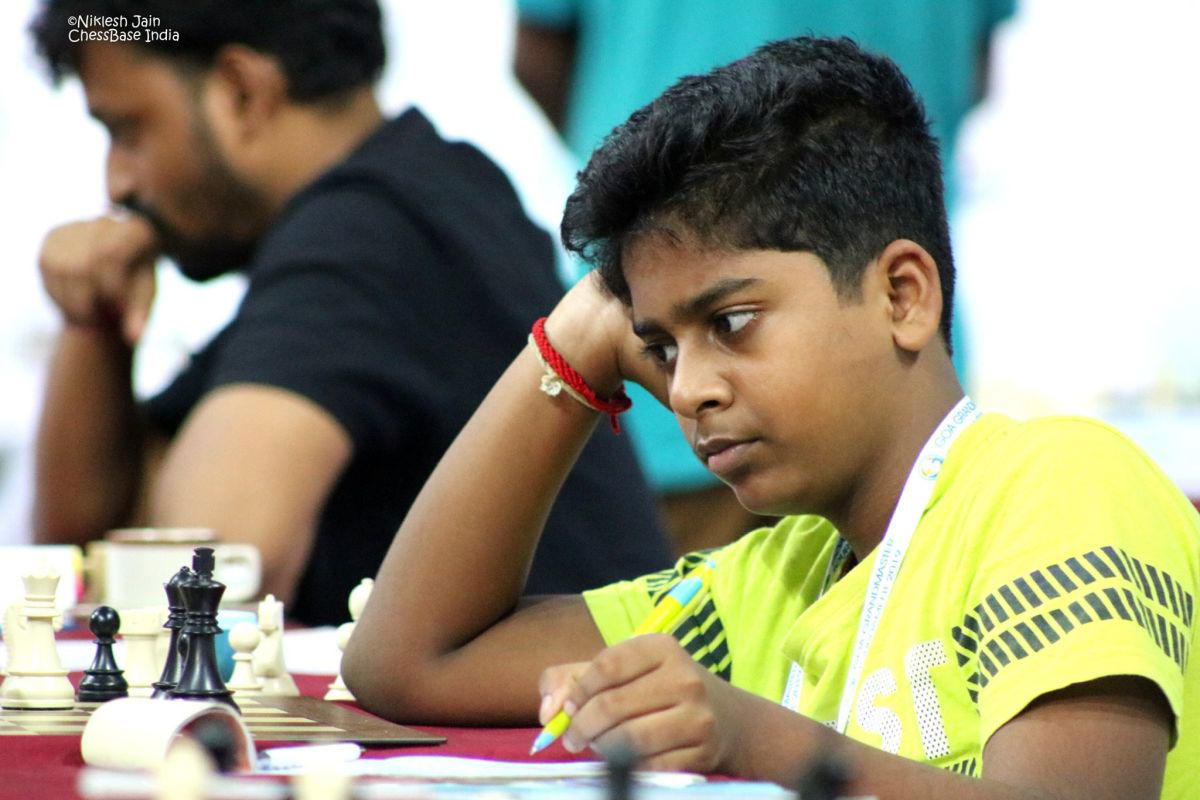 ---