2nd edition of Goa GM International is here with a prize fund of Rs.53 lakh!
The first Goa GM International 2018 was a big success. Over 1200 players participated at the Shyama Prasad Mukherjee stadium making it the biggest sporting event ever to be held on Goan soil. The good news for the Indian chess community is that the organizers have decided to continue the tournament and the second edition will be held from the 18th to the 25th of June 2019 at the same venue. 10th of April is the last date to avail the early bird discount. So don't miss it. In this article we bring you the experience of Beverly Mendonca, a chess player from Goa and also a talented artist, who played the 1st edition of the event. Check out her brilliant artistic impressions of Goa sprinkled with humour and creativity.
My experience of the 1st Goa GM International 2018
By Beverly Mendonca
It was around five years ago that I had last on my thinking hat in front of a chess board. Yes, you read me right - five long years ago! Now while I was buried in my books preparing for my grade 10 examinations. I could not resist getting distracted by all the buzz about my state Goa hosting its first ever GM tournament just a stone's throw away from my residence. The more I tried to focus on my books, the more I got distracted. So distracted or factually so attracted that on the same night I had dream of actually participating and clinching the title. I was on cloud nine, basking in all the glory and flattery when to my utter disbelief and disappointment I heard my mother's voice from the kitchen. "Beverly, wake up! It's 7 o'clock!" Alas, harsh reality dawned upon me!
As I got on with my daily routines, a sudden idea flashed through my mind telling me to participate and I thought to myself, "Why not?" One thing for sure is that once I set my mind on achieving something, nothing in this world can ever stop me. So I garnered up some courage and sought my mother's permission. She immediately retaliated asking me whether I had gone crazy more because of my timing. She then went on to discuss the matter with my dad suspecting my intentions and finally conceded on one condition - my study plan remains absolutely unaffected.
I then struck a deal with my brother Leon who decided to coach me in return for many favours (which I normally would not succumb to!). I put my heart, mind and soul into my preparation and decided to realistically participate only in the "B" and "C" categories respectively while my brother would play in A group. The countdown had long begun and finally the "D" Day had arrived. I, who, normally need to be literally shaken up and dragged out of bed was astonishingly up and about at 6 a.m. After having a power breakfast and almghty's blessings, we set off to the venue "Dr Shyama Prasad Mukherjee Stadium. in Bambolim.
The Shyama Prasad Mukherjee Stadium where the tournament was held
As we approached there was this aura of grandeur. I honestly felt like a celebrity walking down the red carpet laid out leading into the stadium. The glittering trophies on the stage and the digital boards, the floodlights, the colourful flags, the buffet spread, the audience seating arrangement, it all looked so classy. I had participated in a couple of world class tournaments but believe me when I say, the 1st Goa International was a benchmark for other organizers to emulate.
All this was made possible by our dynamic president of Goa Chess Association Mr. Nilesh Cabral, who also happens to be our honourable Power Minister). Mr. Kishore Bandekar, Mr Mahesh Kandolkar and their entire team. The colourful opening ceremony gave the foreign participants mainly an insight into our culture and legacy.
I started my tournament with a win whihc gave me the confidence to finish with a respectable score. I ended on a fine note, winning two most beautiful trophies, one for the "Best under-15 female player" in Category B. and the other for the "second best under-15" female player in Category C. What a finale, I couldn't have asked for more. This tournament will always be special for me because I had the pleasure of meeting two of the most remarkable personalities from our chess fraternity - Sagar Shah and Amruta Mokal. I would like to thank Sagar in particular for spotting my talent and in a way 'exposing' me globally!
Goa GM International through the art work of Beverly
As you can see from the above video Beverly is an expert at portraying things with her drawings. Here is some of her artwork that gives you an idea of the state of Goa and also the Goa GM International chess tournament.
Goa GM International 2019 is here!
By Sagar Shah
It is wonderful to see that the Goa GM International 2018 was not a lone event that was organized. The team is back with its second edition this June from 18th to 25th 2019. And yes the tournament will be held in the Shyama Prasad Mukherjee Stadium itself. Last year 1200 participants took part in A,B and C group combined. This year, the organizers would be looking to better the number. A look at the prospectus (download it from the link given at the end of the article) tells you the amount of care that the organizers have taken to ensure that everything is well organized. For eg. they have created teams to handle players from different states of India! This is pretty unique.
The prizes have been increased from 35 lakh in 2018 to 53 lakh in 2019!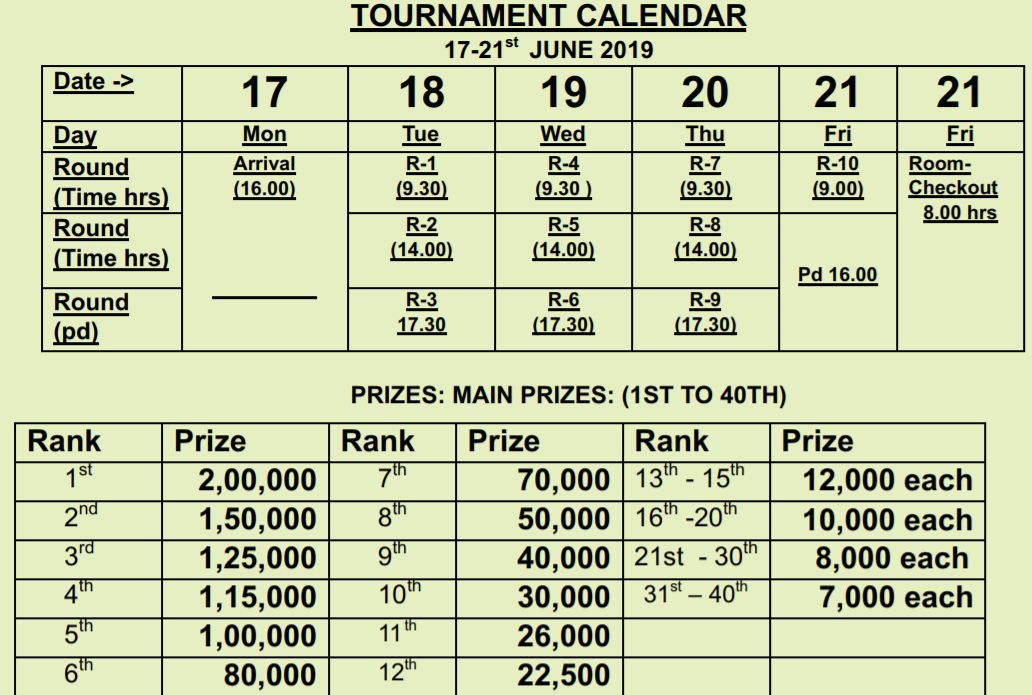 Players who have already registered for Goa Group A (above 2000)
Players who have already registered for Goa Group B (1600 - 2000)
Players who have already registered for Goa Group C (below 1600)
Until 10th of April 2019, you have the early bird discount. Check it out and register from the link below.
2018 coverage on ChessBase India
Round 1: No less than Batumi
Round 2: 6-year-old prodigy and 12-year-old Veteran
Round 3+4: What is Troitsky's line?
Round 5: Who said GMs and IMs do not blunder
Round 6+7: Madhya Pradesh domination
Round 8: An Iranian, an Ukrainian and an Armenian
Round 9: Being ambitious sometimes works, sometimes doesn't
Round 10: Pouya Idani wins Goa GM 2018
Important links:
Registration portal for players
Playlist of Goa GM 2018 (25 videos)
Prospectus of Goa GM International 2019
---