I want to be a GM as soon as possible: Leon Luke Mendonca
by Basil Sylvester Pinto - 02/07/2019
While chess in Goa has picked up a few notches in recent years, it has much scope for improvement. In Category A, Goa's lone Grandmaster Anurag Mhamal (2497) and IM Leon Mendonca (2405), were the best performers with 6.5 points in the final count. Mhamal finished on 35th position with 6.5 points after his last round win against the very promising Ritviz Parab (2357) when the latter resigned in a lost rook endgame. On the other hand, Goa's IM Leon Mendonca secured a memorable draw in his final round against India's 61st GM P Iniyan (2525) also to tally 6.5 points and end respectably on 42nd in the standings. Photo: Basil Sylvester Pinto
The wunderkind of Goa
Speaking on his overall performance, the 13-year-old Leon Luke Mendonca was not very satisfied. "My performance was not that good in this tournament although I tried my best," he stated with a tinge of disappointment.
But the keen student of the game was also determined to see how he would learn from the experience to grow manifold as a player. And under the stead of GM Vishnu Prasanna, an accomplished trainer, young Mendonca is in able hands.
On his tenth and last round played against the new Indian GM-elect 16-year-old P Iniyan, Mendonca appeared happier to hold a fancied opponent with black pieces in the Sicilian Najdorf. "He (Iniyan) played e4 and that is what he played twice in this tournament. He played a line for which I thought he would be prepared but he didn't. He played an obvious move because he didn't know the line and I took advantage of it and got an equal end game. It was quite interesting actually. But then I started making a few inaccuracies. I missed his moves and then we exchanged rooks which were a little bad for me. Slowly, I found an accurate defense and we went into an opposite colour bishop end game," he explained.
Having turned an IM at 12 years, 11 months and 3 days, Mendonca's next target is to become a GM. But he has no plans on breaking Mhamal's record to it by age. "I only want to become a GM as soon as possible but my main aim is to play good chess," the level-headed chess prodigy stated.
Studying in Std VIII in Velammal Vidyalaya, Chennai, the 13-year-old says the decision to shift from home while still representing Goa on a bigger platform was a prudent move he made. "My school is very supportive towards sports, including chess. They also do not mind the lack of my attendance. Whenever I get free time, I study. Chess has helped me to concentrate better in my academics and helps me to learn faster. But right now, I am more focused on chess," the precocious talent said.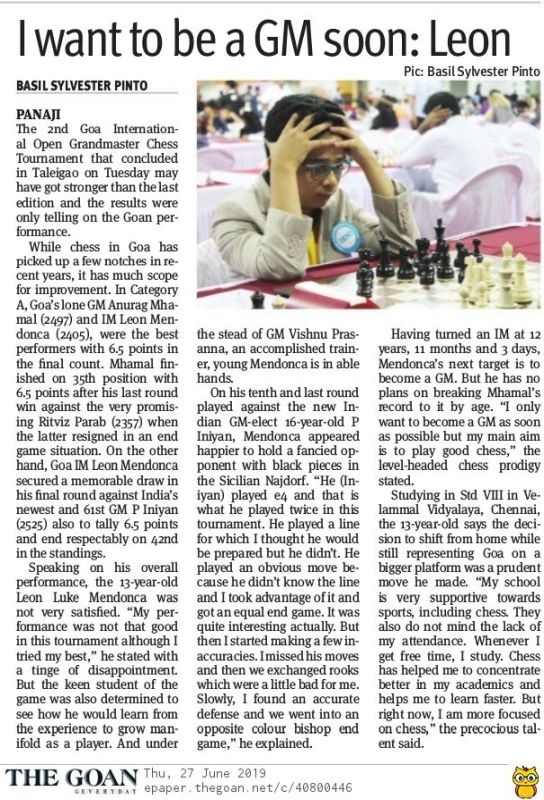 About the Author
Basil Sylvester Pinto earns a living through his passion for writing. Having dabbled in various genres of journalism, for the last few years he is attached to The Goan Everyday as a sports reporter, and also contributes features occasionally. He is very passionate about fashion photography, high altitude trekking and loves to travel. He is fond of cricket, has played chess at the college and Goa State Open level and has been a decent National level Scrabble player.
The article was edited by Shahid Ahmed
---