Goa GM 2019 Round 1: Grandeur with a personal touch!
Chess organization just like anything else is all about identifying your weaknesses and mistakes, working on them and becoming better. That's what the team at Goa International Open Grandmaster Chess tournament 2019 are doing. They are simply competing with themselves. Speak to team and the unanimous answer that you would get is - "We would like to give the players a better experience than what they had in 2018." No wonder they have record number of GM participation with 35 GMs fighting it out in the A-group. 29 IMs are also in the fray, with players from 23 countries taking part and a rating average of 2182. Those are some brilliant numbers. We bring you the round one report along with some exciting pictures and video interviews!
The first word that comes to your mind when you enter the premises of Shyama Prasad Mukherjee Stadium is - GRAND! But grandeur without the personal touch is pointless. At the Goa GM International 2019, the organizers have managed to combine both the things in a perfect way.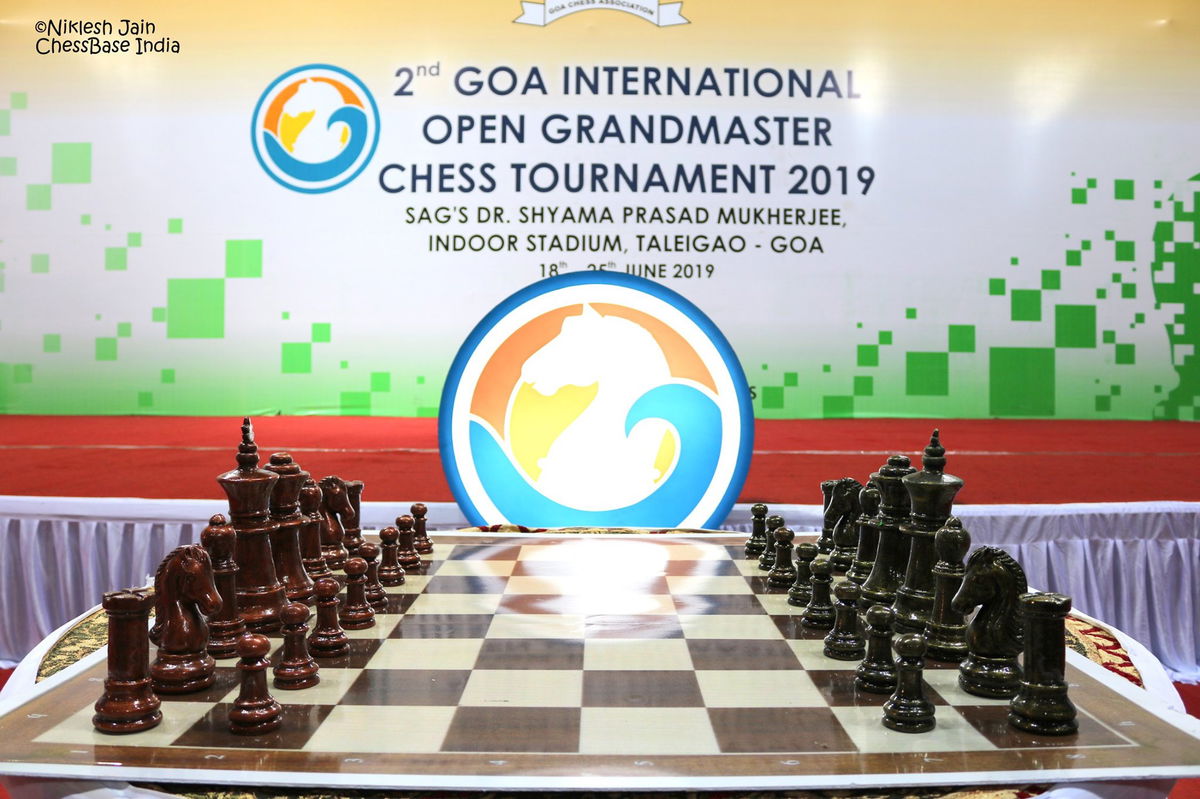 This is the thing which is most impressive about the Goa organizing team. The team is completely dedicated in giving their all for a high class event. They aren't competing with any other tournament in Indian chess. They are more concerned about improving themselves. In 2018 they had printed 1200+ certificates for all the participants. At the end they were left with nearly 800-900 certificates which were not collected. How do you solve this problem? Well, inside the scorebook is the above page - "An initiative to save paper!" Only those who will write their names and submit this sheet will get the certificate!
The opening ceremony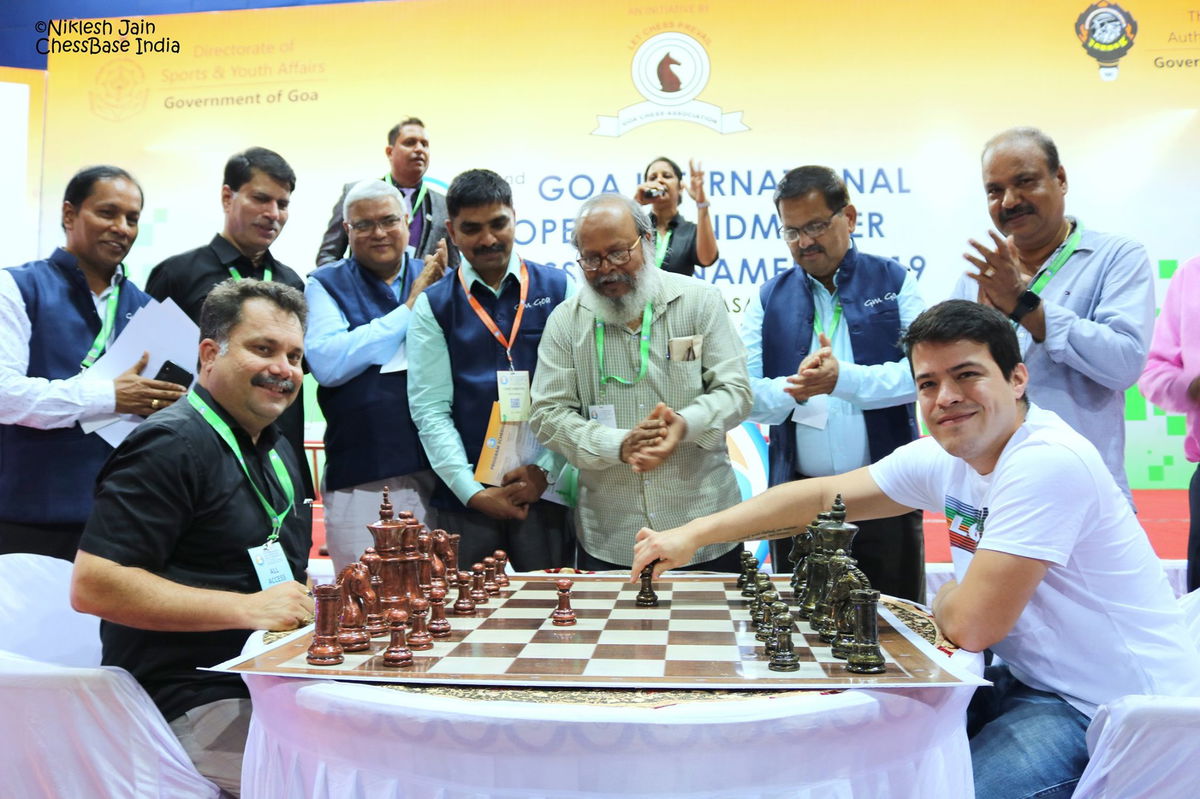 Since the first edition of Goa GM in October 2018, I heard many times people saying that the President of Goa Chess Association Nilesh Cabral is very dynamic. What does this word dynamic mean? Well, for Goa Chess Association, they couldn't have found a better leader. He is all the time action oriented. If you suggest him a good idea and he finds it appropriate he doesn't hesitate to implement it immediately. He is a man of action and at all times is looking for improvements in how things can be organized. In 2018, he had a dream that a GM tournament should be organized in Goa - that did happen. In 2019, he had the ambition that highest number of GMs should participate, and even this happened! Well, one can only wish that the Goa GM International continues in the years to come. Because if they do, we are sure to witness many firsts in Indian chess happening at the event!
Round 1
The biggest upset of round 1 was Ram S Krishnan winning against Aleksandrov Aleksej (2588). Ram, who is an IM-elect from Tamil Nadu, has recently lost quite a bit of rating and has come down to 2152. But those who have played him in the past, know that he is a force to be reckoned with. Aleksandrov clearly underestimated him. The Belarussian GM played a poor opening and never really got a chance to come back in the game!
Ram Krishnan vs Aleksandrov Aleksej
Taking ...bxc5 was a clear mistake by Aleksandrov as after...
Gukesh D vs Aashna Makhija, Round 1
Results of round 1
B-Group
The B group had a tough day one with three rounds being held. The time control was 60 minutes + 30 seconds increment. There are 456 participants in all. We have 32 leaders with 3.0/3. The tournament promises to get exciting on the second day.
Rank after three rounds
| | | | | | | | | | | | | | | |
| --- | --- | --- | --- | --- | --- | --- | --- | --- | --- | --- | --- | --- | --- | --- |
| Rk. | SNo | | | Name | Typ | sex | Rtg | Club/City | Pts. | TB1 | TB2 | TB3 | TB4 | TB5 |
| 1 | 5 | | | Pradeep Tiwari | | | 1972 | DASCB | 3,0 | 0,0 | 4,0 | 6,0 | 6,00 | 3 |
| | 10 | | | Kadav Omkar | | | 1941 | MAH | 3,0 | 0,0 | 4,0 | 6,0 | 6,00 | 3 |
| | 40 | | | Vijay Anand M. | | | 1855 | TN | 3,0 | 0,0 | 4,0 | 6,0 | 6,00 | 3 |
| | 92 | | | Bartakke Aditya | | | 1740 | MAH | 3,0 | 0,0 | 4,0 | 6,0 | 6,00 | 3 |
| 5 | 3 | | | Nepal Prakash | | | 1985 | NEP | 3,0 | 0,0 | 4,0 | 5,5 | 5,50 | 3 |
| | 8 | | | Shubham Shukla | | | 1958 | PUN | 3,0 | 0,0 | 4,0 | 5,5 | 5,50 | 3 |
| | 31 | | | Verma Rahul | | | 1876 | MAH | 3,0 | 0,0 | 4,0 | 5,5 | 5,50 | 3 |
| | 48 | | | Uma Maheswaran P | | | 1836 | TN | 3,0 | 0,0 | 4,0 | 5,5 | 5,50 | 3 |
| 9 | 9 | | | Srikanth K. | | | 1951 | IAF | 3,0 | 0,0 | 4,0 | 5,0 | 5,00 | 3 |
| | 14 | | | Selvamurugan B | | | 1929 | TN | 3,0 | 0,0 | 4,0 | 5,0 | 5,00 | 3 |
| | 20 | | | Koustav Chakraborty | | | 1906 | WB | 3,0 | 0,0 | 4,0 | 5,0 | 5,00 | 3 |
| | 21 | | | Rishabh Nishad | | | 1903 | UP | 3,0 | 0,0 | 4,0 | 5,0 | 5,00 | 3 |
| | 28 | | | Joy Lazar M.A. | S50 | | 1880 | KER | 3,0 | 0,0 | 4,0 | 5,0 | 5,00 | 3 |
| | 36 | | | Abhishek T M | | | 1862 | KER | 3,0 | 0,0 | 4,0 | 5,0 | 5,00 | 3 |
| | 47 | | | Karthikeyan J. | | | 1838 | TN | 3,0 | 0,0 | 4,0 | 5,0 | 5,00 | 3 |
| | 53 | | | Mraduhas Tripathi | | | 1826 | MP | 3,0 | 0,0 | 4,0 | 5,0 | 5,00 | 3 |
| | 70 | | | Sanjay Chhabra | | | 1778 | DEL | 3,0 | 0,0 | 4,0 | 5,0 | 5,00 | 3 |
| | 87 | | | Mughaho Awomi | | | 1750 | NAG | 3,0 | 0,0 | 4,0 | 5,0 | 5,00 | 3 |
| | 110 | | | Shiva S | | | 1705 | KAR | 3,0 | 0,0 | 4,0 | 5,0 | 5,00 | 3 |
| | 155 | | | Sushrutha Reddy | | | 1608 | KAR | 3,0 | 0,0 | 4,0 | 5,0 | 5,00 | 3 |
| 21 | 227 | | | Mrithyunjay Mahadevan | U11 | | 1473 | TN | 3,0 | 0,0 | 4,0 | 4,5 | 4,50 | 3 |
| 22 | 187 | | | Kuldeep | | | 1554 | DEL | 3,0 | 0,0 | 4,0 | 4,0 | 4,00 | 3 |
| | 198 | | WCM | Chopdekar Gunjal | F15 | w | 1533 | GOA | 3,0 | 0,0 | 4,0 | 4,0 | 4,00 | 3 |
| 24 | 19 | | | Aditya Varun Gampa | U13 | | 1906 | TEL | 3,0 | 0,0 | 3,5 | 4,5 | 4,50 | 3 |
| | 33 | | | Sanchit Anand | | | 1864 | DEL | 3,0 | 0,0 | 3,5 | 4,5 | 4,50 | 3 |
| | 35 | | | Akshay Anand | | | 1863 | PUN | 3,0 | 0,0 | 3,5 | 4,5 | 4,50 | 3 |
| | 38 | | | Sharsha Backer | | | 1858 | KER | 3,0 | 0,0 | 3,5 | 4,5 | 4,50 | 3 |
| | 82 | | | Abdul Majeed N. | S50 | | 1762 | KER | 3,0 | 0,0 | 3,5 | 4,5 | 4,50 | 3 |
| | 116 | | | Adireddy Tarun | U13 | | 1682 | TEL | 3,0 | 0,0 | 3,5 | 4,5 | 4,50 | 3 |
| 30 | 165 | | | Ragesh Sarma.M | | | 1592 | TN | 3,0 | 0,0 | 3,5 | 3,5 | 3,50 | 3 |
| 31 | 65 | | | Aarthi G | S | w | 1795 | TN | 3,0 | 0,0 | 3,0 | 4,0 | 4,00 | 3 |
| | 135 | | | Shreyas M | | | 1637 | TN | 3,0 | 0,0 | 3,0 | 4,0 | 4,00 | 3 |
ChessBase India at the venue:
All photos by Niklesh Jain
Live games on 19th June from 9.30 a.m. onwards
---