Ratnakaran's unthinkable queen sacrifice lights up Goa!
On 11th of June we witnessed a brilliant queen sacrifice by Karthikeyan Murali at the Asian Championships 2019 in Xingtai, China. Chess fasn across the world found the queen sacrifice so good that they compared it to Nezhmetdinov's positional queen sacrifice against Chernikov that took place 57 years ago. Well, just 9 days after Karthikeyan's sacrifice, we have one more brilliant queen sacrifice, this time by Ratnakaran Kantholi in round 3 of the Goa GM International 2019! According to the author of this article IM Sagar Shah, Ratnakaran's queen sacrifice was much more difficult to envisage and evaluate than Nezhmetdinov's and Karthikeyan's. We bring you this brilliant game as well as other highlights from rounds 2 and 3 of Goa GM International 2019.
A few years ago whenever someone would speak about a positional queen sacrifice, the first position that would spring to my mind was:
Nezhmetdinov vs Chernikov, 1962
The compensation in this case was pretty clear - white has the nice d5 square for his knight. The bishop can relocated on the a1-h8 diagonal. There will be rook lifts via d3. While the sacrifice is spectacular, it is quite understandable and the compensation is obvious even to an amateur.
The Nezhmetdinov immortal was played in 1962. Let's fast forward the clocks by 57 years and we arrive in 2019. On 11th of June 2019, a youngster from Tamil Nadu playing in Xingtai, China, decides to sacrifice his queen in the same way that Nezhmetdinov did!
Firouzja vs Karthikeyan, 2019
It seemed like we won't have any other queen sacrifice like the one by Karthikeyan any time soon. Well, it took only eight days for another Indian player to execute a brilliant queen sacrifice, perhaps even more attractive than what Nezhmetdinov and Karthikeyan had achieved.
We coined the sobriquet of Indian Tal for Ratnakaran after we witnessed his amazing games over the years. Just like Tal, he had complete lack of respect for material in chess. More than calculation he would trust his intuition and in general he loved to trick his opponents from inferior or losing positions. On 19th of June at the 2nd Goa GM International 2019, Ratnakaran was sitting opposite Mikheil Mchedlishvili in round 3.
Mchedlishvili moved his queen to b3 and now Ratnakaran had an important decision to make. He has to move his knight from c3. He was confused between Nxe2 and Nxd4 and Nb5xd4. In the first case he was winning a pawn but also activating the f1 bishop. In the second the bishop on f1 would be closed, but White could play e3 and dislodge the knight. It was not an easy decision but finally Ratnakaran decided to go for material with ...Nxe2.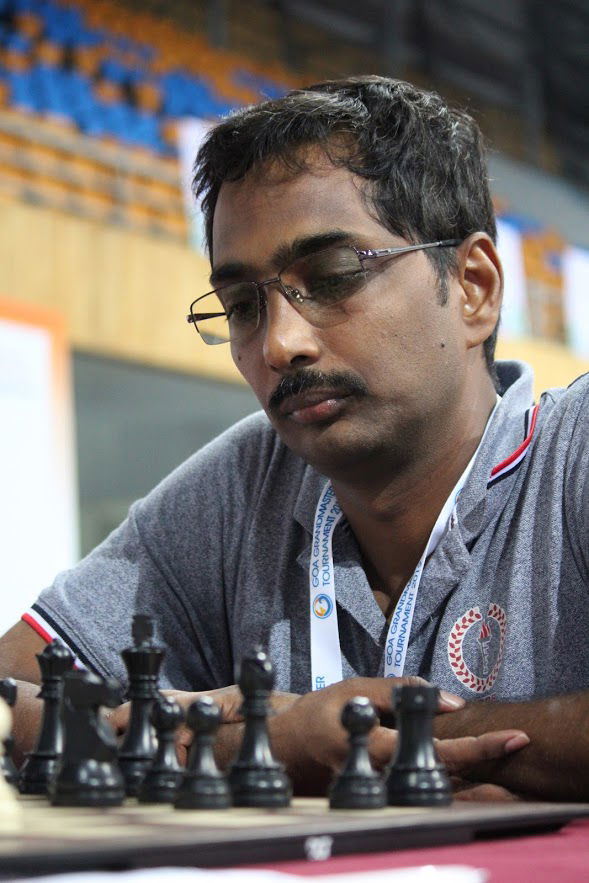 Earlier in the day P. Konguvel scored a fine win against Gukesh in round 2. The most impressive part of the game is how quickly Konguvel adjusted his mindset from being worse to winning the game when he was presented the opportunity. Often when we are in a difficult position, we are unable to adjust our thinking after the opponent blunders. Well, in this case Konguvel did so and the result was a very nice endgame where Gukesh had no chances.
Neelash Saha vs Kiril Stupak, Round 2
Standings after round 3
| | | | | | | | | | | | | | | | | | | |
| --- | --- | --- | --- | --- | --- | --- | --- | --- | --- | --- | --- | --- | --- | --- | --- | --- | --- | --- |
| Rk. | SNo | | | Name | Typ | sex | FED | Rtg | Club/City | Pts. | TB1 | TB2 | TB3 | TB4 | TB5 | n | w | we |
| 1 | 2 | | GM | Pantsulaia Levan | | | GEO | 2614 | GEO | 3,0 | 0,0 | 4,0 | 6,0 | 6,00 | 3 | 3 | 3 | 2,49 |
| 2 | 29 | | GM | Neverov Valeriy | | | UKR | 2470 | UKR | 3,0 | 0,0 | 4,0 | 5,5 | 5,50 | 3 | 3 | 3 | 2,49 |
| 3 | 3 | | GM | Ter-Sahakyan Samvel | | | ARM | 2611 | ARM | 3,0 | 0,0 | 4,0 | 5,0 | 5,00 | 3 | 3 | 3 | 2,52 |
| | 11 | | GM | Petrosyan Manuel | | | ARM | 2573 | ARM | 3,0 | 0,0 | 4,0 | 5,0 | 5,00 | 3 | 3 | 3 | 2,51 |
| | 28 | | GM | Kostenko Petr | | | KAZ | 2473 | KAZ | 3,0 | 0,0 | 4,0 | 5,0 | 5,00 | 3 | 3 | 3 | 2,47 |
| | 38 | | IM | Mohammad Nubairshah Shaikh | | | IND | 2436 | MAH | 3,0 | 0,0 | 4,0 | 5,0 | 5,00 | 3 | 3 | 3 | 2,53 |
| | 40 | | | Sammed Jaykumar Shete | | | IND | 2431 | MAH | 3,0 | 0,0 | 4,0 | 5,0 | 5,00 | 3 | 3 | 3 | 2,63 |
| 8 | 69 | | FM | Mitrabha Guha | | | IND | 2341 | WB | 3,0 | 0,0 | 4,0 | 4,5 | 4,50 | 3 | 3 | 3 | 2,07 |
| 9 | 19 | | IM | Iniyan P | | | IND | 2525 | TN | 3,0 | 0,0 | 3,5 | 5,0 | 5,00 | 3 | 3 | 3 | 2,46 |
| 10 | 12 | | GM | Deepan Chakkravarthy J. | | | IND | 2557 | TN | 3,0 | 0,0 | 3,5 | 4,5 | 4,50 | 3 | 3 | 3 | 2,49 |
| | 62 | | | Sankalp Gupta | | | IND | 2359 | MAH | 3,0 | 0,0 | 3,5 | 4,5 | 4,50 | 3 | 2 | 2 | 1,10 |
| 12 | 60 | | IM | Viani Antonio Dcunha | | | IND | 2362 | KAR | 3,0 | 0,0 | 3,0 | 3,5 | 3,50 | 3 | 3 | 3 | 2,05 |
| 13 | 130 | | | Ram S. Krishnan | | | IND | 2152 | TN | 2,5 | 0,0 | 4,5 | 6,0 | 4,75 | 2 | 3 | 2,5 | 0,51 |
| 14 | 5 | | GM | Gupta Abhijeet | | | IND | 2606 | DEL | 2,5 | 0,0 | 4,5 | 5,0 | 3,75 | 2 | 3 | 2,5 | 2,54 |
| | 31 | | IM | Vignesh N R | | | IND | 2459 | TN | 2,5 | 0,0 | 4,5 | 5,0 | 3,75 | 2 | 3 | 2,5 | 2,52 |
| | 54 | | CM | Bharath Subramaniyam H | | | IND | 2383 | TN | 2,5 | 0,0 | 4,5 | 5,0 | 3,75 | 2 | 3 | 2,5 | 1,97 |
| 17 | 22 | | GM | Anurag Mhamal | | | IND | 2497 | GOA | 2,5 | 0,0 | 4,5 | 4,5 | 3,25 | 2 | 3 | 2,5 | 2,43 |
| 18 | 26 | | GM | Kunte Abhijit | | | IND | 2478 | MAH | 2,5 | 0,0 | 4,0 | 5,5 | 4,50 | 2 | 3 | 2,5 | 2,48 |
| | 157 | | | Karthik Rajaa | | | IND | 2080 | TN | 2,5 | 0,0 | 4,0 | 5,5 | 4,50 | 2 | 3 | 2,5 | 0,36 |
| 20 | 9 | | GM | Jojua Davit | | | GEO | 2580 | GEO | 2,5 | 0,0 | 4,0 | 5,0 | 3,75 | 2 | 3 | 2,5 | 2,54 |
Pairings of round 4
Photo Gallery by Amruta Mokal
---