Kishore Kumar Jaganathan conquers 1st Karimganj Rating Open 2022 with a round to spare
Kishore Kumar Jaganathan scored an unbeaten 9/10 to win 1st Karimganj Rating Open 2022. He finished a full point ahead of the field. including a win over the top seed of the tournament, Y Dhanabir Singh. The Tamil Nadu lad also gained 52.6 Elo rating points in the process. Kishan Kumar of Bihar and Rupam Mukherjee of West Bengal scored 8/10 each. They were placed second and third respectively according to tie-breaks. The total prize fund of the tournament was ₹265000 and 53 cash prizes were up for grabs. The top three prizes were ₹30000, ₹20000 and ₹15000 along with a trophy each. Photo: FA Ravi Kant Tiwari
First-ever Rating tournament triumph for Kishore
A little over two months ago, Kishore Kumar Jaganathan (TN) made his first podium finish, second place at 1st Bikaner GM Category B Below 2000 Rating tournament. He remained undefeated in that event too. Kishore defeated Bhoopnath (BIH) in the sixth round and gained a sole lead 6/6. He maintained his full point lead till the ninth round. He defeated Mohit Kumar Soni in the penultimate round to become a champion with one round to spare. The last round result was immaterial towards his championship chances. He drew with Soram Rahul Singh to finish first and a full point ahead of the competition. Kishan Kumar and Rupam Mukherjee won their respective final round games to secure second and third place.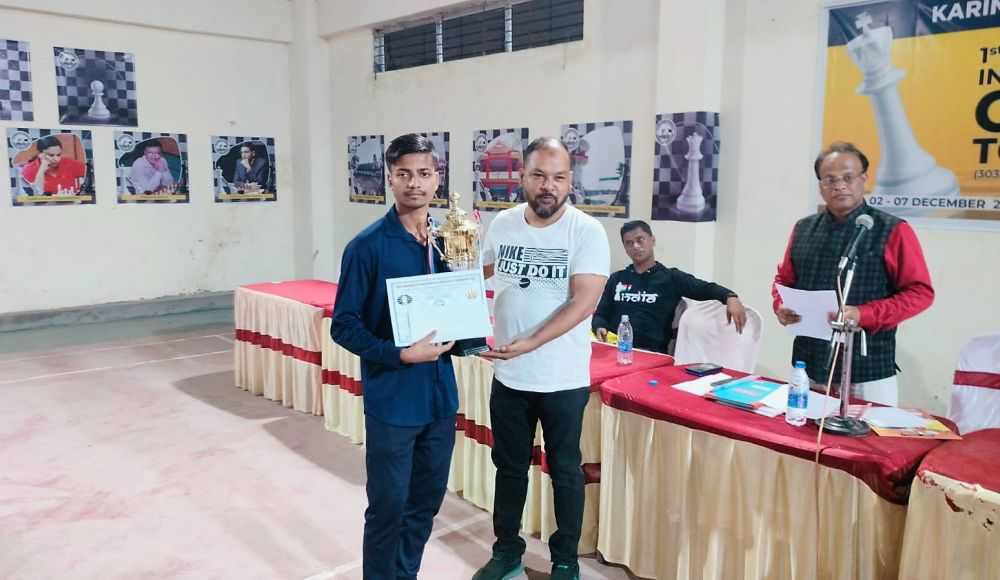 Thanks to the Deputy Chief Arbiter FA Ravi Kant Tiwari for the photos.
A total of 98 players took part from all over India, one from Bangladesh and Nepal each. The six-day ten-round Swiss league Rating tournament was organized by Karimganj District Chess Association at DSA Karimganj Indoor Stadium, Karimganj, Assam from 2nd to 7th December 2022. The time control of the tournament was 90 minutes + 30 seconds increment from move no.1.
Final standings
| | | | | | | | | | | |
| --- | --- | --- | --- | --- | --- | --- | --- | --- | --- | --- |
| Rk. | SNo | | Name | FED | Rtg | Club/City | Pts. | TB1 | TB2 | TB3 |
| 1 | 8 | | Kishore Kumar Jaganathan | IND | 1795 | TN | 9 | 59 | 63,5 | 51,00 |
| 2 | 10 | | Kishan Kumar | IND | 1767 | Bihar | 8 | 59 | 63,5 | 46,50 |
| 3 | 6 | | Rupam Mukherjee | IND | 1838 | West Bengal | 8 | 55 | 59,5 | 47,50 |
| 4 | 7 | | Majumder Shrayan | IND | 1821 | Mumbai | 7,5 | 62,5 | 67 | 50,00 |
| 5 | 5 | | Singh Soram Rahul | IND | 1861 | NE | 7,5 | 59 | 63 | 46,25 |
| 6 | 1 | | Singh Y. Dhanabir | IND | 2097 | NE | 7,5 | 57,5 | 62 | 39,25 |
| 7 | 34 | | Tanmay Rajbongshi | IND | 1408 | NE | 7,5 | 57 | 61,5 | 39,25 |
| 8 | 14 | | Bhoopnath | IND | 1707 | Bihar | 7 | 59,5 | 64 | 35,50 |
| 9 | 4 | | Sakhawat Hussain | IND | 1877 | Karnat | 7 | 52 | 56,5 | 40,50 |
| 10 | 9 | | Mohit Kumar Soni | IND | 1773 | Bihar | 6,5 | 61,5 | 67 | 41,50 |
| 11 | 23 | | Das Monaj | IND | 1490 | NE | 6,5 | 58 | 62,5 | 38,25 |
| 12 | 17 | | Saurabh Kumar | IND | 1572 | Bihar | 6,5 | 57 | 61,5 | 32,00 |
| 13 | 2 | | Singh Bhogen R K | IND | 1978 | NE | 6,5 | 56,5 | 62 | 38,75 |
| 14 | 20 | | Aniket Narayan Biswas | IND | 1538 | West Bengal | 6,5 | 56,5 | 60 | 38,00 |
| 15 | 15 | | Marium Fatima | IND | 1646 | Bihar | 6,5 | 55 | 59 | 35,50 |
| 16 | 11 | | Silkam Sangma | IND | 1755 | NE | 6,5 | 54,5 | 59 | 29,50 |
| 17 | 3 | | Gurung Rohit | IND | 1948 | NE | 6,5 | 53 | 57,5 | 36,25 |
| 18 | 13 | | Iftikar Alom Mazumdar | IND | 1714 | NE | 6,5 | 52 | 56,5 | 34,75 |
| 19 | 18 | | Arghya Sen | IND | 1552 | West Bengal | 6 | 56 | 60 | 32,50 |
| 20 | 29 | | Srijak Sengupta | IND | 1457 | NE | 6 | 55,5 | 60 | 29,75 |
---