Vidit and Harikrishna will be in action at FIDE Berlin GP 2022 starting today
Vidit Gujrathi and Pentala Harikrishna will start their road to Candidates 2022 today at the Berlin GP. Vidit is in Pool C along with Aronian, Dubov and Keymer. Harikrishna will compete in Pool D with So, Leinier and Shirov. The Pool stage will be a double Round-Robin event of six games. The winner of each pool will advance to the Semi-finals which will also be a battle of two Classical games. World no.3 Ding Liren and FIDE World Cup 2013 runner-up Dmitry Andreikin will miss this event. The chances of Ding Liren qualifying to the Candidates 2022 seems to be almost slim to none. Round 1 of Pool stage starts today at 7:30 p.m. IST. Photo: FIDE
Ding Liren and Dmitry Andreikin will miss Berlin GP
The first leg of FIDE Berlin Grand Prix starts today. FIDE named two replacements for World no.3 Ding Liren and Dmitry Andreikin due to 'visa and health issues'. The replacements are Andrey Esipenko and Radoslaw Wojtaszek. The FIDE President, upon consultation with the organizers and arbiters team, made a decision on the replacements as per the event's regulations.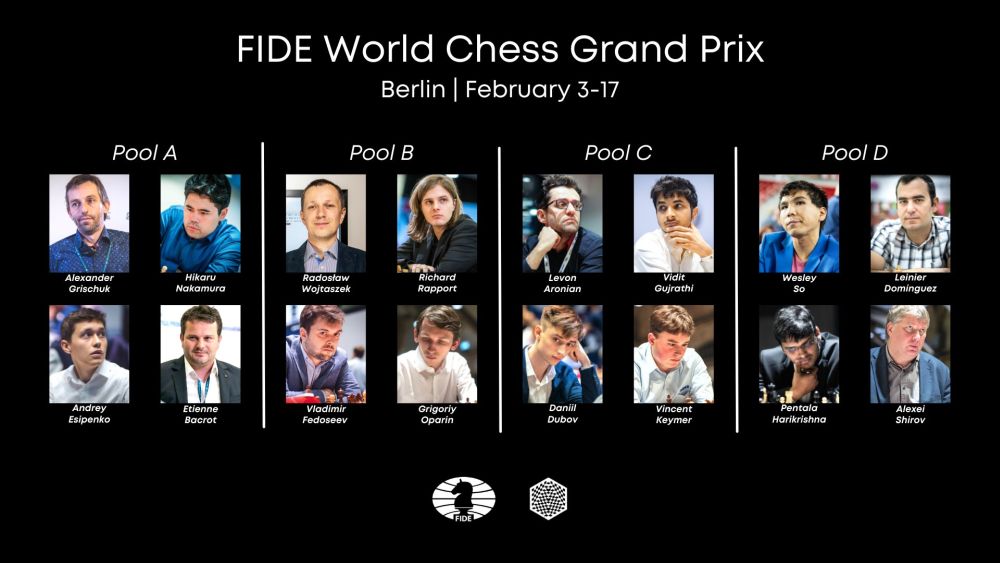 Participants
Here are the 24-players list according to each GP event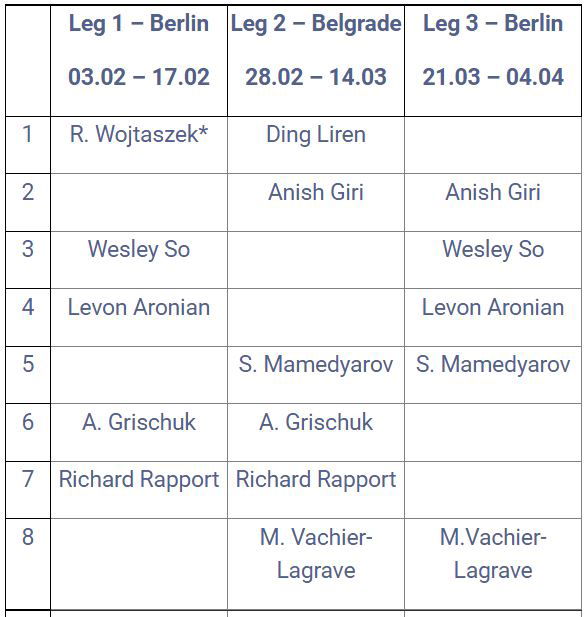 Updated Pools
Pool A:
1. Alexander Grischuk (Russia), 2764
2. Hikaru Nakamura, (USA), 2736
3. Andrey Esipenko* (Russia), 2714
4. Etienne Bacrot (France), 2642
Pool B:
1. Radoslaw Wojtaszek* (Poland), 2686
2. Richard Rapport (Hungary), 2763
3. Vladimir Fedoseev (Russia), 2704
4. Grigoriy Oparin (Russia), 2681
Pool C:
1. Levon Aronian (USA), 2772
2. Vidit Gujrathi (India), 2727
3. Daniil Dubov (Russia), 2720
4. Vincent Keymer (Germany), 2664
Pool D:
1. Wesley So (USA), 2772
2. Leinier Dominguez (USA), 2752
3. Pentala Harikrishna (India), 2717
4. Alexei Shirov (Spain), 2704
*Andrey Esipenko and Radoslaw Wojtaszek replaced Ding Liren and Dmitry Andreikin.
About FIDE Grand Prix 2022
FIDE Grand Prix, organized by World Chess, is a 3-event series that features 24 players, each of whom will compete in two out of three tournaments. Two winners of the Grand Prix Series will qualify for the Candidates Tournament. The series will take place in Berlin, Germany, and Belgrade, Serbia.
Format
Each 16-player event will consist of a group stage followed by a knockout semi-final and final. At the group stage, the participants will compete in four double-round-robin tournaments, with only the winners of each pool advancing. Both semi-finals and the final will consist of 2 regular time limit games, plus tiebreaks if needed.
Players receive Grand Prix points according to their finishing position in each tournament:
Round - Grand Prix points
Winner - 13
Runner-Up - 10
Semi-final loser - 7
2nd in pool - 4
3rd in pool - 2
4th in pool - 0
Round 1 Pairings
FIDE Berlin GP Round 1 starts at 3 p.m. local time (7:30 p.m. IST) on 4th February 2022.
Peter Heine Nielsen - the most successful chess trainer in the world and also the coach of the world champion, Magnus Carlsen suggested a possible solution of Ding Liren missing out on another chance to qualify for the Candidates.
Ding Liren held 100-game unbeaten streak which was ended by Maxime Vachier-Lagrave back in November 2018 in Shenzhen, China. He has proven to be a tough opponent for Carlsen in all formats of the game.
Players' tweets
Vidit Gujrathi
Hikaru Nakamura
Time control
The time control for each standard game in pools and play-off is: 90 minutes for the first 40 moves, followed by 30 minutes for the rest of the game with an increment of 30 seconds per move starting from move 1. In case if a player arrives at the chessboard with a delay of up to 15 minutes from the actual start of the game, he/she should be charged of five hundred (500) euros deducted from his/her prize money. In case of delay of more than 15 minutes, the player loses the game (without financial penalty).
Draw
The players cannot draw any game by mutual agreement before black's 30th move. A claim for a draw before black's 30th move is permitted only in the case of a draw by repetition.
Prize
Each Grand Prix tournament has a total prize fund - €150000.
Berlin GP Contest
All you have to do is guess the number of points that Vidit and Harikrishna will score accurately, and two winners will get the prize! The prizes are - Chess Course by Praful Zaveri and Vedika's chocolates Valentine's day pack.
About World Chess
World Chess is a London-based chess gaming and entertainment group and FIDE' official broadcaster and commercial partner. World Chess organized the FIDE Championship Matches in Russia, the USA, and the UK, and revolutionized the sport by signing the biggest media partnerships in history. World Chess develops Armageddon, the chess league for prime-time television. World Chess also runs FIDE Online Arena, the exclusive official chess gaming platform. More at worldchess.com.
Links
---