Belgrade GP R6: Andreikin, Giri, Rapport and MVL advance to the Semifinals
Dmitry Andreikin persevered a completely lost endgame against Etienne Bacrot. The France no.3's blunder allowed Andreikin to win Pool A and advance to the Semifinals of FIDE Belgrade Grand Prix 2022. Anish Giri, Richard Rapport and Maxime Vachier-Lagrave drew their games to win Pool B, C and D respectively and secure their place in the Knockout stage. Since no Playoffs are required, today becomes a rest day. It will be Giri vs Andreikin and Rapport vs Vachier-Lagrave in the Semifinals. The Semifinal games start tomorrow Wednesday 9th March at 7:30 p.m. IST. Photo: Mark Livshitz/FIDE
Andreikin's luck denies Shankland Playoffs
Sam Shankland would have got the opportunity to play Playoffs if Dmitry Andreikin either lost or drawn his game. He fought with everything he had and defeated Bacrot from a completely lost endgame which earlier he was winning.
Pool A: Andreikin - Bacrot: 1-0
Dmitry Andreikin made a nice queen sacrifice against Etienne Bacrot.
Black is forced to play 25...Nxb8 else the knight at c6 will drop. The game continued 26.Rc8+ Bf8 27.exd5 exd5 28.Rc1. 27...Qxd5 would have been a better option for Black. According to the computer, 28.Re1 is winning. After a bit of back and forth battle, Black got the upper hand.
Despite having an advantageous position, Black made a grave mistake 39...Qb1+. Find out why it is a blunder and what Black should have done instead.
Andreikin's win cost Shankland a Playoff and a chance to advance to the Semifinals.
Pool C: Fedoseev - Vidit: 0.5-0.5
Vidit got a good position against Fedoseev. Once again, he was unable to maximize his chance. Although a win would not have been enough to force a Playoff.
25...a3+ 26.Ka1 Rad8 is suggested by the computer to be better than what was played. The game continued 25...Rec8 26.Rc1 a3+ 27.Ka1 Nd5 28.Nf5 and now 28....Rd8 gives Black the decisive advantage. However, Vidit played 28...Re8 and the window of opportunity was gone.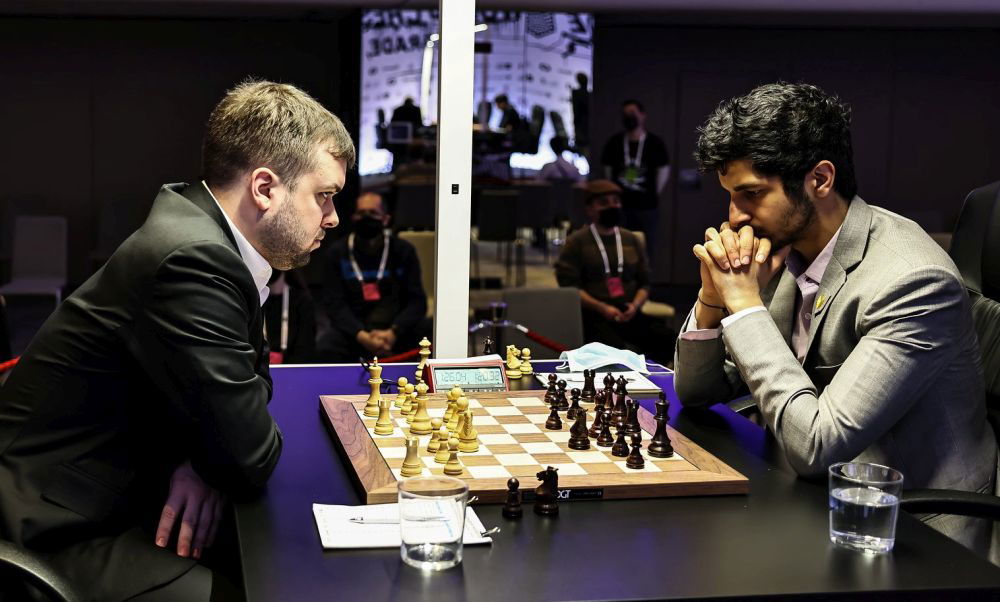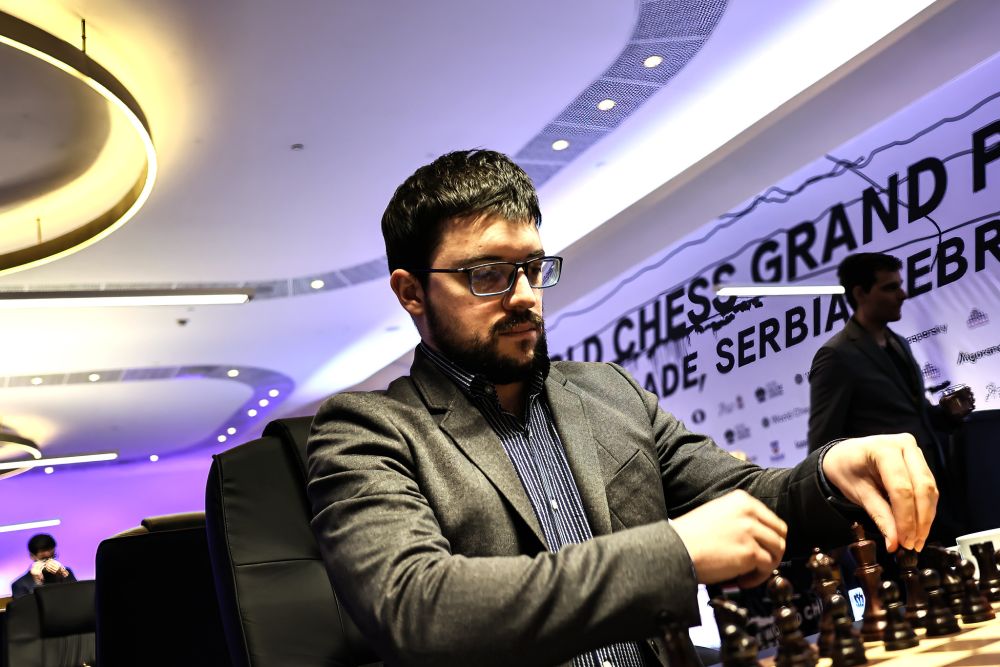 Replay Round 6 games
Round 6 results
Pool A
Andreikin - Bacrot: 1-0
Grischuk - Shankland: 0.5-0.5
Pool B
Vitiugov - Giri: 0.5-0.5
Harikrishna - Tabatabaei: 0-1
Pool C
Fedoseev - Vidit: 0.5-0.5
Rapport - Shirov: 0.5-0.5
Pool D
Mamedyarov - MVL: 0.5-0.5
Yangyi - Predke: 0-1
Pool A standings
Pool B standings
Pool C standings
Pool D standings
Time control
The time control for each standard game in pools and play-off is: 90 minutes for the first 40 moves, followed by 30 minutes for the rest of the game with an increment of 30 seconds per move starting from move 1. In case if a player arrives at the chessboard with a delay of up to 15 minutes from the actual start of the game, he/she should be charged of five hundred (500) euros deducted from his/her prize money. In case of delay of more than 15 minutes, the player loses the game (without financial penalty).
Draw
The players cannot draw any game by mutual agreement before black's 30th move. A claim for a draw before black's 30th move is permitted only in the case of a draw by repetition.
Prize
Each Grand Prix tournament has a total prize fund - €150000.
Links
---