Berlin GP R6: Nakamura makes a great escape against Esipenko
Hikaru Nakamura became the second Semifinalist of FIDE Berlin GP 2022. The Speed King made a Houdini like escape as top Russian teenager Andrey Esipenko missed several opportunities to win the game and secure a spot for himself in the knockout stage. Radoslaw Wojtaszek drew with Grigoriy Oparin after having a promising position. He will now have to play against Richard Rapport to determine the Pool B winner. Leinier Dominguez defeated Alexei Shirov and Pentala Harikrishna holding Wesley So to a draw means, there will be an All-American tie-breaks between Leinier and So to determine Pool D winner. Tie-break games start today at 7:30 p.m. IST. Photo: World Chess
Heartbreak for Fedoseev
The most painful exit of Berlin GP has to be Vladimir Fedoseev's. He could have repeated moves against Richard Rapport which would have been enough for him to be in tie-breaks along with Radoslaw Wojtaszek. However, at the time it seemed like Wojtaszek will win against Oparin. It would mean a draw would not be sufficient for Fedoseev to force tie-breaks. It would not have been easy to predict for anyone that Oparin-Wojtaszek would end in a draw. Unfortunately, Fedoseev lost the game eventually and his chances for a Semifinal spot disappeared.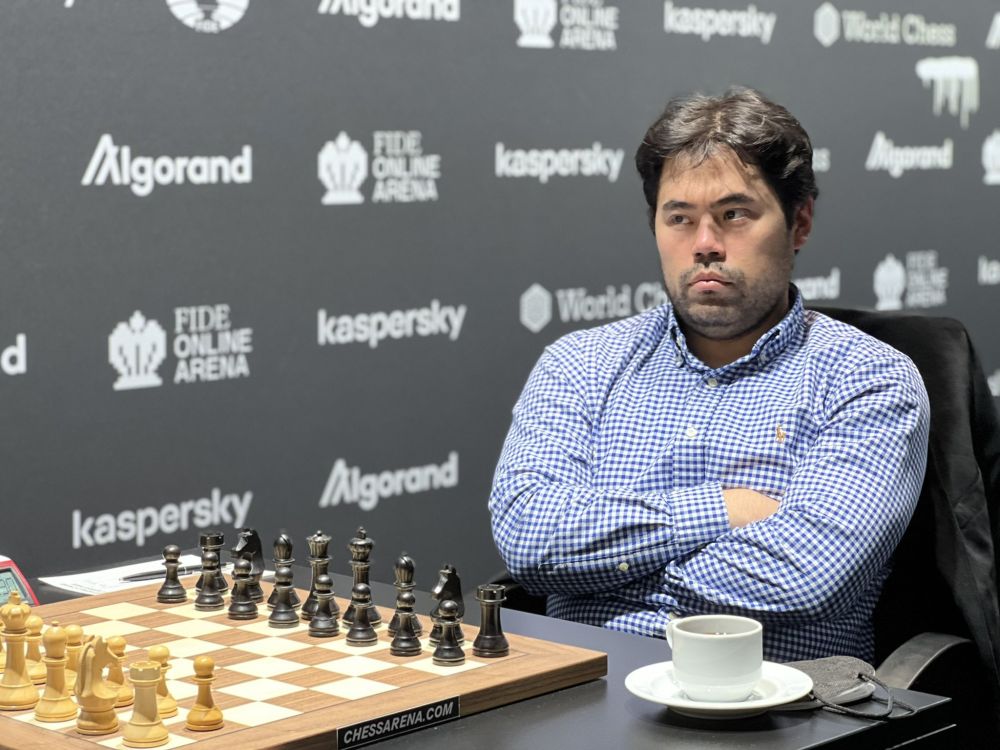 Pool A: Esipenko - Nakamura: 0.5-0.5
Andrey Esipenko got himself quite a few good opportunities against Hikaru Nakamura.
The first significant opportunity was after 27...cxd5. 28.Qg3 gives White a decisive advantage. 28...Rxe5 29.Rxe5 dxe5 30.Qxe5 Qf6 31.Qxd5+ and White is completely winning here because Black's rook and knight are misplaced. White can bring his rook to f1 and continue the attack.
Since taking on g7 is not a real possibility at the moment, White could have grabbed a couple of pawns instead, 36.Qxc4 Rge8 37.Qxc6. After a lot of misses by White, Nakamura eventually managed to save the game and secure his place in the Semifinals.
Pool B: Oparin - Wojtaszek: 0.5-0.5
Grigoriy Oparin was in grave danger against Radoslaw Wojtaszek.
24...f4 would have been much better for Black here. It continues the attack and takes advantage of White's king stranded at the center. However, Black chose to play 24...Bxc6 25.dxc6+ Qe6 26.Qxd3 and White managed to avert disaster. Oparin might have saved a half point but he still got eliminated. A win would have allowed Wojtaszek to advance to the Semifinals without needing to play tie-breaks today.
Fedoseev - Rapport: 0-1
Richard Rapport won a prolonged battle against Vladimir Fedoseev. However, it was the Russian who could have created serious trouble for his opponent. He refused a threefold repetition because it was not clear if a draw would be enough to play tie-breaks. It turned out that it would have been enough which makes it obvious how disappointed he would have been after the game.
22.e4 fxe4 23.Nxe4 gives White a significant advantage. Fedoseev opted for 21.Re1 and missed the only chance he had in the game.
Pool C: Vidit - Keymer: 0.5-0.5
Vidit Gujrathi had a well-fought draw with Vincent Keymer.
The only real chance White had in the entire game was after 24...a6. 25.bxa6 Qa7 26.Na4 gives White a substantial advantage.
Replay Round 6 games
Round 6 results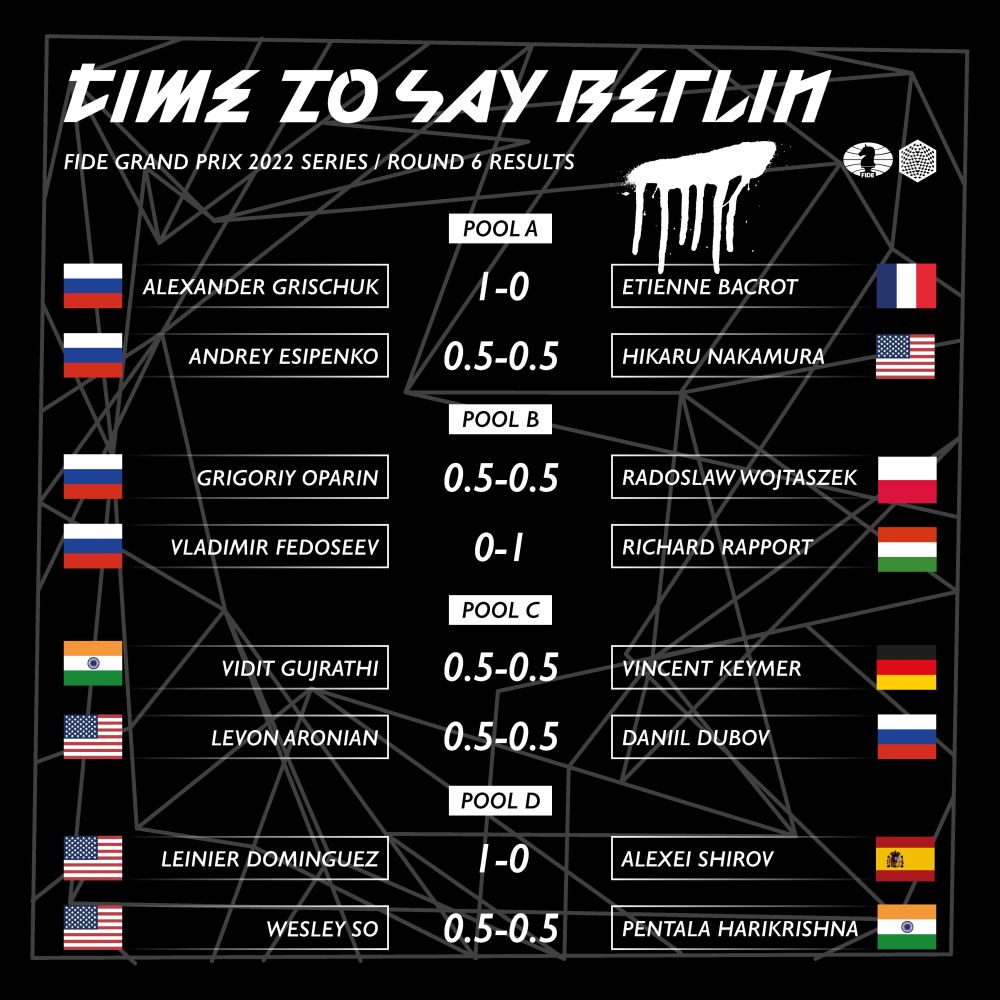 Standings after Round 6
Time control
The time control for each standard game in pools and play-off is: 90 minutes for the first 40 moves, followed by 30 minutes for the rest of the game with an increment of 30 seconds per move starting from move 1. In case if a player arrives at the chessboard with a delay of up to 15 minutes from the actual start of the game, he/she should be charged of five hundred (500) euros deducted from his/her prize money. In case of delay of more than 15 minutes, the player loses the game (without financial penalty).
Draw
The players cannot draw any game by mutual agreement before black's 30th move. A claim for a draw before black's 30th move is permitted only in the case of a draw by repetition.
Prize
Each Grand Prix tournament has a total prize fund - €150000.
Links
---