Berlin GP R2: Nakamura, Rapport and Leinier score a win
by Shahid Ahmed - 06/02/2022
Vidit Gujrathi and Pentala Harikrishna drew their second round games against Vincent Keymer and Wesley So respectively. Leinier Dominguez Perez arguably scored the most exciting win of the round against Alexei Shirov. Hikaru Nakamura defeated Andrey Esipenko in his own typical style. Richard Rapport bounced back from his first round defeat to win against Vladimir Fedoseev by tapping on to his creative side. Harikrishna drew with So. Vidit will face Dubov in the next round and Harikrishna will be up against Leinier. Round 4 of Pool stage starts today at 7:30 p.m. IST. Photo: World Chess
Vidit and Harikrishna draw with Keymer and So
The second round of FIDE Berlin GP 2022 also witnessed three decisive games, one from Pool A, B and D each. Rapport was the only one to bounce back with a win.
Pool A: Nakamura - Esipenko: 1-0
Andrey Esipenko overstretched his pawn to d3. It only created a future target for his opponent Hikaru Nakamura.
23...Qe6 created an opening for White which he was looking for. Find out the correct sequence of moves which Nakamura executed during the game.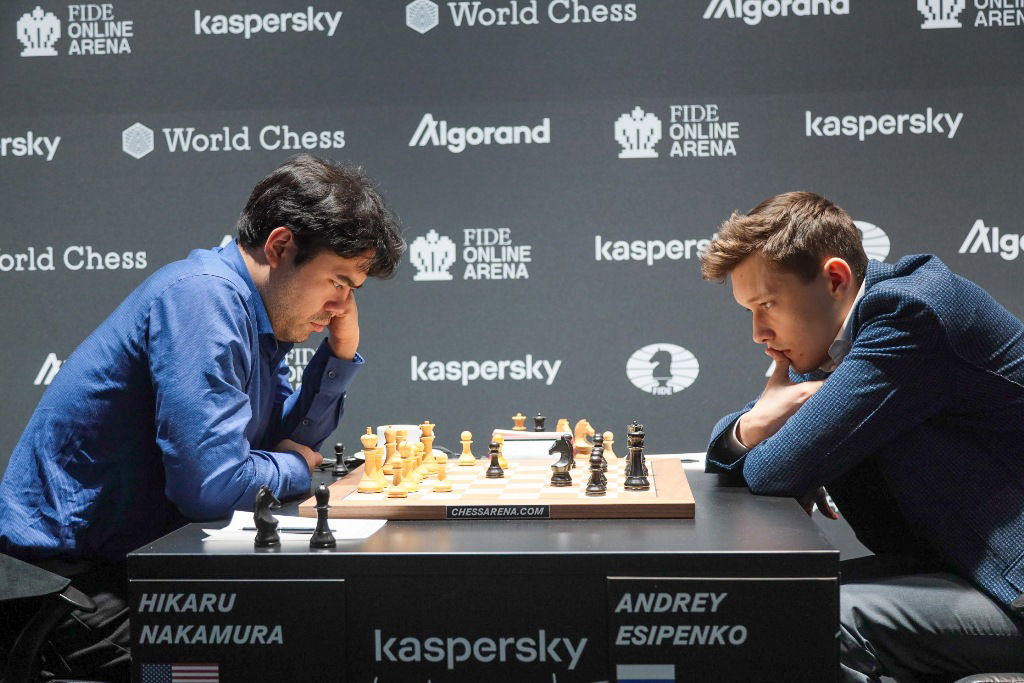 Pool B: Rapport - Fedoseev: 1-0
Vladimir Fedoseev went all-in on his attack against Richard Rapport's king which was almost a sitting duck at the center of the board. The Hungary no.1 then showcased his creative side.
21...Nc1 is nothing but a scare tactic. 21...R1a2 was a better alternative. White went 22.Ng4 R8a2 23.Nxf6+ Kf8 24.Kf2 Rxe2+ 25.Kg3 Rc2 26.Kh4 Kg7 27.Nh5+ Kg6
27...Kg6 turned out be black king's misadventure. Find out why.
Pool C: Keymer - Vidit: 0.5-0.5
Vidit Gujrathi had a solid draw with Germany no.1 Vincent Keymer.
Pool D: Shirov - Leinier: 0-1
USA no.4 Leinier Dominguez Perez decided to light the board on fire before his opponent Alexei Shirov could do the same.
Black made his intentions clear of launching his own attack, 15...Nxe4 before White could do something. We got the following position after few moves
White had to play 24.Qf2 to keep fighting chances. Find out the best continuation for Black after 24.Qd1
Replay Round 2 games
Round 2 results
Time control
The time control for each standard game in pools and play-off is: 90 minutes for the first 40 moves, followed by 30 minutes for the rest of the game with an increment of 30 seconds per move starting from move 1. In case if a player arrives at the chessboard with a delay of up to 15 minutes from the actual start of the game, he/she should be charged of five hundred (500) euros deducted from his/her prize money. In case of delay of more than 15 minutes, the player loses the game (without financial penalty).
Draw
The players cannot draw any game by mutual agreement before black's 30th move. A claim for a draw before black's 30th move is permitted only in the case of a draw by repetition.
Prize
Each Grand Prix tournament has a total prize fund - €150000.
Links
---