Belgrade GP R1: Vidit scores a fiery win against Shirov
Vidit Gujrathi started with a very nice victory against Alexei Shirov at FIDE Belgrade GP 2022. Harikrishna lost to Nikita Vitiugov after making an inaccuracy early in the middlegame. Anish Giri and Dmitry Andreikin defeated Amin Tabatabaei and Alexander Grischuk respectively. Andreikin also mentioned that it could be their last tournament. It is in reference to the fact that IOC recommended banning Russian and Belarussian players and officials to be banned from all sports a couple of days ago. Grischuk shared his thought in detail, although he was interrupted once. Round 2 of Pool stage starts today at 6:30 p.m. IST. Photo: Mark Livshitz/FIDE
Four decisive games
The first round of FIDE Belgrade GP 2022 witnessed four decisive games, including both from Pool B and one from Pool A and C each. Wins were shared between both players
Pool A: Vidit - Shirov: 1-0
Alexei Shirov made a bold decision to castle on the exposed queenside against Vidit Gujrathi.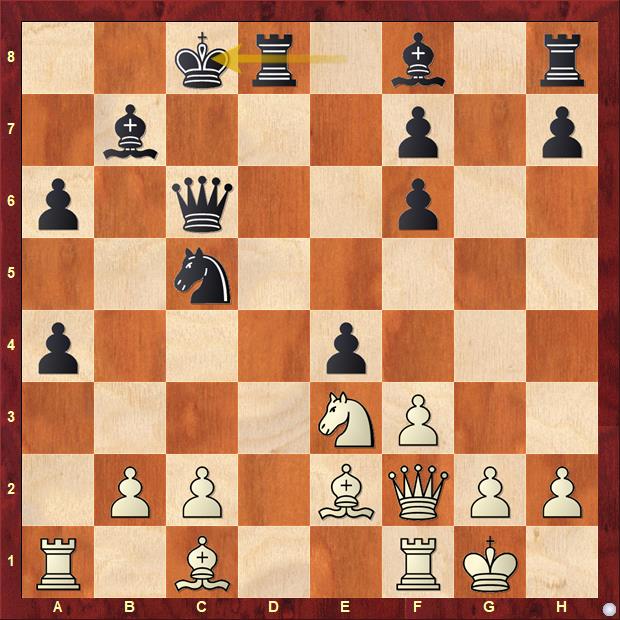 18.Nc4 Qe6 19.b3 axb3 20.cxb3 Nxb3 21.Nb6+ Kb8 22.Bf4+ Bd6 23.Bc4 and Black loses a material. Shirov resigned the game in another seven moves.
Pool B: Harikrishna - Vitiugov: 0-1
Harikrishna went wrong early in the middlegame. It cost him dearly against Nikita Vitiugov.
Find out why 13.Nd5 is a big mistake.
Giri - Tabatabaei: 1-0
Anish Giri made a very uncharacteristic pawn sacrifice early in the middlegame against Amin Tabatabaei.
White's threat is simple 10.b5. While the idea is not uncharacteristic to the position, it just shows how determined Giri is to win the GP. This is his final opportunity to secure a place in the Candidates.
25...c6 allowed White to get positional advantage via 26.d4. Rest is just a matter of time for White to convert his advantage.
The legend Nigel Short tweeted on Giri's pawn sacrifice
Pool A: Grischuk - Andreikin: 0-1
Dmitry Andreikin found a very nice combination after his opponent Alexander Grischuk made a tactical error.
Position after 21.Bh6
Find out the winning combination for Black after 21.Bh6.
"I don't think I will be able to recover at all because I am very sad, very pained with what is going on. I will not use the word 'war' because it's prohibited in our media. I want them to be able to quote me. I was and would support Russia in I don't know 99% of international conflicts but this time I cannot manage to do this. In my view what we are doing is very wrong from both moral and practical view... If we know that truth is on our side, if we are feeling that we are with the truth, with the god, with justice, and now at least me, I am losing this feeling with every day of what is going on with every victim, with every bombing of the civil object. It's extremely painful for me. I really hope it would stop." - Alexander Grischuk in a post-match interview.
Peter Svidler during the live stream on chess24: "Let's at least get some things stated live on air. I do not agree with the war my country is waging in Ukraine. I do not believe Ukraine, or Ukrainian people, are my enemies, or anybody's enemies"
Replay Round 1 games
Round 1 results
Time control
The time control for each standard game in pools and play-off is: 90 minutes for the first 40 moves, followed by 30 minutes for the rest of the game with an increment of 30 seconds per move starting from move 1. In case if a player arrives at the chessboard with a delay of up to 15 minutes from the actual start of the game, he/she should be charged of five hundred (500) euros deducted from his/her prize money. In case of delay of more than 15 minutes, the player loses the game (without financial penalty).
Draw
The players cannot draw any game by mutual agreement before black's 30th move. A claim for a draw before black's 30th move is permitted only in the case of a draw by repetition.
Prize
Each Grand Prix tournament has a total prize fund - €150000.
Links
---