Belgrade GP SF2: Richard Rapport advances to the Finals
by Shahid Ahmed - 11/03/2022
Richard Rapport drew with Maxime Vachier-Lagrave in the second game to advance to the finals of FIDE Belgrade Grand Prix 2022. Although at one point it seemed like MVL had a substantial advantage, as he in the post-match interview, there were a lot of lines to calculate and it was certainly not easy to find the correct way to convert it into a full point. The World Blitz champion now has only last GP event left to be able to qualify to the FIDE Candidates 2022. Dmitry Andreikin and Anish Giri drew their second game too. Thus, they will play Semifinal tie-breaks today from 7:30 p.m. IST. Photo: Mark Livshitz/FIDE
Giri and Andreikin will play tie-breaks
Vachier-Lagrave - Rapport: 0.5-0.5
Maxime Vachier-Lagrave was in a must-win situation to force tie-breaks.
In Ruy Lopez/Spanish opening, Black offers the bishop at g4 as a sacrifice because hxg4 hxg4 is generally followed by Qh4 with an unstoppable checkmate threat on the h-file. However, this time it was different. MVL called his opponent's bluff and went for 9.hxg4 hxg4 10.Ng5 which actually works. Black can neither bring his queen quickly to the h-file nor the bishop can be on the a7-g1 diagonal anytime soon.
White got a position which the computer says to be decisive. However, Vachier-Lagrave could not find to a way to win this. That certainly tells that it was not easy to convert this position into a win as Black has some threats of his own. Eventually both sides promoted a queen each. Rapport forced a perpetual to prevent his opponent from promoting another queen.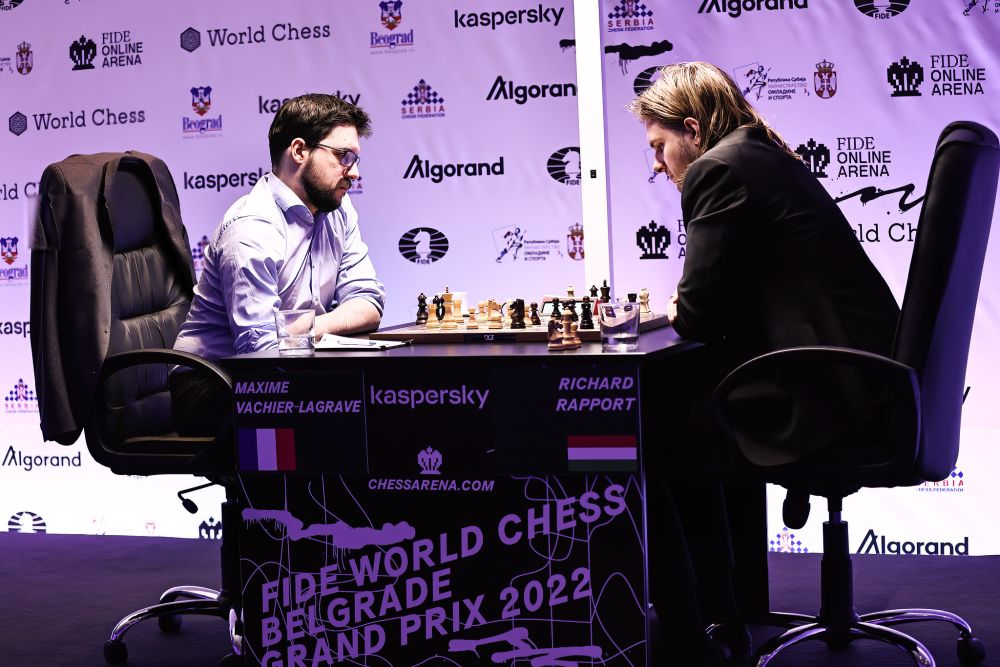 Semifinal 2 results
Time control
The time control for each standard game in pools and play-off is: 90 minutes for the first 40 moves, followed by 30 minutes for the rest of the game with an increment of 30 seconds per move starting from move 1. In case if a player arrives at the chessboard with a delay of up to 15 minutes from the actual start of the game, he/she should be charged of five hundred (500) euros deducted from his/her prize money. In case of delay of more than 15 minutes, the player loses the game (without financial penalty).
Draw
The players cannot draw any game by mutual agreement before black's 30th move. A claim for a draw before black's 30th move is permitted only in the case of a draw by repetition.
Prize
Each Grand Prix tournament has a total prize fund - €150000.
Links
---