Belgrade GP SF TB: Andreikin eliminates Giri
by Shahid Ahmed - 12/03/2022
Anish Giri drew the first game with the black pieces against Dmitry Andreikin. In the second game of the Semifinal tie-breaks, Giri got himself a completely winning position but he squandered it. In a relatively equal position, he made a desperate sacrifice in an attempt to get something. The World Cup 2013 runner-up, did not miss his opportunity and won the game. Dmitry Andreikin will face Richard Rapport in the Finals. Giri has only the last leg, Berlin GP left to find his place in the FIDE Candidates 2022. Finals start today from 7:30 p.m. IST. Who is your pick to win Belgrade GP - Rapport or Andreikin? Photo: Mark Livshitz/FIDE
Heartbreak for Giri
Tie-break Game 2: Giri - Andreikin: 0-1
The first game was a quick 21-move draw. In the second game, Giri got a fantastic position against Andreikin.
Perhaps White's best opportunity in the entire game was when Black erred 31...Qxa3. White is completely winning after 32.Nb5 Qa2 33.Nd6 Nf5 34.Nxf7. Black had to resign and Giri would have advanced to the Finals. It was not meant to be. He missed it and played 32.Rxf8+ Qxf8 33.Nc6 Qc5 and Black got out of the woods.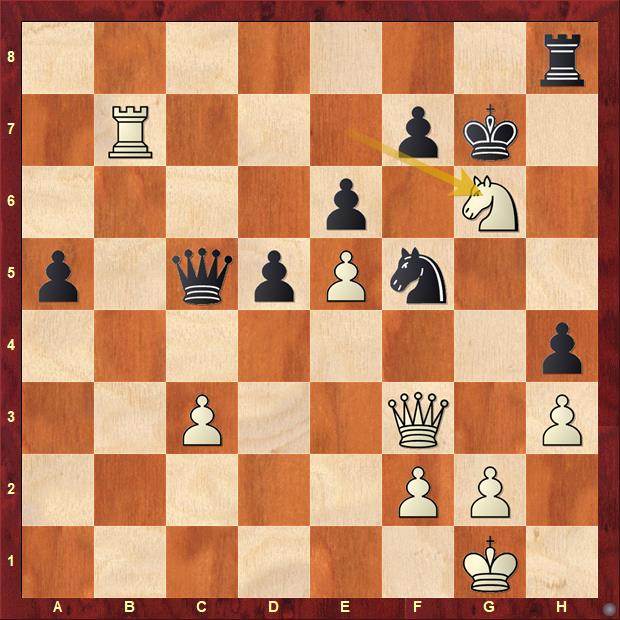 36.Nxg6 was a desperate sacrifice which only hastened White's demise.
Time control
The time control for each standard game in pools and play-off is: 90 minutes for the first 40 moves, followed by 30 minutes for the rest of the game with an increment of 30 seconds per move starting from move 1. In case if a player arrives at the chessboard with a delay of up to 15 minutes from the actual start of the game, he/she should be charged of five hundred (500) euros deducted from his/her prize money. In case of delay of more than 15 minutes, the player loses the game (without financial penalty).
Draw
The players cannot draw any game by mutual agreement before black's 30th move. A claim for a draw before black's 30th move is permitted only in the case of a draw by repetition.
Prize
Each Grand Prix tournament has a total prize fund - €150000.
Links
---