Belgrade GP R5: Rapport beats Vidit
by Shahid Ahmed - 07/03/2022
Vidit Gujrathi lost to Richard Rapport from a promising position in Round 5 of FIDE Belgrade GP. Vidit must beat Fedoseev and Shirov must win against Rapport in the sixth round, only then Vidit will play tie-breaks against Rapport for a spot in the Semifinals. Harikrishna missed a good opportunity against Giri. Thus he got eliminated. Both Giri and Rapport need a draw to top their respective Pool and advance to the Semifinals. Shankland and Andreikin are tied at 3.0/5 in Pool A, World Blitz champion Maxime Vachier-Lagrave leads Pool D 3.0/5, followed by Yangyi at 2.5/5. Round 6 of Pool stage starts today at 7:30 p.m. IST. Photo: Mark Livshitz/FIDE
Harikrishna gets eliminated
Only a win against Anish Giri would have kept Harikrishna's chances of advancing to the Semifinals. Rapport and Shirov scored the victories in Round 5. Both decisive games occured in Pool C.
Pool B: Giri - Harikrishna: 0.5-0.5
Harikrishna had a better position in the middlegame against Giri.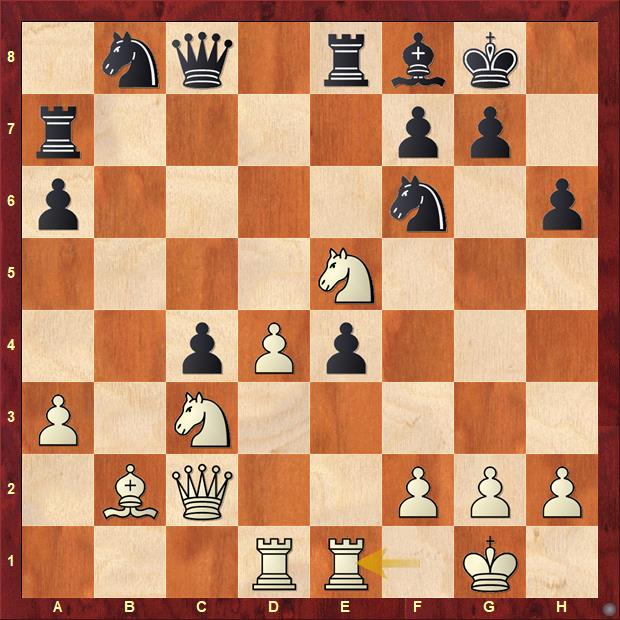 24...Rc7 right now gives Black substantial advantage due to the fact that 25.Nxe4 Nxe4 26.Rxe4 is met by c3. However, 24...Nbd7 removes the option to play c3 after 25.Nxe4 Nxe4 26.Rxe4 Nf6 27.Ree1 Rc7 26.Bc3 blocks it.
Pool C: Vidit - Rapport: 0-1
Vidit got himself a good position against Rapport. However, he was unable to seize his opportunity.
17.b5 Na5 18.0-0 allows White to have the upper hand. It is not easy for Black to handle the position. The game continued 17.0-0 Nf5 Black evacuated e7-square for the c6-knight and equalized the position with ease. White went wrong later in the middlegame and the position fell apart.
Shirov - Fedoseev: 1-0
Alexei Shirov scored a fantastic win over Vladimir Fedoseev in his own typical attacking style.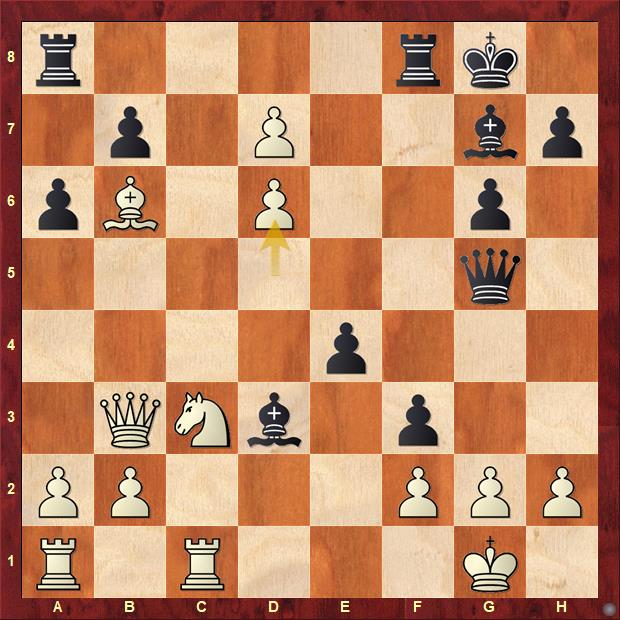 White is not worried about the checkmate threat at g2. 21.d6+ Kh8 22.g3 and now Nd5-Ne3 will save all checkmate threats by Black. White won the game in another ten moves.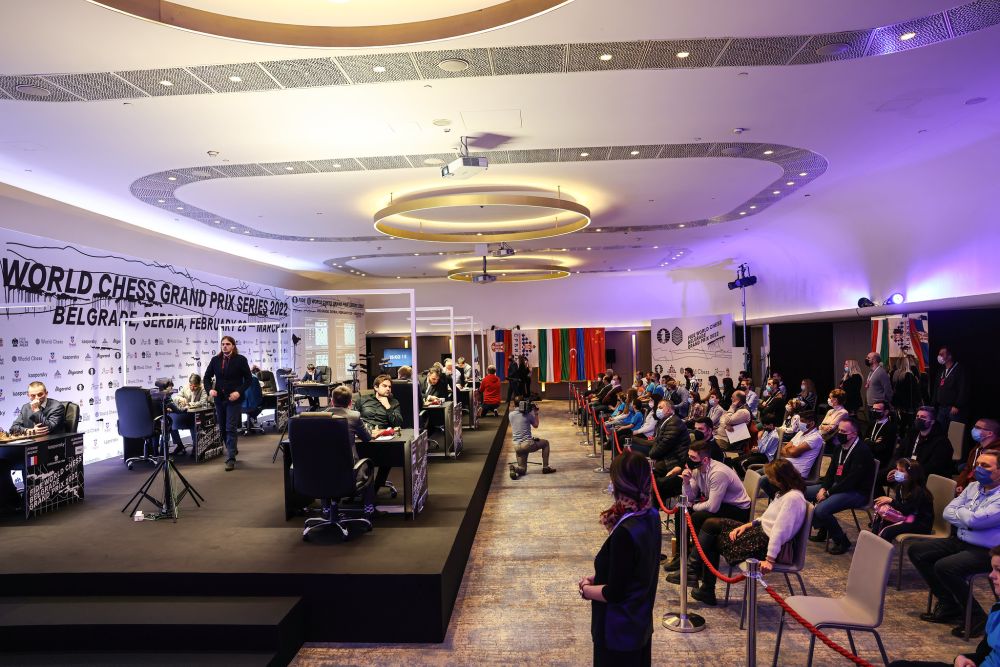 Replay Round 5 games
Round 5 results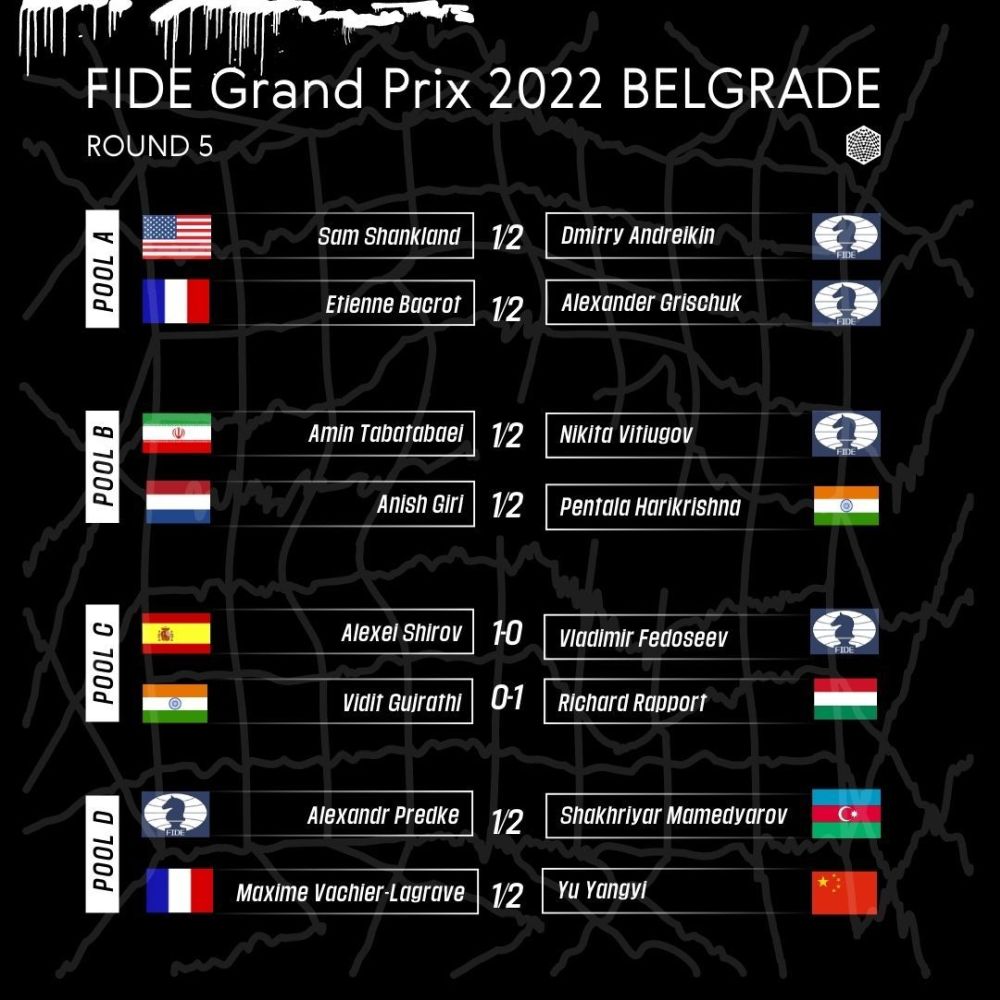 Pool A standings
Pool B standings
Pool C standings
Pool D standings
Time control
The time control for each standard game in pools and play-off is: 90 minutes for the first 40 moves, followed by 30 minutes for the rest of the game with an increment of 30 seconds per move starting from move 1. In case if a player arrives at the chessboard with a delay of up to 15 minutes from the actual start of the game, he/she should be charged of five hundred (500) euros deducted from his/her prize money. In case of delay of more than 15 minutes, the player loses the game (without financial penalty).
Draw
The players cannot draw any game by mutual agreement before black's 30th move. A claim for a draw before black's 30th move is permitted only in the case of a draw by repetition.
Prize
Each Grand Prix tournament has a total prize fund - €150000.
Links
---