India helping its neighbours in chess, signs an MOU with Maldives
It is becoming clear that chess is one of the most popular sports in our country. We have a superstar in Vishy Anand, strong players like Harikrishna, Vidit, Humpy, Harika following him and a young generation of stars like Nihal Sarin, Praggnanandhaa, Gukesh, Divya and others who will be world class players in the years to come. Apart from this we have a strong national federation that is ensuring the constant flow of tournaments, seminars and workshops taking place in the country. However, the same is not the case with our neighbouring countries, where the situation of chess is in its nascent stages. One such country is the Maldives and the All India Chess Federation (AICF) has signed a Memorandum of Understanding (MOU) with the Maldives Chess Association (MCA) in order to boost chess in their country.
The Maldives is a tropical nation in the Indian Ocean composed of 26 ring-shaped atolls, which are made up of more than 1,000 coral islands. It's known for its beaches, blue lagoons and extensive reefs. Many Indians visit Maldives for holidays and it is popular honeymoon destination. The distance of India to Maldives is roughly 2000 kilometres and it takes around 2 hours in flight to reach there. Indian citizens arriving in Maldives also do not need visas and they are provided visa on arrival for 90 days.
While Maldives is abundantly blessed with natural beauty, when it comes to chess, their country is lagging behind.
All India Chess Federation (AICF) has decided to take things in their hand and help with the chess improvement in Maldives. For this purpose AICF secretary Bharat Singh Chauhan visited the island and signed a Memorandum of Understanding (MOU) with the Maldives Chess Association (MCA).
What does the MOU consist of?
The purpose of the MOU is the establish and strengthen the cooperation and friendship between the AICF and Maldives Chess Association. By this AICF extends the following to MCA as goodwill gesture to promote the game of chess in Maldives:
1. AICF would send coaches to conduct trainer seminars at their own cost, to train and identify coaches in Maldives as per the convenient time of both parties.
2. AICF would send arbiters to conduct the Arbiters Seminar at their own cost, to train and identify arbiters in Maldives as per the convenient time of both parties.
3. AICF would provide free board and lodge as well as waiver in entry fee for players from Maldives to participate in tournaments hosted in India other than FIDE official championships.
4.AICF at their cost would providethe required technical support in the form of chess clocks, chess sets, accessories and Arbiters to help and organize the National Championships and other tournaments in Maldives.
5. AICF would provide a coach to train the Maldivian National team before and during the Chess Olympiad.
6. AICF officials would support the officials from the Maldives Chess Association to prepare a concept paper outlining the systematic long-term goals and programs for the sustainable development of chess in Maldives and take into account the roles and responsibilities of the entire stakeholder including the support by AICF.
7. MCA would provide necessary logistic support like venue, boarding and lodging to AICF representatives for successful conduct of programs at Maldives.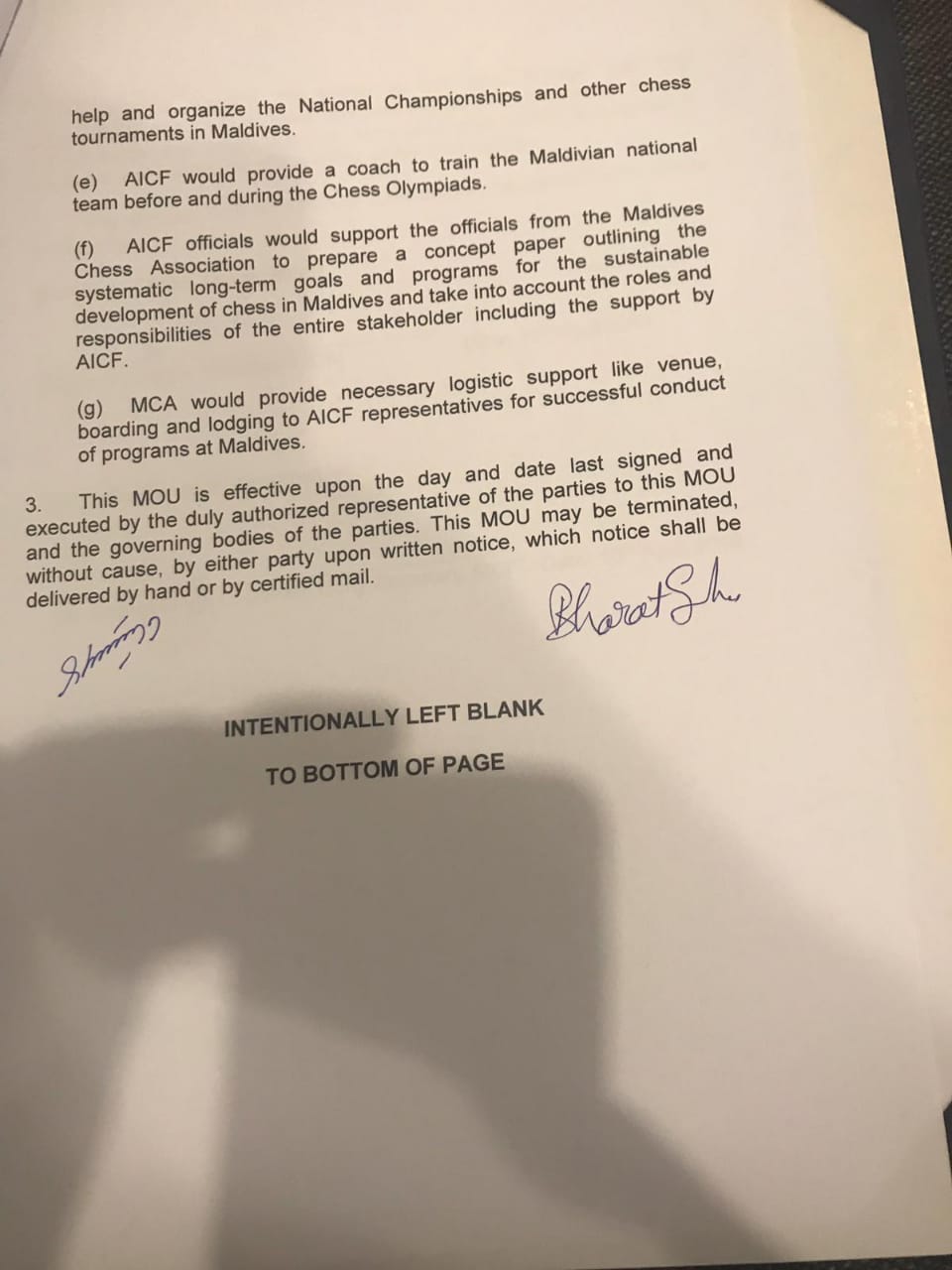 Speaking to ChessBase India, AICF Secretary Bharat Singh Chauhan said, "We are supporting all our neighbours. Last month we presented 500 chess sets for a Chess in Schools project in Bhutan. The idea is to build up the chess culture in these countries. We also want to support chess in Kenya and Tanzania and boost it with the help of Indian businessmen in these countries."
The important thing to note here is that the MOU is not just an agreement on paper, the work has already begun.
An arbiter's seminar will be held by IA Dharmendra Kumar from 22nd to 24th of April 2019.
Special thanks to Gopakumar Sudhakaran for contributing to the article.
---