Soundarya Kumar Pradhan clinches 15th AICFB National Chess Championship
Soundarya Kumar Pradhan (ODI) ended six-time consecutive National champion Kishan Gangolli's (KAR) eight-year long reign. The 22-year-old from Odisha scored an unbeaten 7.5/9 to finish a half point ahead of the field and become National Blind Chess Champion. This is his maiden National title. Defending champion, Kishan scored 7.0/9, remained undefeated and secured second position. Swapanil Shah, Marimuthu K and Somender B L scored 6.5/9 each. They were placed third to fifth according to the tie-breaks. The top five finishers will represent India at the upcoming IBCA World Team Championship. Mrunali Pande was the best finisher among female participants. Photo: AICFB
Soundarya ends Kishan's eight-year long reign
"Thank you so much. I am very happy to win this event, especially because there are many tough players like Kishan, Darpan, Aryan, Marimuthu, Ashvin Makwana ji and Swapanil sir. I managed to become the champion. I think many of the players are actually better than me. One thing that I did differently is, for the past 2-3 years I was not really able to focus on chess a lot. Now that I am in fourth year, my college is almost over, I have secured placements. It was possible for me to give some time to chess. I think I added a little less pressure to deal with. Also, I think luck is a factor." Soundarya on winning the tournament.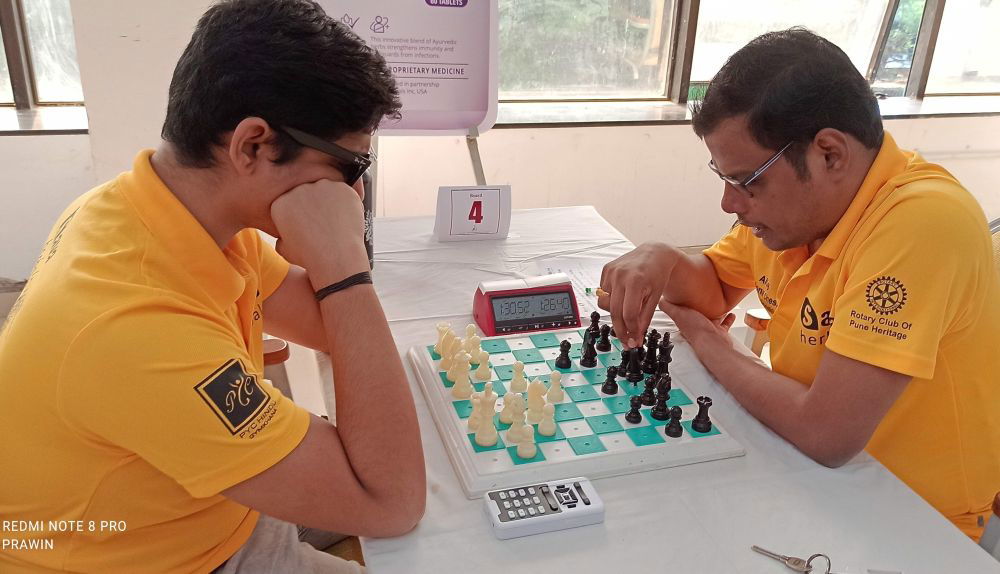 Photo Gallery
For more Round 9 and Prize distribution ceremony photos, please click at the respective links.
A total of 55 players took part from various states across India. The tournament was organized by All India Chess Federation for the Blind (AICFB) from 5th to 9th April 2022 at PYC Hindu Gymkhana, Pune. The nine-round Swiss league tournament had a time control of 90 minutes + 30 seconds increment from move no.1. There were double rounds every day from 5th to 8th April. Only last day 9th April 2022 had one round.
Round 9 results
Round 9 pairings
| | | | | | | | | | | | | | | | |
| --- | --- | --- | --- | --- | --- | --- | --- | --- | --- | --- | --- | --- | --- | --- | --- |
| Rk. | SNo | | Name | Typ | sex | Gr | FED | Rtg | Club/City | Pts. | TB1 | TB2 | TB3 | TB4 | TB5 |
| 1 | 5 | | Soundarya Kumar Pradhan | | | | IND | 1749 | ORI | 7,5 | 49,5 | 54,5 | 44,50 | 0,0 | 6 |
| 2 | 2 | | Kishan Gangolli | | | | IND | 2113 | KAR | 7,0 | 47,5 | 51,5 | 38,25 | 0,0 | 5 |
| 3 | 11 | | Swapanil Shah | | | | IND | 1622 | MAH | 6,5 | 48,5 | 52,0 | 36,75 | 0,0 | 4 |
| 4 | 12 | | Marimuthu K | U21 | | | IND | 1586 | T N | 6,5 | 47,0 | 50,0 | 33,50 | 0,0 | 4 |
| 5 | 18 | | Somender B L | U21 | | | IND | 1446 | DEL | 6,5 | 43,0 | 47,0 | 32,00 | 0,0 | 6 |
| 6 | 9 | | Samant Milind | | | | IND | 1670 | MAH | 6,0 | 48,0 | 51,5 | 32,00 | 0,0 | 4 |
| 7 | 3 | | Aryan B Joshi | U21 | | | IND | 1909 | MAH | 6,0 | 47,5 | 51,5 | 32,50 | 0,0 | 4 |
| 8 | 35 | | Gopi R | | | | IND | 1242 | T N | 6,0 | 46,5 | 50,5 | 30,50 | 0,0 | 6 |
| 9 | 4 | | Patra Subhendu Kumar | | | | IND | 1783 | ORI | 6,0 | 46,0 | 50,0 | 30,50 | 0,0 | 4 |
| 10 | 1 | | Darpan Inani | | | | IND | 2124 | GUJ | 6,0 | 45,0 | 49,0 | 30,50 | 0,0 | 5 |
Links
---