15th AICFB National R1-2: 1446-rated Somender stuns top seed Darpan Inani
19-year-old Somender B L (DEL) defeated the top seed of the tournament, Darpan Inani (GUJ) in Round 2 of SAVA Herbals 15th AICFB National Chess Championship for Visually Challenged 2022-23. Another Delhite, Satya Praksah Shrivastava won against sixth seeded veteran, Krishna Udupa (KAR). Six-time consecutive AICFB National champion, Kishan Gangolli, Aryan Joshi, Subhendu Kumar Patra, Soundarya Kumar Pradhan, Ashvin K Makwana and K Marimuthu are among the dozen players who made an unbeaten start 2.0/2. 55 selected players are taking part to become 'National Blind Chess Champion 2022'. Round 3 starts today at 9:00 a.m. IST. Photo: IA Manjunatha M
A dozen players at 2.0/2
A total of 55 players have been selected to take part in this prestigious championship on the basis of their performance in State and Zonal championships. Players who have represented India in the world are also taking part in this event. This tournament is the final level of selection process for which players will be selected for Indian team in the upcoming IBCA World Team Championship and Olympiad.
Round 2: Darpan - Somender: 0-1
Darpan Inani (2124) moved his queenside rook incorrectly which cost him valuable time against Somender B L (1446).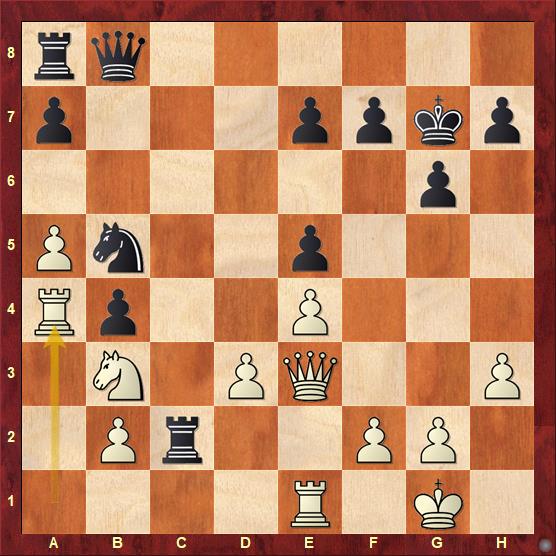 24.Ra4 allowed Black to improve his position 24...Qd6 25.Nd2 Nd4 26.Nc4 Qc5 27.a6 Rb8 28.Ra5 Rb5. White did manage to get rid of his displaced rook 29.Rxb5 Qxb5. After a lot of back and forth play, Black eventually won the game when White allowed a queen exchange, resulting in a winning a pawn endgame. Darpan resigned immediately when he realized his opponent could force the queen exchange.
Mr. Aravind Ogale (Rotary Club of Pune Heritage), Mr. Kapoor (Sava Herbals), Mr. Pankaj Shah (District Governor Rotary Club of Pune Heritage), Mr. Vikas Khatkar (President Maharashtra Cricket Association), Mr. Vinayak Pethe (President Rotarty Club of Pune Heritage), Dr. Manish Thool (Secretary AICFB), Mr. Kumar Thamane (President PYC Hindu Gymkhana) were present at the inauguration ceremony.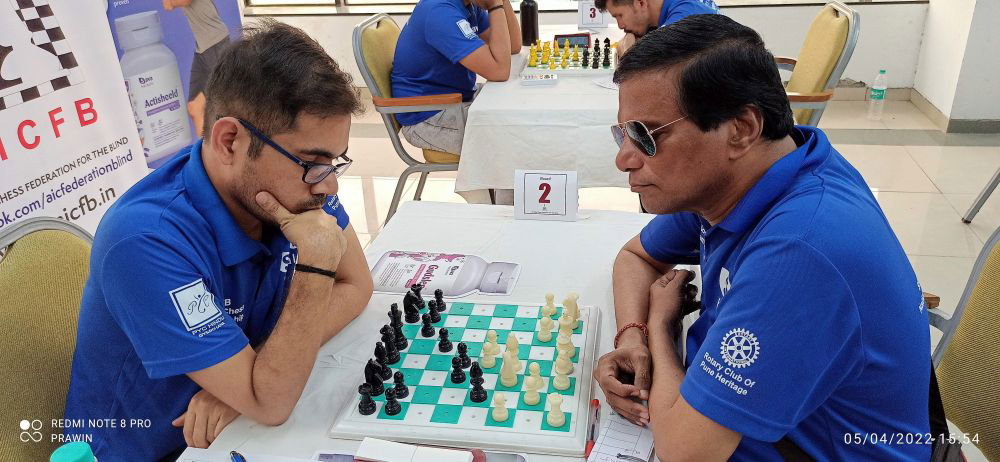 For more Round 1 and Round 2 photos, please click at the respective links.
A total of 55 players are taking part from various states across India. The tournament is organized by All India Chess Federation for the Blind (AICFB) from 5th to 9th April 2022 at PYC Hindu Gymkhana, Pune. The nine-round Swiss league tournament has a time control of 90 minutes + 30 seconds increment from move no.1. There are double rounds every day from 5th to 8th April. Last day 9th April 2022, there will be one round.
Replay Round 1-2 games
Round 2 results
Round 3 pairings
Links
---