15th AICFB National R3-4: Five players share the lead 3.5/4
Kishan Gangolli, Subhendu Kumar Patra, Soundarya Kumar Pradhan, Ashvin K Makwana and Milind Samant are the five players in the lead. They all drew their respective games in the fourth round of SAVA Herbals 15th AICFB National Chess Championship for Visually Challenged players. Marimuthu K had a good opportunity to win against Aryan Joshi in the third game. Despite winning for the better part of the game, he was unable to convert his advantage into a full point. He will face one of the tournament leaders, Soundarya in the fifth round. Round 5 starts today at 9:00 a.m. IST. Photo: IA Manjunatha M
Marimuthu impressive against Aryan
Top seed Darpan Inanni's tough form continues. Surypratap Singh held him to a draw in the third round.
Round 3: Marimuthu - Aryan: 0.5-0.5
Marimuthu K (1586) spotted a very nice tactic against Aryan Joshi (1909).
17...Rxf7 18.Qxd6 Qc8 19.Bh2 White needed to castle first and ensure his king safety. 19...Bxd1 20.Bxd1 Ne8 21.Qg3 allowed Black to get back in the game Rxa3. However, he missed it and played Nc1. White was winning for the better part of the game, yet Aryan kept fighting and managed to salvage a draw eventually.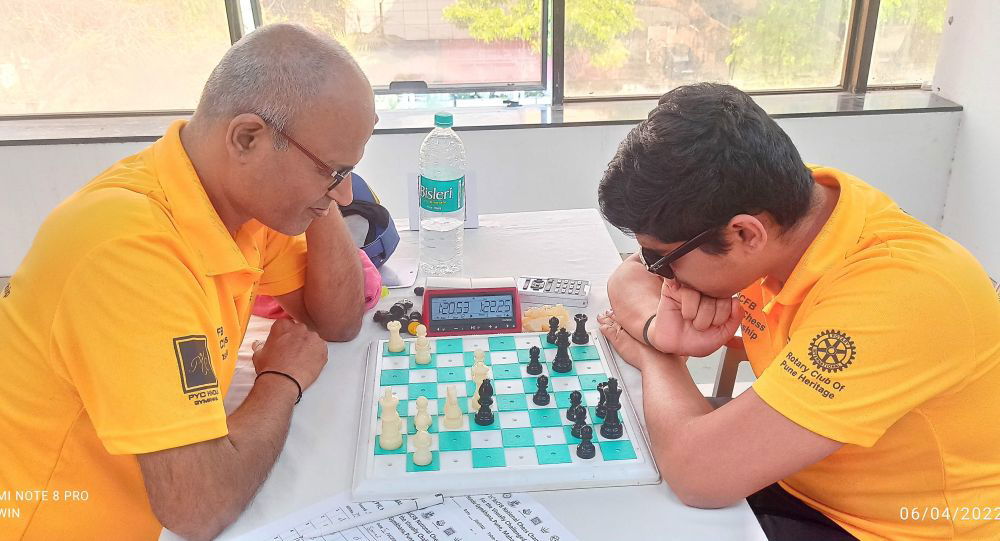 For more Round 3 and Round 4 photos, please click at the respective links.
A total of 55 players are taking part from various states across India. The tournament is organized by All India Chess Federation for the Blind (AICFB) from 5th to 9th April 2022 at PYC Hindu Gymkhana, Pune. The nine-round Swiss league tournament has a time control of 90 minutes + 30 seconds increment from move no.1. There are double rounds every day from 5th to 8th April. Last day 9th April 2022, there will be one round.
Replay Round 3-4 games
Round 4 results
Round 5 pairings
Links
---