Decisions made and committees formed at the first AGM of the new AICF administration
Some very important decisions were made and committees were formed in the first AGM of the newly elected AICF administration. Some of the very positive developments are a league beginning before the end of this year, bidding for the next Olympiad, getting FIDE Women's Grand Prix as well as super tournaments to India. Chess in Schools needs a special boost, a single registration model for AICF will increase transparency and creation of a center of excellence is on the cards. We also have the list of members in different AICF committees and it is heartening to see the huge number of active chess players being a part of it.
The newly elected team of the All-India Chess Federation, unveiled a blueprint to turn the country into a chess superpower here on Sunday, starting with the decision to bid for the next available Chess Olympiad and commencing a high-profile Indian Chess League soon. "We want India to become the chess destination for the world. We have drawn out a detailed plan to achieve this goal," Dr Kapoor said at a press conference, immediately after a power-packed AGM.
For a long time, there was a need from the Indian chess fraternity to start the Indian Chess league and the Federation is keen on starting the Indian Chess League with an international flavour to popularise the game even more. The first edition, following the franchise-model, will be organised before this year. The AGM had also decided to host the Women's Grand Prix, which is an important part of the world women's championship cycle, to give a huge boost to the women's chess in the country.
Among the other major decisions taken at the AGM are : To initiate an AICF-Chess in Schools program to popularize chess at the school level and all the 33-State affiliates will be implementing this simultaneously. The Federation wants every school-going kid in India to play chess. This will help in developing smarter future generations, thanks to the life-skill benefits that come naturally from the game. It is also decided to have single window National registration for all players instead of multiple registrations at District, State and National level, establishment of a Centre of Excellence with the ultimate vision of infusing at least 10 players from India in the Top 50 rankings of the world and Organisation of a Super GM Tournament to provide the opportunity to our higher-ranked GMs to compete with the best in business at home while also help upcoming youngsters improve by watching them from close quarters.
In a landmark decision the disputes in Maharashtra, Rajasthan and West Bengal were resolved by consent of all parties.
During the AGM, the President of Gujarat State Chess Association Shri Ajay H Patel was unanimously elected as President of Asian Zone 3.7 while the Federation Secretary Shri Bharat Singh Chauhan nominated as FIDE Delegate to represent India before World Chess Federation.
AICF Committees
The Committees of All India Chess Federation has been restructured for smooth handling of the issues. It is heartening to see the growing number of chess players in these committees. They include GMs Pravin Thipsay, Dibyendu Barua, Abhijit Kunte, Tejas Bakre, Srinath, Lalith Babu and also strong women players like Tania Sachdev, Soumya Swaminathan, Kiran Manisha Mohanty and more.
Arbiters Commission
| | | | |
| --- | --- | --- | --- |
| S.No | Name | Title | Designation |
| 1 | Shri.Dharmendra Kumar | International Arbiter | Chairman |
| 2 | Shri.Vipnesh Bharadwaj | International Arbiter | Member |
| 3 | Shri.R.Srivatsan | International Arbiter | Member |
| 4 | Shri. R.S.Tiwari | International Arbiter | Member |
| 5 | Shri.MS Subha Rakesh | Fide Arbiter | Member |
Trainers Commission
| | | | |
| --- | --- | --- | --- |
| S.No | Name | Title | Designation |
| 1 | Shri.PM Thipsay | Grandmaster | Chairman |
| 2 | Shri. Sekhar Sahu | International Master | Member |
| 3 | Shri. Neeraj Kumar Mishra | International Master | Member |
| 4 | Shri.Vishal Sareen | International Master | Member |
| 5 | Shri.TJ Suresh kumar | FIDE Trainer | Member |
| 6 | Smt.N.Saritha | Women International Master | Member |
Selection Committee
S.No
Name
Title
Designation
1
Shri.Abhijit Kunte
Grandmaster
Member
Chief Coach
& Chairman
2
Shri.D.Barua
Grandmaster
Member
3
Shri.Dinesh Kumar Sharma
International Master
Member
Committee for Prevention of Sexual Harassment of Women
An IAS, one doctorate, one advocate and two top female players are part of the Committee for prevention of Sexual Harassment of Women.
| | | | |
| --- | --- | --- | --- |
| S.No | Name | Title | Designation |
| 1 | Smt. Rashmi Singh | IAS | Chairperson |
| 2 | Smt.Soumya Swaminathan | International Master | Member |
| 3 | Smt.Kiran Manisha Mohanty | Women Grandmaster | Member |
| 4 | Dr.Shaily Bhashanjaly | Doctorate Holder in Gender issues | Member |
| 5 | Smt.Arpi Shah | Advocate | Member |
Players Grievance Committee
| | | | |
| --- | --- | --- | --- |
| S.No | Name | Title | Designation |
| 1 | Shri.Tejas Bakre | Grandmaster | Chairman |
| 2 | Shri.N.Srinath | Grandmaster | Member |
| 3 | Shri.Lalith Babu M R | Grandmaster | Member |
| 4 | Smt.Tania Sachdev | International Master | Member |
| 5 | Smt.Padmini Rout | International Master | Member |
Committee for Chess Development in North East and Andaman & Nicobar
| | | | | |
| --- | --- | --- | --- | --- |
| S.No | Name | State | Designation | Title |
| 1 | Shri.KM Warzari | Meghalaya | Chairman | |
| 2 | Shri.Rajib Dhar | Assam | Member | |
| 3 | Shri.Prasenjit Dutta | Tripura | Member | FIDE Master |
| 4 | Shri.Boney Kharbani | Meghalaya | Member | |
| 5 | Shri.Atembi Laishram | Manipur | Member | |
| 6 | Shri.Leela Prasad Acharya | Sikkim | Member | |
| 7 | Shri.JK Lalmuanpuia | Mizoram | Member | |
| 8 | Shri.Tamchi Kache | Arunachal | Member | |
Events Commission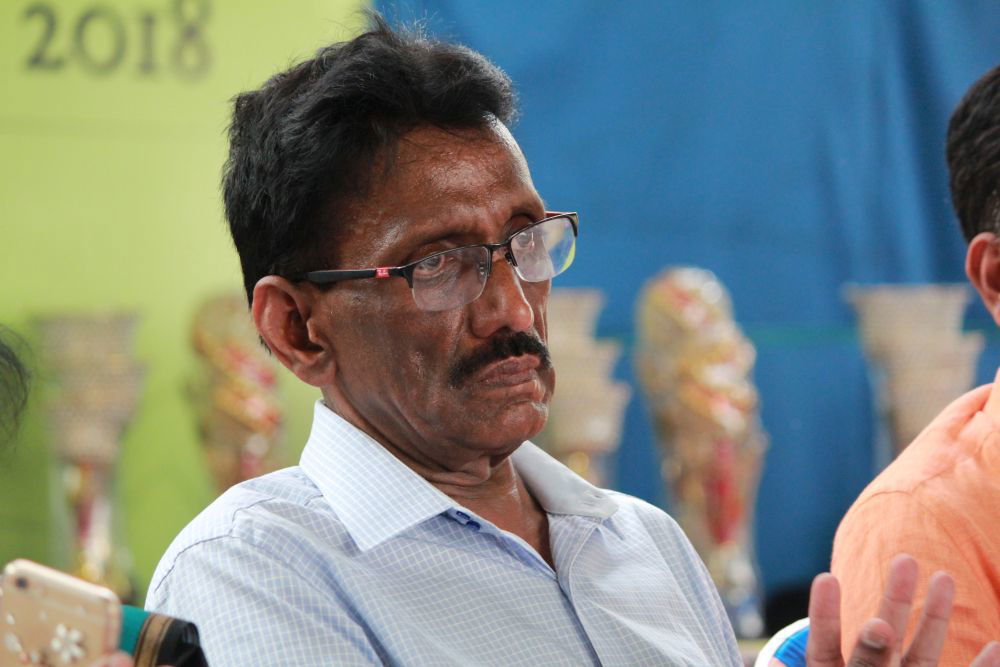 | | | | | |
| --- | --- | --- | --- | --- |
| S.No | Name | State | Designation | |
| 1 | Shri.Hanumantha | Karnataka | Chairman | FIDE Master and FIDE Instructor |
| 2 | Shri.Praful Zaveri | Maharasthra | Member | FIDE Trainer |
| 3 | Shri.KS Prasad | Telengana | Member | |
| 4 | Shri.Muneesh Thappar | Punjab | Member | |
| 5 | Shri. L Imocha | Manipur | Member | |
Chess in schools commission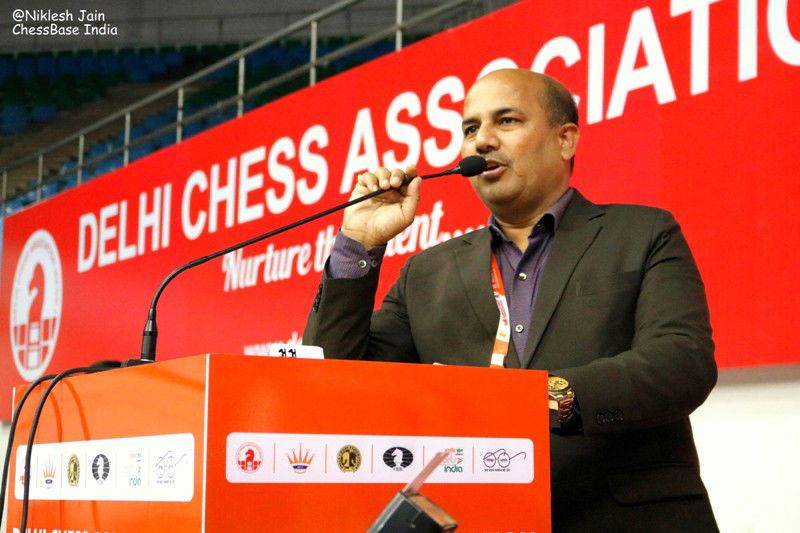 S.No
Name
State
Designation
1
Shri.A K.Verma
Delhi
Chairman
International Arbiter
And FIDE Instructor
2
Smt.B.Thipsay
Maharasthra
Member
Women International Master
And FIDE Instructor
3
Shri.Ranjan Mohanty
Orissa
Member
Fide Instructor
4
Shri. Aravind Shastry
Karantaka
Member
5
Shri.Akshat Khamparia
MP
Member
International Master
6
Shri.Boney Kharbani
Meghalaya
Member
7
Shri.Vikas Sahu
Rajasthan
Member
International Arbiter
8
Shri.Ashish Keni
Goa
Member
FIDE Arbiter
9
Shri.Arun Singh M
Assam
Member
Fide Arbiter
10
Shri.Taba Anam
Arunachal
Member
11
Shri.Mayur Patel
Gujarat
Member
Titles Commission
S.No
Name
State
Designation
1
Shri.R.Ananthram
TN
Chairman
International Arbiter
2
Shri.V.Kameswaran
TN
Member
International Arbiter
3
Shri.Swapnil Bansnod
Maharasthra
Member
International Arbiter And
National Instructor
4
Shri.Asit Baran Choudhary
WB
Member
International Arbiter
5
Shri.Jitendra Choudhary
Delhi
Member
International Arbiter And
National Instructor
Research
| | | | | |
| --- | --- | --- | --- | --- |
| S.No | Name | State | Designation | |
| 1 | Shri. A.K.Raizada | UP | Chairman | International Arbiter |
| 2 | Shri. Dhiraj Singh Raghuvanshi | Uttarakhand | Member | |
| 3 | Shri.Ashok Bhargav | Rajasthan | Member | |
| 3 | Shri.Debabrata Bhatta | Orissa | Member | |
| 4 | Shri.Ravichandran V | Tamil Nadu | Member | IA,Fide Trainer,CM |
| 5 | Shri.Samir Shah | Gujarat | Member | |
Ethics
| | | | | |
| --- | --- | --- | --- | --- |
| Sl.No | Name | State | Designation | |
| 1 | Shri.Rajat Navet | Delhi | | Advocate |
| 2 | Shri.Sanjai Singh Jatav | UP | | Advocate |
| 3 | Shri.Aditya Dewan | | | Advocate |
---