Kishan Gangolli clinches his seventh AICFB National title
Kishan Gangolli drew his final round game against Ashvin K Makwana to win Onward Technologies AICFB 16th National Chess Championship for the Visually Challenged 2023. This is his seventh National title. Previously he has won it in 2013, 2014, 2016, 2017, 2018 and 2019. The only time he lost a game en route a National title was back in the fifth round of 12th National A on 6th March 2017. After that he won four National championships and remained undefeated in all his triumphs. The unbeaten streak since then in all his National triumphs is 43. If you count last year's runner-up finish, it would be 52. Aryan Joshi and Soundarya Kumar Pradhan defeated Somender B L and Swapanil Shah respectively to finish with a score of 7/9. They secured second and third place according to the tie-breaks. Photo: AICFB
Kishan keeps creating records
Kishan Gangolli is in a league of his own. Out of seven National titles, he has lost only one game and that also over six years ago. He has won six consecutive National Championships for the Visually Challenged from 2013 to 2019. The only time he was not defending his title as he secured a second place last year. He is undefeated in his last 52 games at the National championships.
"Probably this was the first time where I was not defending the national championship as I had won a nationals six times in a row but last year I got second place. So I did not have the pressure of defending the title. This time the championship was very tough because everyone had prepared well for this event. I was in a very comfortable position right from the beginning of the tournament. Also because I was prompted to be facing all the strong players in the initial rounds, that helped me to take risk in the initial rounds itself." - Kishan Gangolli on becoming National champion for a record seventh time.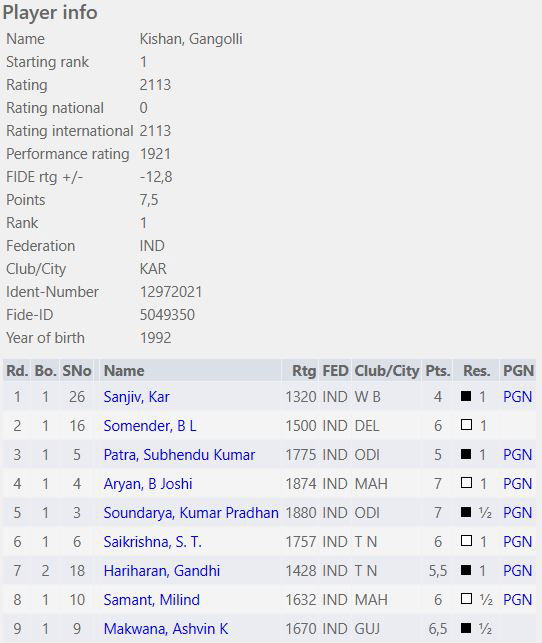 Fun fact: AICF and AICFB National A Championships have been won by two Ganguly/Gangolli for six consecutive times. AICF National A Championship - GM Surya Sekhar Ganguly (2003-2008) and AICFB National A Championship - Kishan Gangolli (2013-19).
A total of 51 players took part from various states across India. The tournament was organized by All India Chess Federation for the Blind (AICFB) from 13th to 18th March 2023 at Bhayander, Maharashtra. The nine-round Swiss league tournament had a time control of 90 minutes + 30 seconds increment from move no.1.
Round 9 results
| | | | | | | | | | | | |
| --- | --- | --- | --- | --- | --- | --- | --- | --- | --- | --- | --- |
| Bo. | No. | | Name | Rtg | Pts. | Result | Pts. | | Name | Rtg | No. |
| 1 | 9 | | Makwana, Ashvin K | 1670 | 6 | ½ - ½ | 7 | | Kishan, Gangolli | 2113 | 1 |
| 2 | 4 | | Aryan, B Joshi | 1874 | 6 | 1 - 0 | 6 | | Somender, B L | 1500 | 16 |
| 3 | 3 | | Soundarya, Kumar Pradhan | 1880 | 6 | 1 - 0 | 5½ | | Swapanil, Shah | 1689 | 8 |
| 4 | 2 | | Darpan, Inani | 2027 | 5½ | 1 - 0 | 5½ | | Venkat, Reddy S | 1334 | 25 |
| 5 | 10 | | Samant, Milind | 1632 | 5½ | ½ - ½ | 5½ | | Marimuthu, K | 1599 | 13 |
| 6 | 5 | | Patra, Subhendu Kumar | 1775 | 5 | 0 - 1 | 5 | | Mayank, Sharma | 1501 | 15 |
| 7 | 6 | | Saikrishna, S. T. | 1757 | 5 | 1 - 0 | 5 | | Patil, Shirish | 1622 | 11 |
| 8 | 29 | | Akediwala, Prince D | 1314 | 5 | 0 - 1 | 4½ | | Kavlekar, Sanjay R. | 1730 | 7 |
| 9 | 12 | | Prachurya, Kumar Pradhan | 1608 | 4½ | 1 - 0 | 4½ | | Shidad, M | 1425 | 19 |
| 10 | 22 | | Deshpande, Amit | 1389 | 4½ | 0 - 1 | 4½ | | Hariharan, Gandhi | 1428 | 18 |
Final standings after Round 9
| | | | | | | | | | | |
| --- | --- | --- | --- | --- | --- | --- | --- | --- | --- | --- |
| Rk. | SNo | | Name | FED | Rtg | Club/City | Pts. | TB1 | TB2 | TB3 |
| 1 | 1 | | Kishan, Gangolli | IND | 2113 | KAR | 7,5 | 49 | 53 | 43,25 |
| 2 | 4 | | Aryan, B Joshi | IND | 1874 | MAH | 7 | 48 | 52,5 | 39,00 |
| 3 | 3 | | Soundarya, Kumar Pradhan | IND | 1880 | ODI | 7 | 47,5 | 51 | 37,25 |
| 4 | 9 | | Makwana, Ashvin K | IND | 1670 | GUJ | 6,5 | 44,5 | 48 | 32,00 |
| 5 | 2 | | Darpan, Inani | IND | 2027 | GUJ | 6,5 | 44 | 47,5 | 31,50 |
| 6 | 16 | | Somender, B L | IND | 1500 | DEL | 6 | 49,5 | 53,5 | 32,50 |
| 7 | 6 | | Saikrishna, S. T. | IND | 1757 | T N | 6 | 45,5 | 49,5 | 30,50 |
| 8 | 10 | | Samant, Milind | IND | 1632 | MAH | 6 | 42,5 | 46,5 | 28,75 |
| 9 | 13 | | Marimuthu, K | IND | 1599 | T N | 6 | 41,5 | 44 | 26,00 |
| 10 | 15 | | Mayank, Sharma | IND | 1501 | DEL | 6 | 38 | 40,5 | 24,25 |
Links
---