AICF World Cup Qualifier R8-11: Gukesh and Iniyan share the lead 8.5/11
The youngest GM of India, Gukesh scored his second hat-trick of AICF World Cup Qualifier to maintain his lead at 8.5/11. He is joined by India's 61st GM Iniyan P who won four games in-a-row to share the lead with 8.5/11. Gukesh drew with Sethuraman and beat Adhiban today, Iniyan started the day with a blazing victory over Narayanan S L and continued his momentum for the next three games. Tomorrow, the penultimate day will have three rounds. Do replay the Day 3 live stream to learn from the fountain of knowledge - IM V Saravanan. Catch the live commentary by IM Sagar Shah on ChessBase India youtube channel tomorrow from 11:15 a.m. IST.
Iniyan wins four in-a-row
Gukesh started the third day of World Cup Qualifiers with a fantastic draw against Sethuraman. Then he won the next three games against Adhiban, FM Vinay Kumar Matta and IM Rahul Srivasthav, completing his second hat-trick in the event. He is the only player who is undefeated so far.
GM Iniyan P scored four wins today. He started the day with a phenomenal victory over GM Narayanan S L in just 25 moves. Then he beat IM Soumya Swaminathan, GM Vishnu Prasanna and FM Vatsal Singhania to share the lead with Gukesh at 8.5/11.
IM Raja Rithvik R scored three wins today as he beat Deep Sengupta, Sethuraman and Matta. His only loss was against Adhiban. The current National Sub-Junior champion is now at shared third place with 7.5/11.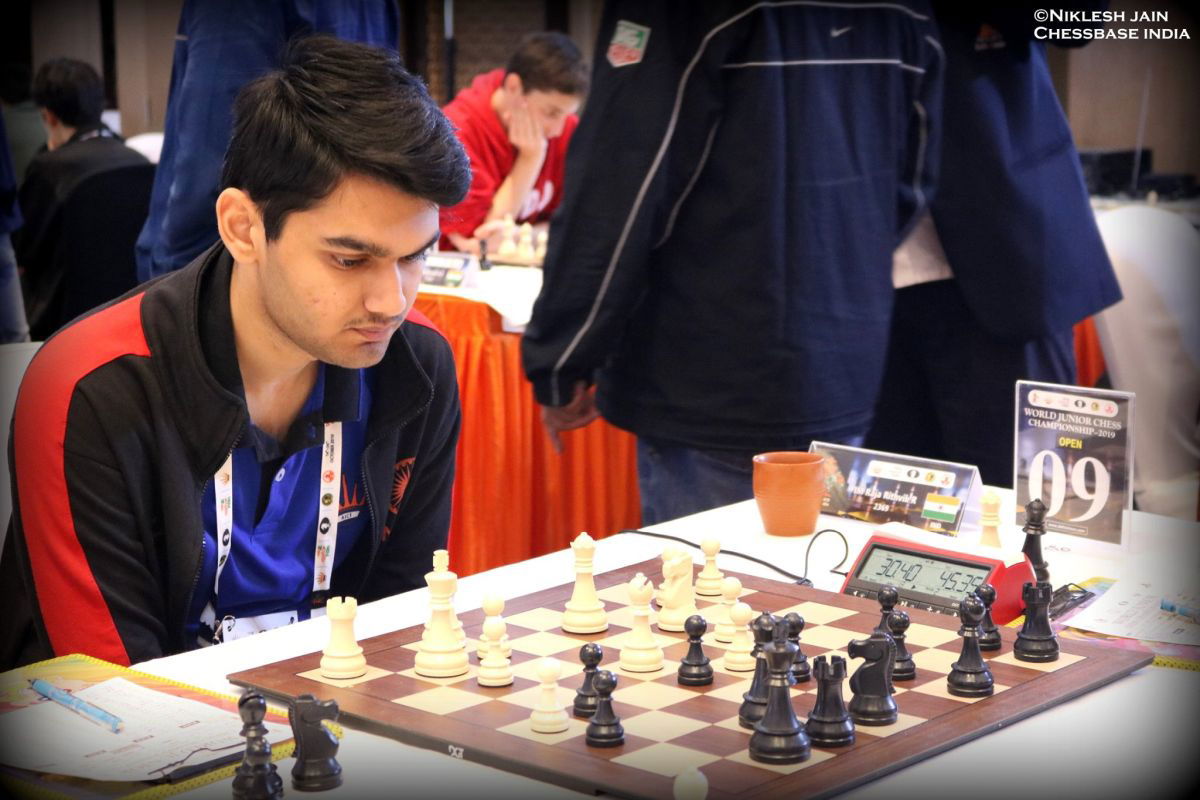 GM Sethuraman SP had a tough day as he scored only 2.5/4 today which means he is now a full point behind the leaders at shared third place with Ritvhik at 7.5/11.
IM V Saravanan who joined the live commentary today, tweeted some very nice moments from today's games:
Replay Round 8-11 games
Round 8-11 results
Round 8 on 2021/05/28 at 1000 hrs
Bo.
No.
Rtg
Name
Result
Name
Rtg
No.
1
14
2527
GM
Sengupta Deep
0 - 1
IM
Rithvik R Raja
2408
12
2
15
2644
GM
S.p Sethuraman
½ - ½
GM
Gukesh D
2578
11
3
16
2660
GM
Baskaran Adhiban
1 - 0
GM
Sekhar Ganguly Surya
2625
10
4
17
2305
FM
Vinay Kumar Matta
1 - 0
IM
Krishna Crg
2478
9
5
1
2463
IM
Srivatshav Peddi Rahul
1 - 0
FM
Singhania Vatsal
2371
8
6
2
2381
IM
S. Nitin
0 - 1
GM
Vasanthan Perumal Vishnu Prasanna
2476
7
7
3
2438
IM
Mittal Aditya
1 - 0
IM
Swaminathan Soumya
2351
6
8
4
2506
GM
P Iniyan
1 - 0
GM
S.L Narayanan
2624
5
9
13
2312
IM
Krishnan P Saravana
0
bye
0
-1
Round 9 on 2021/05/28 at 1100 hrs
Bo.
No.
Rtg
Name
Result
Name
Rtg
No.
1
6
2351
IM
Swaminathan Soumya
0 - 1
GM
P Iniyan
2506
4
2
7
2476
GM
Vasanthan Perumal Vishnu Prasanna
1 - 0
IM
Mittal Aditya
2438
3
3
8
2371
FM
Singhania Vatsal
0 - 1
IM
S. Nitin
2381
2
4
9
2478
IM
Krishna Crg
1 - 0
IM
Srivatshav Peddi Rahul
2463
1
5
10
2625
GM
Sekhar Ganguly Surya
0 - 1
FM
Vinay Kumar Matta
2305
17
6
11
2578
GM
Gukesh D
1 - 0
GM
Baskaran Adhiban
2660
16
7
12
2408
IM
Rithvik R Raja
1 - 0
GM
S.p Sethuraman
2644
15
8
13
2312
IM
Krishnan P Saravana
0 - 1
GM
Sengupta Deep
2527
14
9
5
2624
GM
S.L Narayanan
0
bye
0
-1
Round 10 on 2021/05/28 at 1200 hrs
Bo.
No.
Rtg
Name
Result
Name
Rtg
No.
1
15
2644
GM
S.p Sethuraman
1 - 0
IM
Krishnan P Saravana
2312
13
2
16
2660
GM
Baskaran Adhiban
1 - 0
IM
Rithvik R Raja
2408
12
3
17
2305
FM
Vinay Kumar Matta
0 - 1
GM
Gukesh D
2578
11
4
1
2463
IM
Srivatshav Peddi Rahul
1 - 0
GM
Sekhar Ganguly Surya
2625
10
5
2
2381
IM
S. Nitin
1 - 0
IM
Krishna Crg
2478
9
6
3
2438
IM
Mittal Aditya
1 - 0
FM
Singhania Vatsal
2371
8
7
4
2506
GM
P Iniyan
1 - 0
GM
Vasanthan Perumal Vishnu Prasanna
2476
7
8
5
2624
GM
S.L Narayanan
1 - 0
IM
Swaminathan Soumya
2351
6
9
14
2527
GM
Sengupta Deep
0
bye
0
-1
Round 11 on 2021/05/28 at 1300 hrs
Bo.
No.
Rtg
Name
Result
Name
Rtg
No.
1
7
2476
GM
Vasanthan Perumal Vishnu Prasanna
½ - ½
GM
S.L Narayanan
2624
5
2
8
2371
FM
Singhania Vatsal
0 - 1
GM
P Iniyan
2506
4
3
9
2478
IM
Krishna Crg
1 - 0
IM
Mittal Aditya
2438
3
4
10
2625
GM
Sekhar Ganguly Surya
1 - 0
IM
S. Nitin
2381
2
5
11
2578
GM
Gukesh D
1 - 0
IM
Srivatshav Peddi Rahul
2463
1
6
12
2408
IM
Rithvik R Raja
1 - 0
FM
Vinay Kumar Matta
2305
17
7
13
2312
IM
Krishnan P Saravana
½ - ½
GM
Baskaran Adhiban
2660
16
8
14
2527
GM
Sengupta Deep
0 - 1
GM
S.p Sethuraman
2644
15
9
6
2351
IM
Swaminathan Soumya
0
bye
0
-1
Standings after Round 11
| | | | | | | | | | | |
| --- | --- | --- | --- | --- | --- | --- | --- | --- | --- | --- |
| Rk. | SNo | | Name | FED | Rtg | Pts. | TB1 | TB2 | TB3 | TB4 |
| 1 | 11 | GM | Gukesh D | IND | 2578 | 8,5 | 0,0 | 38,50 | 7 | 4 |
| 2 | 4 | GM | P Iniyan | IND | 2506 | 8,5 | 0,0 | 36,25 | 8 | 4 |
| 3 | 12 | IM | Rithvik R Raja | IND | 2408 | 7,5 | 1,0 | 31,25 | 7 | 3 |
| 4 | 15 | GM | S.p Sethuraman | IND | 2644 | 7,5 | 0,0 | 30,75 | 6 | 3 |
| 5 | 5 | GM | S.L Narayanan | IND | 2624 | 6,5 | 0,0 | 29,00 | 4 | 1 |
| 6 | 16 | GM | Baskaran Adhiban | IND | 2660 | 6,0 | 1,0 | 26,00 | 4 | 0 |
| 7 | 10 | GM | Sekhar Ganguly Surya | IND | 2625 | 6,0 | 0,0 | 32,50 | 6 | 3 |
| 8 | 1 | IM | Srivatshav Peddi Rahul | IND | 2463 | 5,5 | 1,0 | 27,75 | 5 | 1 |
| 9 | 2 | IM | S. Nitin | IND | 2381 | 5,5 | 0,0 | 18,25 | 5 | 2 |
| 10 | 14 | GM | Sengupta Deep | IND | 2527 | 5,0 | 0,0 | 16,25 | 4 | 2 |
| 11 | 3 | IM | Mittal Aditya | IND | 2438 | 4,5 | 0,0 | 15,00 | 4 | 1 |
| 12 | 9 | IM | Krishna Crg | IND | 2478 | 4,0 | 0,0 | 18,50 | 3 | 1 |
| 13 | 7 | GM | Vasanthan Perumal Vishnu Prasanna | IND | 2476 | 3,5 | 0,0 | 19,25 | 3 | 1 |
| 14 | 17 | FM | Vinay Kumar Matta | IND | 2305 | 3,0 | 0,0 | 13,50 | 3 | 1 |
| 15 | 13 | IM | Krishnan P Saravana | IND | 2312 | 3,0 | 0,0 | 8,75 | 2 | 1 |
| 16 | 6 | IM | Swaminathan Soumya | IND | 2351 | 2,5 | 0,0 | 10,00 | 2 | 1 |
| 17 | 8 | FM | Singhania Vatsal | IND | 2371 | 1,0 | 0,0 | 3,00 | 1 | 0 |
---